Roasted Paleo Butternut Squash Soup with Apple is so easy to make and super healthy, It can be made vegan and Whole30 too!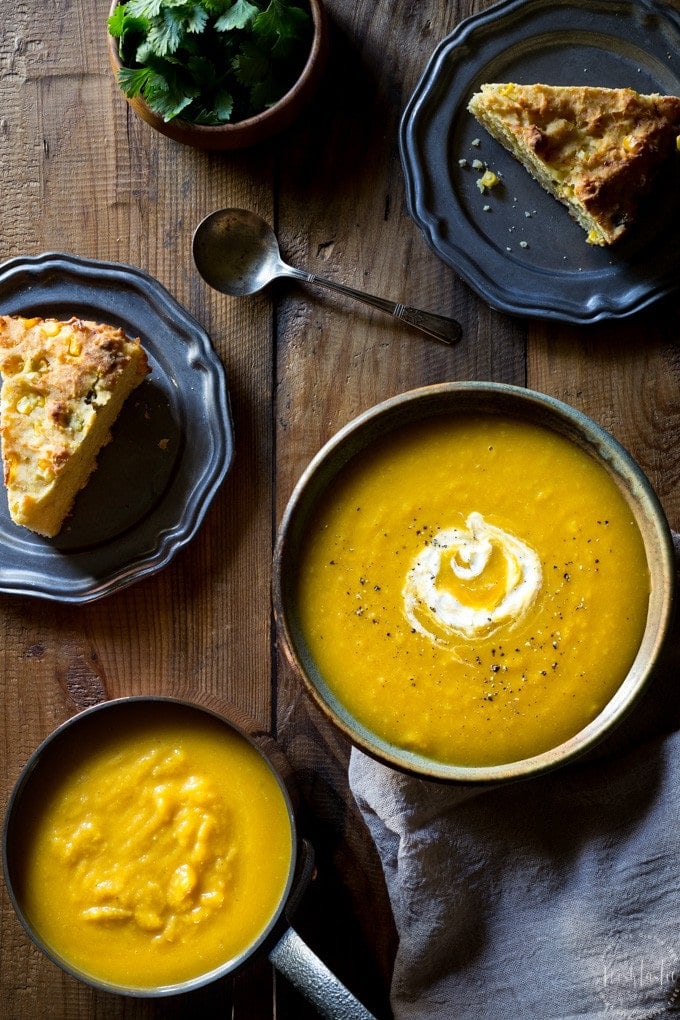 Roasted Paleo Butternut Squash Soup with Apple
Butternut Squash is almost my favorite winter vegetable.
It would make it to pole position if it wasn't for all the peeling and chopping.
The last time I made my Beef and Butternut Stew I had to enlist my husband to remove the knife from the middle of the squash, but perhaps that says more about the poor state of my kitchen knives and my pathetic lack of chopping talent than it does about butternut squash being really hard to cut.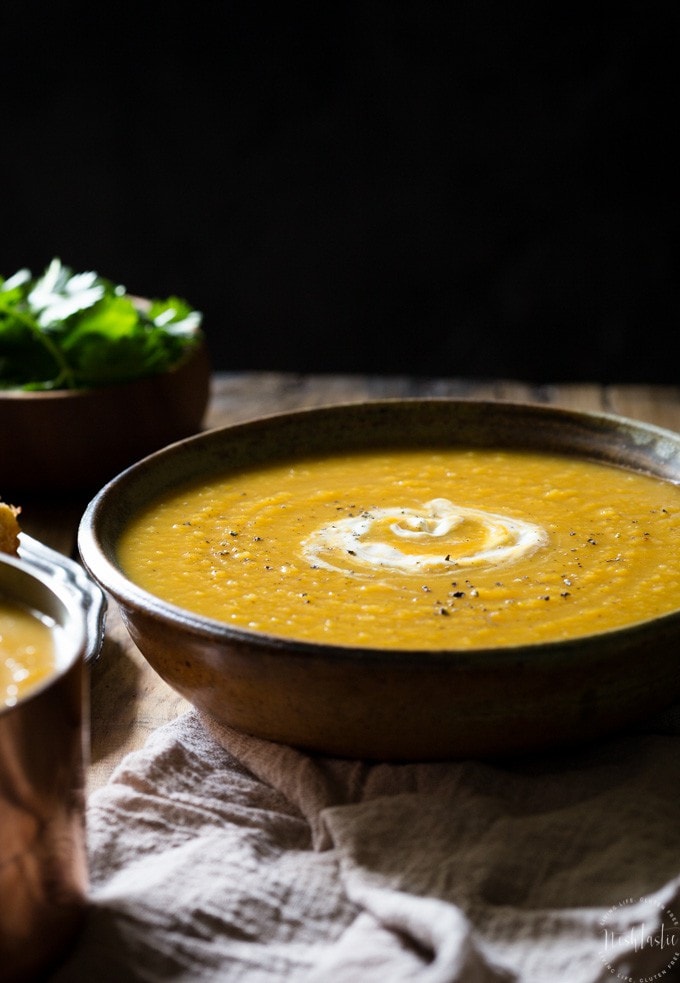 Anyway, I jest, I still love butternut squash despite my lack of pro chef chopping skills. And soup, well you can't really beat soup in the Fall, right?
Except that here in Mississippi our Fall weather is currently a strange hybrid of cooler mornings and daytime highs of near 90f, so the leaves on the trees are just starting to change color while the Pumpkins on my porch are trying hard not to rot in the midday sun.
Well I can't wait for the weather to get the memo so I'm going to keep on truckin' with my butternut soup recipe and any other Fall recipes that take my fancy.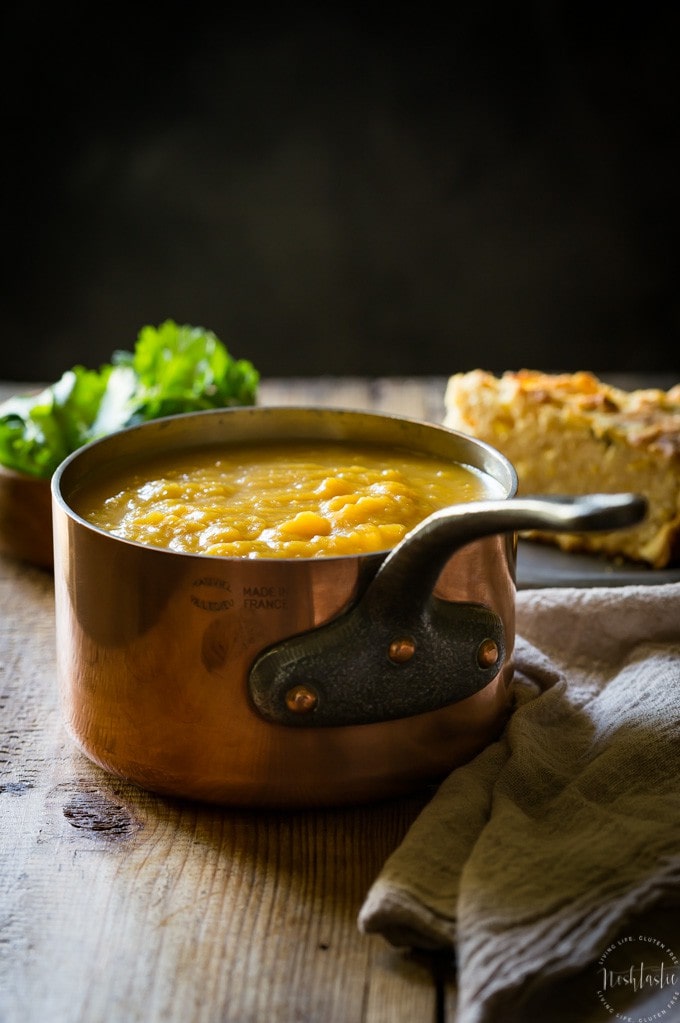 So back to the soup, I've made this a couple of times and the first time I made it with about three apples which made it way too sweet even for me. I've made it since with just one apple the addition of some celery both of which cut the sweetness back. Oh, I nearly forgot, I added in a chuck of fresh ginger, just enough to give it a little zing but not overwhelm the other flavors.
If you have the time to make some simple homemade chicken stock or vegetable stock it will give this soup an added flavor boost. I do use ready made stock quite frequently and have used it for this soup, but there's no doubt that homemade is better, so use whatever you have time for.
Oh, I almost forgot! You'll need a blender or a food processor to blitz this up in, I use my food processor most of the time as it holds more liquid.
I really need to get a new stick blender though as that would be much easier to use. The last one broke, plus it had a plastic end which kind of warped in the last pan of hot soup I used it in so next time I'll be getting one with a stainless steel end.
This post may contain Amazon affiliate links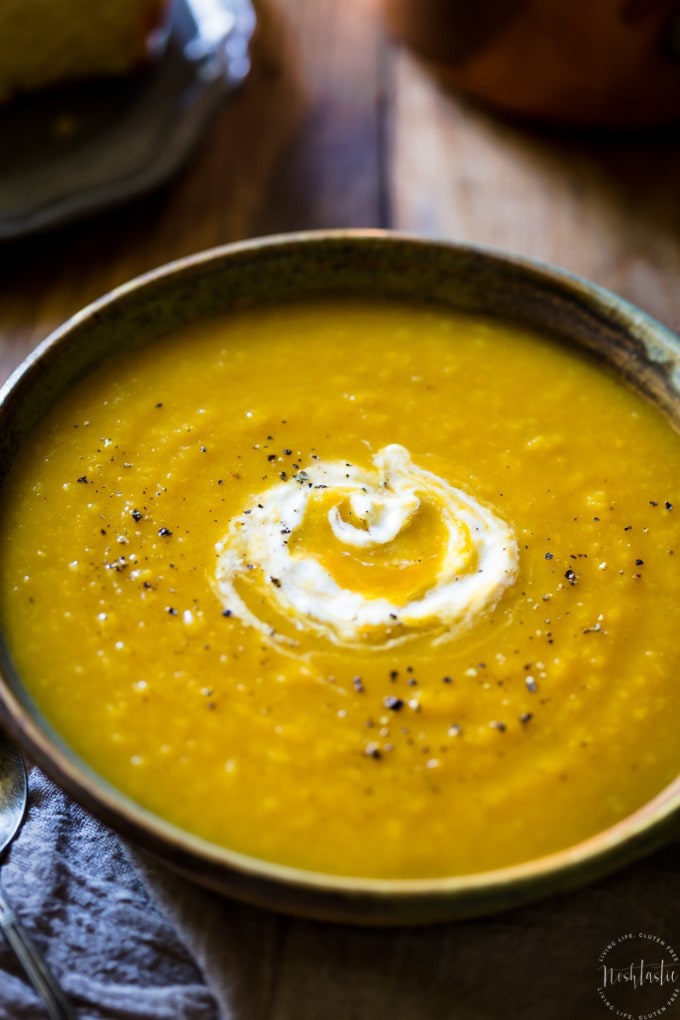 Roasted Paleo Butternut Squash and Apple soup
Easy butternut squash soup, tastes delicious!
Prep Time: 20 minutes
Cook Time: 1 hour
Total Time: 1 hour 20 minutes
Total Carbs: 37 g
Protein: 5 g
Servings: 6
Ingredients
1 large butternut squash, peeled and chopped , 1
1 Granny Smith apple , peeled, cored and cut into chunks
1 yellow onion , chopped
2 small celery sticks , chopped
2 cloves garlic , sliced
1 tbsp fresh ginger , chopped
1 tbsp olive oil
2 cups chicken stock , 500mls
1 cup canned coconut milk, full fat , 250mls
Instructions
In a

large bowl

, toss prepared squash, apples, onion, celery, garlic and ginger with a little olive oil until mixed well.

Spread it all onto a baking sheet in a single layer and roast until tender and beginning to brown, about 35 – 45 minutes.

Remove from oven and while hot purée squash mix in a blender with the stock, you may need to do this in batches.

Transfer to a pan and gently warm the soup over a medium heat, you can thin it out with more stock or a little water if you find it's too thick.

Serve hot with a little swirl of sour cream if you like, I used dairy free sour cream, and a slice of my gluten free cornbread.
Nutrition Facts
Roasted Paleo Butternut Squash and Apple soup
Amount Per Serving (403 g)
Calories 192 Calories from Fat 36
% Daily Value*
Fat 4g6%
Cholesterol 3mg1%
Sodium 187mg8%
Potassium 1000mg29%
Carbohydrates 37g12%
Fiber 5g21%
Sugar 10g11%
Protein 5g10%
Vitamin A 24155IU483%
Vitamin C 51.2mg62%
Calcium 123mg12%
Iron 1.9mg11%
* Percent Daily Values are based on a 2000 calorie diet.
Nutritional information on Noshtastic is provided as a courtesy and is approximate only. We cannot guarantee the accuracy of the nutritional information given for any recipe on this site.