Instant Pot Whole Chicken, cook a rotisserie style whole chicken in your Instant pot or other electric pressure cooker! gluten free, paleo and whole30.
My recipe for Instant Pot Whole chicken is a great alternative to oven roasting your bird. It cooks so much more quickly and the chicken comes out really tender!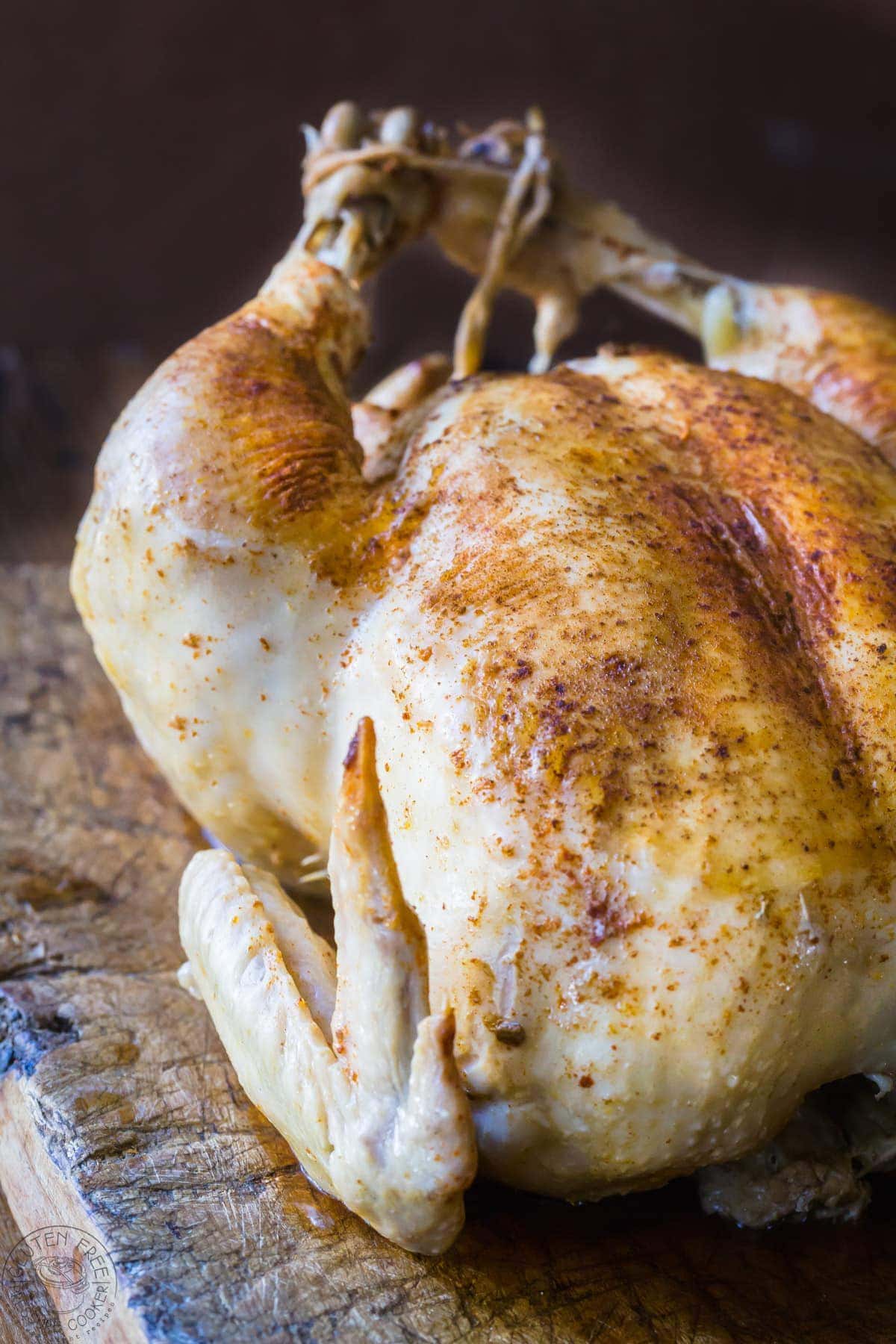 This post contains affiliate links
How to Pressure Cook a Whole Chicken in an Instant Pot
Here are some simple step by step by step directions for cooking a whole chicken in your Instant Pot or other electric pressure cooker, the full recipe is at the end of the post.
First, make sure your chicken is fully defrosted and that you've removed the giblets so that it will cook through properly.
You do not need to rinse the chicken (this only spreads potentially harmful bacteria in your sink and kitchen and does not eliminate it) but you can carefully pat it dry with a paper towel.
Now you can apply the simple spice and herb rub which is made up of paprika, thyme, salt, pepper and oil. This adds a little flavor to the chicken and gives the skin a pop of color, otherwise the chicken looks very pale when it's cooked.
If you want to add even more color to the finished chicken then you can carefully brown the chicken before you cook it under pressure. You're never going to get crispy skin like you will with an oven roasted chicken as we are using steam and pressure too cook it so the skin cannot crisp up in the same way.
How long do you Pressure Cook a whole chicken?
A 4lb chicken can be pressure cooked cooked in about 26 minutes, and a 7lb chicken will take a little longer at around 44 minutes. I have a table below with average cook times.
I know some others have done it, but I  do not recommend pressure cooking a frozen whole chicken as you risk having the center still frozen even with added cook time. You can cook chicken pieces such as chicken breast and chicken thighs from frozen in a pressure cooker but a whole frozen chicken is more tricky to cook through because of the size.
Cook times are approximate and can vary depending on the thickness of the meat, they also assume a fully defrosted chicken.
If you are unsure if your chicken is fully cooked then check it with a digital thermometer, it should be at a minimum temperature of  165°F.
If it's not properly cooked simply put the lid back on and cook for a further 6 minutes (see details in the recipe card)
| | |
| --- | --- |
| 4lb chicken |  26 minutes |
| 5lb chicken | 32 minutes |
| 6lb chicken | 38 minutes |
| 7lb chicken | 44 minutes |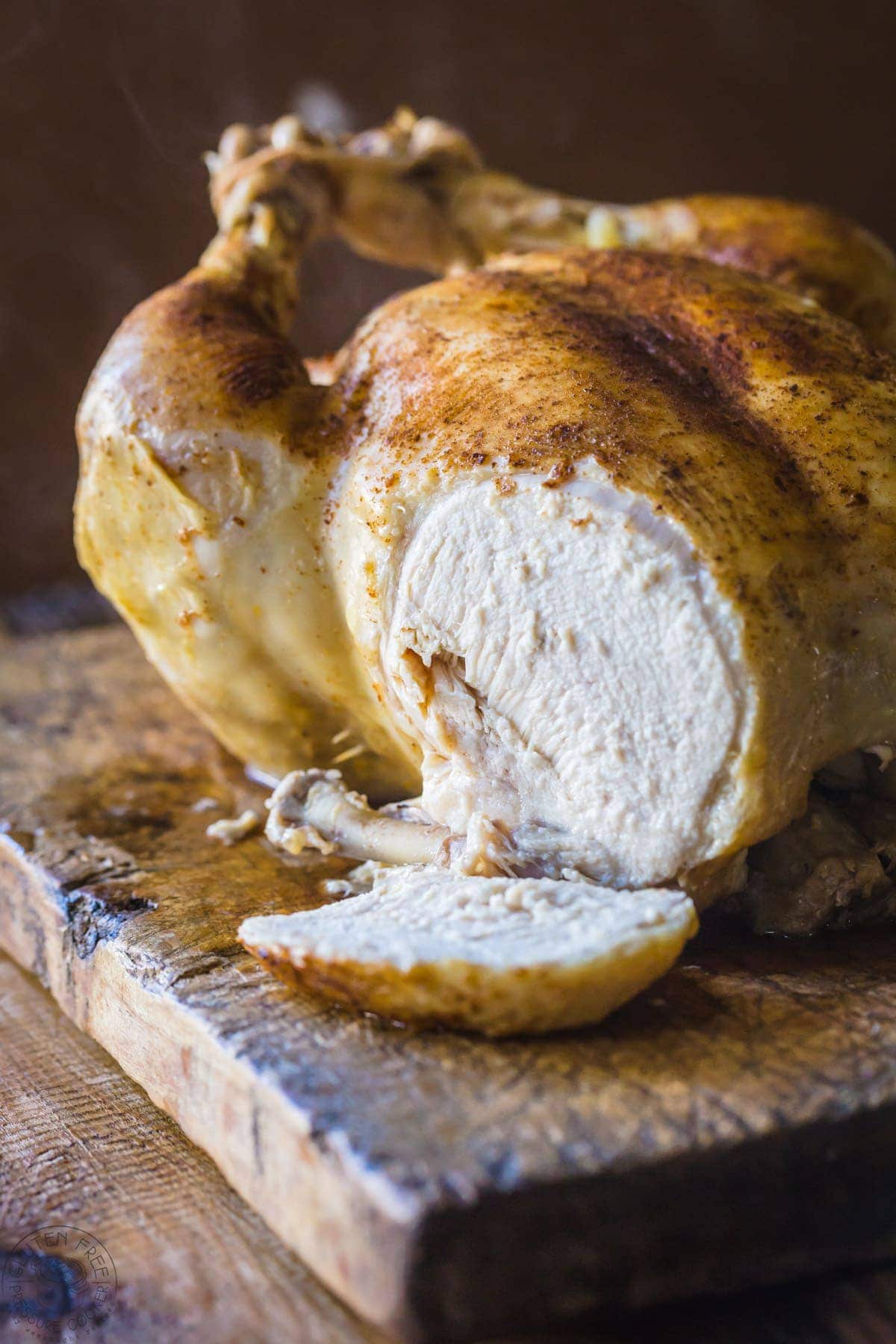 Related Pressure Cooker Recipes
I have a couple more chicken recipes that you won't want to miss, pressure cooker Chicken Paprikash has a wonderful smoky flavor and is an easy weeknight meal you'll love.
My pressure cooker Chicken Puttanesca, is fancy enough to serve to guests but very simple to prepare and an easy weeknight dinner.
If you want something really, really quick then be sure to try my Pressure Cooker Firecracker chicken recipe, it's very easy to make.
And lastly, my pressure cooker Moo Goo Gai Pan, is another quick recipe. It has a mild sauce, but the vegetables and chicken combined give is a really nice flavor and texture.
How to cook Instant Pot Whole Chicken!
Instant Pot Whole Chicken, cook a rotisserie style whole chicken in your Instant pot or other electric pressure cooker! gluten free, paleo and whole30.
Prep Time: 5 minutes
Cook Time: 26 minutes
Total Time: 30 minutes
Total Carbs: 1 g
Protein: 30 g
Servings: 4
Ingredients
Instructions
Mix the herbs, spices, and 1 tbsp oil together in a small bowl.

The 'browning' the chicken skin step is entirely optional as by the time the chicken is cooked in your pressure cooker the skin will be soft, not crispy like an oven roasted chicken.

Turn on the 'saute' function in your Instant Pot or other electric pressure cooker and add 1tbsp oil. Wait 1-2 minutes for the oil to heat up (don't wait until the display says hot) and then add the chicken, breast side down, until it is browned and no longer sticks to the bottom of the pot, this will take about 5 minutes per side.


Once the chicken is browned, turn saute function off and lift out the chicken.

Add 1/2 cup water to the pot, then add the small trivet that came with your Instant Pot and sit the chicken on top of it.

Lock the lid, turn the steam vent to 'sealing' and using the manual setting, adjust it to cook for 26 minutes at High Pressure for a 4lb chicken, adding approximately an additional 6 minutes per lb for bigger chickens.

When the cook time time is up, allow the unit to reduce pressure on its own without opening the steam release vent (Natural Release) for at least 12 minutes.

After 12 minutes you can carefully and slowly release the rest of the pressure.

Your chicken needs to be at an internal temperature of 165°F, you can check it with a digital kitchen thermometer. If it is not cooked simply put the lid back on and return it to pressure for 6 more minutes, or until fully cooked.
Nutrition Facts
How to cook Instant Pot Whole Chicken!
Amount Per Serving
Calories 412 Calories from Fat 279
% Daily Value*
Fat 31g48%
Saturated Fat 7g44%
Cholesterol 120mg40%
Sodium 696mg30%
Potassium 341mg10%
Carbohydrates 1g0%
Protein 30g60%
Vitamin A 1080IU22%
Vitamin C 3.2mg4%
Calcium 22mg2%
Iron 1.9mg11%
* Percent Daily Values are based on a 2000 calorie diet.
Nutritional information on Noshtastic is provided as a courtesy and is approximate only. We cannot guarantee the accuracy of the nutritional information given for any recipe on this site.
Course: Main Course
Cuisine: American