Instant Pot Chicken Noodle soup, it's a really easy, from scratch recipe made much faster than on the stove. With a homemade flavorful chicken broth that provides a deliciously rich base for this warming soup!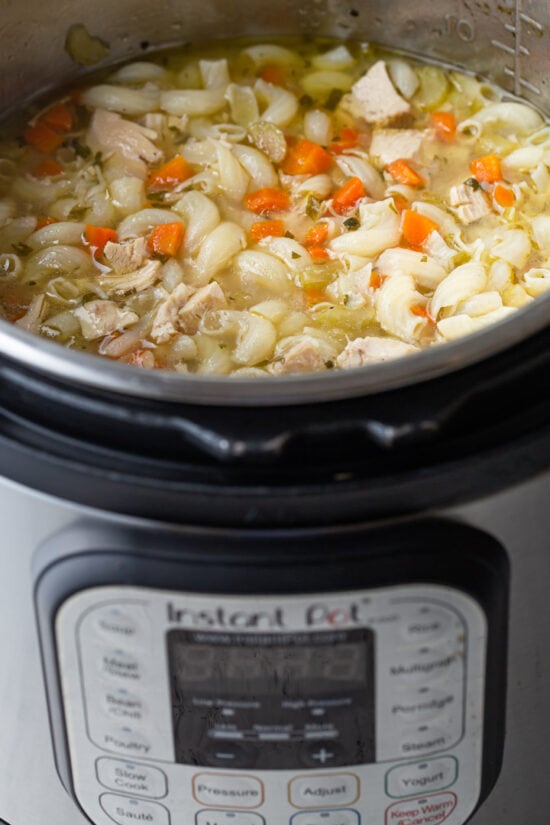 This post contains affiliate links
How to Make Chicken Noodle Soup in an Instant Pot
The homemade chicken broth is really key to making this pressure cooker chicken noodle soup taste great. With an electric pressure cooker (I have the Instant Pot) it's very fast compared to stove top which usually takes hours.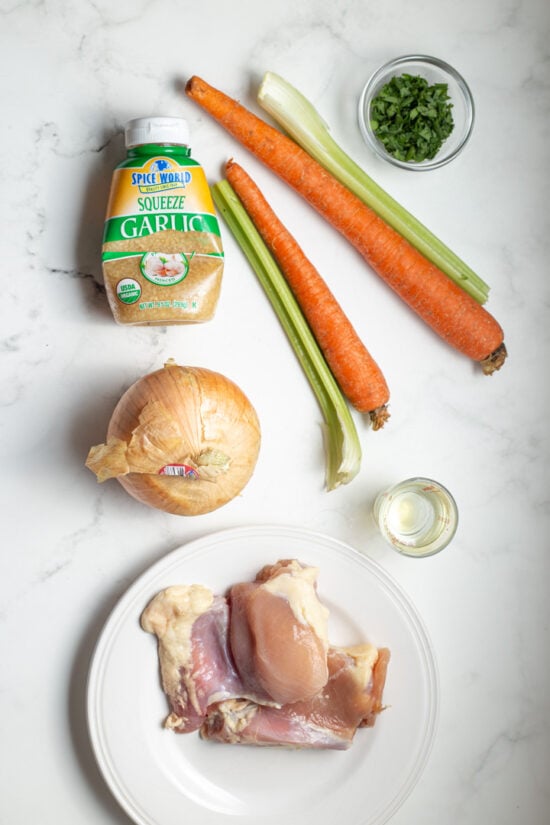 You can see a selection of the fresh ingredients for this soup in the photo above. I use a whole chicken to make the broth but you can buy a ready cut up whole chicken and use that if you prefer.
It's really quite fast to make the homemade chicken broth in an electric pressure cooker, so much faster than using the traditional method of making it on the stovetop which takes hours of slow simmering, this whole soup is made in about an hour!
I use added vegetables when I make the chicken broth to enhance the flavor and then I discard those as they are very soft and use new diced vegetables to add to the soup when I cook the pasta elbow noodles.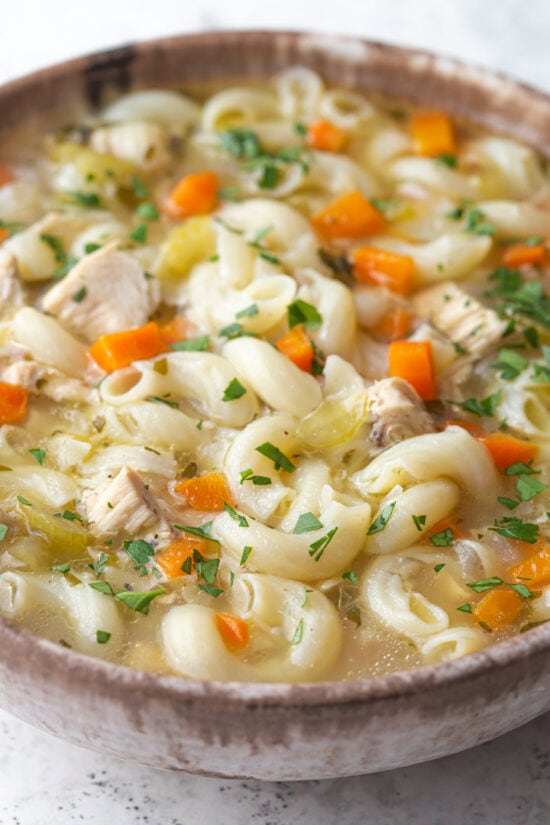 Which Gluten Free Noodles work best in a pressure cooker?
I've tried several brands of gluten free noodles both and the difference in texture and how well they cook is often determined by the ingredients.
Some brands simply tend toward being mushy, even on the stovetop and so they will never hold up under pressure. My favorite brand of pasta for pressure cooking is Barilla gluten free noodles
Can I freeze Chicken Noodle Soup?
Yes, you can free the soup.
I like to portion it into freezer safe containers with two portions per container. For best results defrost it overnight in your refrigerator.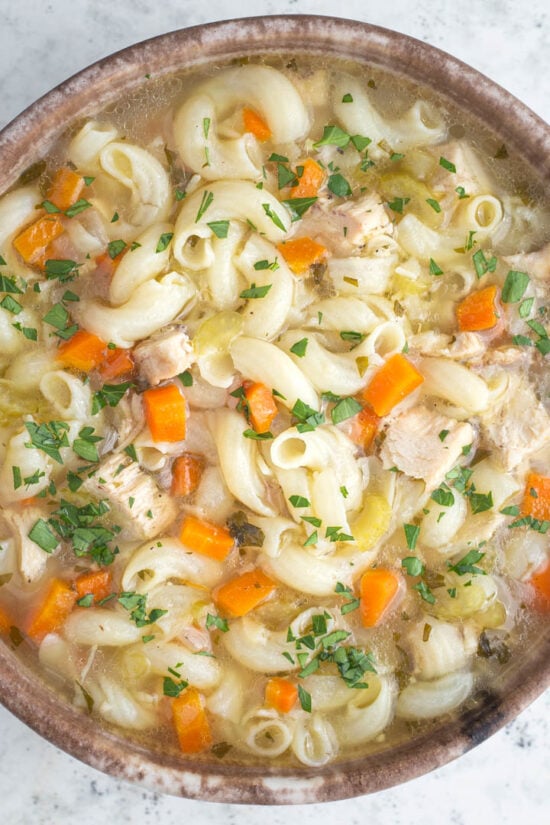 More Instant Pot Soup Recipes
Instant Pot Chicken Noodle Soup
The fastest, easiest way to make chicken noodle soup from scratch.
Prep Time: 15 minutes
Cook Time: 45 minutes
Total Time: 45 minutes
Total Carbs: 26 g
Protein: 93 g
Servings: 6
Ingredients
Chicken Broth
1 4-5lb whole chicken , you can also use a cut up chicken
6 cups water
2 carrots , cut in large pieces
2 ribs celery , cut in large pieces
parsley , a couple of sprigs
10 peppercorns
Chicken Noodle Soup
2 tbsp olive oil
2 tsp garlic
1/2 red onion, diced , 125g
3 carrots, diced , 200g
2 ribs celery, diced , 130g
3 cups cooked chicken
1 cup elbow pasta , I used gluten free, about 113g (4oz)
6 cups homemade chicken broth , 1420 mls
1 tsp salt
1/2 tsp ground black pepper
1/3 cup fresh parsley , finely chopped
Instructions
Making the Chicken Broth
To make the chicken broth add a whole chicken, carrots, celery ribs and all other ingredients listed for the chicken broth to your pressure cooker plus 6 cups (1420 mls) water.

Lock the lid, turn the steam release vent to 'sealing' and using the manual setting, adjust it to cook for 20 minutes at high pressure.

When the cook time is up wait about 15 minutes until the pressure drops and then carefully release any remaining pressure by opening the steam release valve.

Remove the whole chicken from the broth. Strain the broth and remove and discard the peppercorns and vegetables.

When the chicken is cool enough to handle, remove the skin and using two forks pull apart the chicken, or simply cut it up. You will not need all the cooked chicken for this soup, you can make a great chicken salad with the leftovers!
How to Make Instant Pot Chicken Noodle Soup
Cook the onions, carrots, garlic, and celery in a little olive oil in the inner pot of the Instant Pot for three to four minutes by turning on the saute function and adjust it to the medium heat setting.

Don't wait for the display to say 'hot', add oil right away and cook for two to three minutes, stirring all the time, then turn it off.   

Now add the cooked cut up chicken, elbow pasta (I used gluten free) and 6 cups of your homemade chicken broth, salt and pepper and stir well.

Lock the lid, turn the steam release vent to 'sealing' and using the manual setting, adjust it to cook for 4 minutes at High Pressure, then carefully quick release. 

If the elbow pasta is not fully cooked already then use the 'saute' setting on your pressure cooker and simmer the soup for a few more minutes until the pasta is fully cooked.

Taste and add more salt and pepper if desired, stir in the chopped fresh parsley and serve hot.
Recipe Notes
Homemade Chicken broth – yes, you can use store bought chicken broth and already cooked chicken but I really think  that the soup will be lacking in flavor as the best part of this soup is the broth made from the chicken. I'd also wait until the soup is cooked before you add salt, store bought chicken broth and bullion cubes can be high in salt.
Gluten free noodles– I prefer the Barilla brand of gluten free noodles, it holds up the best under pressure and many of the others disintegrate. Regular noodles will take longer to cook than gluten free. 
Nutrition Facts
Instant Pot Chicken Noodle Soup
Amount Per Serving (1 cup)
Calories 1101 Calories from Fat 603
% Daily Value*
Fat 67g103%
Saturated Fat 18g113%
Trans Fat 1g
Polyunsaturated Fat 14g
Monounsaturated Fat 29g
Cholesterol 336mg112%
Sodium 1637mg71%
Potassium 1387mg40%
Carbohydrates 26g9%
Fiber 3g13%
Sugar 4g4%
Protein 93g186%
Vitamin A 9457IU189%
Vitamin C 32mg39%
Calcium 114mg11%
Iron 6mg33%
* Percent Daily Values are based on a 2000 calorie diet.
Nutritional information on Noshtastic is provided as a courtesy and is approximate only. We cannot guarantee the accuracy of the nutritional information given for any recipe on this site.
Course: Soup
Cuisine: American