My Homemade Gluten Free condensed Cream of Chicken Soup recipe is made with real ingredients and without all the additives you'd find in ready made soup, with easy dairy free options.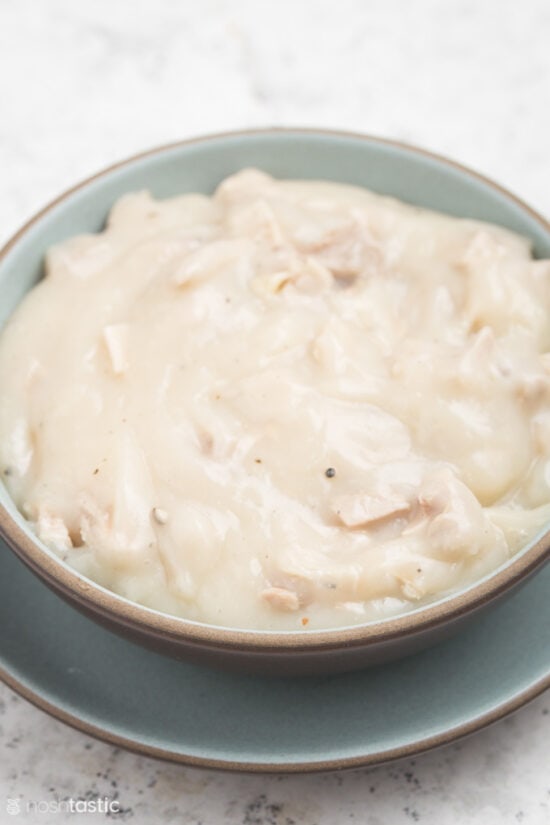 This post contains affiliate links
The easy way to make gluten free cream of chicken soup
Start by assembling the ingredients you'll need for your chicken soup recipe and then measure everything out ahead of time.
You could use rotisserie chicken for the cooked chicken, or you can roast a whole chicken thigh or chicken breast and chop that up to add to the soup later.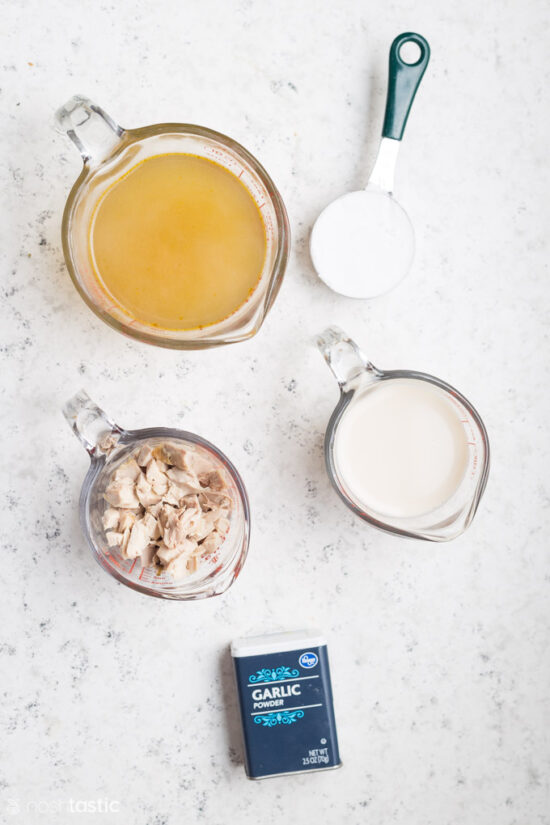 Add cold chicken broth, cold milk, and garlic powder, and your starch of choice together in a pan and whisk it to mix the starch. I usually use corn or potato starch to thicken my condensed chicken soup.
If you want to make a Paleo version of this recipe then I'd opt for potato starch, tapioca starch, or arrowroot instead of cornstarch.
Of the Paleo friendly starches I think Potato gives the best results, but not everyone following a Paleo diet will eat potatoes so if that's you simply choose one of the other starches instead, and use a paleo friendly milk of your choice.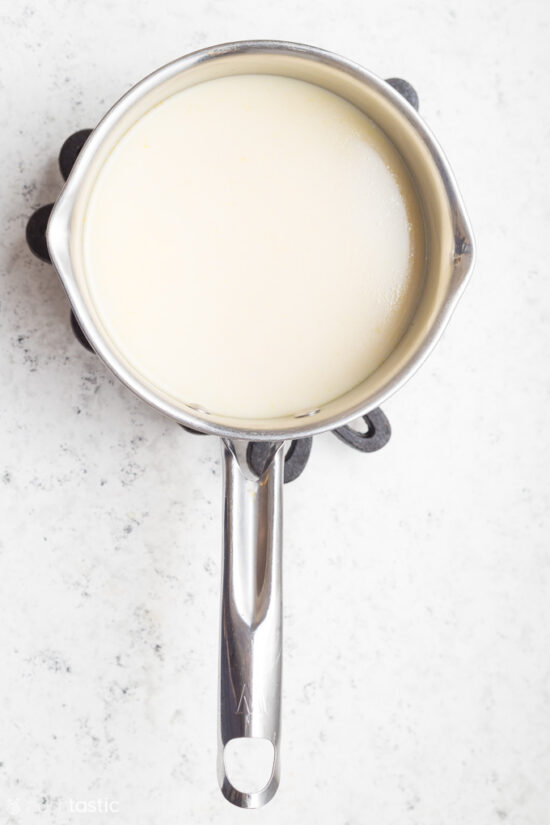 Heat the soup over a low/medium heat, stirring all the time, until the soup thickens which should take about five minutes. (see photo below)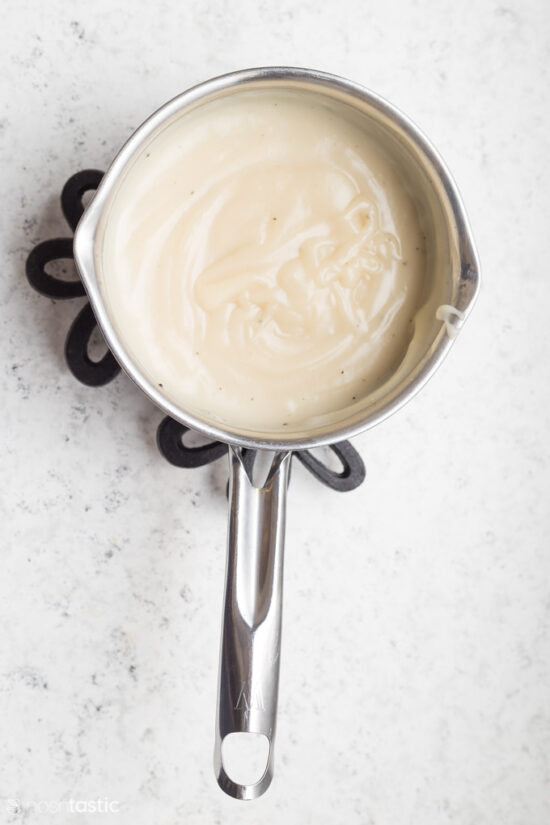 Next, add the chopped cooked chicken and stir well then heat for about a minute or so until the chicken pieces have warmed through.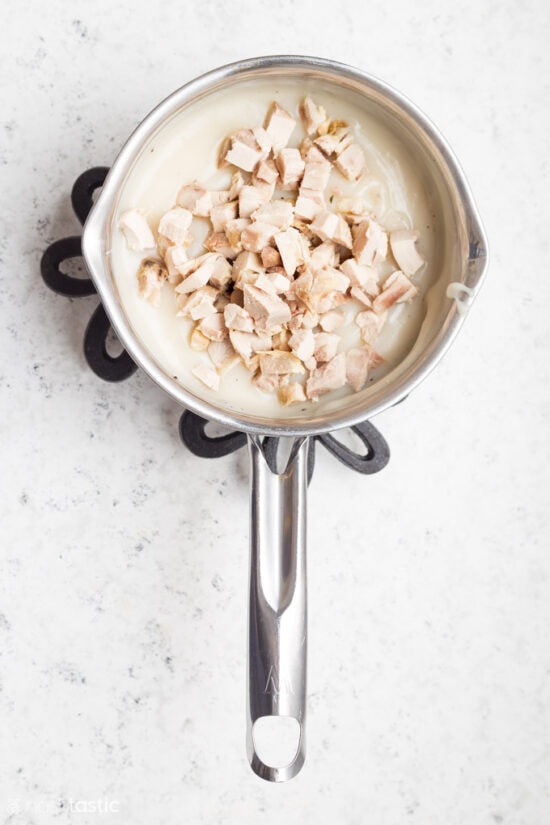 Add the chopped cooked chicken and stir it in well. Your soup is now ready to eat!
If you prefer you can blend it to make it smooth. I found that doing this gave my soup a much richer chicken flavor as the meat was all the way through the soup, so that's always what I do now. Just ensure the soup has cooled before you add it to a blender.
Gluten Free Chicken Soup Tips
This recipe tastes best if you make it with homemade chicken broth, it's a much richer flavor. That said you can absolutely use store bought chicken stock or broth, just make sure it's gluten free.
I think the taste of the finished soup is much better when the cooked chicken is blended into the soup. If you still like to have chunks of chicken then you could simply blend half the chicken into the soup and then stir in the remaining chicken pieces. (Be careful only to add cooled soup to your blender)
If you can't find ready cooked rotisserie chicken that's gluten free then you can roast a large chicken thigh in your oven which will take about 40-50 minutes at 375°F. Once it's cooked remove the skin and cut the meat off the bone. One large chicken thigh is enough cooked chicken for this recipe.
How to store homemade chicken soup
My recipe for homemade chicken soup will freeze well. Before you freeze it make sure it is fully cooled and that you use a freezer safe container and leave enough space between the soup and the lid to allow the frozen soup to expand.
You can also keep in in an airtight container in your fridge for three to four days.
Dairy Free Options
You can easily use any non dairy milk to make this recipe, just make sure you choose a variety that is unsweetened and unflavored. I prefer to use unsweetened soy milk as it has a very neutral flavor.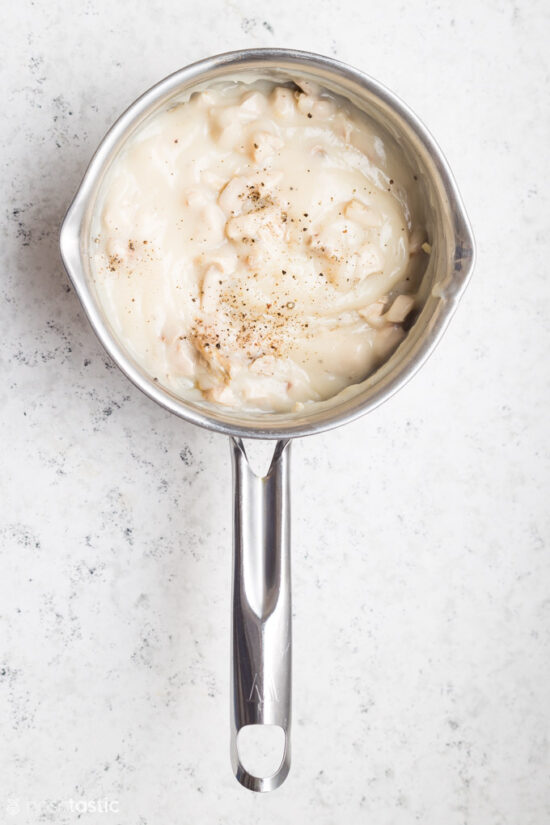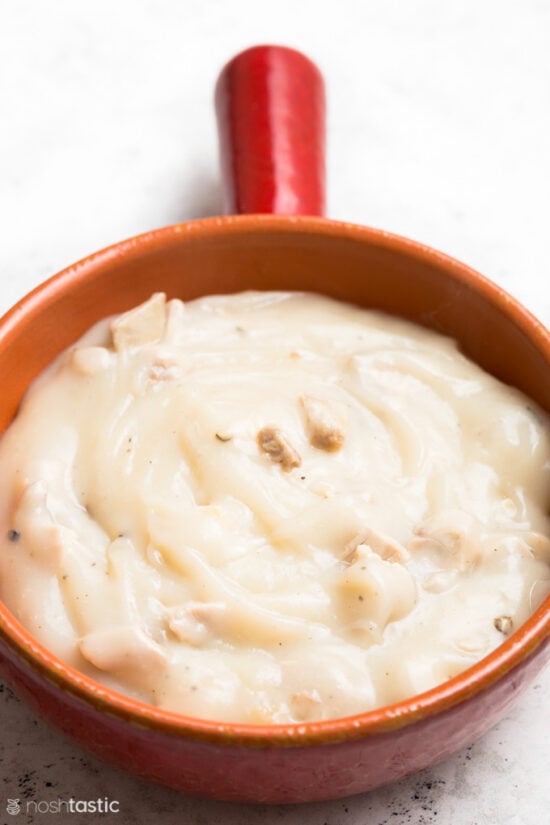 Gluten Free Cream of Chicken Soup
Easy condensed gluten free cream of chicken soup, it can be made dairy free and has an easy paleo option.
Prep Time: 5 minutes
Cook Time: 10 minutes
Total Time: 15 minutes
Total Carbs: 25 g
Protein: 12 g
Servings: 2 cups
Instructions
Add cold chicken broth, cold milk, garlic powder, and cornstarch together in a pan and whisk to mix in the starch. (For paleo friendly starches see recipe notes below)

Warm over a medium heat, stirring continuously, until the soup thickens which will take about five minutes.

Add the finely chopped chicken and stir well and cook for one more minute until it's heated all the way through. Add salt and pepper to taste.

If you prefer a smooth soup you can add it all to a blender once it has cooled, I find this gives a richer chicken flavor to have the cooked chicken blended all the way through the soup.
Recipe Notes
Nutrition – makes about two cups of condensed soup and assumes one cup per serving. Canned 'cream of' soups are usually about 10oz, one cup of this soup is about 8oz.
Chicken Broth – this soup tastes best if you can make it with homemade chicken stock, I but any gluten free chicken broth will do.
Paleo options – cornstarch is not Paleo so you will need to use either tapioca starch, arrowroot, or if you are ok with potato starch that would be my preference as the other two starches tend to be more sticky. 
Dairy Free Option – you can use any milk you prefer, but if you are using non dairy milk do make sure it's not flavored or sweetened. 
Storage –  Homemade Gluten Free Chicken Soup will keep in the fridge for three to four days. It can also be frozen in a freezer safe container once it has fully cooled.
Nutrition Facts
Gluten Free Cream of Chicken Soup
Amount Per Serving (1 cup)
Calories 190 Calories from Fat 36
% Daily Value*
Fat 4g6%
Saturated Fat 2g13%
Cholesterol 33mg11%
Sodium 730mg32%
Potassium 401mg11%
Carbohydrates 25g8%
Fiber 1g4%
Sugar 5g6%
Protein 12g24%
Vitamin A 148IU3%
Vitamin C 13mg16%
Calcium 114mg11%
Iron 1mg6%
* Percent Daily Values are based on a 2000 calorie diet.
Nutritional information on Noshtastic is provided as a courtesy and is approximate only. We cannot guarantee the accuracy of the nutritional information given for any recipe on this site.
Course: Soup
Cuisine: American