Smashed Potatoes baked with garlic, olive oil and herbs, fluffy in the middle and truly crispy on the top!!
You guys, these are the PERFECT gluten free potato side dish, you won't need anything else, I promise.
Whether it's steak or chicken on the grill, or burgers in a bun, my crispy garlic smashed potatoes will go down a treat and everyone will love them!
We served them tonight with my Grilled Lamb Chops recipe and they went down a treat.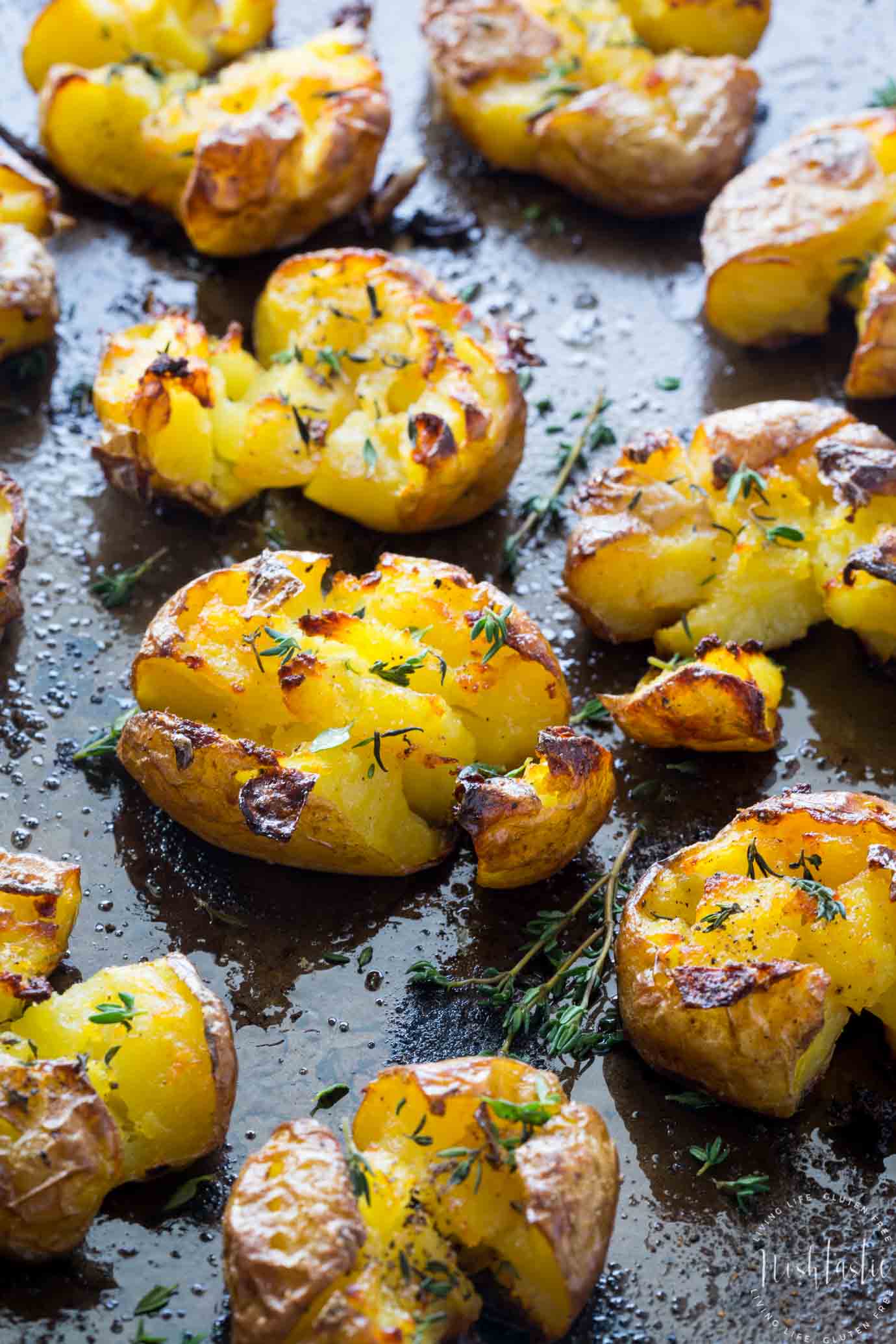 What are smashed potatoes?
Smashed potatoes are definitely not the same as mashed potatoes!
Mashed potatoes are typically peeled and all the potatoes are mashed together until they are relatively smooth, often with the addition of butter and sometimes milk.
Smashed garlic and herb potatoes are a little different as you can see from the photos.
The potatoes are not peeled, are parboiled, and then cooked again in the oven with herbs, garlic, and a little oil (or butter if you prefer) until super crispy and totally yummy!
What potato varieties are best for 'smashing'?
I've tried them with several varieties, Yukon Gold, Red Potatoes, and Russet Potatoes, and they all worked well.
Generally speaking the fluffier varieties of potato rather than the more waxy potatoes work the best, but I think you could try it with whatever you have in your fridge if you don't have floury potatoes on hand.
And don't forget that whatever variety you have, the much maligned humble spud is a very good source of vitamin B6 and a good source of potassium, copper, vitamin C, manganese, phosphorus, niacin, dietary fiber, and pantothenic acid, so eat it all up!! 🙂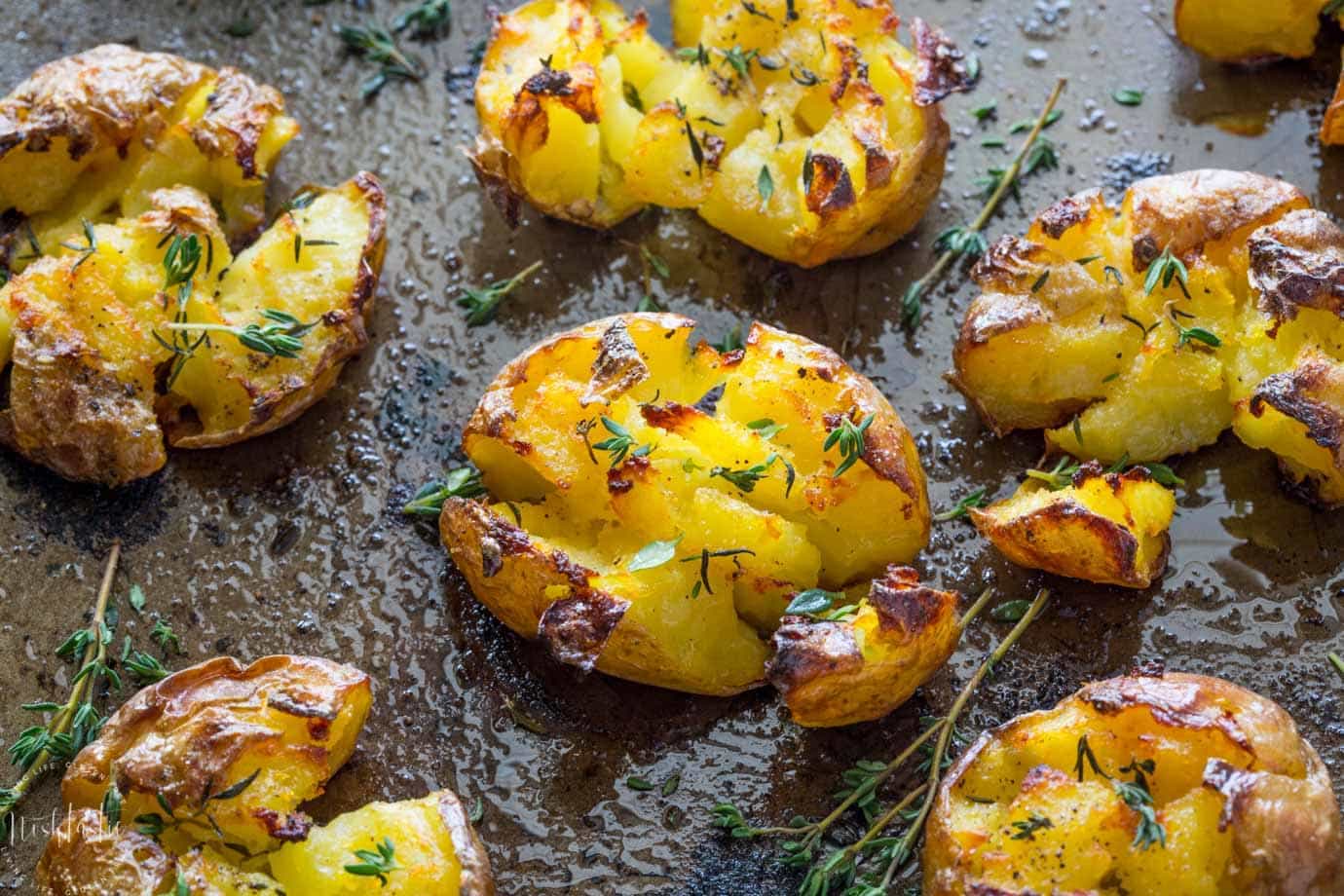 How to make truly crispy smashed potatoes!
There are several steps to ensure you cook truly crispy potatoes .
Step 1: Preheat the oven, you want it hot and at temperature as soon as the potatoes are ready to go in the oven.
Step 2: Parboil the potatoes, and make sure you DO NOT overcook them, we want them just cooked, not really soft and mushy.
Step 3: While the potatoes are cooking combine the oil, chopped garlic and herbs so you are ready to go when they potatoes are cooked.
Step 4: Drain the cooked potatoes, place them on a sheet pan and with a potato masher or a fork 'smash' the top of them and use a fork to break up the tops.
Step 5: Immediately spoon or brush on the garlic herb oil onto each potato while they are still hot and return them to the oven and cook until crispy
That's it!
That's the simplest way to get truly crispy garlic smashed potatoes that everyone will love.
Do remember to serve them hot as they may not stay crispy for long once they start to cool down.
This post contains affiliate links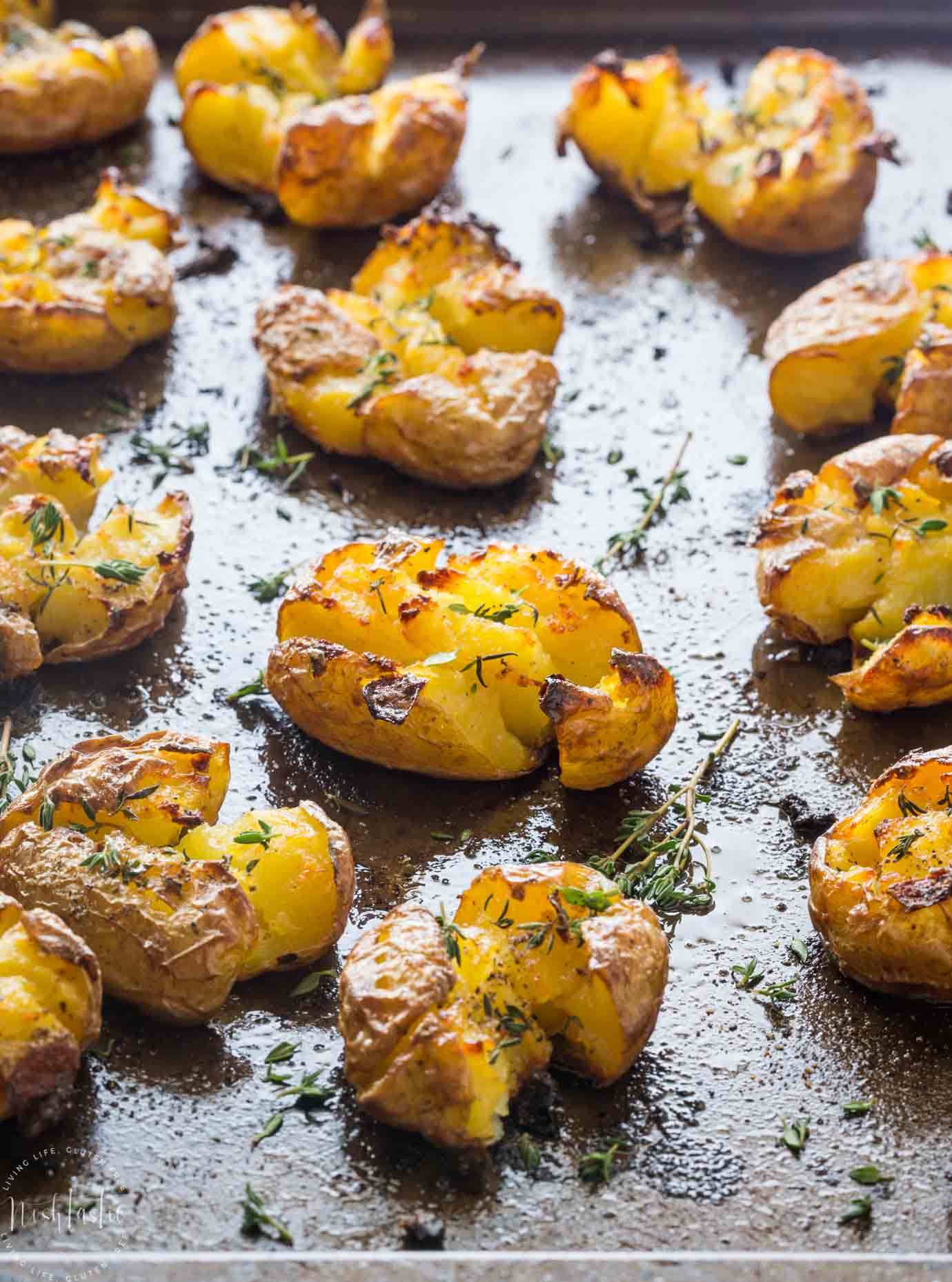 Related Potato Recipes
PIN THIS TO YOUR SIDES BOARD!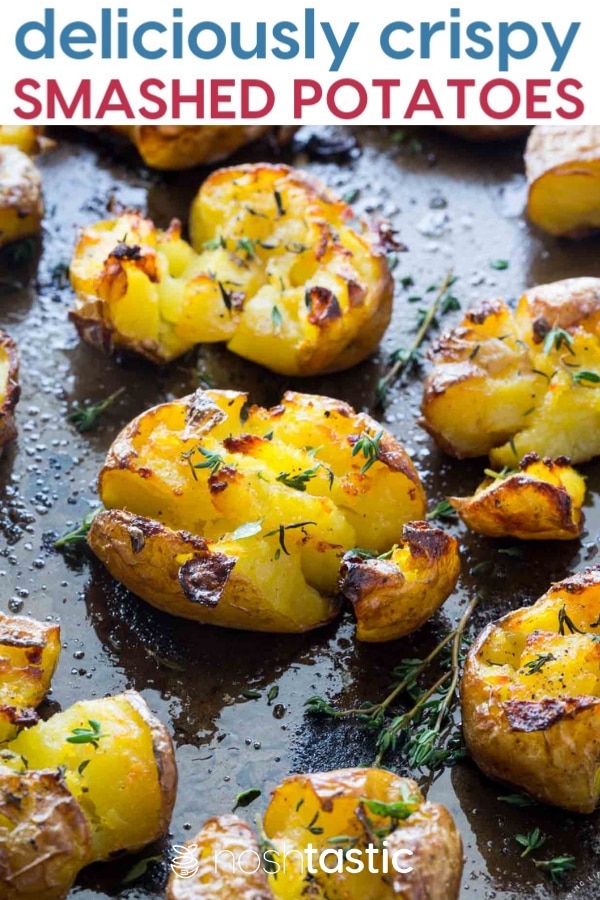 Truly Crispy Smashed Potatoes with Garlic
Smashed Potatoes baked with garlic, olive oil and herbs, fluffy in the middle and truly crispy on the outside!!
Prep Time: 10 minutes
Cook Time: 40 minutes
Total Time: 50 minutes
Total Carbs: 29 g
Protein: 6 g
Servings: 4
Ingredients
Instructions
Preheat your oven to 425F or 225C

Bring a large pot of water to the boil, then add the potatoes to it and cook until just cooked but not super soft (they will continue to cook in the oven) it will take about 15-25 minutes depending on the size of the potatoes.

While the potatoes are cooking mix the oil and garlic together.

Once the potatoes are cooked, drain them and then place the potatoes on a baking sheet.

Using a potato masher or a fork 'smash' the top of the potatoes. I like to rough them up a little with a fork and remove a little of the skin on top, this ensures more crispy bits when they are cooked.

Evenly drizzle the olive oil (or use a silicone brush) on the top of the potatoes, then season with salt, pepper, and sprinkle on the fresh thyme leaves, then immediately place the baking sheet into the hot oven.

Bake for about 20-35 minutes, or until the top of the potatoes are good and crispy! Serve immediately, the crispiness will not be as good once the potatoes start to cool, or if they have to be reheated later on.
Nutrition Facts
Truly Crispy Smashed Potatoes with Garlic
Amount Per Serving
Calories 228 Calories from Fat 90
% Daily Value*
Fat 10g15%
Saturated Fat 1g6%
Sodium 23mg1%
Potassium 948mg27%
Carbohydrates 29g10%
Fiber 5g21%
Protein 6g12%
Vitamin C 26.8mg32%
Calcium 73mg7%
Iron 7.5mg42%
* Percent Daily Values are based on a 2000 calorie diet.
Nutritional information on Noshtastic is provided as a courtesy and is approximate only. We cannot guarantee the accuracy of the nutritional information given for any recipe on this site.
Course: Side Dish
Cuisine: American