My Instant Pot Split Pea Soup cooks so quickly, you can use a leftover ham bone, ham hock, or smoked turkey leg to add flavor to the soup, it's full of savory goodness and you can cook it in any pressure cooker!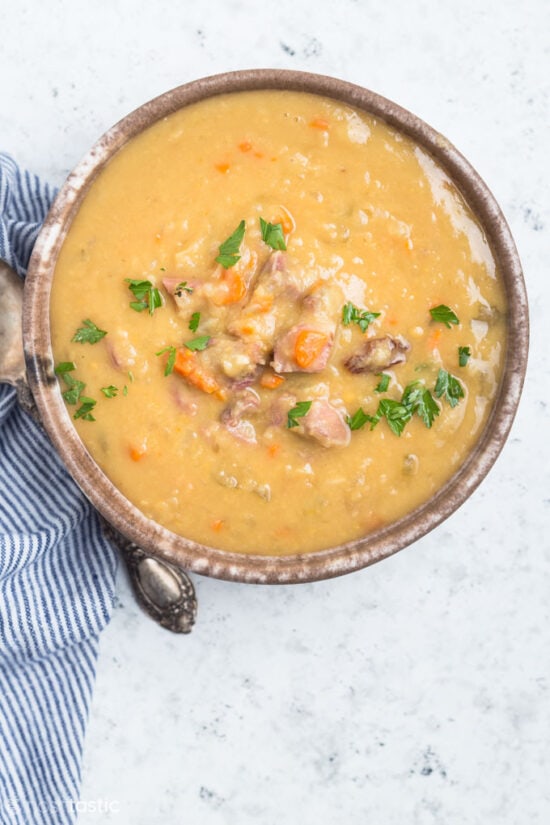 This post contains affiliate links
My pressure cooker split pea soup is the ideal way to use up those leftover ham bones from the holidays and you can even add it in from frozen!
If you don't have a ham bone don't worry, you can use a ham hock or smoked turkey leg which are usually very easy to find in the grocery store.
How to Make Instant Pot Split Pea Soup
Start by sorting through your split peas first, you're looking for small stones (!) or skins or discolored split peas, then rinse the remaining peas.
Once you've done that you can prepare all the vegetables including the carrots, onions, celery and garlic by peeling and chopping as directed. It's easier if you have everything prepped before you start.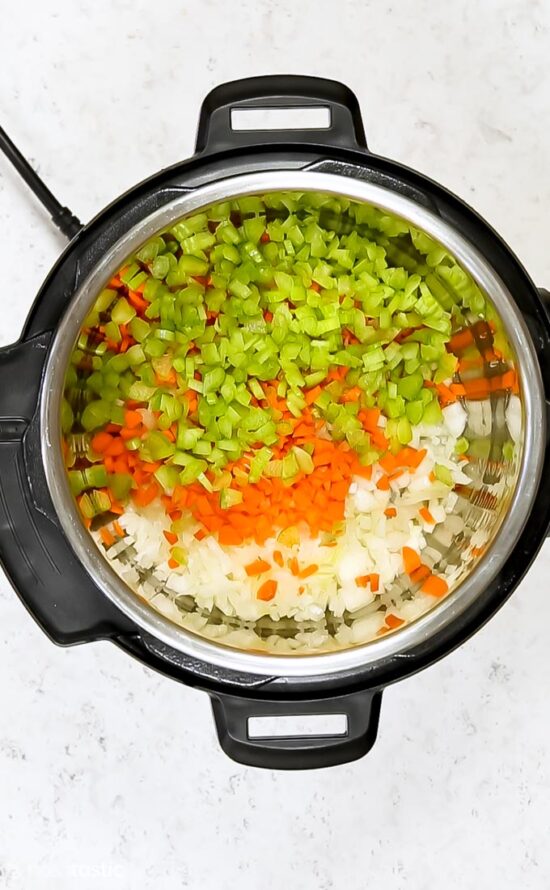 Next, add the chicken broth along with the garlic, bay leaves, and fresh thyme to the pot along with the picked over split peas and the ham bone, ham hock, or smoked turkey leg.
Then, turn on the saute function in your Instant Pot (it may be called something else on other pressure cooker models) and add a little oil and cook the onions, celery and carrots for about five minutes or so until they soften.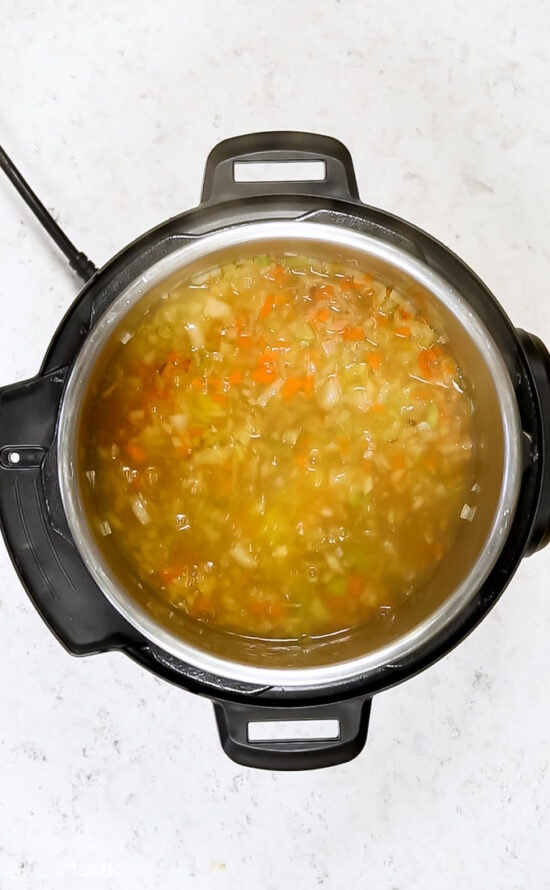 Set the pressure cooker to cook for 15 minutes at high pressure (this is the default setting on an instant pot) and when that time is up let the soup sit for a further 15 minutes, then release the pressure valve.
Taste the soup and add more salt and pepper as needed, serve with fresh chopped parsley if you have it.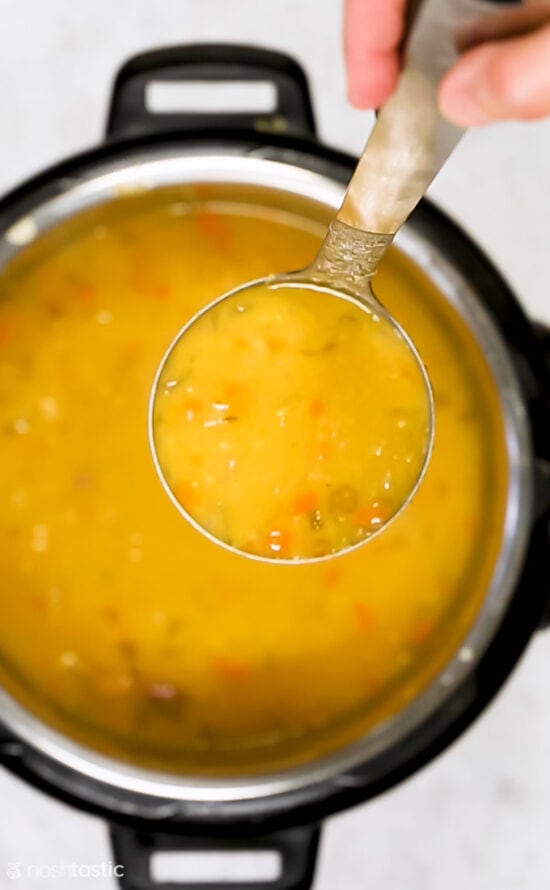 Split Pea Soup FAQ's
What Pressure Cooker should I use?
You can use any pressure cooker to make this recipe. I made it in a 6qt Instant Pot, but you could use a Power Pressure Cooker XL, Ninja Foodie, Mealthy, or any other brand of electric pressure cooker. This recipe will work in a 6qt or 8qt without any adjustments, if using an Instant Pot Mini 3qt you may need to cut the recipe in half.
Are Split peas the same as regular peas?
Split peas, both green and yellow, are field peas and are a type of legume. Green peas and green split peas are the same but the split peas are processed to remove the skin and then the pea will naturally split in half.
What's the soup texture like?
The peas are cooked until they are totally soft and creamy, they should not be not 'al dente' like you might expect from cooking beans. Once cooked they will dissolve into the soup and the end result is a thick flavorful soup with a velvety texture. If there's any bite left to the split peas then they are likely not fully cooked.
Can I double the recipe?
If you are using a 6 quart then no, you can't as it's already pretty full. If you have an 8 qt model then you may be able to double it but I'm not sure what the maximum fill level for cooking pulses is, it's about 2/3 full but you'd need to check the directions for your specific model for details.
What if I don't have a ham hock or ham bone?
A smoked turkey leg works wonderfully and is often what I use if I can't find a ham hock in the grocery store or if I don't have a ham bone in my freezer.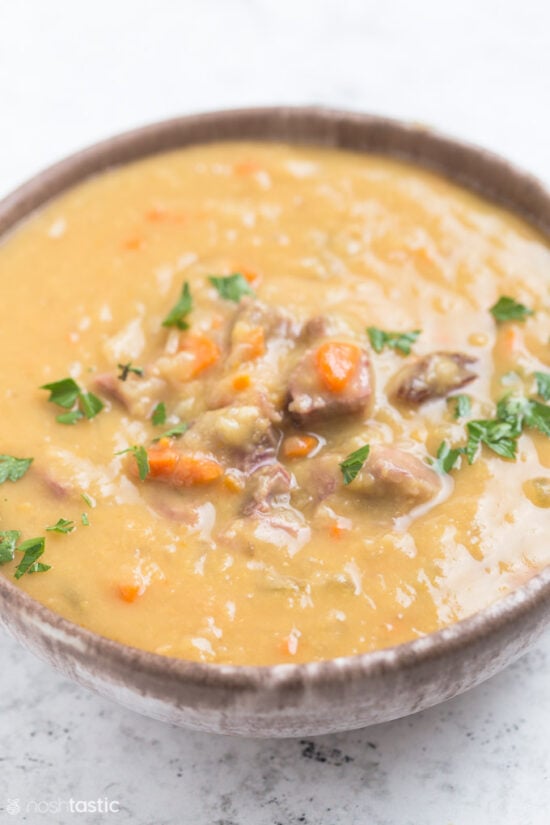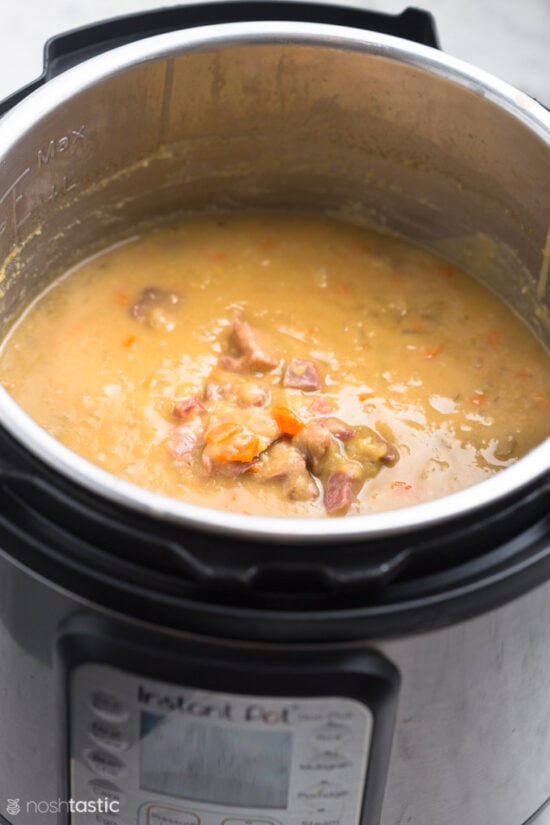 Instant Pot Split Pea Soup
Easy and so much quicker than stovetop, this instant pot Split pea soup has a wonderful velvety texture and is packed full of fresh flavors.
Prep Time: 15 minutes
Cook Time: 15 minutes
natural pressure release: 15 mins
Total Time: 45 minutes
Total Carbs: 39 g
Protein: 27 g
Servings: 8 cups
Ingredients
1 lb ham hock, ham bone, or one smoked turkey leg , 454g
3 tbsp olive oil
2 medium onions , grams, finely chopped
2 stalks celery , grams, finely chopped
2 medium carrots , grams, peeled, finely chopped
8 cups gluten free chicken broth , 2 litres
1 lb dried split yellow peas, (picked over and sorted) , 454g, can also use green split peas
4 cloves garlic , minced
1 bay leaf
2 sprigs fresh thyme
Instructions
Scroll up to watch the recipe video!

Turn on the saute/browning function in your Instant Pot or other electric pressure cooker and add two tablespoons of olive oil. Use the 'adjust' button to turn it to the medium saute heat. 

Add the diced onions, diced celery, and carrots to the pot and saute for five minutes, stirring frequently, then turn off the saute function.

Add the ham hock or smoked turkey leg, chicken broth, dried split yellow peas, garlic, bay leaf, and fresh thyme to the pot.

Lock the lid, turn the steam release vent to 'sealing' and using the manual setting, adjust it to cook for 15 minutes at high pressure.

When the cook time time is complete allow the unit to reduce pressure on its own without opening the steam release vent (Natural Pressure Release) for 15 minutes, or until the pin has dropped, then open the lid.

Remove the ham hock or smoked turkey leg and remove and chop up the meat from the bones and add it back to the soup, some ham hocks have very little meat on them so it just depends on what yours are like.

Taste the soup and add additional salt and pepper as needed, garnish with chopped fresh parsley.
Recipe Notes
Pressure cooker size – I used a 6qt Instant Pot and the recipe will work in an 8qt size without any adjustments. If cooking in the 3qt mini you will probably need to cut the recipe in half to make it fit, but the cook time will remain the same. 
Total cook time – will take about 45 minutes total, including 15 minutes (approx) to come to pressure, 15 minutes at pressure and then another 10-15 minutes for the pressure to drop.
Split peas, Yellow and Green – you can use either green or yellow split peas for this soup, they both work equally well. There is no need to pre soak them as they will cook perfectly in your pressure cooker. 
Ham Hock, or Ham Bone – If you are cooking a ham for the holidays you can freeze the bone to use for this soup, and yes, you can use it from frozen! The cook time remains the same but it will take longer to come to pressure because of the frozen bone.  Ham Hock also works well to impart the same flavor.
Smoked Turkey Leg – If you can't find a ham hock or ham bone you can use a smoked turkey leg for a similar smokey flavor, it works great!
Storage – soup will keep in the fridge for up to four days and can be frozen very easily, I recommend defrosting overnight in the fridge.
High Altitude Cooking – if cooking at altitude you may need to increase the cooking time by five or ten minutes to make sure the split peas are fully cooked. 
Nutrition Facts
Instant Pot Split Pea Soup
Amount Per Serving (1 cup)
Calories 391 Calories from Fat 126
% Daily Value*
Fat 14g22%
Saturated Fat 4g25%
Cholesterol 48mg16%
Sodium 157mg7%
Potassium 837mg24%
Carbohydrates 39g13%
Fiber 16g67%
Sugar 7g8%
Protein 27g54%
Vitamin A 2689IU54%
Vitamin C 5mg6%
Calcium 65mg7%
Iron 3mg17%
* Percent Daily Values are based on a 2000 calorie diet.
Nutritional information on Noshtastic is provided as a courtesy and is approximate only. We cannot guarantee the accuracy of the nutritional information given for any recipe on this site.
Course: Soup
Cuisine: American