Instant Pot Chicken and Wild Rice soup recipe, it's gluten free, healthy, tasty and unbelievably easy to make in your electric pressure cooker, you just throw it all in and go!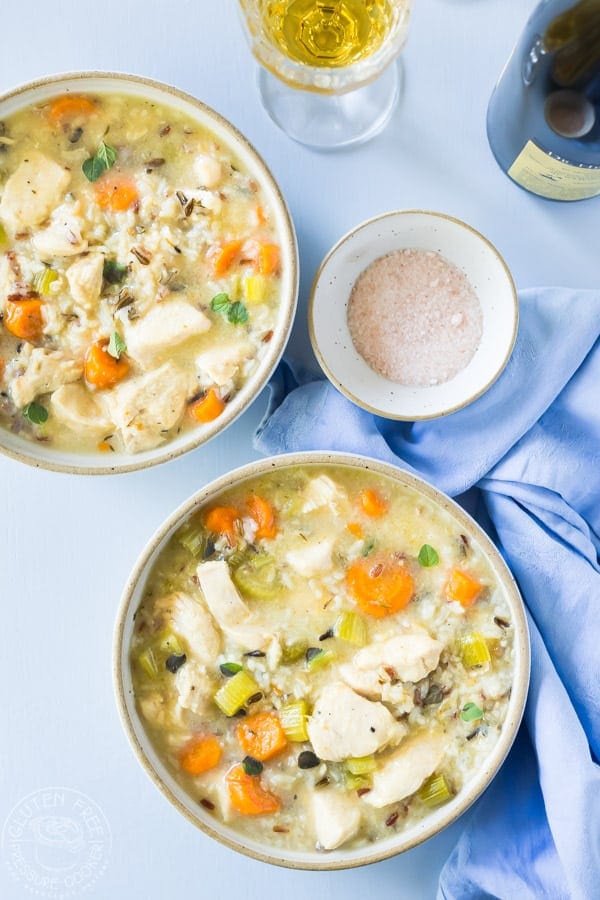 This post contains affiliate links
I used a blend of rice to make my Instant Pot chicken and wild rice soup recipe and it worked really well and the rice cooked evenly.
How to make Instant Pot Chicken and Wild Rice Soup
I just love recipes where you can throw it all in ONE pot, turn it on and be done. Well, this is one of those recipes and it tastes great too!
It's really simple to make my pressure cooker chicken and wild rice soup, so here are a few cooking tips and step by step instructions for you, the full recipe with directions is at the end of this post.
This post contains affiliate links
Wild Rice Blend – for this recipe I'm using a wild rice blend, which is a combination of wild rice and brown rice. If you don't use this brand and you are gluten free, or cooking for someone who is, PLEASE make sure it is not a blend that contains other gluten containing grains.
Before you start prepare the carrots, onions, celery, garlic and herbs so that they are ready to throw in the pot.
Chop the chicken breast into 2 inch (approx) sized pieces.
I sautéed the vegetables for just a minute or two using the sauté function on my Instant Pot, then I added the chicken broth, seasonings, chicken pieces, and wild rice blend on top of the chicken and and then cooked it on high pressure for 4 minutes, then let the pressure release naturally for 10 minutes.
Don't be tempted to open the pot as soon as the cook time is up, allowing the pressure to drop first means that the soup continues to cook for a few more minutes and it ensures that you don't have hot soup spraying out of the pressure release valve if you open it right away.
If you prefer to thicken the soup after it's cooked you can add a little cornstarch mixed with cold chicken broth to thicken it up.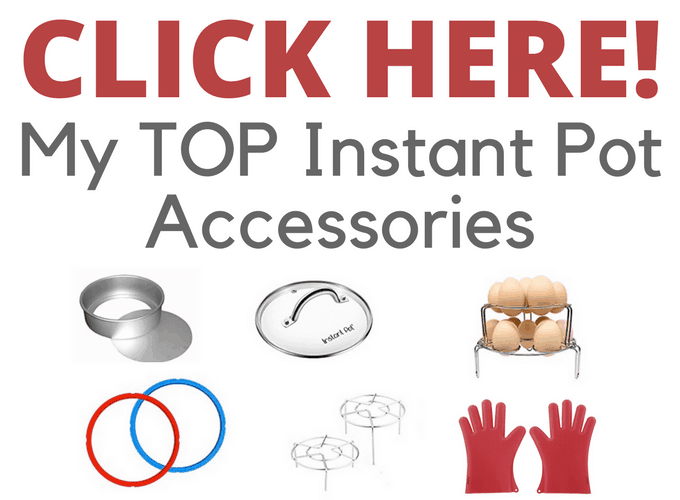 Where Can I Buy Wild Rice?
As I mentioned above I used a gluten free wild rice blend, the same brand as the image below and it worked beautifully. I bought it at my local grocery store, but if you can't buy it there you can find it on Amazon by clicking the photo or link above.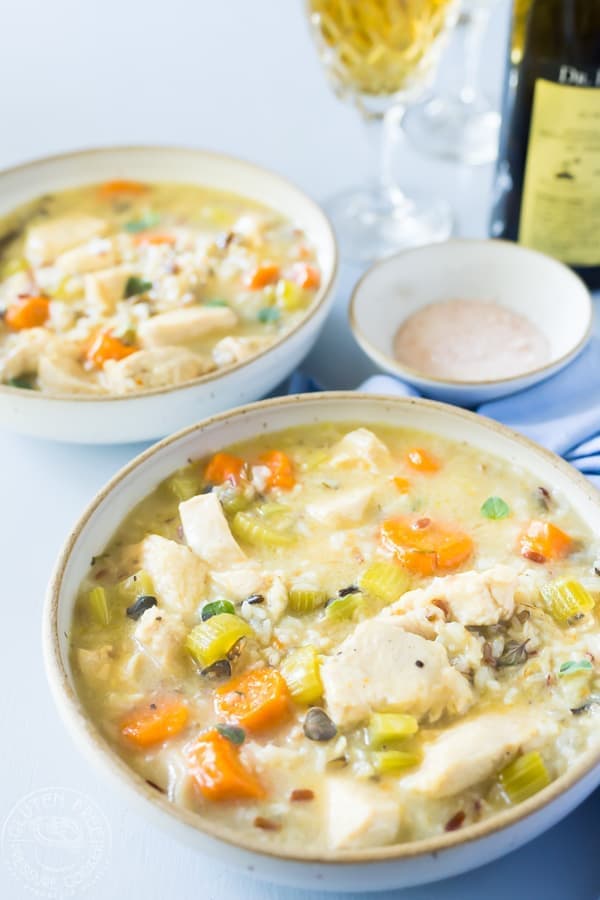 What is the difference between Wild Rice and Brown Rice?
I think many people, me included, assume that brown rice and wild rice are similar but the truth is they are not even closely related! I was surprised to discover that wild rice isn't even rice, it's a wild grass that grows in lakes or rivers and is native to North America. [1]
The wild rice grains are longer than brown rice and even when cooked they still have much more bite and texture to them than brown rice does.
What about Wild rice vs Black Rice?
Black rice is a member of the rice family and is a short grain rice that comes from China. The dark color of the grain is primarily due to its dense anthocyanin content. Black rice is high in protein, fibre, iron and a great source of nutrients. [2]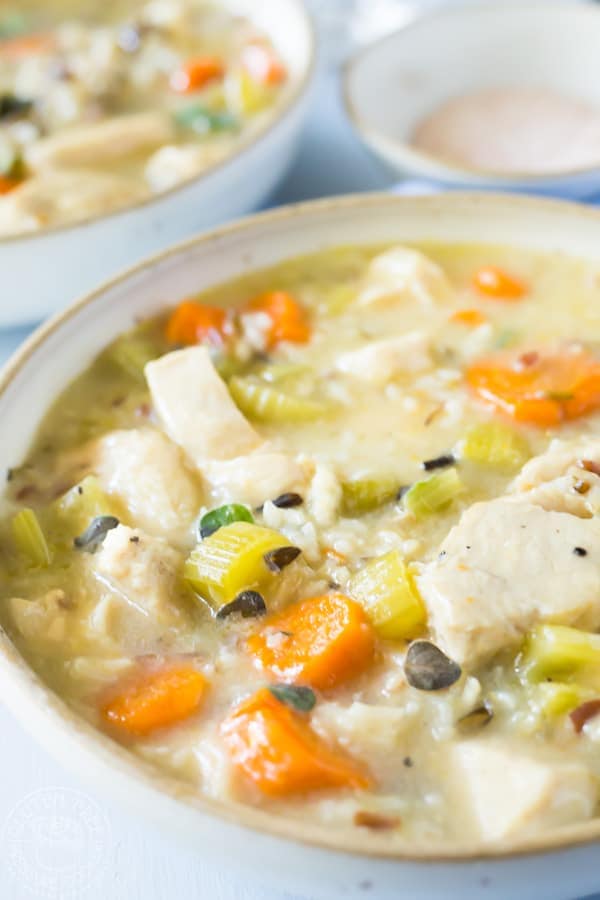 MORE INSTANT POT RECIPES
Our boys love my Pressure Cooker Sweet and Sour Pork recipe, it's very easy to make!
This is a really easy Pressure Cooker Corn Chowder Recipe and I've made it dairy free and you would NEVER know the difference! You can use half & half instead of coconut milk if you are not dairy free.
This is a classic recipe that's been given a 'do-over' to make it work in the Instant Pot, I think you'll love my pressure cooker Beef Bourguignon!
Instant Pot Chicken And Wild Rice Soup
Instant Pot Chicken and Wild Rice soup recipe, it's gluten free, healthy, tasty and unbelievably easy to make in your electric pressure cooker, you just throw it all in and go!

Prep Time: 10 minutes
Cook Time: 14 minutes
Total Time: 24 minutes
Total Carbs: 32 g
Protein: 13 g
Servings: 6
Instructions
Watch the recipe video to see how to make it! it's right after the directions.

Start by adding the olive oil in the inner pot by turning on the saute function on your electric pressure cooker, and adjust it to the low heat option.

Don't wait for the display to say 'hot', add oil right away.

Add the carrots, celery, onions, and saute for about two or three minutes, then turn off the saute function.

You must ensure that there is nothing stuck to the bottom of the pan as that can cause the 'burn' warning to appear on the display. If you need to, use a little chicken broth to scrape up any stuck on vegetables or residue from the bottom of the pan to prevent this

Add the chicken broth and stir well, keep 1/2 cup chicken broth aside to mix with the cornstarch later if needed.

Now add the chicken, garlic, thyme, salt, pepper and stir well.

Add the wild rice blend last and on top of the chicken do not stir! It's important you add it in this order, we want to avoid the rice sticking on the bottom of the pan and causing the 'burn' notice, so adding it last and on top of the chicken should help.

Lock the lid, turn the steam release vent to 'sealing' and using the manual setting, adjust it to cook for 4 minutes at High Pressure.

When the cook time time is up, allow the unit to reduce pressure on its own without opening the steam release vent (Natural Release) for 10 minutes, then release the remaining pressure and open the lid.

If you want to thicken the soup further after it's cooked simply mix the 1/2 cup of cold chicken broth with 1/4 cup of cornstarch and stir in after you open the pot, you can turn on the saute function if you need to to help it thicken up but usually it's hot enough right after the lid is opened.

If it's thick enough already simply add back the half cup of chicken broth and stir in.
Recipe Notes
UPDATED RECIPE STEPS 
I've changed the steps (but not the ingredients) for this recipe as some people have reported having the dreaded 'BURN' notice appear on their Instant Pot display, and then it fails to come to pressure. 
I've changed the steps to omit the cornstarch until the end to see if that helps, also adding the wild rice last and on top of the chicken to help prevent any possible sticking on the bottom of the pot.
WILD RICE BLEND – If you are gluten free please ensure that the wild rice blend you choose does not have other gluten containing grains added to it, I have seen some with cous cous added to them. The Rice Select Royal Blend that I used for this recipe is gluten free.
Adapted from Food
Nutrition Facts
Instant Pot Chicken And Wild Rice Soup
Amount Per Serving
Calories 237 Calories from Fat 54
% Daily Value*
Fat 6g9%
Cholesterol 24mg8%
Sodium 850mg37%
Potassium 570mg16%
Carbohydrates 32g11%
Fiber 3g13%
Sugar 3g3%
Protein 13g26%
Vitamin A 6100IU122%
Vitamin C 16.7mg20%
Calcium 43mg4%
Iron 1.2mg7%
* Percent Daily Values are based on a 2000 calorie diet.
Nutritional information on Noshtastic is provided as a courtesy and is approximate only. We cannot guarantee the accuracy of the nutritional information given for any recipe on this site.
Course: Soup
Cuisine: American