Easy pressure cooker Italian Wedding Soup, this recipe is gluten free, paleo, Whole30, low carb and healthy, and is perfect to make in your Instant Pot or any other electric pressure cooker!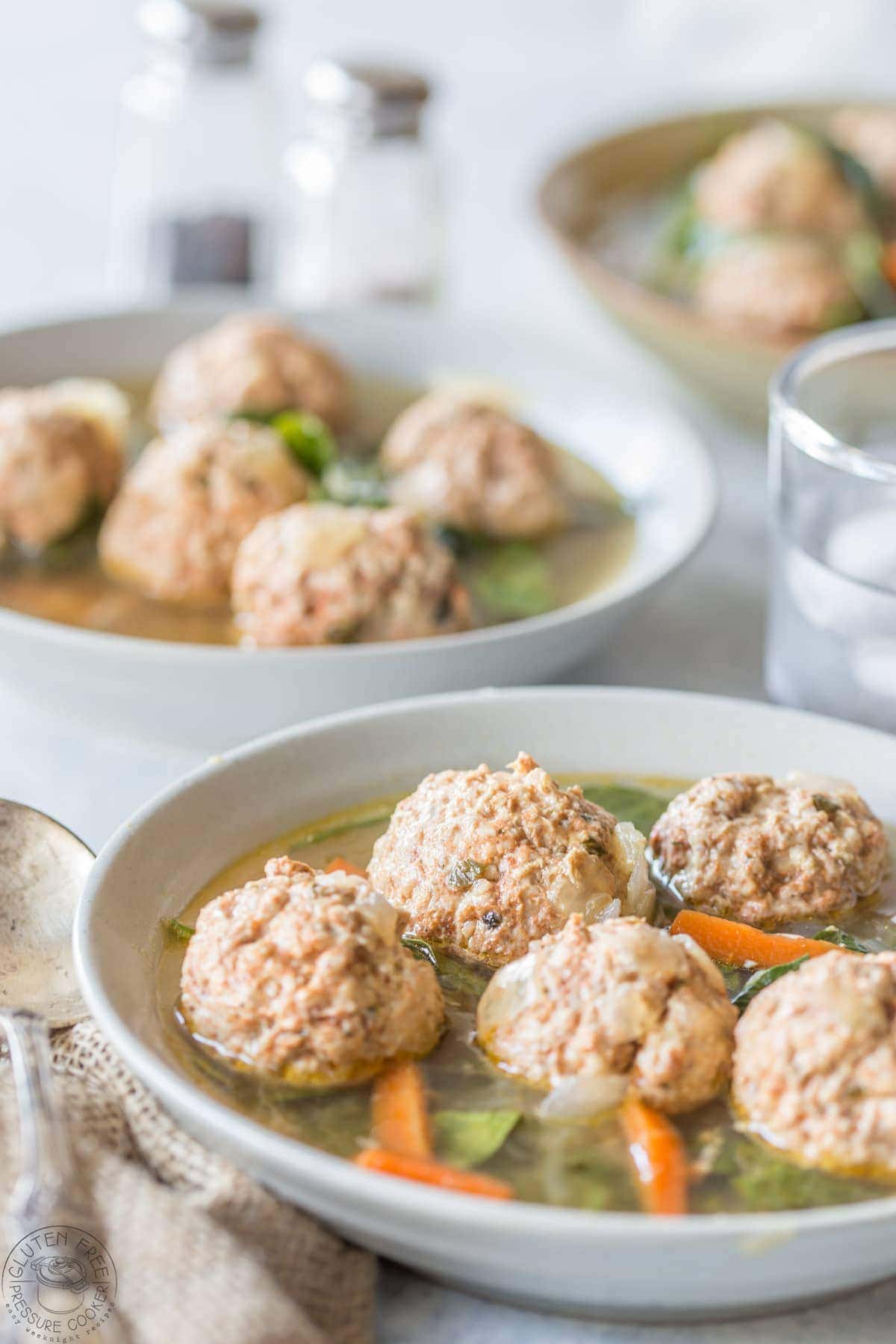 ---
Buy the NEW INSTANT POT DUO MINI I love it!
Here's my Top Instant Pot Accessories list.
---
This post contains affiliate links
What is Italian Wedding Soup?
Italian Wedding Soup, or simply wedding soup as it's also known,  is an Italian-American creation that consists of green vegetables such as cabbage, kale, or spinach, and small meatballs cooked in a light broth.
It often contains tiny pasta like orzo and somtimes parmesan cheese and is a popular option in many Italian restaurants such as Olive Garden and Carrabba's.
I wanted to make a pressure cooker Italian Wedding Soup that is both Paleo and Whole30 compliant so I don't have any gluten free pasta in my recipe, if you are following the whole30 diet you'll want to omit the parmesan cheese at the end.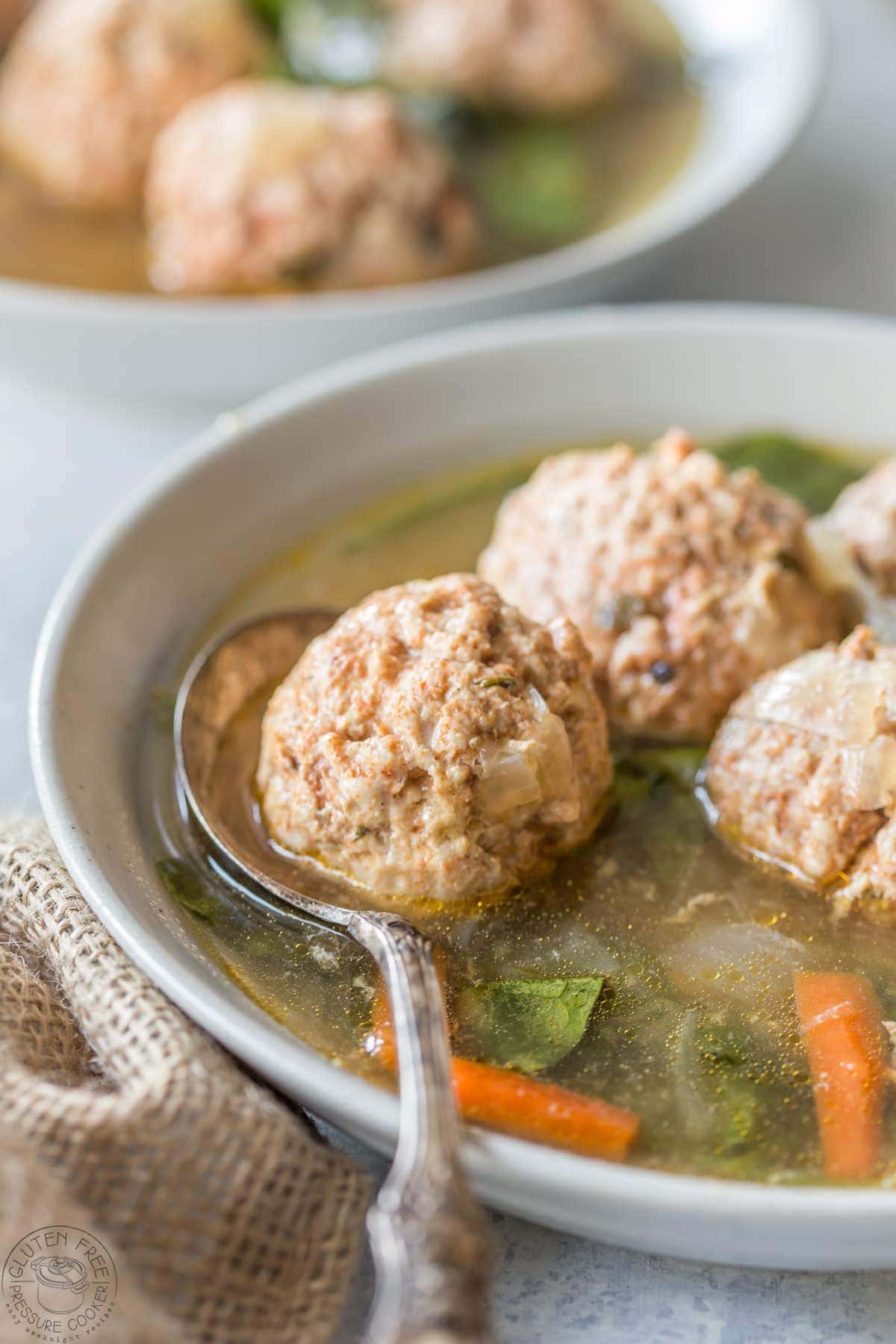 How to cook Instant Pot Italian Wedding Soup
My pressure cooker Italian Wedding soup is really easy to make and cooking it in your Instant Pot is a breeze! You start off by using Italian Sausage and forming it into even sized meatballs that are about the size of a golf ball, or slightly smaller.
I like to saute the onions and carrots in the inner pot for a few minutes until they are soft, then I simply add the meatballs and chicken broth and cook on high pressure for 5 minutes. I add the spinach at the end after the cook time is up, it doesn't even really need to be cooked as it wilts almost as soon as you add it to the hot liquid.
Ingredients you'll need for Pressure Cooker Italian Wedding Soup
I made the meatballs with Italian pork sausage meat and shaped it into about 12 meatballs. The soup also has onions, garlic, carrots and spinach. As I mentioned above the spinach is added at the last minute because it takes just a minute or so to cook.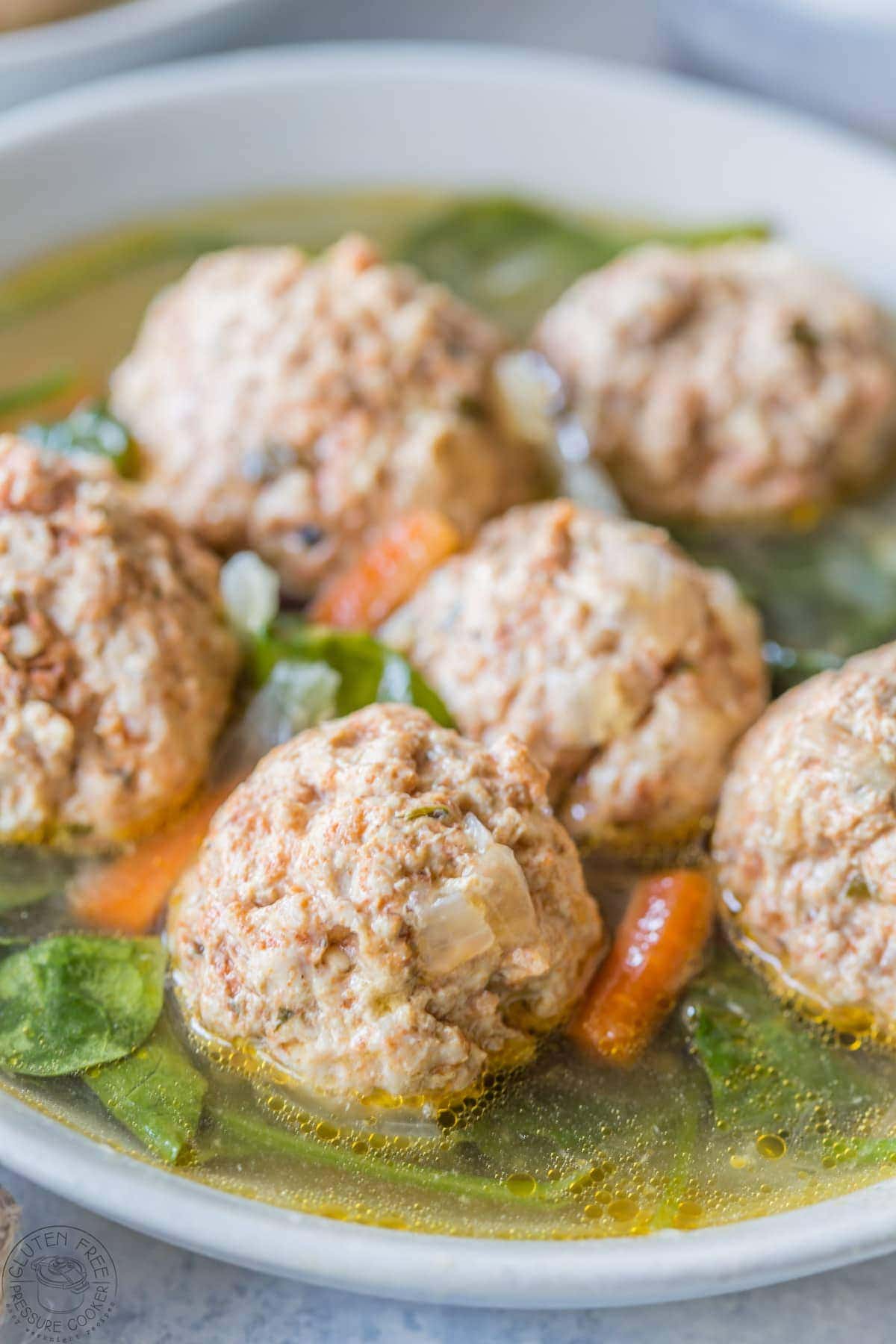 Join our Gluten Free Pressure Cooker Group!
Have you joined our Gluten Free Pressure Cooker Facebook group yet? If you're looking for a place to share and find more gluten free pressure cooker recipes, learn how to use your new pressure cooker, or simply ask for advice, tips and recipe ideas then don't miss out on all the fun!
If you've already joined, be sure to add your friends who love pressure cookers!

More Gluten free Pressure Cooker Recipe Ideas!
Are you looking for more easy pressure cooker recipes that you can make for dinner? We've got you covered! I love to use my Instant Pot every chance I can get so here are a few more dinner recipes I think you'll love.
The first one is a recipe I've been making for years in the slow cooker, but recently converted it to work in the Instant Pot. Gluten Free Pressure Cooker Korean Ribs are so simple to make so if you're new to electric pressure cooking this would be one to try.
What about a couple of easy chicken recipes? I have a recipe for pressure cooker Chicken Puttanesca, which is full of flavor but simple to make.
and if you like the sound of that then I think you'll also enjoy my pressure cooker chicken Paprikash recipe!
Pressure Cooker Italian Wedding Soup
Prep Time: 10 minutes
Cook Time: 5 minutes
Total Time: 15 minutes
Total Carbs: 11 g
Protein: 15 g
Servings: 6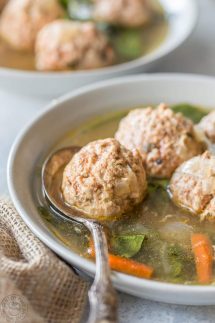 Ingredients
Instructions
Shape the Italian sausage into equal sized meatballs, it should make about 12 - 15 meatballs.

Turn on the saute function on your Instant Pot or other electric pressure cooker and adjust to the medium heat option. don't wait for the display to say 'hot', add olive oil right away.

Add the chopped onions and carrots and saute for two to three minutes.

Add the chicken stock, garlic, salt and pepper to the pot with the vegetables, using a spatula make sure you scrape up any vegetables that may be stuck to the pot now turn off the saute function.

Add the meatballs to your Instant pot, Lock the lid, turn the steam release vent to 'sealing' and using the manual setting, adjust it to cook for 5 minutes at High Pressure.

When the cook time time is up, allow the unit to reduce pressure on its own without opening the steam release vent (Natural Pressure Release) for about 10-12 minutes, then you can gently release the rest of the pressure by opening the vent.

Add the spinach leaves and stir well into the soup. They should be wilted after just a couple of minutes, I usually sit the lid loosely on top until they are soft, about two - three minutes.

Serve hot, with grated parmesan if desired. (omit cheese for whole30)
Nutrition Facts
Pressure Cooker Italian Wedding Soup
Amount Per Serving
Calories 363 Calories from Fat 252
% Daily Value*
Total Fat 28g 43%
Saturated Fat 9g 45%
Cholesterol 62mg 21%
Sodium 903mg 38%
Potassium 528mg 15%
Total Carbohydrates 11g 4%
Dietary Fiber 1g 4%
Sugars 4g
Protein 15g 30%
Vitamin A 98.9%
Vitamin C 9.8%
Calcium 4.2%
Iron 9%
* Percent Daily Values are based on a 2000 calorie diet.
Nutritional information on Noshtastic is provided as a courtesy and is approximate only. We cannot guarantee the accuracy of the nutritional information given for any recipe on this site.
Course: Soup
Cuisine: American, Italian