Instant Pot Baked Potatoes are SO easy to make. Read on to find out how you can cook foolproof, fluffy and fork tender, baked potatoes every time in your pressure cooker, no need to turn on the oven!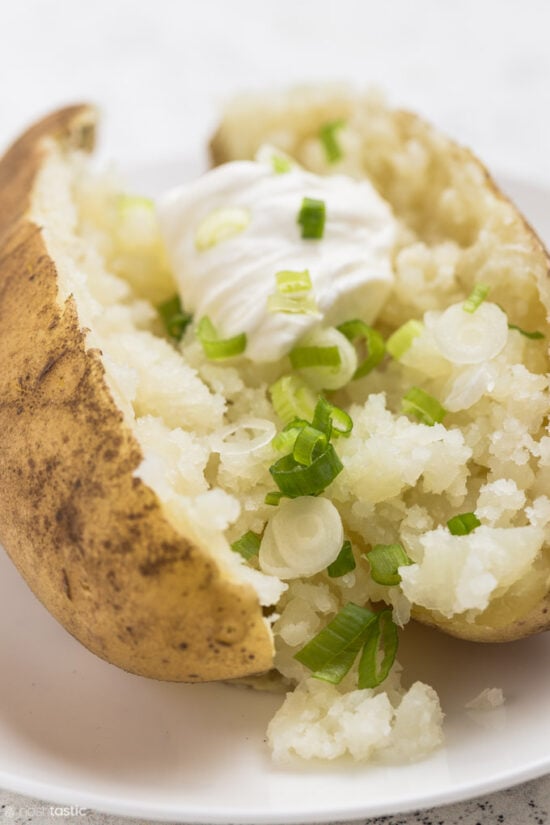 This post contains affiliate links
How to Make Instant Pot Baked Potatoes
Step 1 – Prick the skin of the potatoes a couple of times all over with a fork. If you like you can rub the skin with olive oil and salt, but it's entirely optional and won't affect how the potato cooks.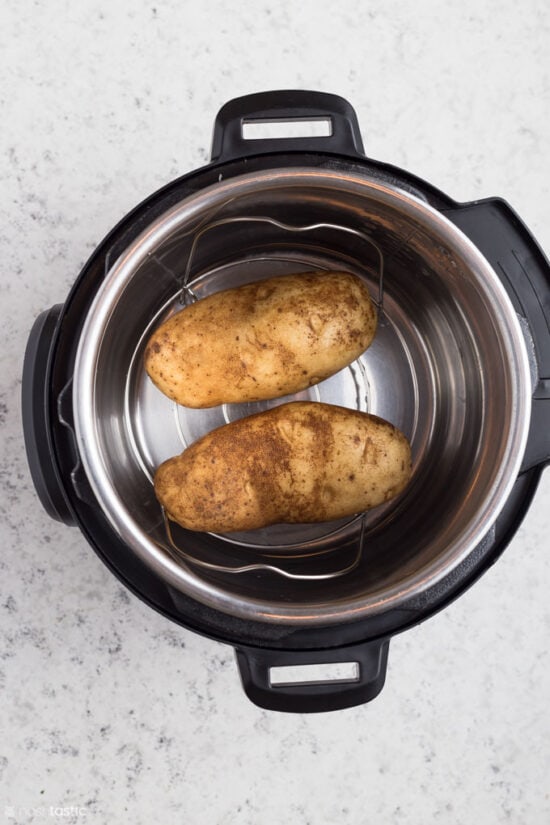 Step 2 – Add the trivet that came with your instant pot to the base of your pressure cooker and add 1 cup of water for 6qt, or 1.5 cups for 8qt size. (If you have a different brand of pressure cooker please check the manual for minimum water requirements)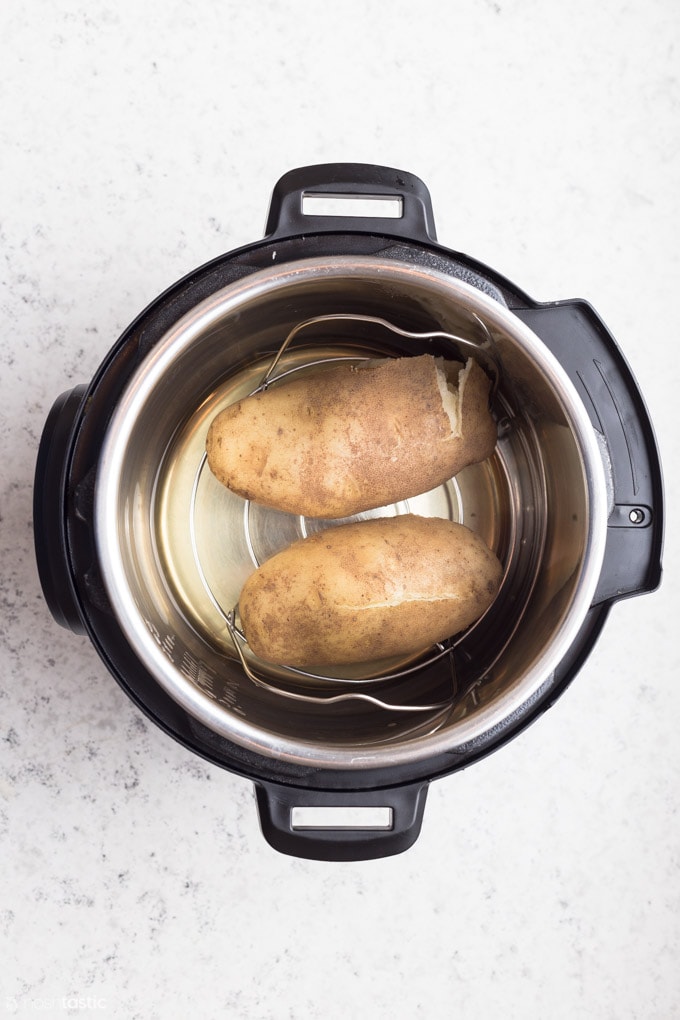 Step 3 – Check the list of cook times in my recipe notes (in the recipe card) and set your pressure cooker to cook for the appropriate time based on the size of the potatoes. Once the cook time is complete you need to check to see if the potatoes are cooked enough, if not then simply put the lid back on your Instant Pot and cook for a few minutes more.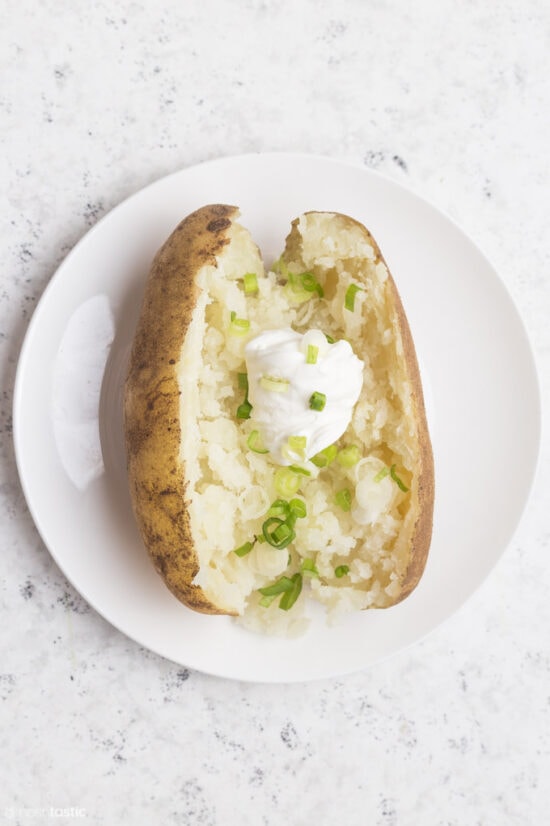 Instant Pot Baked Potatoes FAQ's & Troubleshooting
Will they have crispy skin? – No, sorry, and don't believe anyone that tells you otherwise! They are cooked with steam under pressure as opposed to the dry heat you'd get in the oven so it's simply not possible to create crispy skin in those conditions.
What if I put them under the broiler? – You can get a somewhat crispier skin if you do that after the potatoes are cooked, but remember the skin has already been steamed and is soft so any real 'crispiness' will be very limited.
My Potatoes were rock hard after cooking – If your potatoes aren't even a little bit cooked after pressure cooking then you need to see if your pressure cooker is leaking steam. If it is, then the water in the pressure cooker will eventually evaporate and it won't come to pressure. Check that the sealing ring is secure, and check that the steam release vent is shut. If steam is escaping from the sides of the lid then your unit is not sealing properly. If your potatoes are partly cooked but not fully cooked you simply need to cook them longer.
What if I want to cook more (or less) potatoes? – The cook time is the same, if you have lots more potatoes to cook you may find it easier to stand them up on their ends to get them in there.
I live at high altitude, does that change the cook time? – Usually that means you will need more time to pressure cook your potatoes. As I don't live at altitude I'm unable to test it for you but this article has some helpful guidelines for cooking at altitude.
Do I need to wrap them in foil first? No, you don't need to do that.
My potatoes were almost cooked, but not quite, where did I go wrong? You didn't go wrong, they just need to be cooked a little longer so put the lid back on and cook them for a few more minutes.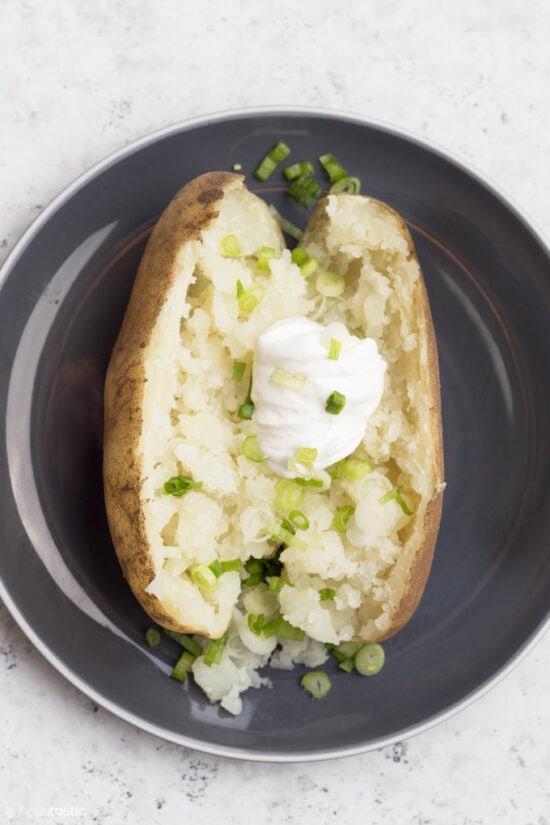 More Instant Pot Recipes
Instant Pot Baked Potato
If you're looking for a quick and easy way to cook baked potatoes then using your Instant Pot or pressure cooker is the way to go!
Prep Time: 3 minutes
Cook Time: 16 minutes
NPR: 10 mins
Total Time: 29 minutes
Total Carbs: 41 g
Protein: 5 g
Servings: 4
Instructions
Prick the potatoes a couple of times with a fork.

Rub all over with olive oil and salt. (optional)

Add a trivet to the base of your Instant pot and add 1 cup of water for 6qt, or 1.5 cups for 8qt. (If you have a different brand of pressure cooker please consult your manual for minimum water requirements)

Please refer to the cook times in the recipe notes below, the timing will differ based on the size and type of potato.

Lock the lid, turn the vent to 'sealing' and using the manual setting, adjust it to cook for your chosen cook time at high pressure.

At the end of the cook time you will need to wait for ten minutes to allow the pressure to drop, this is referred to as 'natural pressure release' or 'NPR'. Then you can release the pressure by opening the weighted valve, and then carefully remove the lid.

If your potato is not cooked enough simply place the lid back on and cook in the same manner as before for a a few more minutes.
Recipe Notes
Cook Times – Please remember cook times are approximate as there are several factors that could influence how your potatoes cook. If you find your potatoes are not cooked with the times listed, just put the lid back on and cook a little longer, just like you would on the stove, it's easy! 
Small Potatoes – Approximately 7 inch diameter and about 8 oz (225g) 16 minutes plus 10 minutes NPR.
Medium Potatoes – Approximately 8 inch diameter and about 13 oz (365g) 18 minutes plus 10 minutes NPR.
Large Potatoes – Approximately 9 inch diameter and about 17 oz (485g) 20 minutes plus 10 minutes NPR.
Potato Varieties – We tested this using Russet Potatoes, they are often sold as baking potatoes. Other varieties may have different cook times. 
Nutrition Facts
Instant Pot Baked Potato
Amount Per Serving
Calories 179 Calories from Fat 9
% Daily Value*
Fat 1g2%
Saturated Fat 1g6%
Sodium 11mg0%
Potassium 946mg27%
Carbohydrates 41g14%
Fiber 3g13%
Sugar 1g1%
Protein 5g10%
Vitamin C 13mg16%
Calcium 29mg3%
Iron 2mg11%
* Percent Daily Values are based on a 2000 calorie diet.
Nutritional information on Noshtastic is provided as a courtesy and is approximate only. We cannot guarantee the accuracy of the nutritional information given for any recipe on this site.
Course: Main Course
Cuisine: American