Gluten Free Apple Crisp is so versatile, you can eat it for a healthy breakfast option, or throw on some ice cream for a delicious dessert!
I made my gluten free apple crisp with a similar topping to my Gluten Free Fruit Crisp, it's packed full of oaty goodness, a little maple syrup, and some almonds for crunch.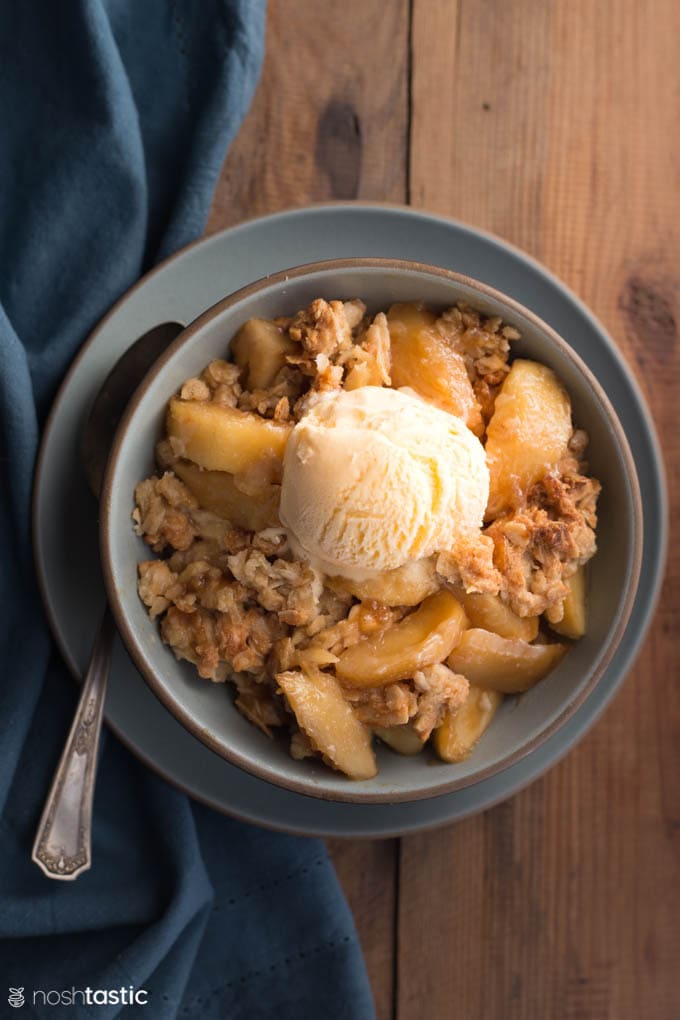 How to make gluten free apple crisp
Start by assembling all your ingredients, then mix the lemon juice, cornstarch, brown sugar and water together before you peel the apples, put the mixture into a large bowl then preheat your oven to 375F.
You'll need a baking dish that is approximately one quart.
Peel the apples and put them in the bowl and toss in the lemon juice and water mixture, then layer them in the baking dish like you see in the photo below.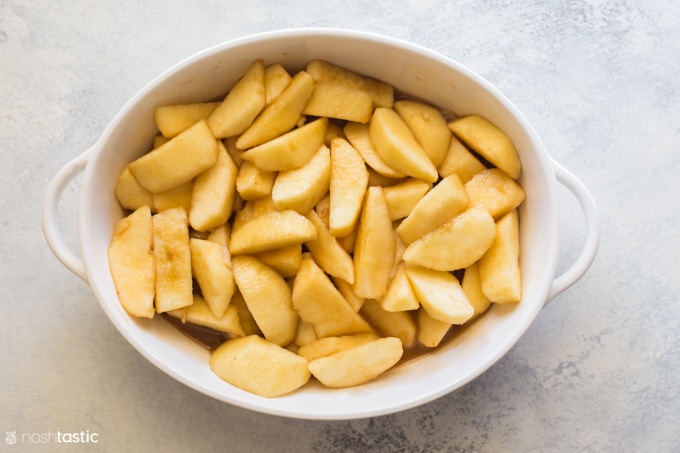 Now you simply need to mix together the gluten free rolled oats, almond flour, almonds, maple syrup, melted coconut oil, vanilla and salt and blend well.(see photo)
Just a quick note to make sure you know to only use certified gluten free oats, not all oats are suitable for people on a gluten free diet.
While the oat grain contains no gluten, they can be contaminated with gluten containing grains in the field when they are grown, or where they are processed.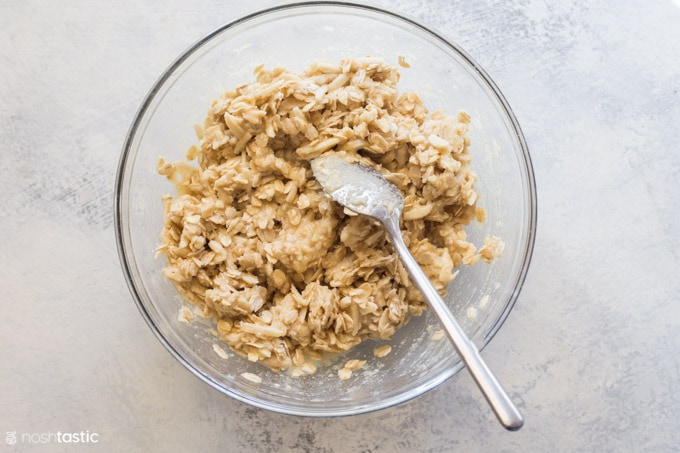 Top the apples with the oatmeal and almond flour mixture and spread it out nice and evenly over the top of the apples.
Bake in your preheated oven for about 30 minutes or until the top is nice and golden brown.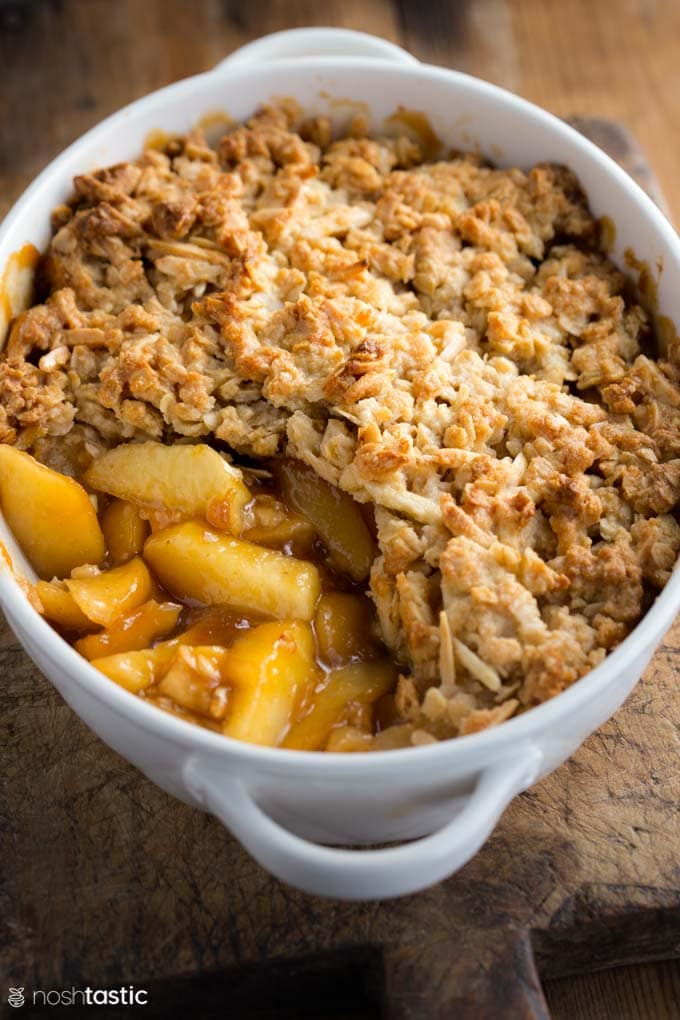 We love to serve it with Ice Cream, if you are dairy free there are some excellent dairy free ice creams that work well too!
If there are leftovers then we eat it for breakfast. It has less sugar I'm sure than the average breakfast cereal so it's a great option and is perfectly tasty cold, or you can microwave it for a few seconds to reheat but it won't be quite as crispy.
What's the difference between Apple Crisp and Apple Crumble?
Sometimes the difference is minimal, and often the names are used interchangeably these days.
Generally speaking though, a fruit crisp has a topping that includes things like nuts, oats, sugar, and spices and is more like granola in texture, and well, crispy!
A fruit crumble is usually topped with more of a streusel topping which is softer and made with a mixture of butter, flour, and sugar.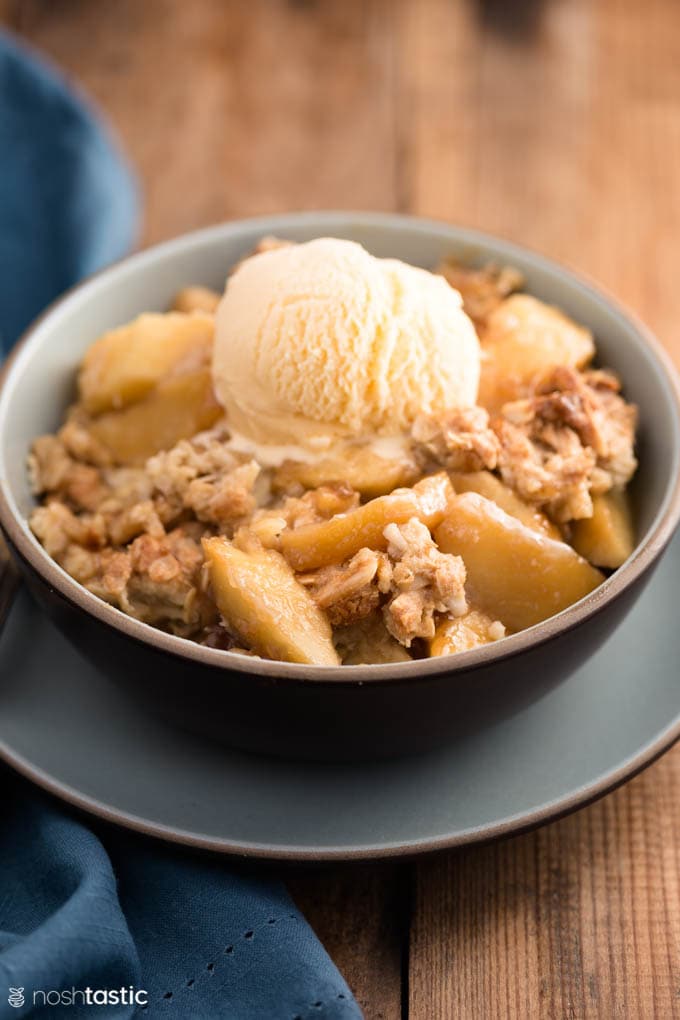 Related Gluten Free Recipes
Gluten Free Apple Crisp
Easy Gluten Free Apple Crisp Recipe that works perfectly as a dessert or a healthy breakfast option!
Prep Time: 15 minutes
Cook Time: 30 minutes
Total Time: 45 minutes
Total Carbs: 69 g
Protein: 8 g
Servings: 6
Ingredients
Gluten Free Apple Crisp Topping
Instructions
Preheat your oven to 375F, you'll need a baking pan that's approximately one quart (1 litre)

Mix the lemon juice, cornstarch, brown sugar and water together in a large bowl.

Cut and peel the apples into large chunks and mix into the lemon water mixture in the bowl, and once they are evenly coated place them in your baking dish.

Mix the Gluten Free Apple Crisp Topping ingredients together in a bowl including the gluten free rolled oats, almond flour, slivered almonds, maple syrup, coconut oil (melted), vanilla extract and salt.

Evenly spread the topping over the apples.

Bake for 30 minutes or until golden on top.

You can serve it hot from the oven, or cold later on.
Recipe Notes
Storage – you can keep this in an airtight container and eat it hot or cold. I just reheat it per serving on a plate in the microwave, the topping is not quite as crisp but it works in a pinch.
Gluten Free Oats – If you are making this for someone who eats gluten free then you must ensure that you use certified gluten free oats, regular oats can have gluten contamination. 
Nutrition Facts
Gluten Free Apple Crisp
Amount Per Serving
Calories 523 Calories from Fat 243
% Daily Value*
Fat 27g42%
Saturated Fat 11g69%
Sodium 136mg6%
Potassium 338mg10%
Carbohydrates 69g23%
Fiber 8g33%
Sugar 41g46%
Protein 8g16%
Vitamin A 95IU2%
Vitamin C 9.9mg12%
Calcium 100mg10%
Iron 1.8mg10%
* Percent Daily Values are based on a 2000 calorie diet.
Nutritional information on Noshtastic is provided as a courtesy and is approximate only. We cannot guarantee the accuracy of the nutritional information given for any recipe on this site.
Course: Dessert
Cuisine: American