Chimichurri sauce is one of these wonderfully simple recipes that packs a massive flavor punch with just a handful of fresh ingredients, it's one of my favorite steak sauces of all time so if you've never tried it you need to remedy that pronto!
I always underestimate just how much Chimichurri I like to add it to my steak, so if in doubt double the recipe so you don't run out!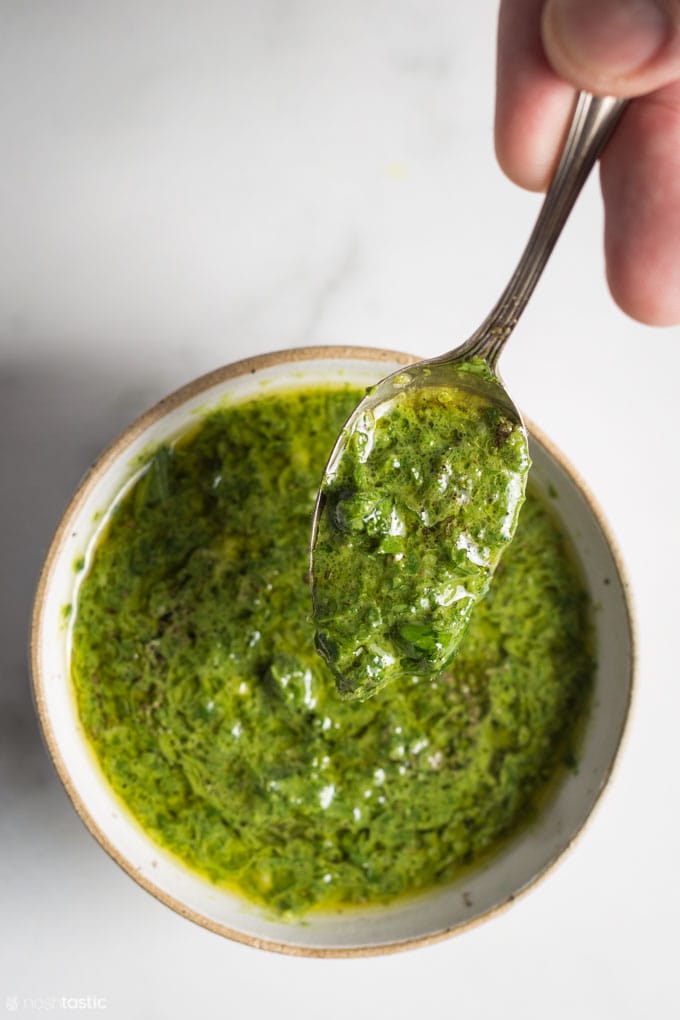 Chimichurri sauce making tips!
Y'all there's really no skill involved in this Chimichurri recipe, it's about the the easiest thing ever to make as you just add it all to a blender and turn it on.
No cooking, no planning ahead of time, just whiz it all up and you're done!
If you don't have a blender you can simply chop the herbs by hand. Some people prefer a more chunky look to the sauce that you get if you hand chop the parsley and oregano, but I don't think it affects the taste so I just whack it all in the blender.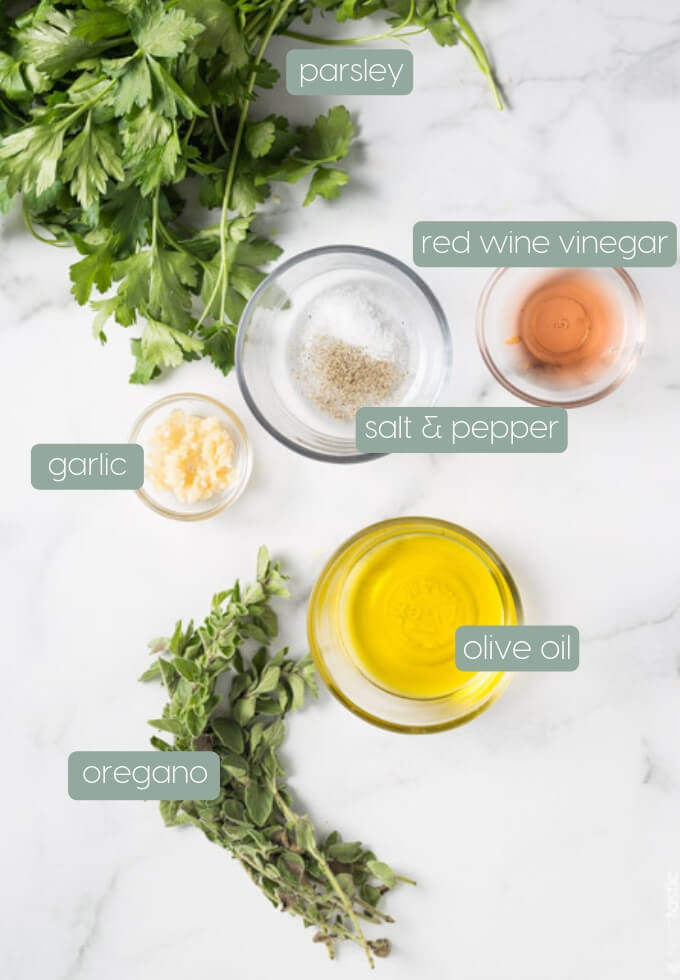 And I know some of you are wondering if you can use the dried herbs in your pantry. I think you really need fresh oregano and fresh parsley to work their herby magic in the sauce, dried herbs just won't cut it. But if you are really, really, stuck you can use dried oregano if you must, but please don't use dried parsley!
I think this is best served with grilled steak.
It's such a classic fabulous flavor combo with a tender piece of smoky grilled steak and a spoonful of Chimichurri sauce, very simple but totally delish!
So what are you waiting for? I hope you're already on your way to the grocery store to get you some steak and fresh herbs for the sauce! – Sheena xx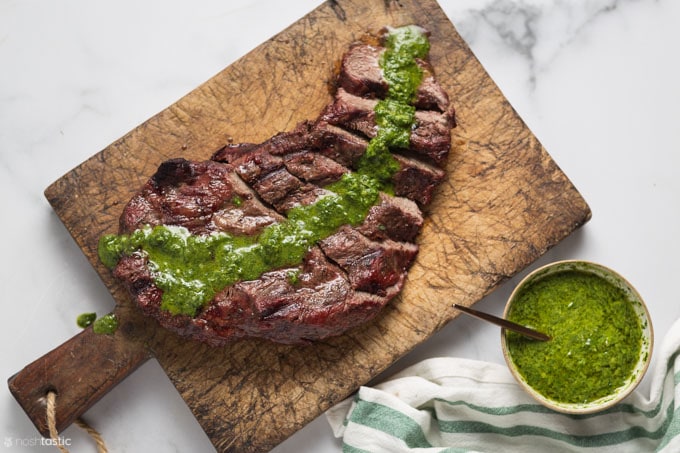 Where does Chimichurri sauce come from?
Chimichurri originally comes from Argentina and Uruguay. As with many regional recipes there are a couple of recipe variations, but authentic chimichurri typically contains, at a minimum, parsley, red wine vinegar, and garlic.
Some versions have red pepper flakes or chopped chili added, others also contain a pinch of cumin.
What does Chimichurri taste like?
It tastes a lot like garlic and fresh parsley, those are the dominant flavors so it's all good in my book! The acidic tang of the red wine vinegar helps to balance it all out.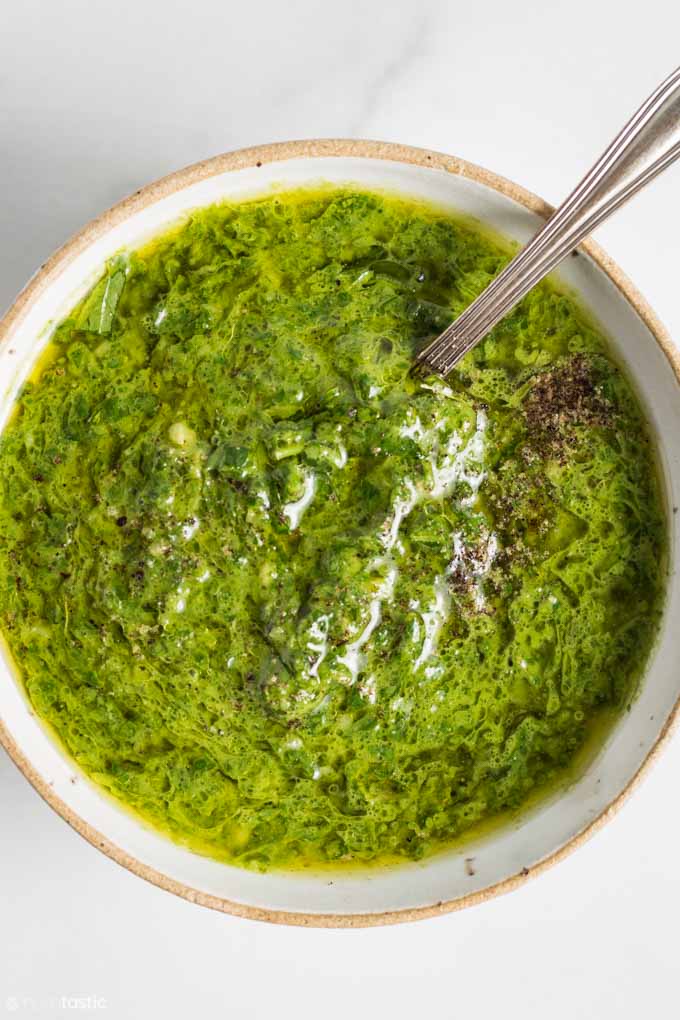 Related Condiment Recipes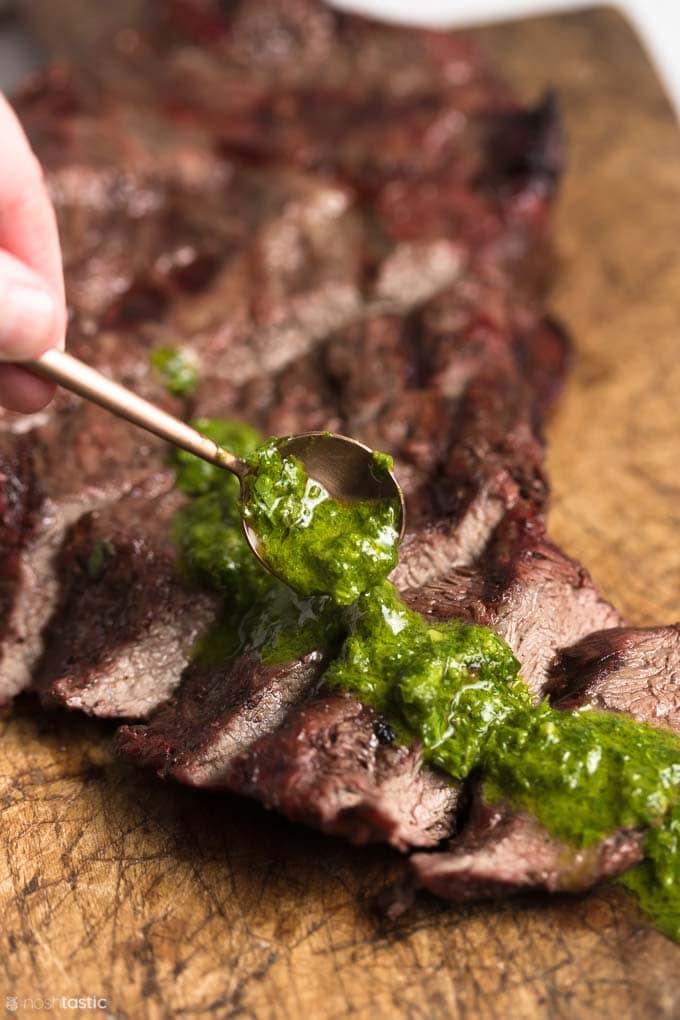 this post contains affiliate links
Chimichurri Sauce
A classic Argentinian steak sauce made with fresh herbs and garlic.
Prep Time: 5 minutes
Total Time: 5 minutes
Total Carbs: 3 g
Net Carbs: 2 g
Servings: 4
Ingredients
1 cup flat leaf parsley , stems removed
2 tbsp fresh oregano leaves , stems removed
3 cloves garlic , crushed
½ cup olive oil
2 tbsp red wine vinegar , or apple cider vinegar for AIP
½ tsp salt , or to taste
¼ tsp ground black pepper
Instructions
Finely chop the oregano and parsley, and crush the garlic or finely chop it.

Mix together with the olive oil, red wine vinegar, salt, and black pepper. (note 1)

Alternatively you can simply add the fresh herbs, garlic, olive oil, red wine vinegar, salt and pepper to a blender and blend until smooth.

Store in the fridge (note 2), serve over grilled meat.
Recipe Notes
Vinegar – can sub with apple cider vinegar in a pinch, but red wine vinegar really is best.
Storage – keeps for about 3-4 days in the fridge. I don't recommend freezing it.
Serving Size – makes about a cup, serving size 1/4th cup. Nutrition is for sauce only, does not include steak.
Nutrition Facts
Chimichurri Sauce
Amount Per Serving
Calories 255 Calories from Fat 243
% Daily Value*
Fat 27g42%
Saturated Fat 3g19%
Sodium 301mg13%
Potassium 123mg4%
Carbohydrates 3g1%
Fiber 1g4%
Vitamin A 1305IU26%
Vitamin C 20.6mg25%
Calcium 65mg7%
Iron 2mg11%
* Percent Daily Values are based on a 2000 calorie diet.
Nutritional information on Noshtastic is provided as a courtesy and is approximate only. We cannot guarantee the accuracy of the nutritional information given for any recipe on this site.
Course: Side Dish
Cuisine: Argentina