Turmeric Tea is packed with healthy immune boosting antioxidants [1] thanks to the copious amounts of turmeric I've packed into this warming drink!
Also known as Golden Milk, Turmeric tea really couldn't be simpler to make and you can make it dairy free as I have done here, or you can use regular milk, or you can drink it 'black' and just make it with hot water and no milk at all. They all work, all taste great, so let me show you how I make it!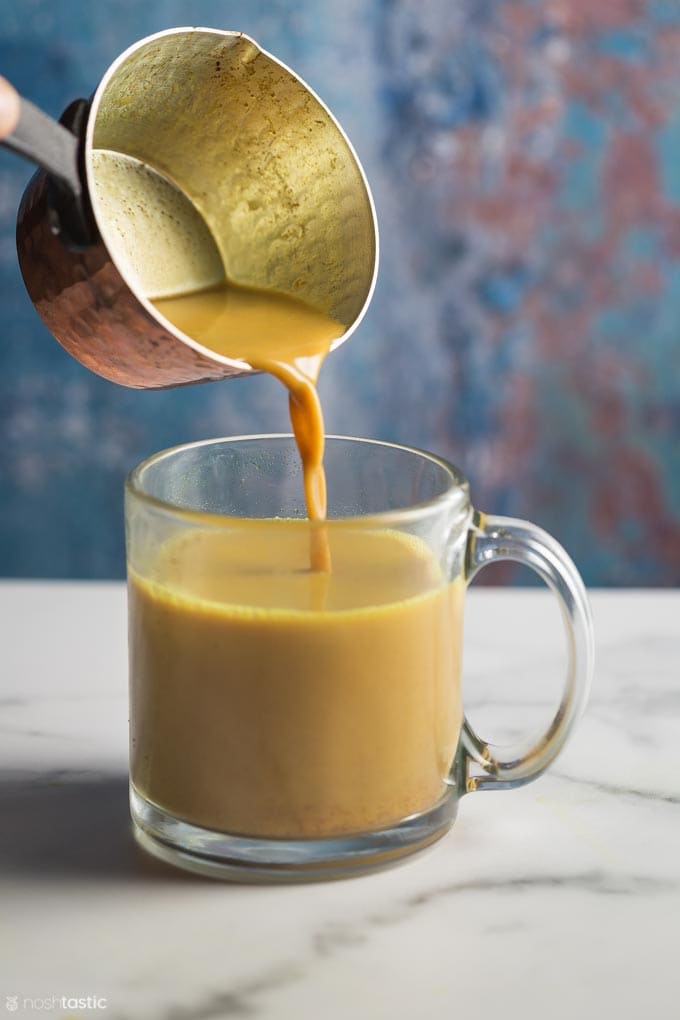 How to Make Easy Turmeric Tea
This is such an easy recipe and there are a few options for making your own turmeric tea depending on how you like it.
First, I'm assuming that you will be using ground turmeric as that is the most common and readily available in every grocery store.
I usually make one cup of tea at a time, so this recipe reflects that. Start by adding one mug of water to a pan on the stove. Then simply add the turmeric, fresh ginger, cinnamon, and ground black pepper and let it simmer for about ten minutes.
Remove the ginger before serving, if you want to add a little milk you can do that, any sweetener you prefer can be added to taste.
this post contains affiliate links
What's the deal with black pepper and turmeric?
It might seem like a curious combination, turmeric and black pepper, especially in a cup of tea!
But ground black pepper is known to help the absorption of curcumin,[2] which is the main active compound in turmeric.
Black pepper has its own active compound, piperine,[3] and it's this nifty compound that helps to boost the levels of curcumin your body can absorb.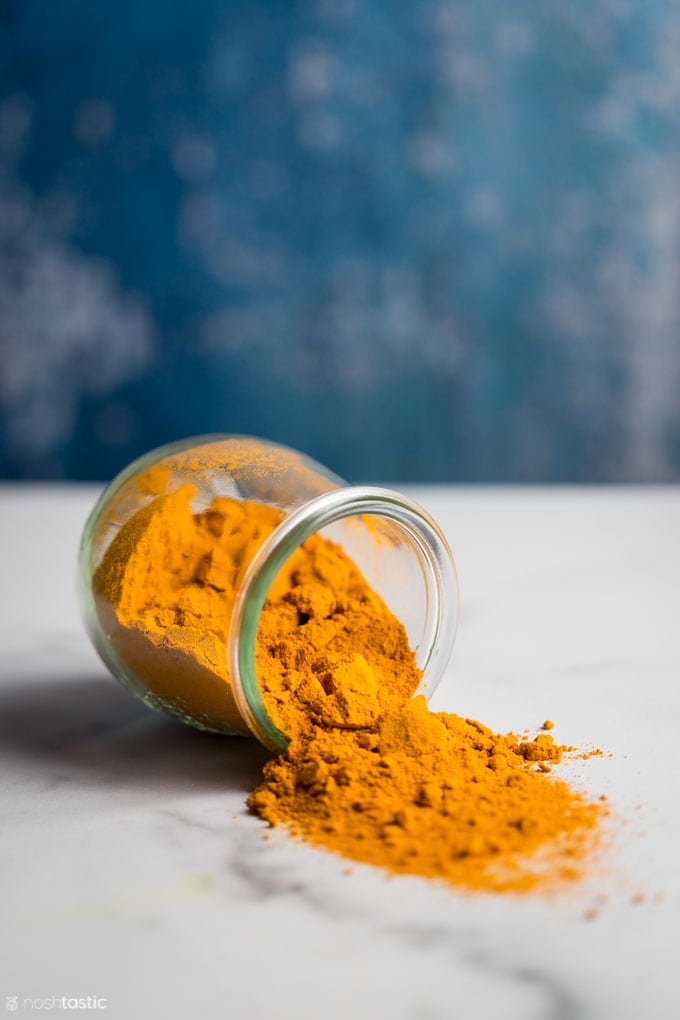 What exactly is Turmeric?
Turmeric is ground spice that comes from the root of the Curcuma longa plant and is part of the ginger family and also has a tuberous root or rhizome that looks similar to ginger.
It's native to India and that's where most of the commercially grown turmeric you'll find in your grocery store comes from, but is also found and grown all over South East Asia.
It's a very versatile spice and we love to use it in Curries such as Keto Butter Chicken, Chicken Korma, and Chicken Tikka Masala.
More Quick Facts on Turmeric!
It's not just for yellow coloring, it has a distinctive mild earthy flavor and it's a key ingredient in Ras El Hanout
A 2008  study found that a small dose of curcumin can enhance antibody responses [7]
More Recipes with Turmeric
Want More Gluten Free Recipes like this? Subscribe to my newsletter!
Turmeric Tea (Golden Milk
Quick and easy warming Turmeric Tea recipe (also known as Golden Milk
Prep Time: 5 minutes
Cook Time: 10 minutes
Total Time: 15 minutes
Total Carbs: 3 g
Net Carbs: 2 g
Servings: 1 Cup
Instructions
Simmer water with the ground turmeric, fresh ginger, cinnamon, and black pepper.

After ten minutes remove the slice of ginger.

Add a little milk of choice if desired, and sweetener (I like mine unsweetened) serve immediately.

TIP: You can make double or triple the amount of turmeric tea and keep the remaining tea in the fridge and reheat it as needed over the next few days.
Recipe Notes
Nutrition Facts - the nutrition label does not include milk or sweeteners of any kind. 
Storage - Turmeric Tea will keep in the fridge for several days, you can microwave to reheat, or reheat it on the stove.
Milk - you don't have to add milk, but it definitely makes it creamier and more palatable I think. I especially liked adding coconut milk to this recipe. 
Nutrition Facts
Turmeric Tea (Golden Milk
Amount Per Serving
Calories 15
% Daily Value*
Sodium 13mg1%
Potassium 55mg2%
Carbohydrates 3g1%
Fiber 1g4%
Calcium 26mg3%
Iron 1.1mg6%
* Percent Daily Values are based on a 2000 calorie diet.
Nutritional information on Noshtastic is provided as a courtesy and is approximate only. We cannot guarantee the accuracy of the nutritional information given for any recipe on this site.