Instant Pot Tomato Basil Soup – you won't believe the fresh flavors from the roasted vegetables, an extra step that makes all the difference! The taste is phenomenal but the cooking process is a breeze as the pressure cooker does all the work.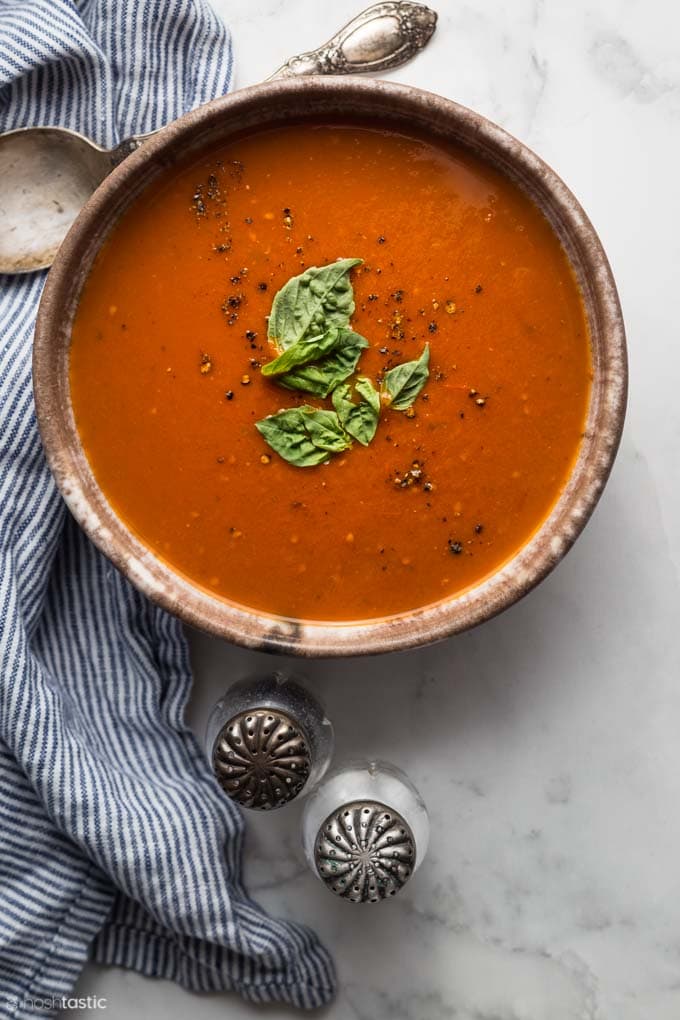 Instant Pot Tomato Basil Soup – How to Make it
Let me say this before we get started, this recipe works best with ripe, in-season tomatoes, it simply won't taste as nice with the kind of tomatoes you get in the grocery store in the dead of winter!
So once you have your lovely ripe tomatoes – you'll need about 3lbs – cut them in half or into quarters if they are really big tomatoes, or if they are small you can leave them intact. then you can cut the onion into quarters, and the garlic cloves should be peeled.
this post contains affiliate links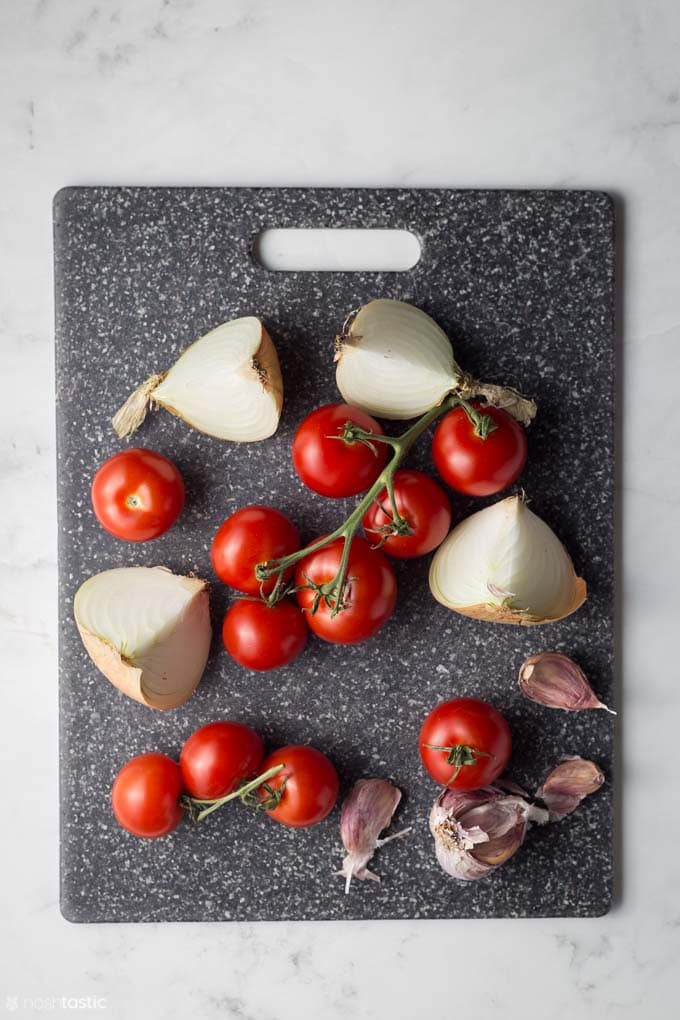 You might find it easiest to put all the vegetables in a bowl and toss them with some oil, or you can simply drizzle the oil evenly over them on a lined sheet pan (I use parchment so that nothing sticks) and then add a little salt and pepper too.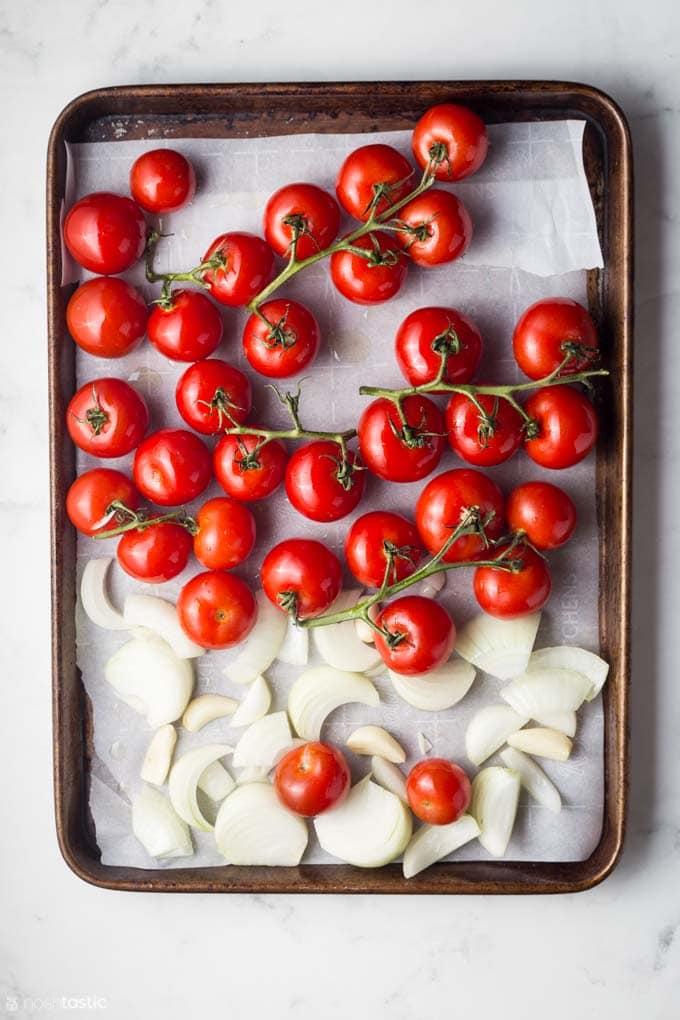 Place them into a preheated oven and roast for about forty five minutes, you'll start to smell them caramelizing toward the end of the cook time.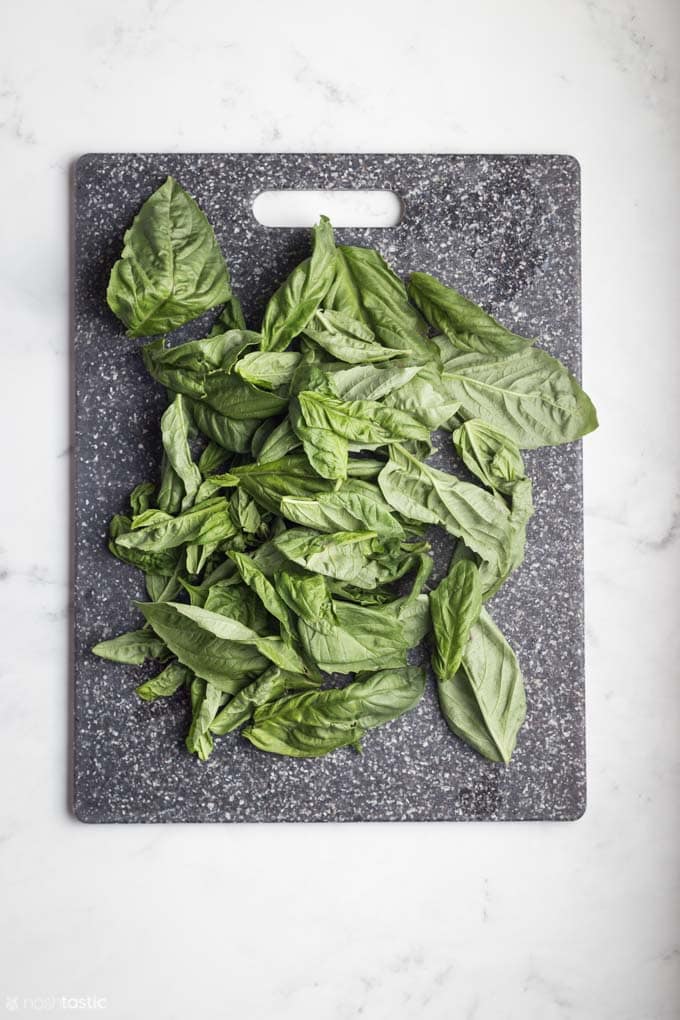 You need quite a lot of fresh basil for this recipe and unless you have a fabulous herb garden your best bet is to look in the grocery store for the large packs which have just the right amount for this recipe.
Remove the large stems from the leaves (see photo above) and wash the basil, you don't need to chop it as you'll puree the soup later.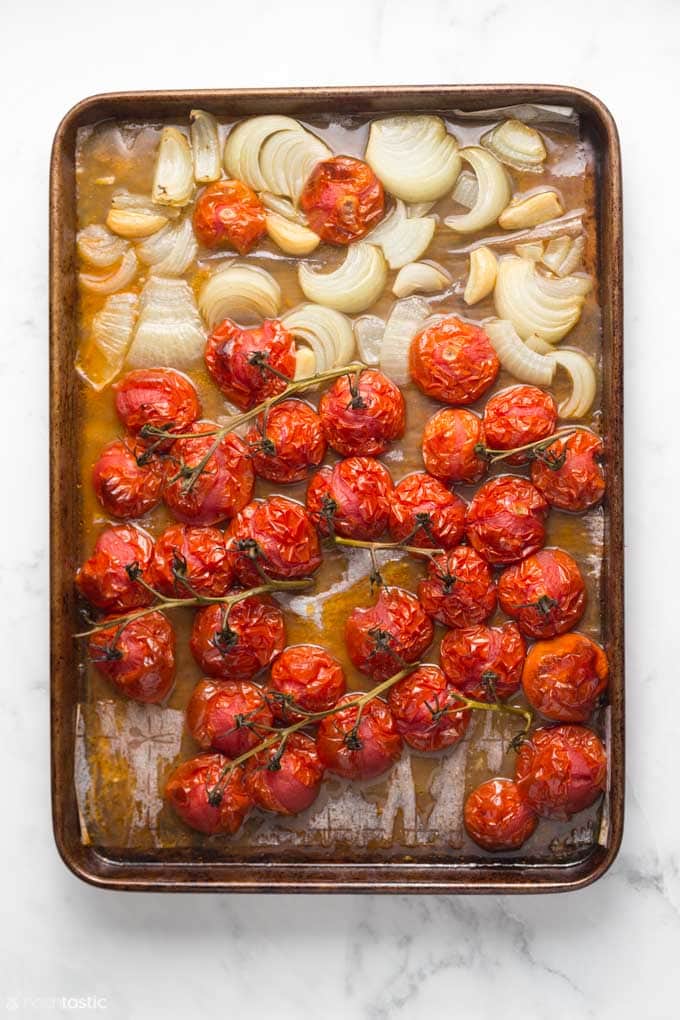 Get your Instant Pot out and pour in the gluten free chicken broth or vegetable broth, all the fresh basil leaves, thyme leaves , oven-roasted tomatoes, onions, garlic plus all the liquid from the sheet pan, and then add the crushed tomatoes on the top (see photo below)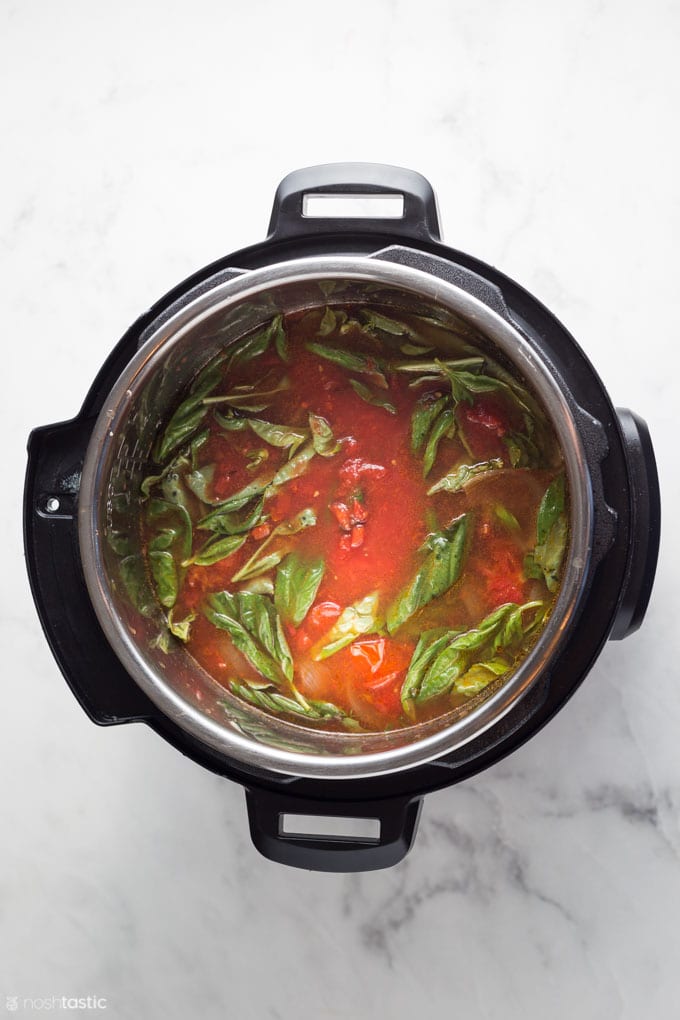 Add the lid to your pressure cooker and turn it to lock. Make sure that the steam release vent is set to 'sealing' and you're going to adjust the pressure cook button (it may be called something else depending on your model of pressure cooker) to cook for five minutes.
When the cook time is up it's best to let the pressure drop for about 15 minutes. This will allow the soup to cook a little longer and to also ensure that soup doesn't come spraying out of the valve when you open it.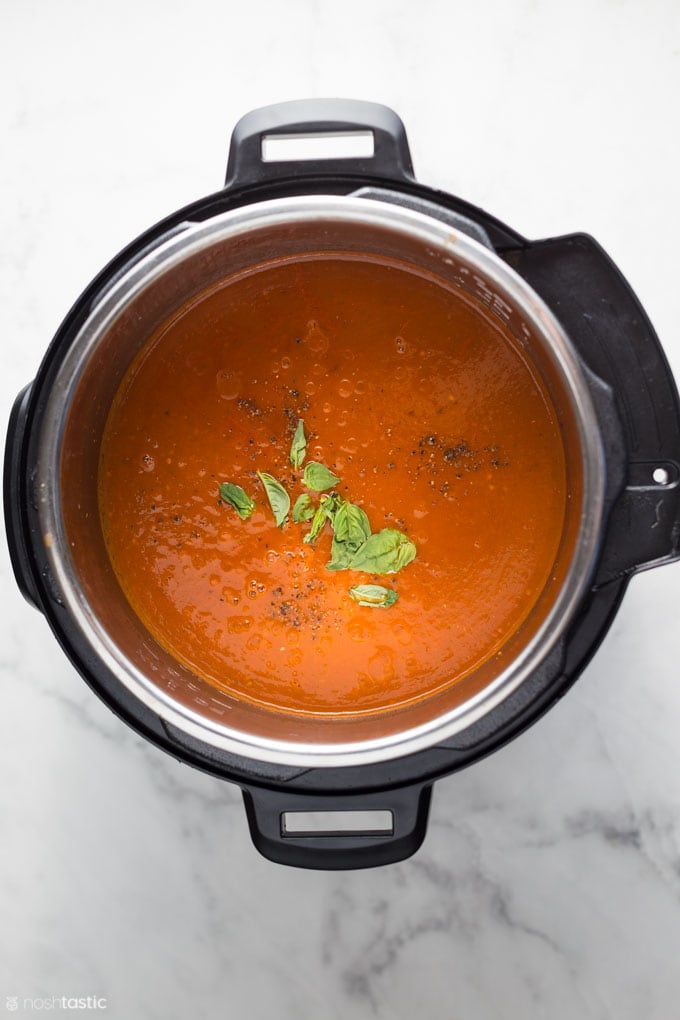 Once you have the pressure cooker opened you need to puree up your Instant Pot Tomato Basil Soup. The simplest way to do this is with a hand blender, just put it straight into the pot and whiz it until the whole thing is blended smoothly (see photo above)
I prefer my tomato basil soup served as it is, but my family love it with a little cream swirled in each bowl so you can certainly do that if you like. If you are dairy free then a little full fat coconut milk (the canned type) is also a very nice addition.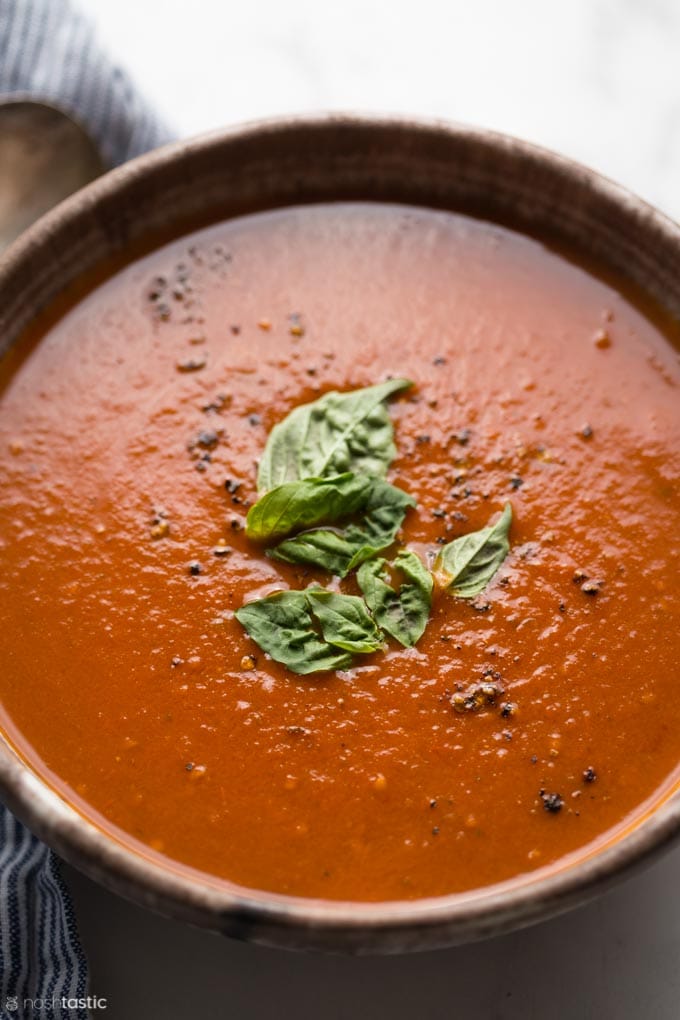 More Instant Pot Soup Recipes
Instant Pot Tomato Basil Soup
Quick, easy, and healthy, this instant pot tomato basil soup is a fabulous lunch option.
Total Carbs: 18 g
Net Carbs: 14 g
Protein: 6 g
Servings: 10 cups
Ingredients
3 pounds ripe tomatoes , 1360g – halved if large
1/4 cup olive oil , 60mls
1 tsp salt
2 teaspoons freshly ground black pepper
1 medium onion , 275g
3 garlic cloves , halved
28 oz canned tomatoes, plus juice , 800g
4 cups fresh basil leaves , about 85g (3oz) remove large stems
1 teaspoon fresh thyme leaves
1 quart gluten free chicken stock, or vegetable stock , 946mls
Instructions
Preheat your oven to 400°F

If the tomatoes are large, halve or quarter them. Toss together the tomatoes, onions, garlic, olive oil, salt, and pepper until coated.

Spread the tomatoes, onions, and garlic, on a parchment lined baking sheet and roast for 45 minutes.

Add the gluten free chicken broth, fresh basil leaves, thyme, oven-roasted tomatoes, onions, garlic, and all the liquid from the baking sheet, and then lastly pour over the crushed tomatoes (see note 1) to the pressure cooker.

Lock the lid, turn the steam release vent to 'sealing' and using the manual setting, adjust it to cook for 5 minutes at High Pressure, then let the pressure drop for 10-15 minutes before releasing the remaining pressure and opening the lid.

Blend soup using a hand blender in the pan or pour it into a blender, be careful with the hot soup!

Taste and season further with salt and pepper as needed.

Serve with garnish of fresh basil leaves. Other options include adding a swirl of cream, or full fat canned coconut milk for dairy free.
Recipe Notes
fresh tomatoes – this recipe is best with fresh in season ripe tomatoes, it simply won't taste great with watery tasing grocery store tomatoes that appear in the winter. 
crushed tomatoes – do not put these into the pressure cooker first, add them last on top of all the other ingredients so that they do not cause the pressure cooker to burn. 
nutrition – serves 10, serving size is about 1 cup (250mls). I got 2.5 quarts (2.36 litres) total of soup. 
seasoning – taste and add more the salt at the end as needed. Different broths and stocks have differing amounts of salt so how much you need will vary depending on what brand you use. I prefer low sodium brands so I can adjust the taste myself. 
adapted from Ina Garten
Nutrition Facts
Instant Pot Tomato Basil Soup
Amount Per Serving (250 mls)
Calories 147 Calories from Fat 63
% Daily Value*
Fat 7g11%
Saturated Fat 1g6%
Cholesterol 3mg1%
Sodium 946mg41%
Potassium 727mg21%
Carbohydrates 18g6%
Fiber 4g17%
Sugar 10g11%
Protein 6g12%
Vitamin A 1760IU35%
Vitamin C 30.3mg37%
Calcium 68mg7%
Iron 2mg11%
* Percent Daily Values are based on a 2000 calorie diet.
Nutritional information on Noshtastic is provided as a courtesy and is approximate only. We cannot guarantee the accuracy of the nutritional information given for any recipe on this site.