Instant Pot Ribs are much easier to make than you might think! It's a breeze to cook the entire rack of ribs in a pressure cooker and the cooking time is so much faster than grilling and it tastes delicious with my Homemade BBQ Sauce.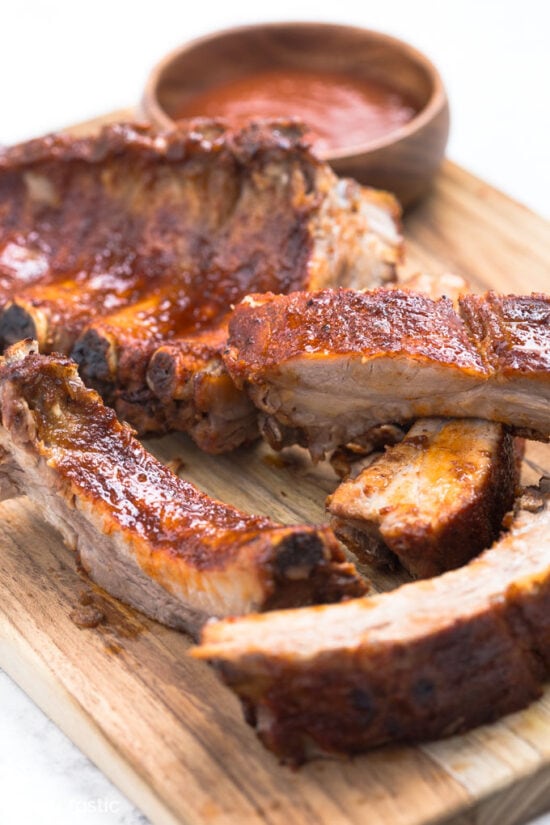 This post contains affiliate links
How to Make Instant Pot Ribs
Remove the membrane from the back of the ribs by peeling it off starting from one corner, if you want to see exactly how I've done it you can watch the recipe video that's just above the recipe ingredients.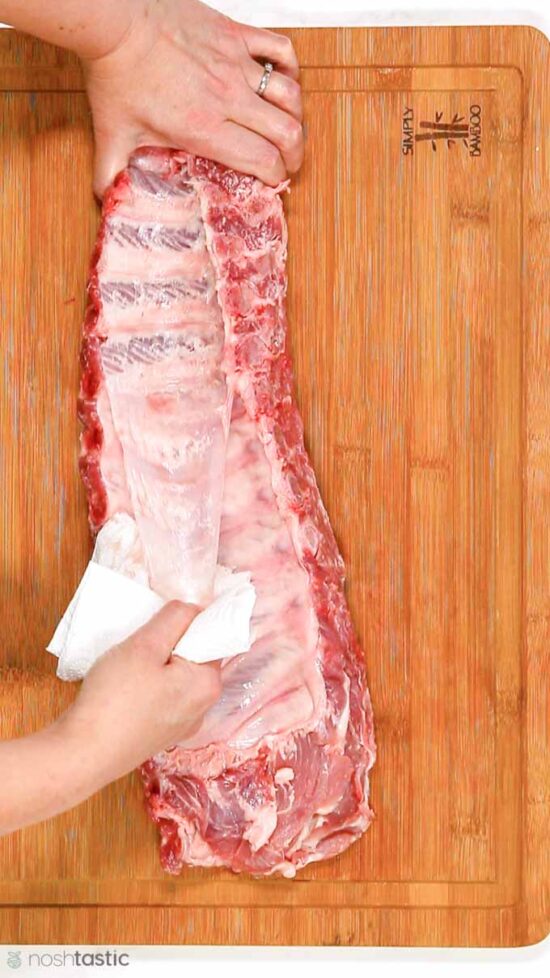 The next thing you need to do is mix all the spices for the rub together and then rub it well into all sides of the ribs (remove the membrane first)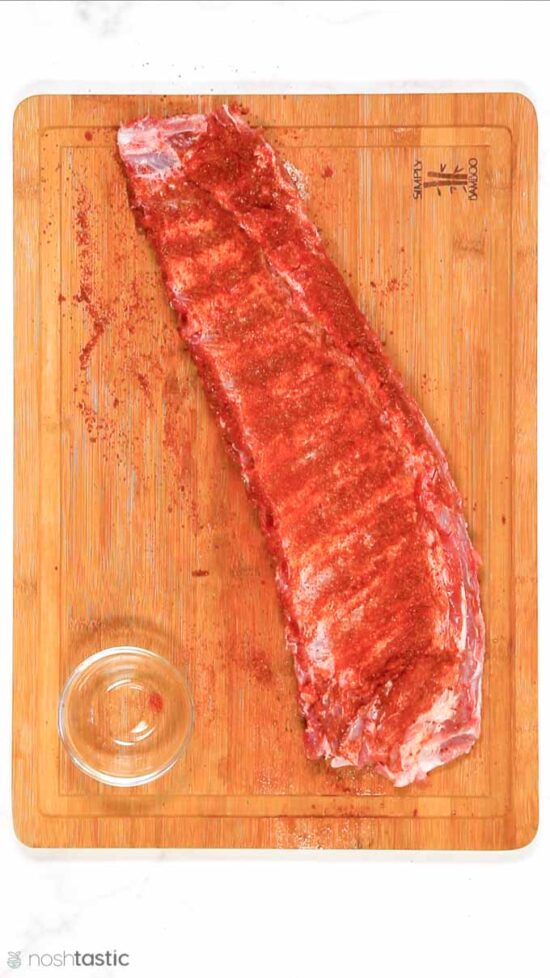 If you're making my Homemade BBQ Sauce recipe to go with the ribs then I'd start making the sauce now so it has time to reduce down while the ribs are being prepared and cooked.
Depending on whether you have baby back or spare ribs you may have to cut the ribs into two or more pieces to fit in your Instant Pot. I could not fit the whole rack of spare ribs into mine, but often baby back ribs can be curled round in one piece inside the pressure cooker.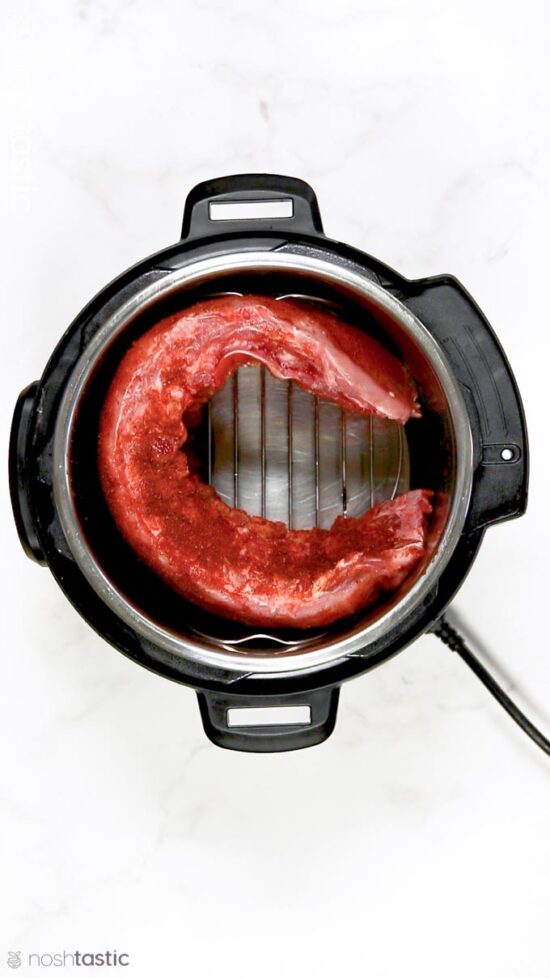 Place the ribs onto the trivet , add water, and cook for 15 minutes for baby back ribs and 20 minutes for spare ribs.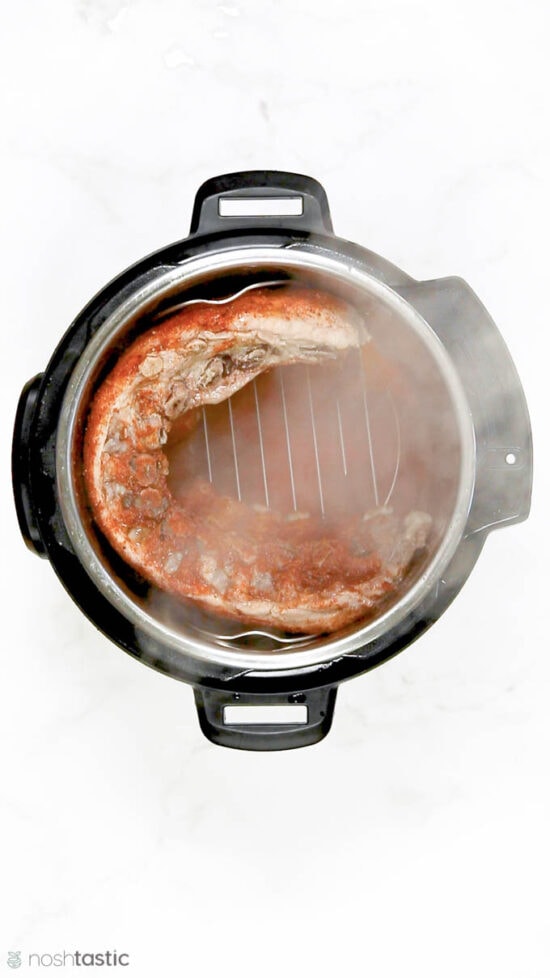 When the ribs are cooked, put them on a sheet pan and brush them with the BBQ sauce and broil on both sides for a few minutes at a time until they are sticky, take care not to burn them!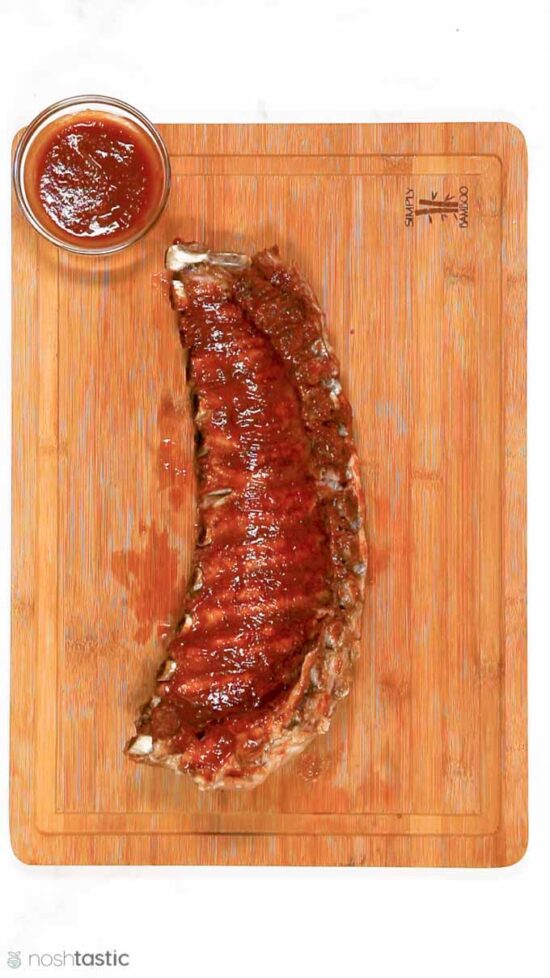 More Instant Pot Ribs FAQ's
Can I make it ahead? – you can certainly make the BBQ sauce well ahead of time. And if you want to make the ribs ahead you can warm them up in the oven on a low heat, and broil them with the BBQ sauce just prior to serving.
How long will the ribs keep? – The ribs will keep for 3-4 days in the fridge. The BBQ sauce will be good for a week or maybe more (I've never kept it for longer than a week)
What can I serve with the ribs? – My Instant Pot potato salad would be a perfect side to serve with the ribs, we also love to serve it with Black Bean Corn Avocado Salad.
What's the Difference Between Baby Back Ribs and Spare Ribs?
All ribs are not equal and pork ribs, which is what we are using in this recipe, come from two different places on the pig.
Spare Ribs, also known as side ribs come from the belly part of the pig and from the Sparerib you can get St. Louis style or Louisiana style ribs.
Back Ribs, also knows as loin ribs or Baby Back Ribs, come from the back of the pig near to the spine. They are not nearly as meaty and full of fat as spare ribs but they are much more tender and they will cook faster.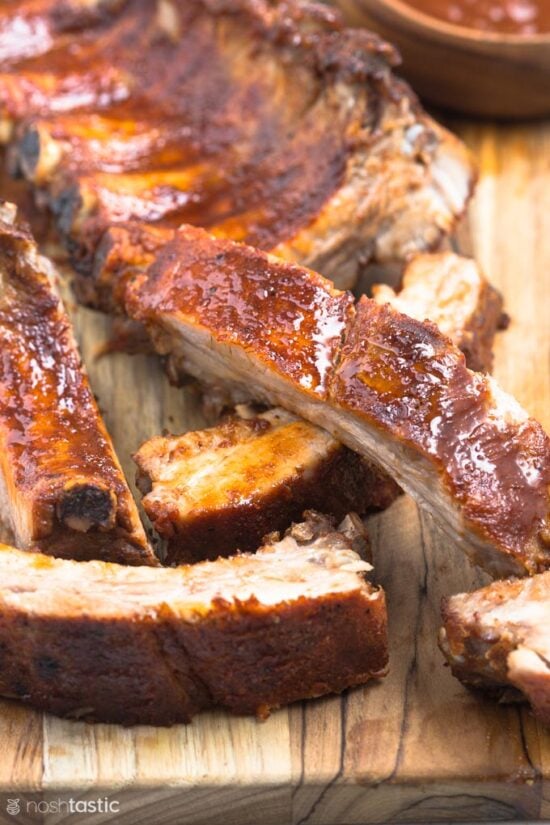 Instant Pot Ribs
Finger licking good sticky Instant Pot Ribs with a rub and homemade BBQ sauce! Pressure Cooker Ribs cooked in only 30 minutes or less.
Prep Time: 10 minutes
Cook Time: 30 minutes
Total Time: 40 minutes
Total Carbs: 11 g
Protein: 43 g
Servings: 4
Ingredients
3 lb Baby Back Ribs , remove membrane
1/2 cup water
Instructions
If you are want to serve this with Homemade BBQ Sauce then make that first, it can cook and thicken up while the ribs are cooking.

Add all the ingredients for the Memphis dry rub to a bowl and mix well to combine.

Make sure you have removed the silver membrane from the back (rib side) of the ribs. You can do this by inserting a table knife under the membrane at one end of the ribs to lift and loosen the membrane then peel it back. (See video above for details)

Rub the Memphis spice rub mixture onto both sides of the ribs, you may not need it all.

Add the small trivet with handles that came with your Instant Pot into the inner pot and pour in 1/2 cup water.

Curl the ribs round the inside of the pressure cooker (see video) if the ribs are larger you may need to cut them into two pieces to make them fit.

Lock the lid, turn the steam release vent to 'sealing' and using the manual setting, adjust it to cook for 15 minutes for Baby Back ribs, or 20 minutes for Spare Ribs. If you want really 'falling off the bone' ribs add another few minutes cook time.

When the cook time time is up, allow the unit to reduce pressure on its own without opening the steam release vent (Natural Release) for 10 minutes, then release the remaining pressure and open the lid.

Put the ribs onto a sheet pan (ideally with a sheet pan rack ) and brush with the homemade BBQ sauce, or other gluten free BBQ sauce of your choice.

Place the ribs under the broiler for a few minutes at a time to get nice and sticky, you'll need to turn them at least once and apply more BBQ sauce to all sides.
Recipe Notes
Pork Rib Types – You can use either baby back or spare ribs with this recipe, I have the cook time for both listed above, the larger spare ribs may need to be cut into two pieces to make it fit in your pressure cooker. 
BBQ Sauce – I have my own recipe for BBQ that I prefer to use but if you don't have time to make that then you can use any other type you prefer, we like Stubbs as it tastes good and it gluten free. 
Nutrition – is based on a 3lb rack of ribs and does not include any BBQ sauce.
Serving Size – I'm assuming that one rack of ribs will serve four, but that may vary based on the exact size. 
Storage – The cooked ribs will keep for up to four days in the fridge. 
Nutrition Facts
Instant Pot Ribs
Amount Per Serving
Calories 532 Calories from Fat 324
% Daily Value*
Fat 36g55%
Saturated Fat 13g81%
Cholesterol 148mg49%
Sodium 2813mg122%
Potassium 740mg21%
Carbohydrates 11g4%
Fiber 3g13%
Sugar 5g6%
Protein 43g86%
Vitamin A 3559IU71%
Vitamin C 1mg1%
Calcium 99mg10%
Iron 4mg22%
* Percent Daily Values are based on a 2000 calorie diet.
Nutritional information on Noshtastic is provided as a courtesy and is approximate only. We cannot guarantee the accuracy of the nutritional information given for any recipe on this site.
Course: Main Course
Cuisine: American