Don't let anyone tell you that Air Fryer Steak is a bad idea, if you know how to prep it properly you'll end up with a tender steak that will have you coming back for more!

Air Fryer Steak works best with a marinade!
I've tried steak in the air fryer a couple of different ways and I'm convinced that it works best if you marinate it first before you cook it, this ensures that it stays tender and flavorful throughout.
Start by choosing a couple of steaks with nice fat marbling, we opted for New York Strip steaks this time.
this post contains affiliate links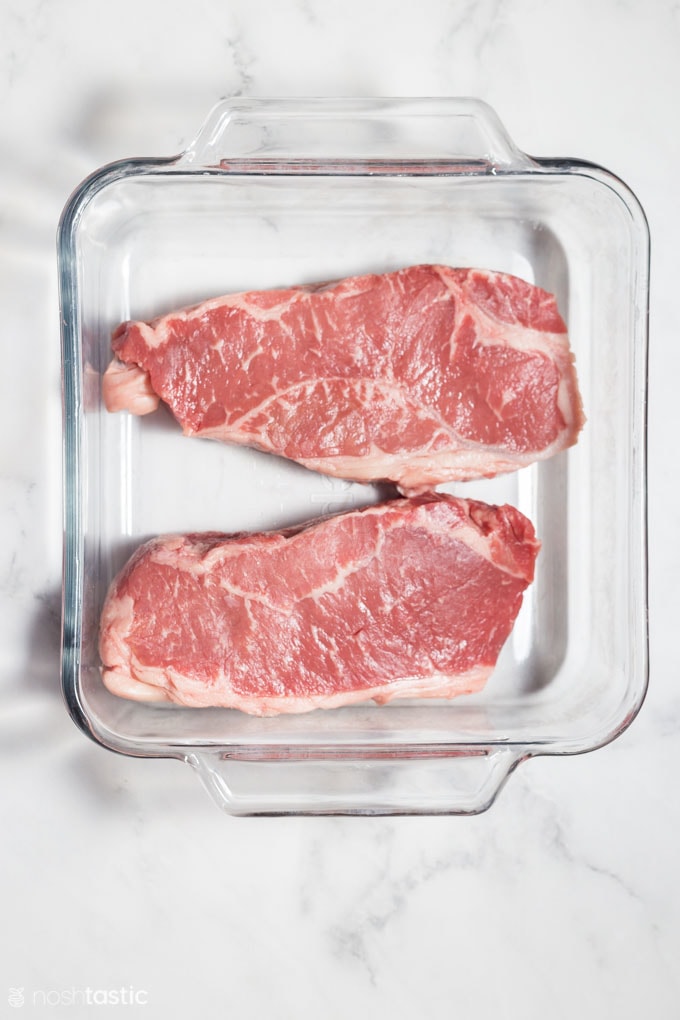 Place the steaks into a suitable container (see photo above) where they can sit in the marinade, or a large ziplock bag will work well too.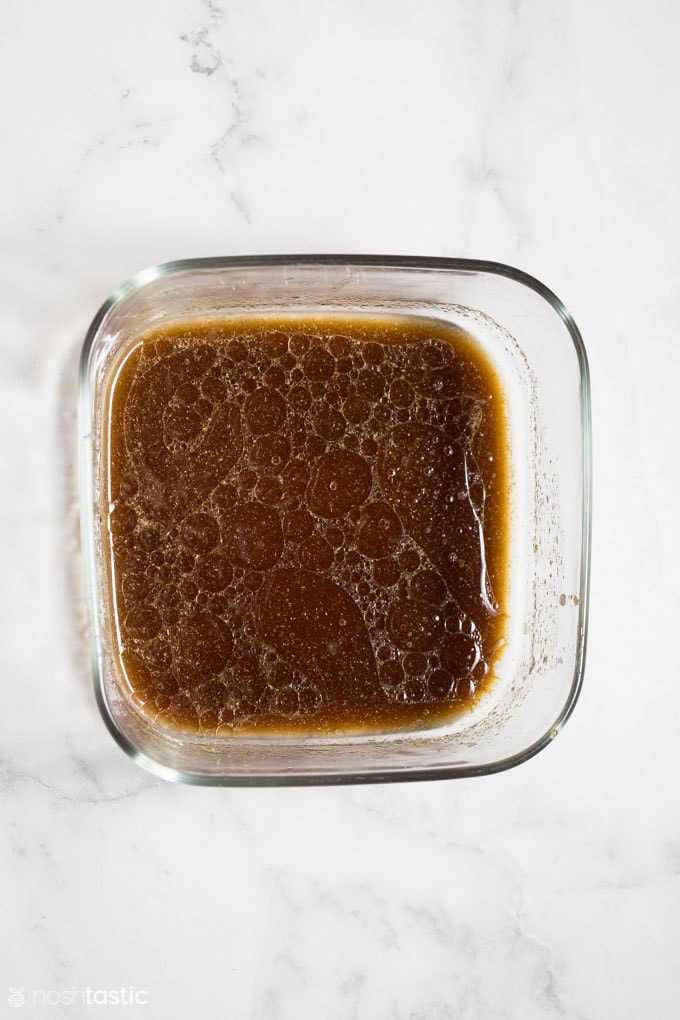 For the steak marinade all you need to do is whisk together the coconut aminos, lime juice, olive oil, cumin, and garlic and pour over the steaks and let them marinate for 15 minutes at room temperature.
Then turn them over for a further 15 minutes so that it's evenly marinated on both sides.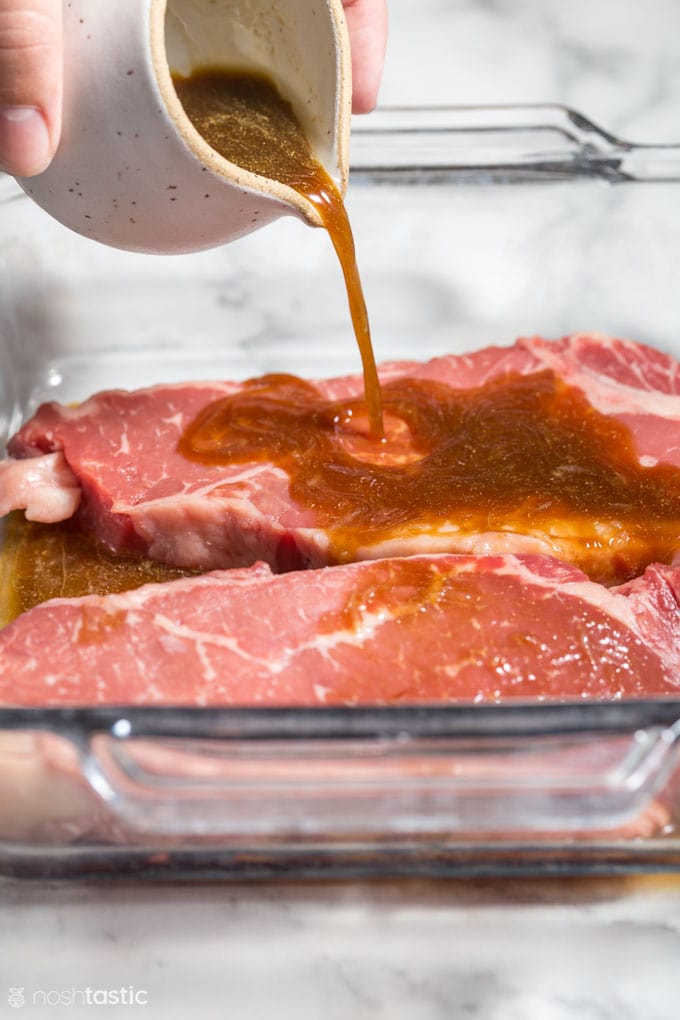 During the last ten minutes of the marinating time you can preheat your air fryer to to 400°F (200°C), mine heats up very quickly but check the manual for your model to see how long it says to preheat it for.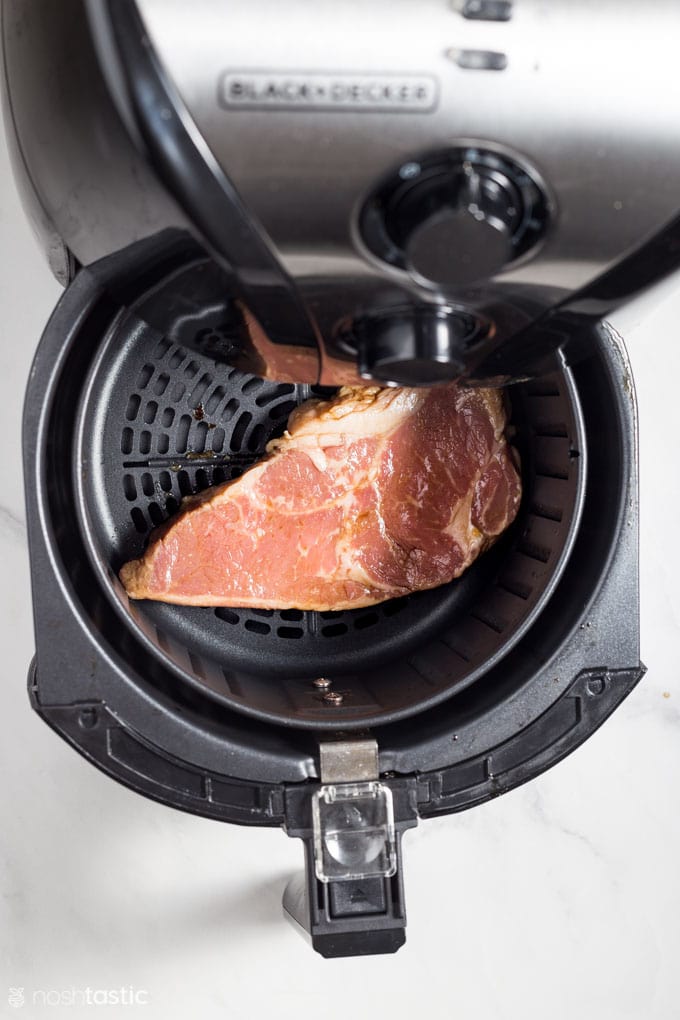 Once it has reached temperature you can add your steaks inside the air fryer basket and cook for about 3 minutes for medium rare steak and then turn it over and cook for 4 minutes more minutes if you like your steak cooked well done.
Exact cook time will vary depending on your model and how it works so do keep an eye on it so it doesn't overcook.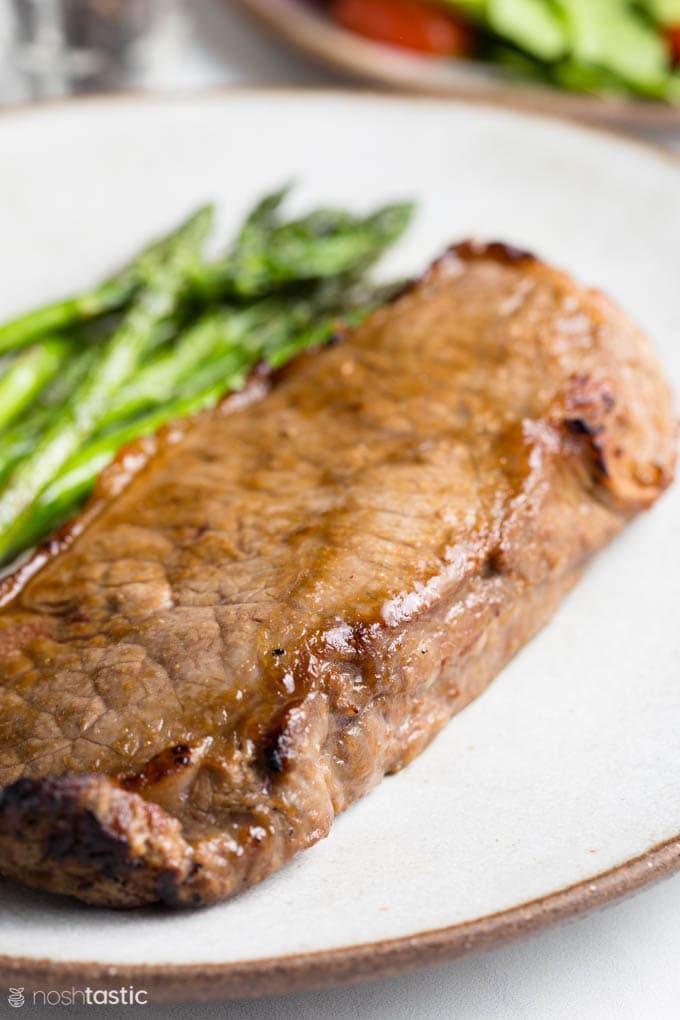 How Long should I cook my steak for?
The exact time will vary depending on how thick your steak is, the model of your air fryer, and how hot it actually is. Check your steak for doneness after about 3 minutes and then simply add more time as needed.
What's the best cut of steak for the air fryer?
We prefer a New York Strip steak, but you could also use a rib eye or a sirloin steak instead.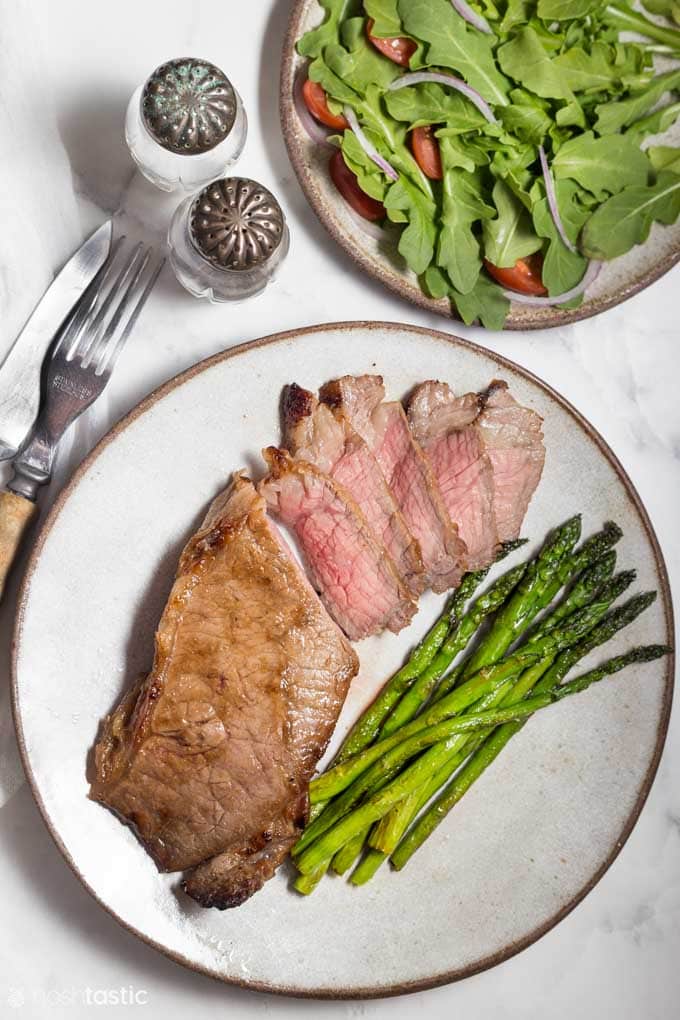 More Air Fryer Recipes
Air Fryer Steak
Tender, delicious Air Fryer Steak with an incredibly simple Paleo and Whole30 friendly marinade that will have you coming back for more!
Prep Time: 30 minutes
Cook Time: 7 minutes
Total Carbs: 14 g
Protein: 47 g
Servings: 1
Ingredients
8 oz New York Strip steak , UK:AUS – Poterhouse, or Sirloin steak is similar
Instructions
Add the marinade ingredients together and whisk to combine.

Place the steak in a non reactive container where it can be covered by the marinade at least half way up the side of the steak. Marinate the steak covered for 15 minutes at room temperature, then turn the steak over and marinade for 15 more minutes.

Place the steak inside the air fryer basket and cook for about 3 minutes for medium rare, then turn the steak and cook for 4 minutes longer if you like your steak cooked well done.

All Air Fryers are different so the exact timing may vary.

Once cooked remove and let it rest for ten minutes before slicing.
Recipe Notes
Nutrition – the amount calculated on the label includes all of the marinade, but you won't be eating all of it so you can assume that the carb count will be a lot less than actually stated. 
Servings – There's enough marinade here for one steak, so it's very easy to double or triple it etc, for more steaks.
Substitutions – if you don't have coconut aminos then low sodium soy sauce will work instead. 
Air Fryer – There are many different models out there and all work slightly differently and the actual temps may vary a bit. What they all have in common though is that you typically need to cook the food in a single layer so take that into account if you are shopping for a new one, and check out the actual size of the basket so see if it's big enough for your needs.
Nutrition Facts
Air Fryer Steak
Amount Per Serving
Calories 696 Calories from Fat 432
% Daily Value*
Fat 48g74%
Saturated Fat 16g100%
Cholesterol 181mg60%
Sodium 1138mg49%
Potassium 763mg22%
Carbohydrates 14g5%
Sugar 1g1%
Protein 47g94%
Vitamin C 14.4mg17%
Calcium 52mg5%
Iron 4mg22%
* Percent Daily Values are based on a 2000 calorie diet.
Nutritional information on Noshtastic is provided as a courtesy and is approximate only. We cannot guarantee the accuracy of the nutritional information given for any recipe on this site.
Course: Main Course
Cuisine: American