I really think this is the best Instant Pot Chili on the web!
A bold claim, perhaps, but I've tweaked and worked the ingredients in this Instant Pot beef chili recipe so that the flavors are not flattened by cooking it in a pressure cooker and the end result is AMAZING!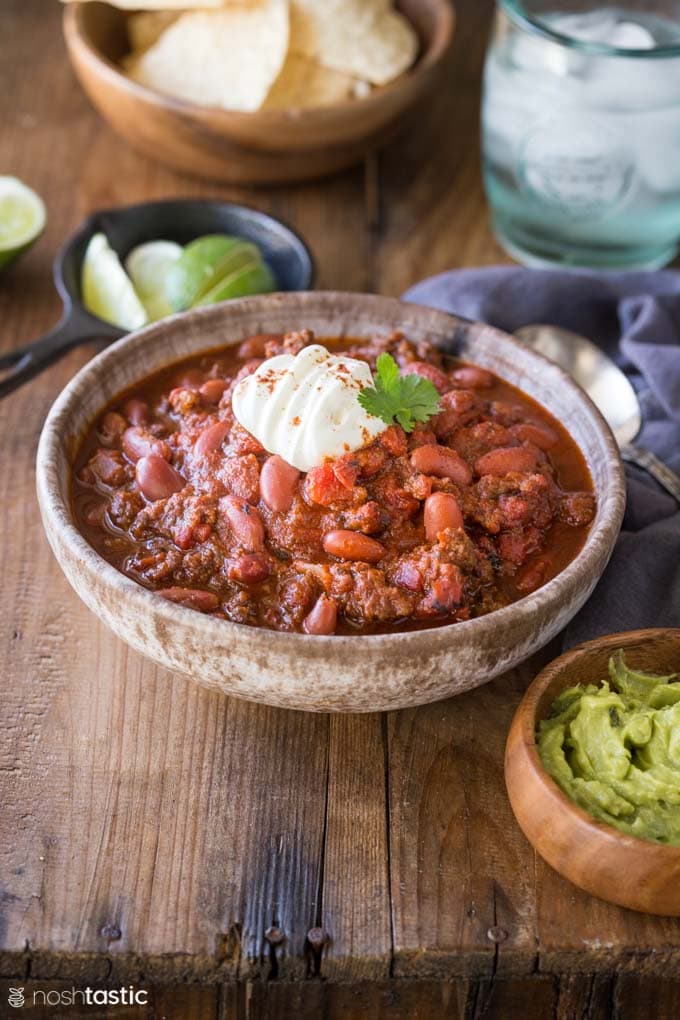 Make Instant Pot Chili – A step by step guide
Start by mixing the ground beef with the baking soda, a little water, and the salt (see the recipe notes for more details) as this will help retain moisture in the meat, you need to let it sit for twenty minutes or so.
Once you've done that you can go ahead and turn on the sauté function in your Instant Pot, or whatever the equivalent function is in your electric pressure cooker brand and add the olive oil.
This post contains affiliate links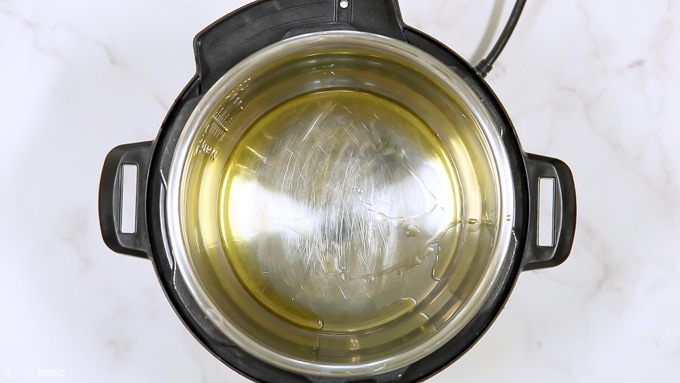 Then, add the chopped onions to hot oil and cook them for a few minutes until they are soft, translucent, and slightly golden around the edges, do not let them get really dark brown.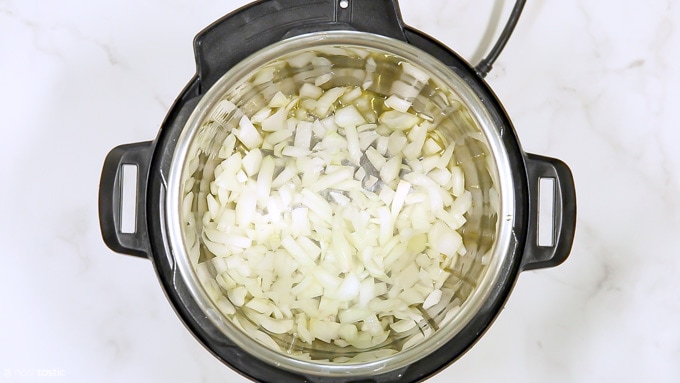 Next the ground beef and sauté until the meat is almost browned which will take about five minutes.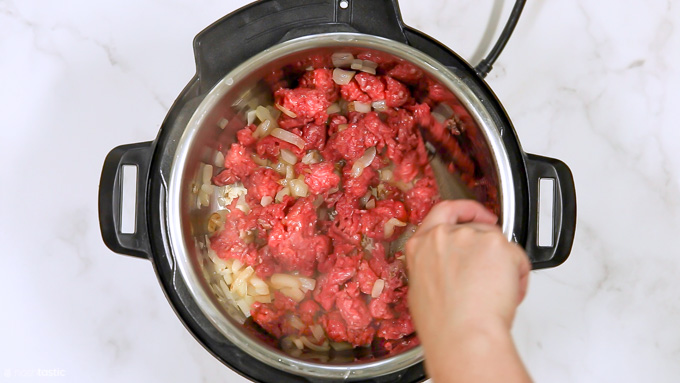 Add only half the dried spices to the beef, along with the garlic, and stir well to combine.
We will add the remaining spices only after the chili has been pressure cooked.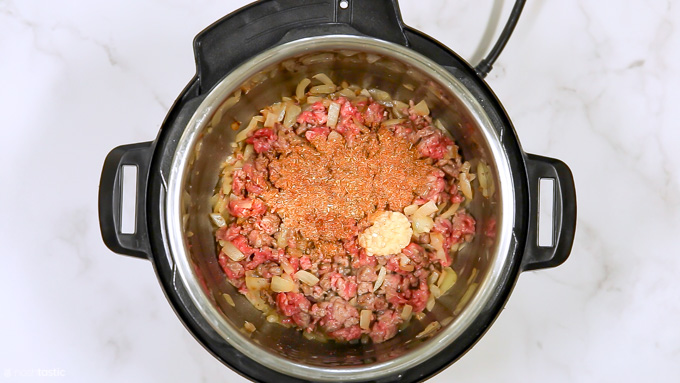 Pour in the gluten free beef broth and fully deglaze the bottom of the pot to prevent burning later on.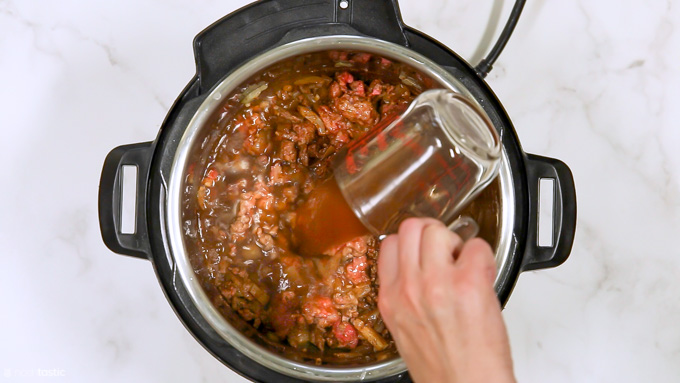 Carefully pour in the canned Crushed Fire Roasted Tomatoes onto the top of the chili mixture, DO NOT STIR OR MIX.
The tomatoes can stick to the bottom of your Instant pot and sometimes prevent it from coming to pressure, so please just leave them on top of the meat before you add the lid.
Lock the lid and let your Instant Pot Chili cook for 12 minutes at high pressure.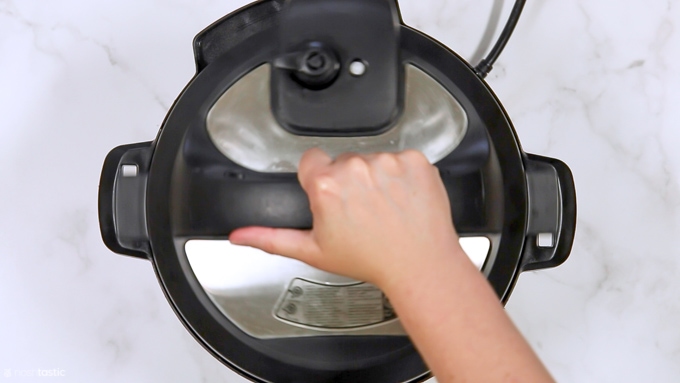 Once the cook time at pressure is complete and you've removed the lid you can add in the remaining dried chili spices along with the beans.
I used Pinto beans because that's what I prefer but feel free to use any chili beans you like here.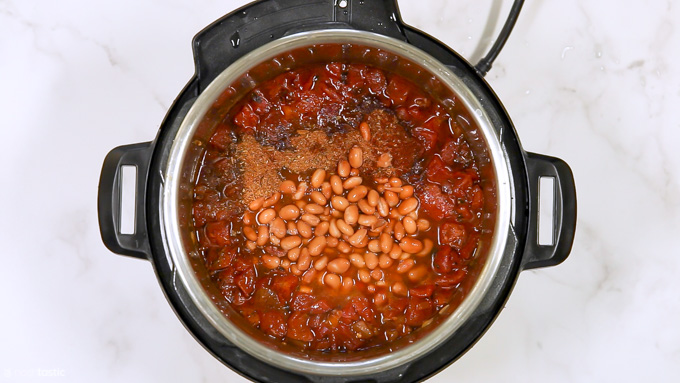 Give it all a really good stir and simply let it simmer (see photo below) for up to 15 minutes to allow the flavors to develop, the beans to warm through, and the liquid to reduce a little bit.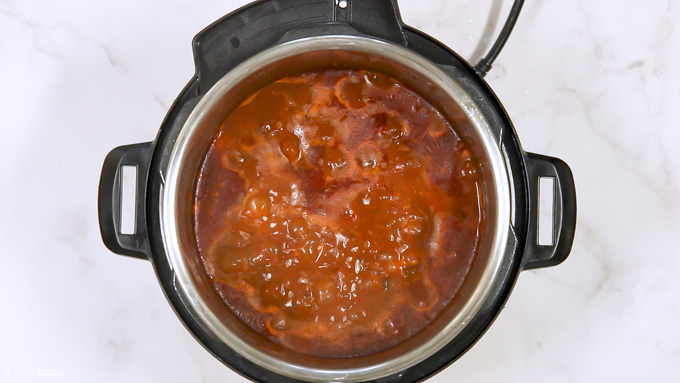 Instant Pot Chili FAQ's
Can I use ground turkey instead?
Sure! It won't taste quite the same but will still be very good.
Can I use a different type of bean?
Yes, you can basically use any kind of cooked canned beans you like.
I don't have Ancho Chili powder, what can I substitute?
You can use regular mild chili powder, or hot, whatever you prefer but you may need to adjust the amount down if your chili powder is hot. Ancho Chili powder has a mild earthy flavor and doesn't taste exactly the same as regular chili powder.
Can I freeze it?
Yes, put it in an airtight container and it will keep for a couple of months in the freezer.
How long will it keep in the fridge?
Up to four days, it tastes even better after the first day!
Is it spicy?
It has a mild kick, if you want it hotter add more cayenne pepper or a splash of hot sauce.
What should I serve it with?
Back home in the UK Chili is often served over rice. Here in the US is usually comes with a side of crackers, but we love it with some homemade gluten free cornbread. Our favorite Instant Pot Chili toppings include sour cream, shredded cheddar cheese, green onions, and sometimes all three at once!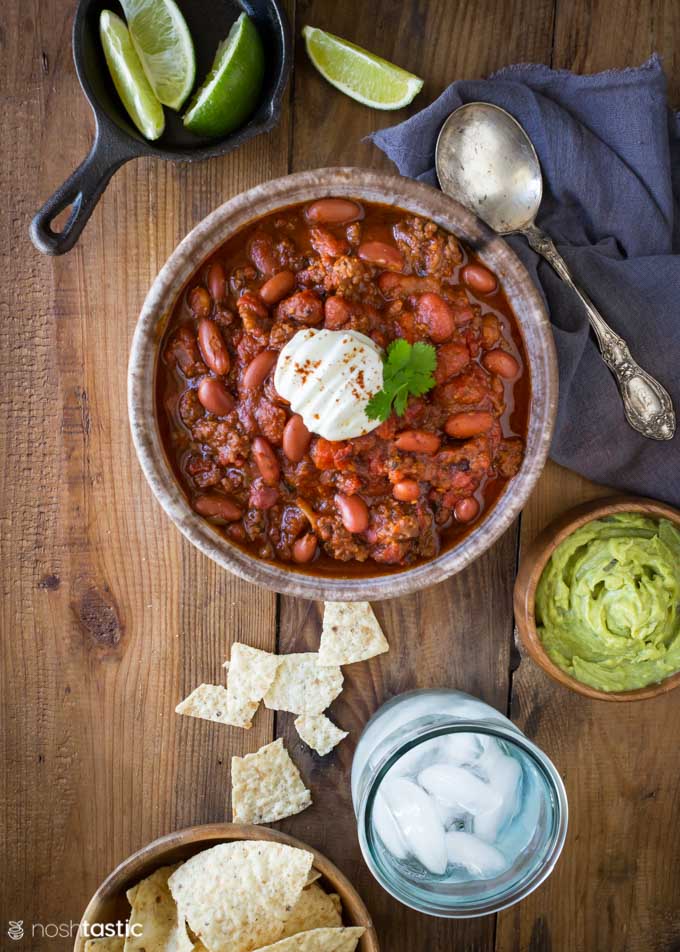 What exactly is Chili Con Carne?
There's lots of conjecture and debate about the origins of Chili Con Carne and who has the most authentic recipe!
In Spanish, the word chile refers to a "chili pepper, and carne is simply the Spanish word for "meat".
A recipe dating back to the 1850s describes dried beef, suet, dried chili peppers and salt, which were pounded together, formed into bricks and left to dry, which could then be boiled in pots to make 'chili', but it's not the recipe as we know it today.[2]
Does Authentic Chili contain beans?
I'm hesitant to even wade into this debate, but the short version is that it depends who you ask! Most people will tell you that the earliest and original recipes did not contain beans of any kind.
However, beans have been used in several versions of Chili in the last century, so that seems long enough to me to claim it as authentic!
If you are a true 'Texas Chili' aficionado, then you won't want to include beans at all in your recipe as Texas style chili is still made without them, But if not, then all bets are off!
What about tomatoes in Chili?
While I had heard that using beans in authentic Chili was a subject for much debate, I had no idea that the use of tomatoes was equally controversial. Some Chili experts insist that tomatoes are a later addition to the original recipe and therefore not authentic.
The story goes that a Texas newspaperman created what he called his "Two-Alarm Chili" [3] and added tomatoes to the meat plus the spices, he also believed that chili should left in the fridge overnight to allow the flavors to develop, and on that we are agreed!
If you can leave your Instant Pot Chili in the fridge overnight it will have an even better flavor on the second day, but of course it works well right out of the pot too.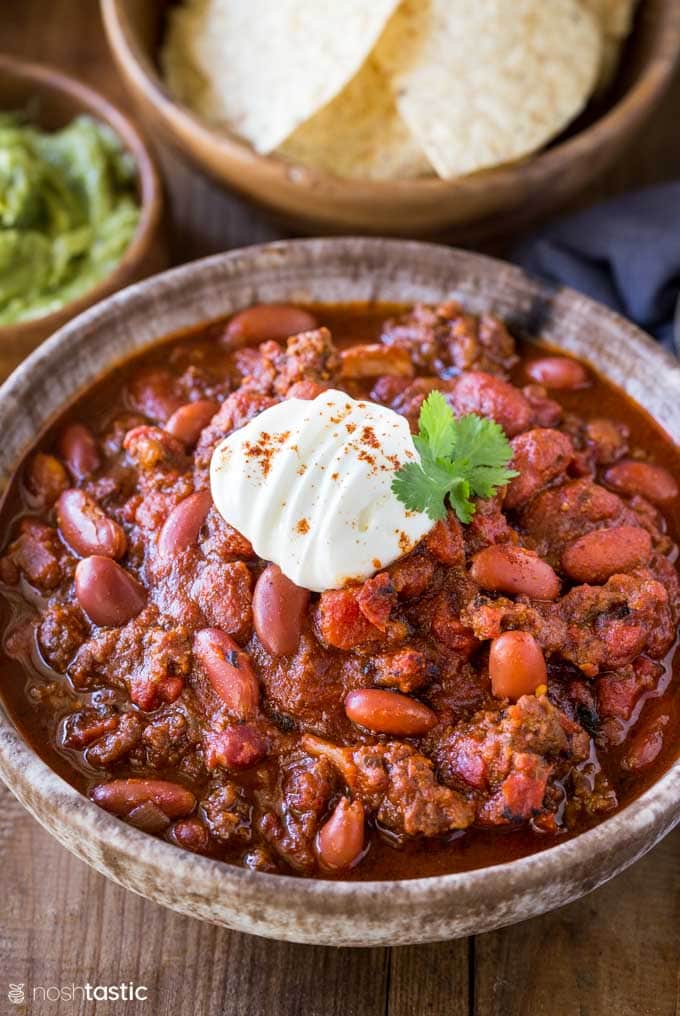 Related Instant Pot Beef Recipes
Best Ever Instant Pot Chili
My Instant Pot Chili has a real depth of flavor thanks to my spice blend and method of cooking, it's a very simple recipe to cook
Prep Time: 20 minutes
Cook Time: 25 minutes
Natural Pressure Release: 10 mins
Total Time: 55 minutes
Total Carbs: 28 g
Protein: 24 g
Servings: 5 cups
Ingredients
1 lb ground beef (85/15) , 454g
1/2 tsp baking soda , do not use baking powder
1 tsp salt
2 tbsp olive oil , 30mls
1 large onion
1 cup gluten free beef broth , 250 mls
28 oz crushed fire roasted tomatoes (canned) , 822g
3 cloves garlic , crushed
16 oz pinto beans (canned) , 453g – or red kidney beans
Instant Pot Chili Spice Blend
Instructions
Scroll up to watch the video!

Mix the baking soda (not baking powder) with 1 tbsp water until dissolved. Add it to the ground beef and thoroughly mix together with 1 tsp salt then cover and let sit for at 20 minutes. (see note 1)

Finely chop the onion, and crush three garlic cloves.

In a small bowl add the Ancho chili powder, cumin, oregano, garlic powder, and cayenne pepper to make your Instant Pot Chili spice blend. (see note 2)

Turn on the saute/browning function in your Instant Pot or other electric pressure cooker and add a litte oil. Use the 'adjust' button to turn it to the medium saute heat. 

Add the chopped onion and cook for three to four minutes or until just a little bit golden around the edges.

Add the ground beef and saute until the meat is almost browned

Add half of the dried chili spices and all of the crushed garlic to the ground beef and onions, and stir well to combine. 

Add the gluten free beef broth and ensure you fully deglaze the bottom of the pot to prevent it burning later.

Add the Crushed Fire Roasted Tomatoes on top of the meat, DO NOT STIR OR MIX, Tomatoes can stick to the bottom of your pot and sometimes prevent it from coming to pressure, so just let them sit on top of the meat mixture. (see note 3)

Lock the lid, turn the steam release vent to 'sealing' and using the manual setting, adjust it to cook for 12 minutes at High Pressure.

When the cook time time is complete allow the unit to reduce pressure on its own without opening the steam release vent (Natural Pressure Release) for about 10-12 minutes, then carefully release the rest of the pressure by opening the vent before opening the lid.

Add the remaining spices and the drained and rinsed canned pinto beans, and stir again.

Turn on the saute/browning function in your Instant Pot or other electric pressure cooker, use the 'adjust' button to turn it the medium heat setting and simmer it with the lid off for about 10-15 minutes to reduce the liquid further.

Taste, and adjust salt and other seasonings as desired.
Recipe Notes
Baking soda –  this is entirely optional but I think it really works! It helps to retain moisture when you brown the meat, I got the tip from Cooks Illustrated. 
Ancho Chili Powder – this is not the same as regular chili powder. It's mild and has a lovely earthy taste to it that adds a real depth of flavor to the finished chili recipe. If you can't find it you can substitute another mild chili powder.
Fire Roasted Tomatoes – if you can't find them then you can use regular canned tomatoes instead. The flavor of fire roasted tomatoes are a little nicer I think, so I prefer them for this recipe
Serving size – If you follow the recipe as written it makes about 5 cups of chili, which is about 1250 mls total. If you reduce the liquid content further (by simmering after you pressure cook it) you may have less than that. 
Pinto Beans – this is personal preference, I much prefer these beans over red kidney beans but you can use whatever beans you like. 
Nutrition Facts
Best Ever Instant Pot Chili
Amount Per Serving (250 mls)
Calories 395 Calories from Fat 189
% Daily Value*
Fat 21g32%
Saturated Fat 6g38%
Cholesterol 62mg21%
Sodium 1376mg60%
Potassium 708mg20%
Carbohydrates 28g9%
Fiber 7g29%
Sugar 6g7%
Protein 24g48%
Vitamin A 1690IU34%
Vitamin C 6.4mg8%
Calcium 156mg16%
Iron 6.5mg36%
* Percent Daily Values are based on a 2000 calorie diet.
Nutritional information on Noshtastic is provided as a courtesy and is approximate only. We cannot guarantee the accuracy of the nutritional information given for any recipe on this site.
Course: Main Course
Cuisine: American, Tex-Mex