My Air Fryer Pork Chops recipe will reward you with tender, juicy, chops that are perfectly flavored with an easy to make seasoning blend.
There's no breading with my air fried pork chops so they work great for keto, low carb, Paleo and whole 30.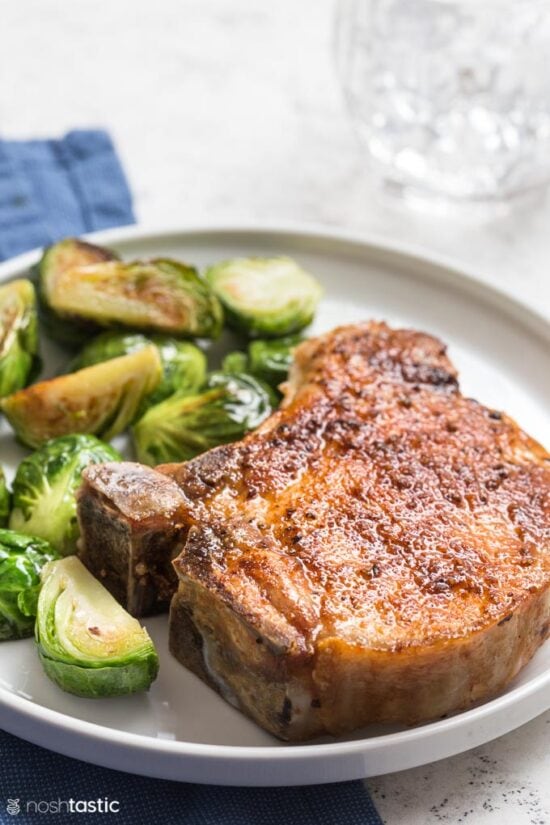 This post contains affiliate links
How to Make Air Fryer Pork Chops
Start by preheating your air fryer to 380°F, it should only take a couple minutes to come to temperature for most models.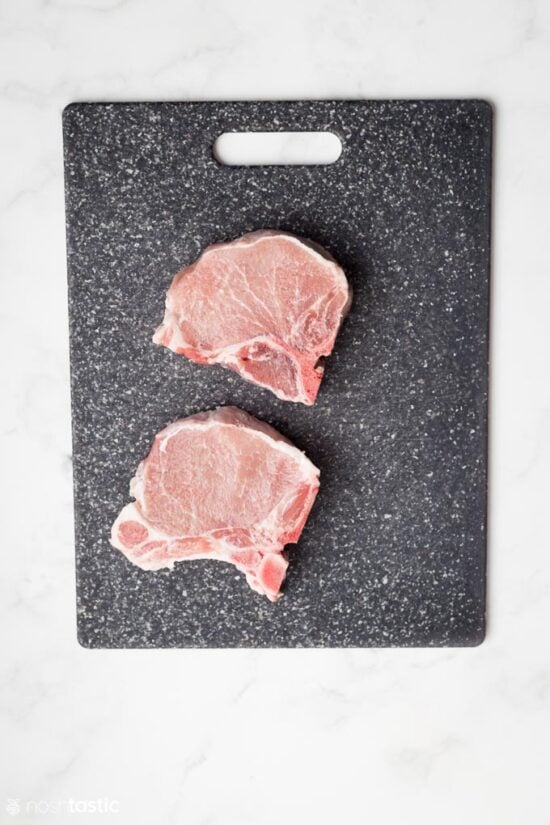 Next, mix together the paprika, onion powder and salt and pepper in a small bowl.
Apply the seasoning blend to both sides of the pork chops. There should be enough seasoning here for about four pork chops, you may not need to use all of it.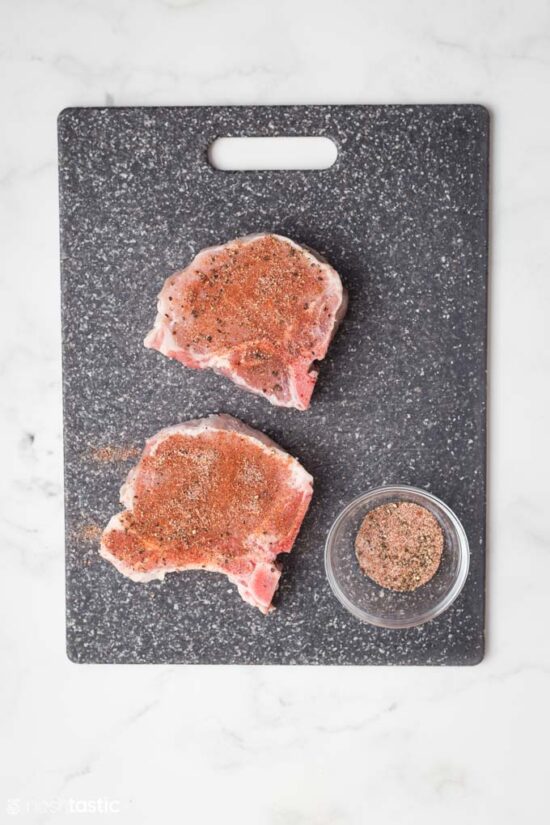 Place the pork chops into the air fryer basket and cook for about 9-12 minutes. The exact time it takes to cook your chops will largely depend on how thick the chops are, if they came straight from the fridge before cooking, and the model of your air fryer.
So all that to say, just check them at 9 minutes for doneness and assess from there how much longer you think they will take. Pork chops should be cooked to a minimum temperature of 145°F.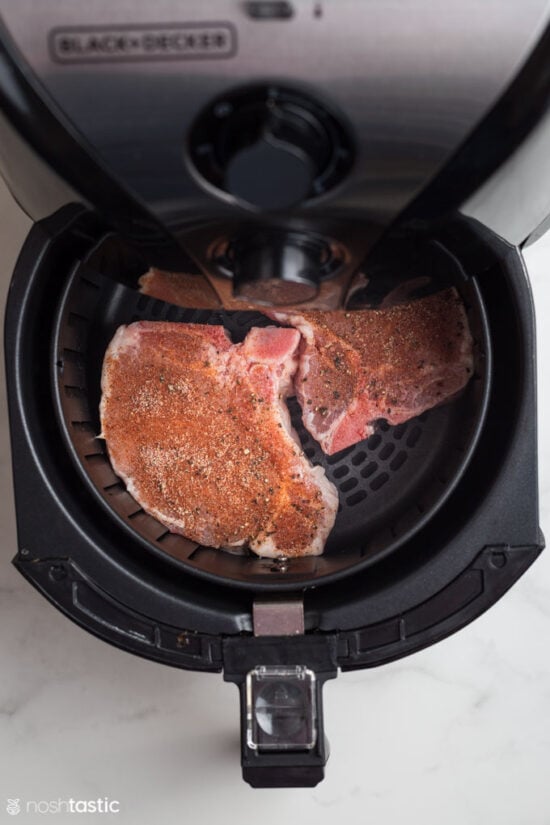 Once the chops are cooked they are best served right away rather than reheating them, though of course you can do that if you need to.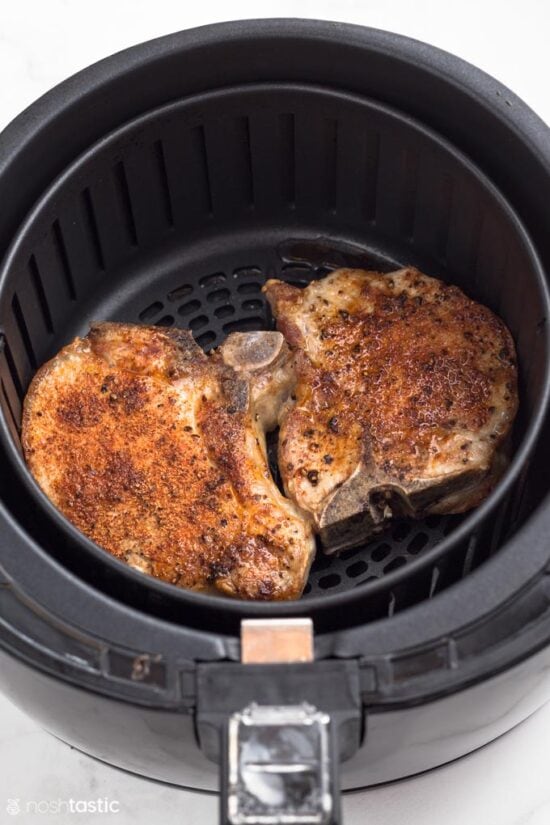 Air Fried Pork Chops faq's
Can I use frozen pork chops? It would be better to fully defrost them first before air frying to ensure they cook all the way through.
Do I need to spray oil on the air fryer basket? I didn't do that with my air fryer but check the manual for your specific model to see what they recommend.
Can I use boneless pork chops? Yes you can, if it's a very thin chop it will take less time to cook.
I want to layer the pork chops to fit more in, can I do that? No, you need to air fry them in a single layer to ensure even cooking.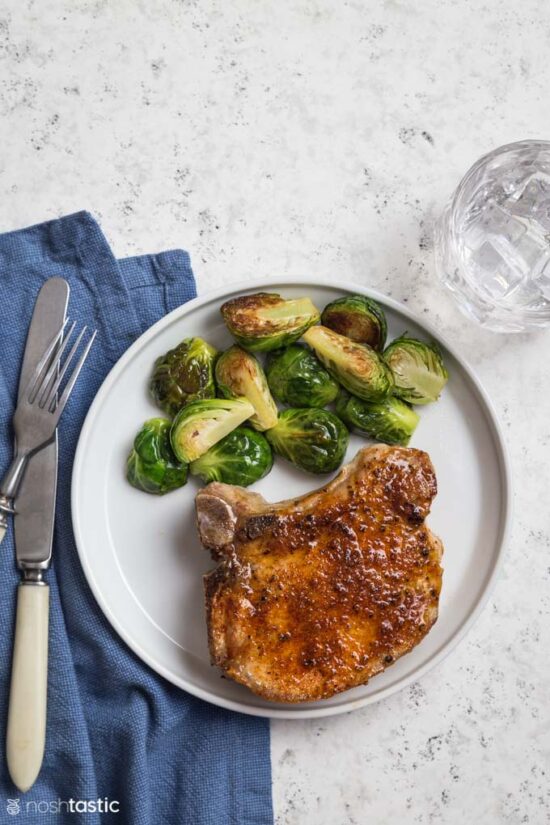 Related Air Fryer Recipes
Air Fryer Pork Chops
Easy Air Fryer Pork Chops recipe with simple spice rub, cooks quickly and makes tender juicy pork chops.
Prep Time: 5 minutes
Cook Time: 12 minutes
Total Carbs: 1 g
Protein: 49 g
Servings: 4
Ingredients
8 oz pork chops (four) bone-in center-cut , or boneless (see recipe notes)
1 tsp olive oil
Instructions
Brush both sides of pork chop with a little olive oil.

Mix the pork seasonings together in a bowl (this is enough for four pork chops) and apply to both sides of the pork chop.

Place pork chop in air fryer and cook for between 9-12 minutes, turning the chop over halfway, until it reaches a minimum temp of 145°F (exact cook time will vary depending on thickness of pork and your model of air fryer)
Recipe Notes
Servings – the seasoning should be enough for four average sized pork chops, just mix up a little more if you need it. The nutrition is calculated based on one 8oz pork chop per serving. 
Cook Time – This is not an exact science and just like regular ovens, Air Fryers vary from one model to the next in how hot they are and how well they cook. Fortunately it's very easy to check on the food in there by opening the drawer to see how it's cooking. 
Boneless chops – they can be air fried too, just adjust the cooktime depending on how thick they are. Lean boneless chops do tend to be drier than bone in so just bear that in mind. 
Nutrition Facts
Air Fryer Pork Chops
Amount Per Serving (226 g)
Calories 366 Calories from Fat 153
% Daily Value*
Fat 17g26%
Saturated Fat 6g38%
Cholesterol 152mg51%
Sodium 691mg30%
Potassium 859mg25%
Carbohydrates 1g0%
Fiber 1g4%
Sugar 1g1%
Protein 49g98%
Vitamin A 283IU6%
Calcium 16mg2%
Iron 1mg6%
* Percent Daily Values are based on a 2000 calorie diet.
Nutritional information on Noshtastic is provided as a courtesy and is approximate only. We cannot guarantee the accuracy of the nutritional information given for any recipe on this site.
Course: Main Course
Cuisine: American