Instant Pot Chicken Risotto is one of our favorite risotto recipes to make in our pressure cooker, it's much easier and quicker to make than the stove top version.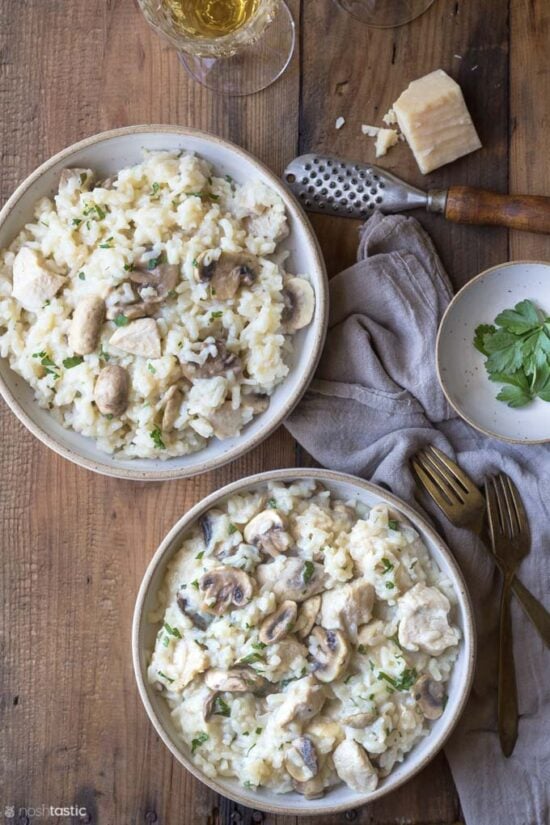 This post contains affiliate links
I'm kicking myself that I waited so long to try making Instant Pot Risotto because it's so unbelievably easy and the results were out of this world!
I think I'd been put off by years of making risotto standing at my stove and still ending up with rice that was undercooked, and by then I'd used up all my chicken broth!
My version of Instant Pot chicken Risotto is SO much simpler and doesn't require ongoing stirring, it's pretty much foolproof.
How to Make Instant Pot Chicken Risotto
Step 1 – Saute the onions for a couple of minutes in the olive oil until they are soft, but not browned.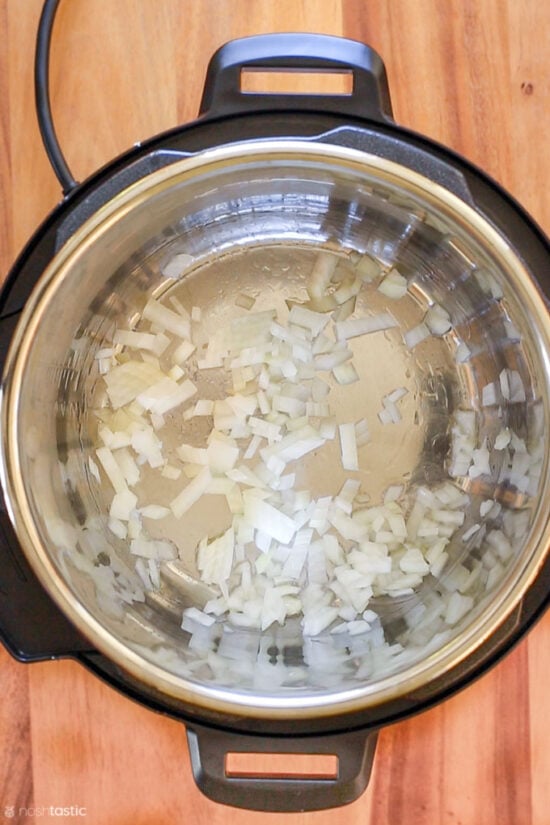 Step 2 – Then add the chicken and continue cooking on the saute setting until the chicken has cooked a little on all sides, you do not need it to cook all the way through.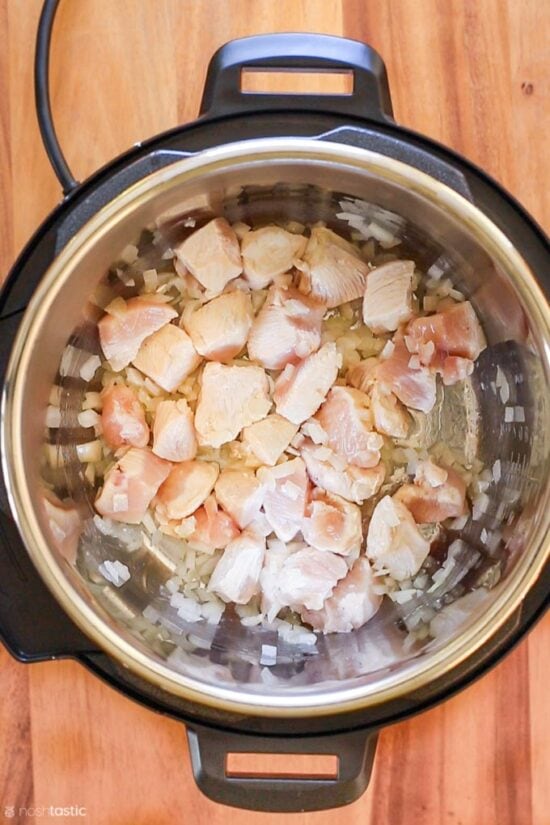 Step 3 – Add the Arborio rice and stir until it begins to turn opaque which takes about about 1- 2 minutes.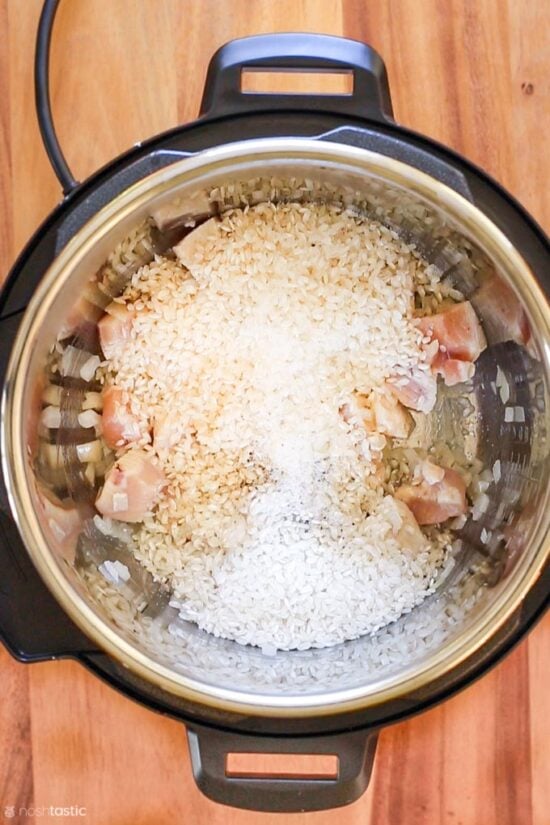 Step 4 – Add the white wine and cook for 3-4 minutes until most of it has been absorbed.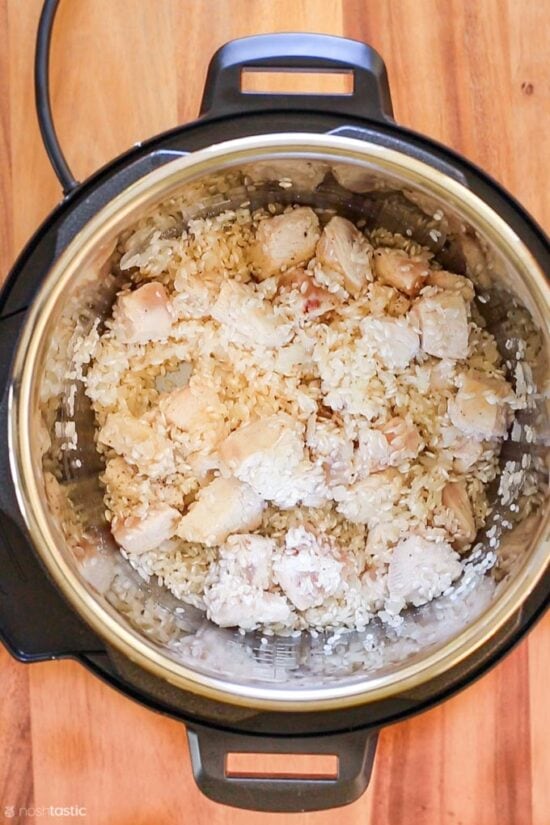 Step 5 – Add the chicken broth and garlic to the Instant Pot, stir, cook on High Pressure for 5 minutes.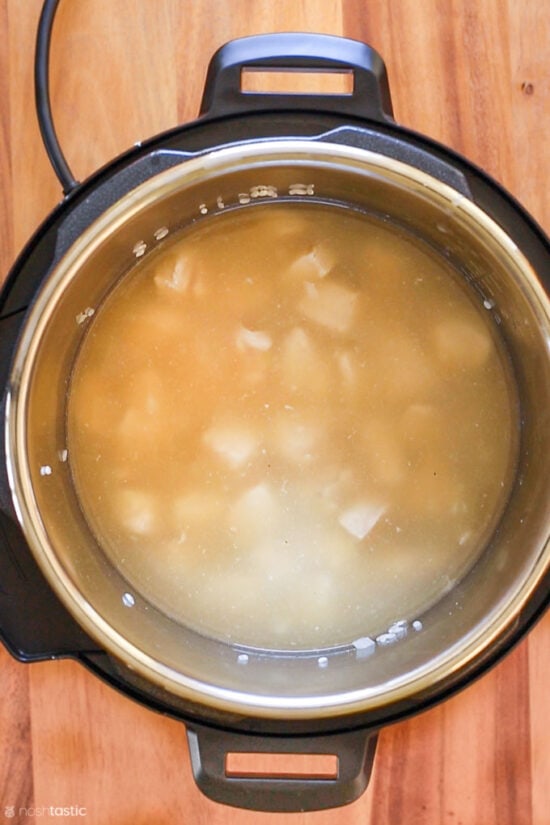 Step 6 – When the cook time time is up release the pressure right away and stir the contents of the pot.
Step 6 – Add the mushrooms, parmesan cheese, and cook for a few more minutes until mushrooms are soft.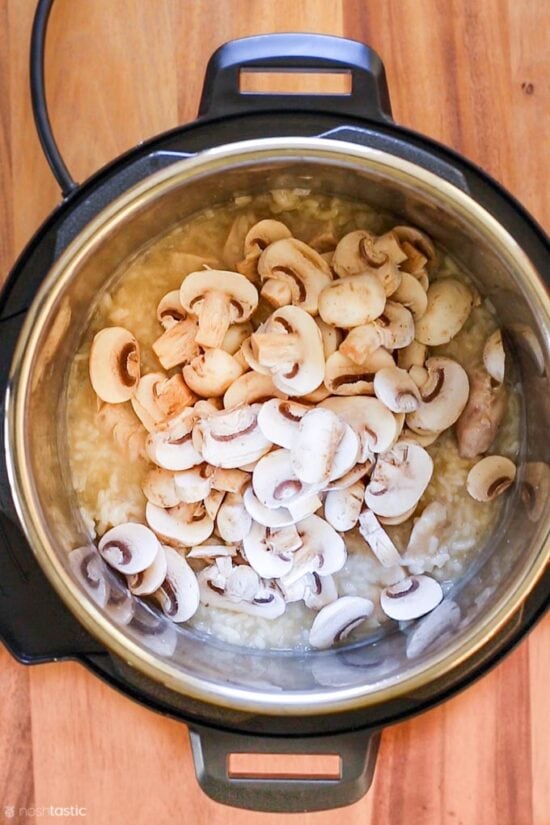 Step 7 – Add the parsley, stir, and serve right away. You can reheat in the microwave later on if you need to.
Can I use any Rice to Make Instant Pot Chicken Risotto?
You really can't substitute with regular rice for risotto and get the same results, you need a high starch rice such as Arborio or Carnaroli to get that creamy risotto texture.
This is the same brand of Arborio Rice I used for this recipe and it worked beautifully!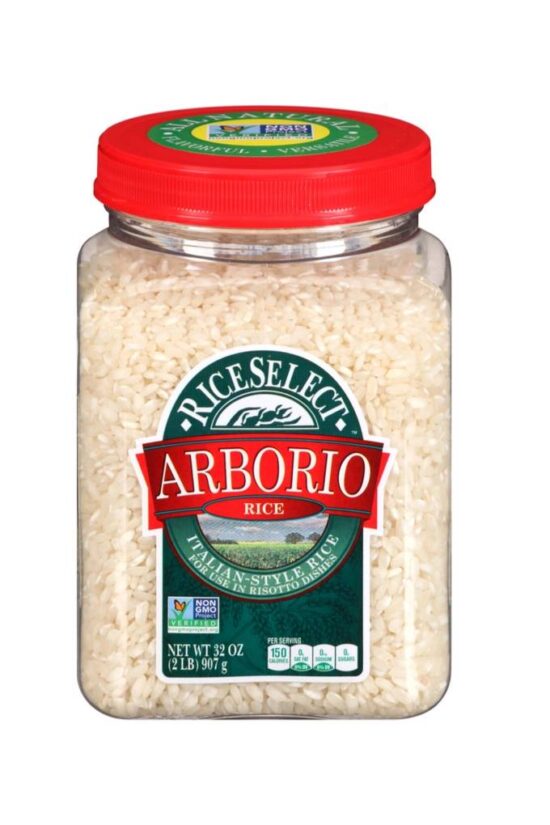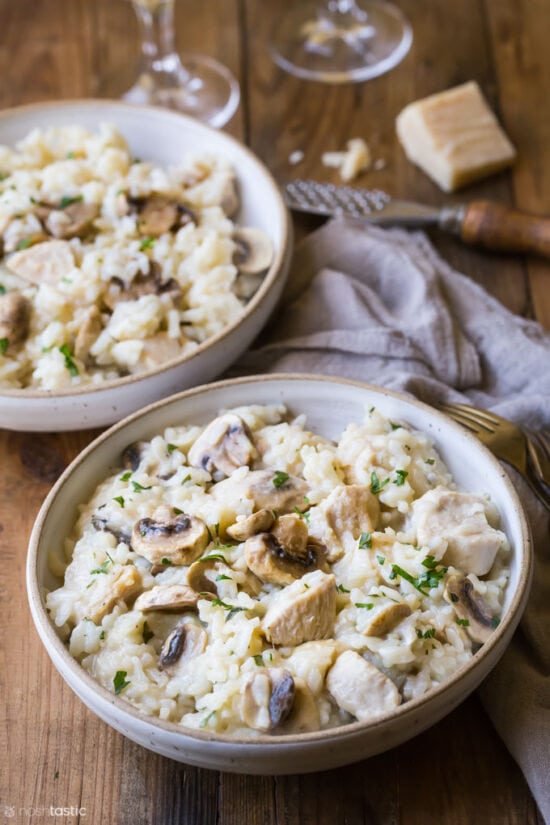 More Instant Pot Recipes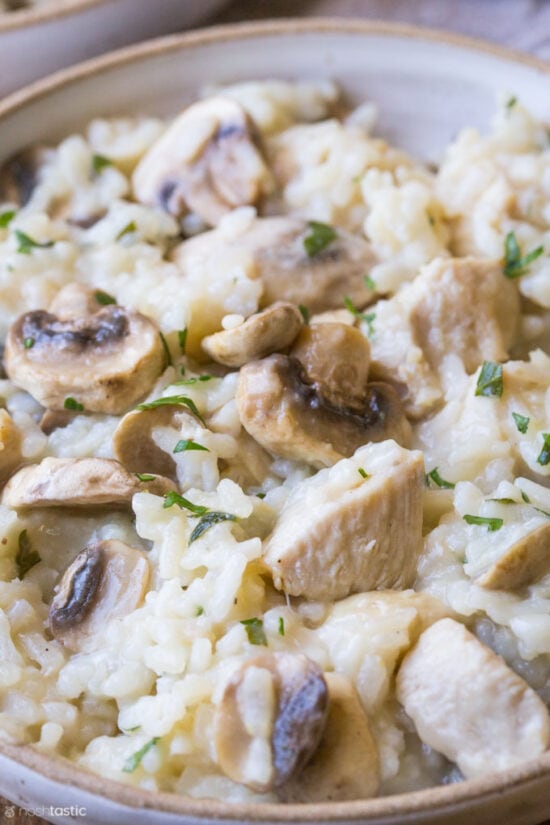 Instant Pot Chicken Risotto
You'll love this Instant Pot Chicken Risotto with Mushrooms, it's so creamy and easy to make!
Prep Time: 10 minutes
Cook Time: 30 minutes
Total Time: 40 minutes
Total Carbs: 65 g
Protein: 31 g
Servings: 4
Ingredients
2 tbsp olive oil
3/4 lb boneless skinless chicken breasts , 340g – cut into 1/2-inch pieces
1/2 medium onion , chopped
1 1/2 cups arborio rice , 320g – use cup measures, not the rice cooker cup!
1/2 cup dry white wine , 120mls
3 cups low-sodium chicken broth , 830mls – or homemade broth
2 cloves crushed garlic
1/2 pound mushrooms , 225g – cut into thin slices
1/2 cup grated Parmesan cheese , plus more for serving
2 tablespoons chopped fresh parsley
1/2 teaspoon salt
1/4 teaspoon fresh-ground black pepper
Instructions
Scroll up to watch the recipe video!


In the inner pot of your Instant Pot or other pressure cooker, turn on the saute function and saute the onions and cook for a couple of minutes then add chicken pieces and cook for about 4-5 more minutes, stirring frequently.

Now turn off the saute function, you don't want the rice to stick to the bottom of the pot.

Add the Arborio rice and stir until it begins to turn opaque, about 1- 2 minutes.

Turn the saute function back on and then add the wine and continue to cook for a further 3-4 minutes until most of it has been absorbed.

Add the low sodium chicken broth and crushed garlic to the pot, stir, and lock the lid.  Turn the steam release vent to 'sealing' and using the 'manual' or 'pressure cook' setting, adjust it to cook for 5 minutes at High Pressure. 

It will take about 7-10 minutes to come to pressure.

When the cook time time is up release the pressure right away (quick release) and carefully open the lid.


Stir in the sliced mushrooms and turn back on the saute function on the low setting. If you need to add a little more stock you can do that is its starting to stick to the pot.

Cook gently for about 4-5 minutes or until the mushrooms are cooked the way you like them, then add the parmesan and parsley, stir until the cheese melts, add salt and pepper to taste, and serve.
Recipe Notes
COOK TIME – You can see the rice consistency in the recipe video, I would say this falls somewhere in the middle, if you want softer grains then add another couple minutes to the cook time.
MUSHROOMS – if you use older mushrooms they may give off a lot of liquid so in that case I would just cook them in a skillet before adding them to the rice at the end and drain any liquid off first.
RICE – You really need a starchy short grain rice that is suitable for making risotto, I used Arborio Rice. This won't work with long grain rice such as Jasmine or Basmati.
WINE – Please, please do NOT use cooking wine that you get in the grocery store, it does not taste good, has added salt and is not suitable for this (or any!) recipe. You don't need an expensive wine, just pick a nice dry white wine. If you do not like to cook with alcohol you can simply omit it and add a little more chicken stock.
CHICKEN BROTH – the better quality broth you use, the better your risotto will be, if you have homemade broth that's the best. Try to use low sodium store bought broth if you can.
Adapted from Food & Wine
Nutrition Facts
Instant Pot Chicken Risotto
Amount Per Serving
Calories 552 Calories from Fat 135
% Daily Value*
Fat 15g23%
Saturated Fat 4g25%
Cholesterol 64mg21%
Sodium 1573mg68%
Potassium 797mg23%
Carbohydrates 65g22%
Fiber 3g13%
Sugar 2g2%
Protein 31g62%
Vitamin A 275IU6%
Vitamin C 19.7mg24%
Calcium 165mg17%
Iron 4.6mg26%
* Percent Daily Values are based on a 2000 calorie diet.
Nutritional information on Noshtastic is provided as a courtesy and is approximate only. We cannot guarantee the accuracy of the nutritional information given for any recipe on this site.
Course: Main Course
Cuisine: Italian