Chicken Saltimbocca sounds super fancy, tastes fabulous, and yet it's unbelievably easy to make and only has a couple of simple ingredients!
My kids wolfed it down for dinner, the baked chicken is tender, low carb, and wrapped in cheese and prosciutto, what's not to love?

Tips for making the best Chicken Saltimbocca!
So my top tip, and really the one that the recipe hinges on, is making sure that you have the chicken pieces thinly cut and flattened a bit. If you simply use the regular (massive) size of chicken breast from the grocery store they will take far too long to cook in the skillet.
I like to cut those in half to make thinner fillets, then pound the fatter end just a tad with a meat mallet. And remember to use the flat end of the mallet, the other side will mash your chicken and we do not want that!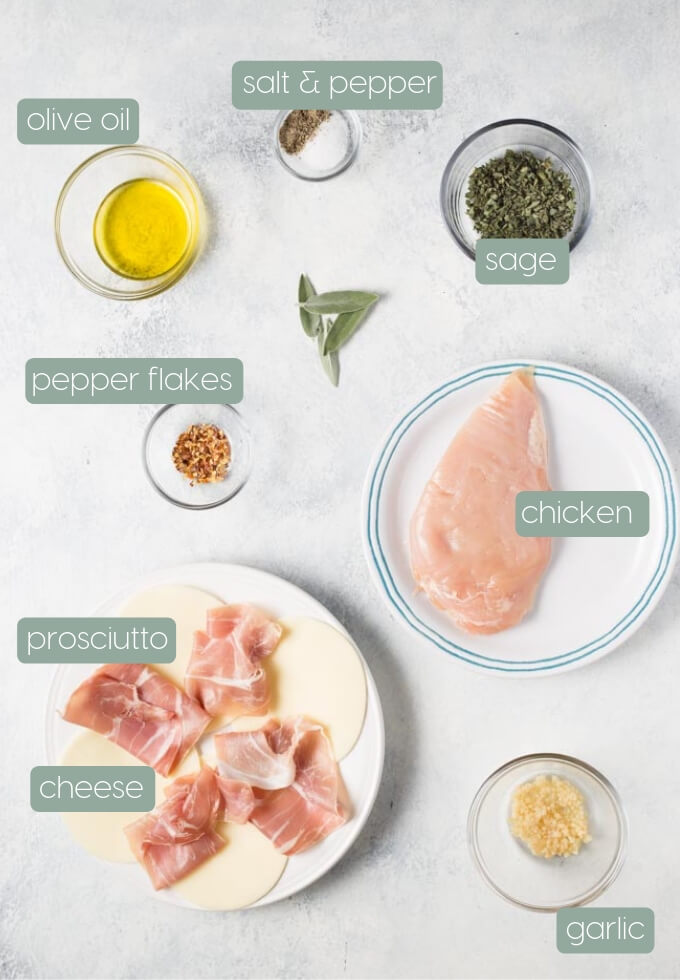 Next step is seasoning the chicken with salt, pepper, chopped sage, garlic, red pepper flakes (if using) and olive oil and let sit in the fridge for at least an hour, this will make a difference to the finished dish so try to leave time for this part if you can.
Then, heat a little oil in the skillet and if you want to serve the sage leaves for eating you really want to cook them first as raw sage does not taste awesome. Simply fry them in the oil for about 30 seconds to one minute them remove and place on paper towels.
Keep the pan hot and brown the chicken for about two – four minutes per side or until the chicken is fully cooked . Then move the chicken to a baking dish and top each piece of chicken with 2 sage leaves, prosciutto slice and one slice of fontina.
Put it under the broiler for 2 to 3 minutes until the cheese is nice and bubbly and a little golden, then you can serve and garnish with the remaining sage leaves.
this post contains affiliate links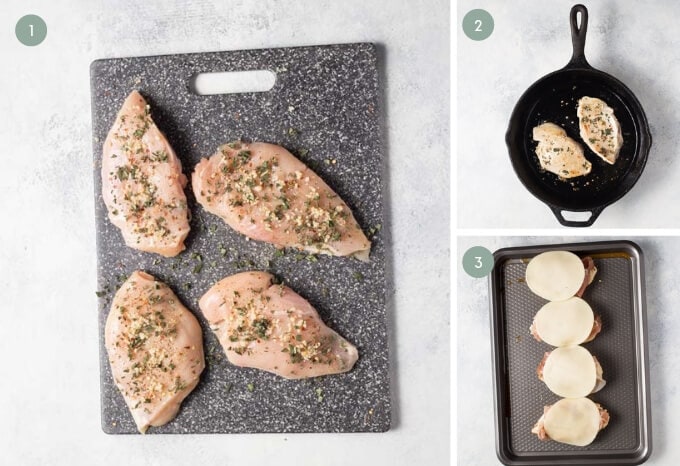 Where does Chicken Saltimbocca Come from?
Authentic Saltimbocca comes from Italy and was not originally made with chicken but with veal, it does have sage and prosciutto and is often rolled up and not left flat like this recipe.
The chicken Saltimbocca we know and love seems to be an entirely American creation along with the addition of cheese, which I think is totally awesome and have no problem with it not being original as I think the cheese cranks it up a notch. – Sheena xx
Related Low Carb Chicken Recipes
Chicken Saltimbocca
An easy weeknight version of this popular restaurant recipe.
Prep Time: 10 minutes
Cook Time: 11 minutes
Total Time: 21 minutes
Total Carbs: 1 g
Net Carbs: 1 g
Protein: 30 g
Servings: 4
Ingredients
2 large boneless skinless chicken breasts , cut in half to make 4 pieces
1 tsp chopped sage
1 tsp garlic powder
1/8th tsp red pepper flakes
3 tbsp olive oil
8 sage leaves
6 slices prosciutto
6 slices fontina cheese
Instructions
Cut the chicken breast pieces in half lengthways to make thin fillets, then gently pound with a meat mallet to make thinner, even thickness, chicken breast fillets.

Sprinkle surface of each chicken fillet with salt, pepper, chopped fresh sage leaves, garlic, red pepper flakes (if using) and olive oil. Marinate in the fridge for at least one hour.

Heat a large cast iron skillet over medium heat and add 3 tablespoons olive oil. When the oil is hot add the sage leaves and cook for 30 seconds to 1 minute, then remove leaves onto paper towels to drain.

Brown the chicken breasts in the hot oil for about 4 minutes per side or until the chicken is cooked, then transfer to a baking dish in a single layer.

Top each piece with one slice of prosciutto, and one slice of fontina cheese. Broil for 2 to 3 minutes, until the cheese is bubbling. Serve hot topped with the sage leaves you fried earlier.
Recipe Notes
Prosciutto - if you don't have any you can use super thin cooked bacon in a pinch
Fontina Cheese - any other mild cheese such as baby swiss would also be great here. 
Serving Size - is one half of a chicken breast with all the toppings.
Adapted from NYT
Nutrition Facts
Chicken Saltimbocca
Amount Per Serving
Calories 312 Calories from Fat 180
% Daily Value*
Fat 20g31%
Saturated Fat 10g63%
Cholesterol 111mg37%
Sodium 515mg22%
Potassium 365mg10%
Carbohydrates 1g0%
Protein 30g60%
Vitamin A 430IU9%
Vitamin C 1.5mg2%
Calcium 238mg24%
Iron 0.5mg3%
* Percent Daily Values are based on a 2000 calorie diet.
Nutritional information on Noshtastic is provided as a courtesy and is approximate only. We cannot guarantee the accuracy of the nutritional information given for any recipe on this site.
Course: Main Course
Cuisine: American