My Shrimp Stir fry recipe makes it easy to quickly create your own healthy take out at home! With a delicious stir fry sauce you can serve this over rice, or cauliflower rice for a low carb friendly option.
This post contains affiliate links
How To Make Shrimp Stir Fry
Start by measuring out ingredients for the stir fry sauce including coconut aminos, fish sauce, cornstarch, and sesame oil. Whisk them all together and then set aside.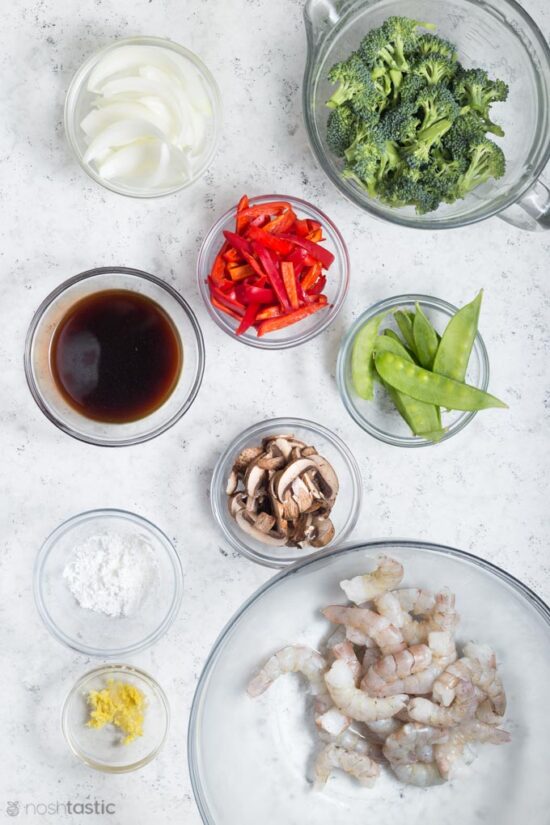 Prepare the vegetables by thinly slicing the onions, cut the broccoli into small even sized pieces, slice the bell peppers, and slice the mushrooms.
Heat the oil in a large wok or skillet, I love my cast iron skillet and it works well for making this recipe. Add the onions first and cook for a couple of minutes, next add the broccoli and bell peppers and cook for another minute, and lastly add the mushrooms and cook for one more minute.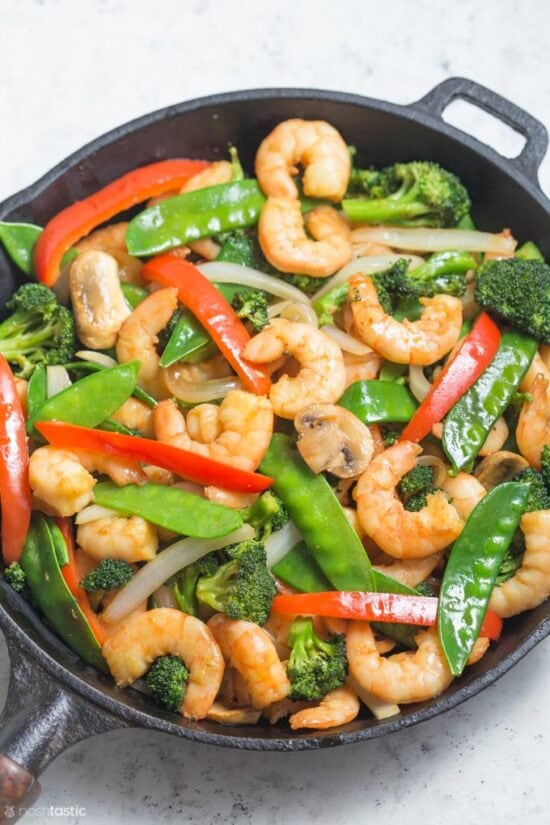 Add your peeled shrimp and marinade to the skillet and cook over a medium heat for about two to four minutes or until the shrimp is cooked. Don't forget to add the snow peas in the last minute of cooking, then serve stir fry right away.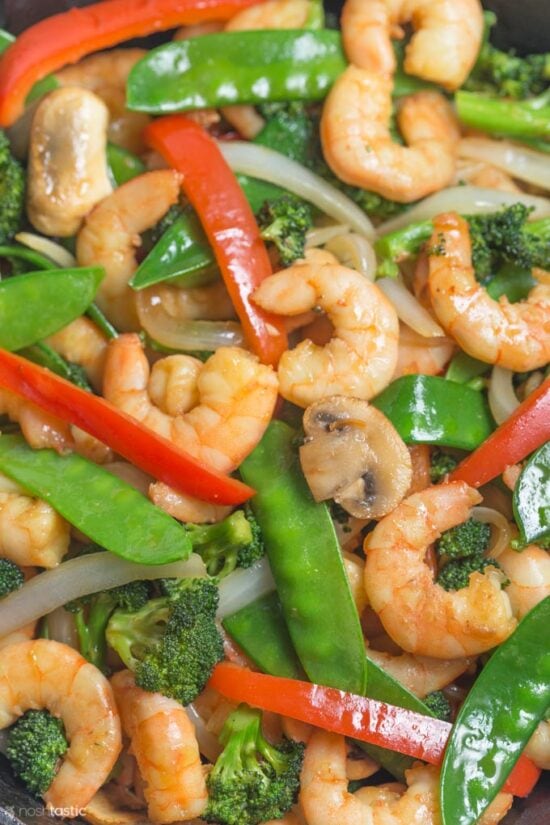 How to Thaw Frozen Shrimp
Take the frozen shrimp and place it into a large bowl and cover with cold water, do not use warm or hot water. Leave for three or four minutes, break apart any clumped together shrimp then pour off the water and replace with more cold water and wait three or four more minutes.
At this point the shrimp should be defrosted enough to handle and you should be able to peel it. Place your peeled shrimp in a single layer on a plate and it will be fully defrosted and ready to cook in just a few minutes. Once defrosted pat dry with paper towels before cooking.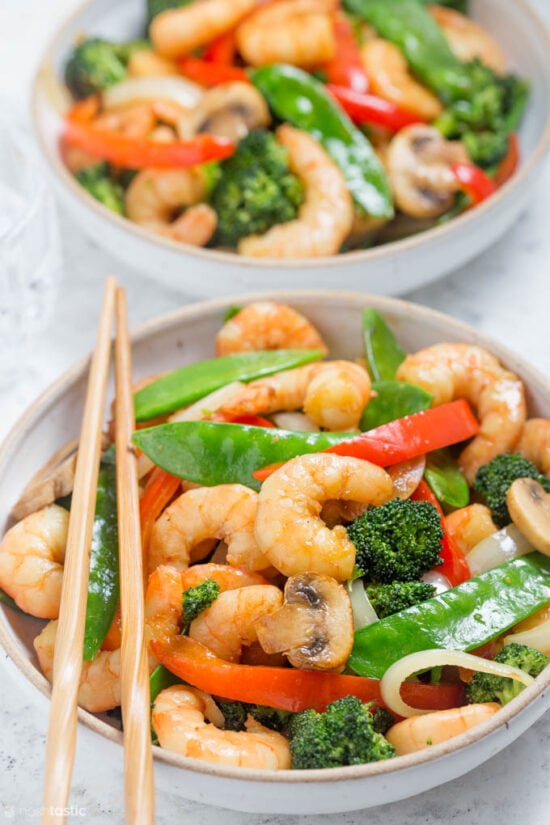 Shrimp Stir Fry
Create your own healthy 'take out' at home with this easy Shrimp Stir fry recipe cooked with a tasty stir fry sauce.
Prep Time: 10 minutes
Cook Time: 12 minutes
Marinate: 15 mins
Total Time: 37 minutes
Total Carbs: 11 g
Net Carbs: 9 g
Protein: 26 g
Servings: 4
Ingredients
Shrimp Stir Fry
2 tbsp olive oil
1/2 cup onion , 80g
2 cups broccoli , 100g
1 cup red bell pepper , 60g
2 garlic cloves , minced
1 inch root ginger, peeled and grated , Do not use powdered ginger!
1/2 cup mushrooms , 30g
1 lb shrimp , peeled
1/2 cup snow peas , 30g
Instructions
Mix the stir fry sauce ingredients together and set aside

Heat the olive oil in a large skillet or wok and cook the onions for two minutes, then add the broccoli, bell peppers, garlic, and ginger and cook for one more minute.

Add the mushrooms and cook for about one minute.

Add the shrimp with marinade, and red pepper flakes if using, and cook for about two to four more minutes until the shrimp is fully cooked, add the snow peas in the last minute of cooking.
Recipe Notes
Shrimp Stir Fry Sauce – if you like a lot of sauce feel free to double the sauce ingredients.
Fresh Ginger – use only fresh root ginger, this is not interchangeable with powdered ginger that you typically use in baking. You should be able to find ginger root at any grocery store so just ask if you are not sure. You need to peel it first and then grate it or finely chop it.
Stir Fry Vegetables – feel free to substitute any of the vegetables in this stir fry for others such as green beans, sugar snap peas, baby corn, carrots and so on.
Servings and Nutrition – serves four, nutrition label listed below and is approximate only. 
Nutrition Facts
Shrimp Stir Fry
Amount Per Serving
Calories 250 Calories from Fat 99
% Daily Value*
Fat 11g17%
Saturated Fat 2g13%
Cholesterol 286mg95%
Sodium 1243mg54%
Potassium 371mg11%
Carbohydrates 11g4%
Fiber 2g8%
Sugar 3g3%
Protein 26g52%
Vitamin A 823IU16%
Vitamin C 67mg81%
Calcium 193mg19%
Iron 3mg17%
* Percent Daily Values are based on a 2000 calorie diet.
Nutritional information on Noshtastic is provided as a courtesy and is approximate only. We cannot guarantee the accuracy of the nutritional information given for any recipe on this site.
Course: Main Course
Cuisine: American, Chinese