Instant Pot Pot Roast made in less than an hour, it's quick and very easy to make even if you've never used an Instant Pot or pressure cooker before!
This easy recipe makes a healthy weeknight Instant Pot pot roast dinner that cooks quickly in your electric pressure cooker, much more quickly than in a slow cooker or slow roasted in the oven.
It's gluten free, paleo and whole 30, and Keto or low carb (if you don't thicken the gravy)
I love that you can serve my Instant Pot Pot Roast as a simple everyday dinner, or dress it up with some fancier side dishes and it's good enough to serve to guests at a dinner party.
This post contains affiliate links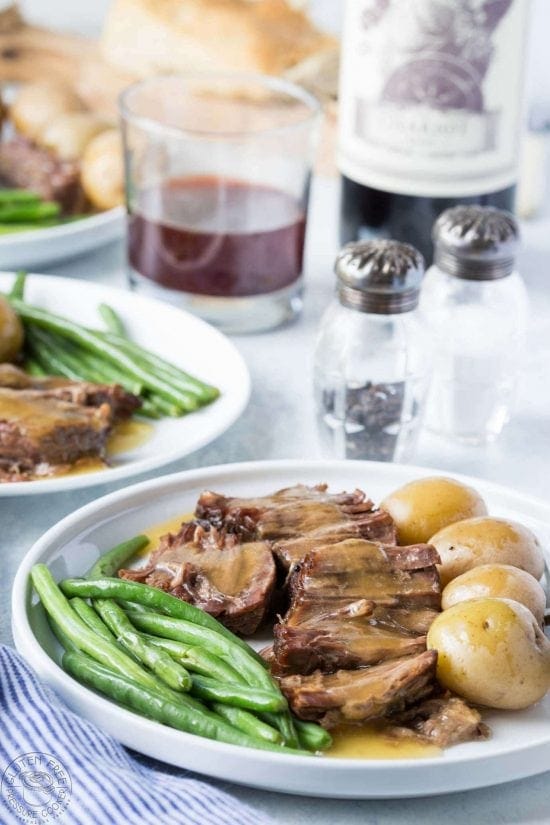 Quick Tips for Making Instant Pot Pot Roast
This recipe for Instant Pot pot roast works best with a boneless chuck roast, that's always my meat of choice for pot roasts.
If you're wondering if you can use a bottom round roast, well, you can, but you will get more consistent results for a pressure cooker pot roast with boneless chuck.
Boneless chuck has more fat, and fat means flavor and more importantly in pressure cooking, the fattier cuts of meat are much less prone to drying out so you will get a more tender end result.
I've added a handful of vegetables that are cooked along with the meat but they are simply there to enhance the flavor of the cooking liquid and basically they help to create a flavorful broth.
They will be very soft at the end of the cook time so you should remove them from the gravy.
When your Instant Pot pot roast is finished make sure you use natural pressure release.
This simply means that you let the unit cool down for about 10-15 minutes until the pressure release valve has dropped, rather than opening the valve right away and letting the pressure out.
A quick release of pressure can cause the meat to become dry and tough so we want to avoid that.
If your chuck roast is really wide it might be easier to brown it in a skillet, that's often what I do rather than trying to get it to fit on the bottom of the Instant Pot inner pot.
If you want to make potatoes or additional vegetables such as carrots to serve with the meat you can cook them in the pressure cooker at the end of the meat cook time.
Simply remove your cooked Instant Pot Pot Roast and cover with foil to keep warm.
Add a steamer basket and add in your potatoes and carrots, replace the lid and cook for 4 minutes, then you can quick release the pressure.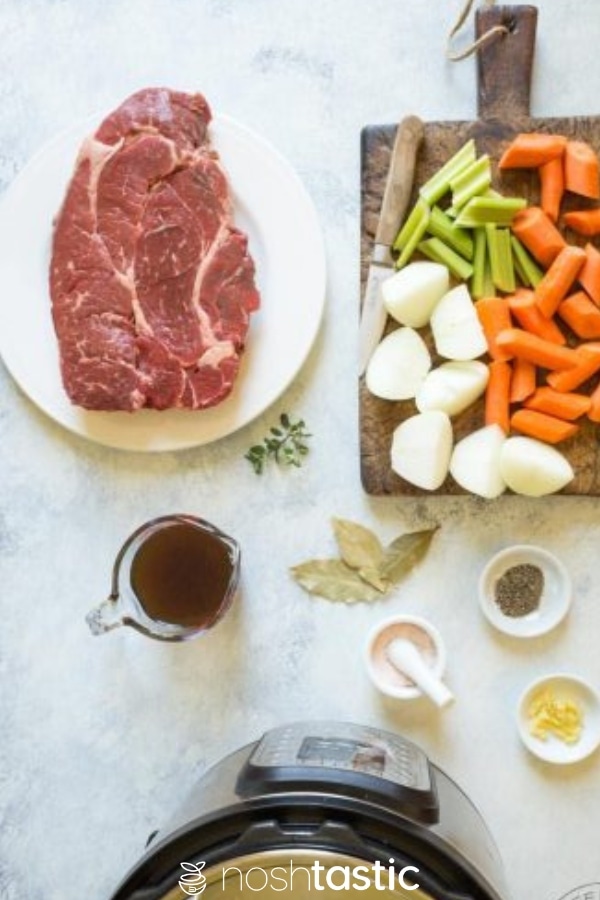 What are the Best Cuts of Meat for Instant Pot Pot Roast?
In general, tougher cuts of meat work best for making a Instant Pot pot roast.
These are the cuts of meat that contain a decent amount of fat throughout and connective tissue, so if they were grilled, fried, or cooked quickly in some other way they would be as tough as old boots!
When cooked with a slow cook time, over a low heat, the collagen will eventually break down and melt, creating a fork tender piece of meat.
We want to make that same fall apart tender piece of meat over a much shorter cook time in our pressure cookers!
My favorite, no fail, piece of beef for my Pressure Cooker pot roast is the boneless chuck roast, it works for me every time.
The chuck roast cut comes from the shoulder of the animal and is a fairly inexpensive cut compared to some others.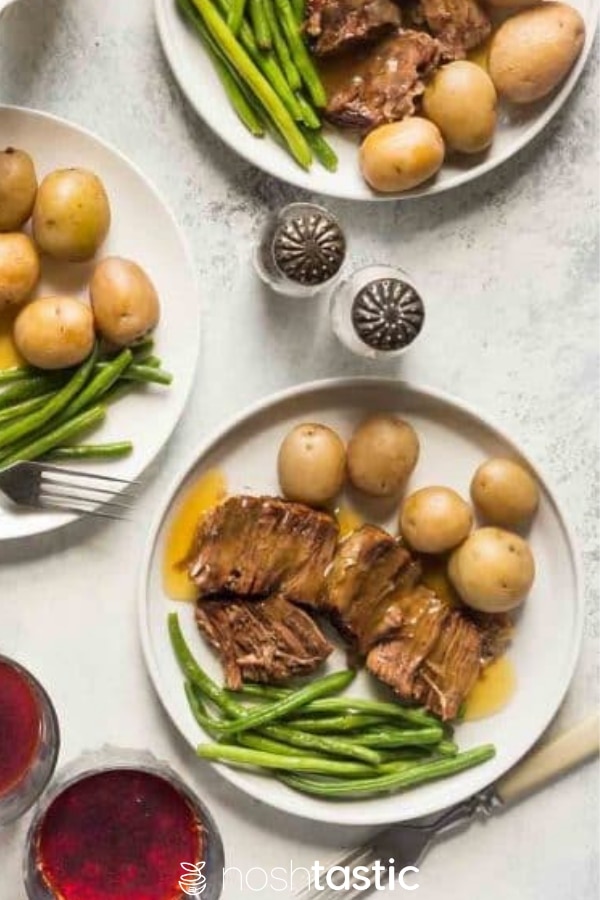 How Long do You Cook Instant Pot Pot Roast for?
My recipe for Instant Pot pot roast cooks from between 47 minutes to over an hour depending on the thickness of the meat.
Chuck Roasts typically have a uniform thickness of about 1-2 inches, and this is an added benefit when cooking it in your electric pressure cooker as the cook time is often determined more by the thickness of the meat, rather than by the weight of it.
For example, if you have a chuck roast that is 3-4lbs, or one that is 5-6lbs, but they are both an inch thick then the cook time for both should be pretty similar in a pressure cooker.
I see a lot of recipes advocating what I think is a very long cook time for chuck roasts, often 60-90 minutes or more, which I find is too long for me.
By that time most of the flavor from the meat has transferred to the liquid surrounding it, which makes for a very flavorful gravy, but a pretty tasteless piece of meat.
That said, there are many others who love a pot roast that is pressure cooked for 60-90 minutes so my only conclusion is that it comes down to personal taste!
If the 47 minute cook time is not long enough for your Instant Pot pot roast, you can always put the lid back on and continue to cook it for a little longer.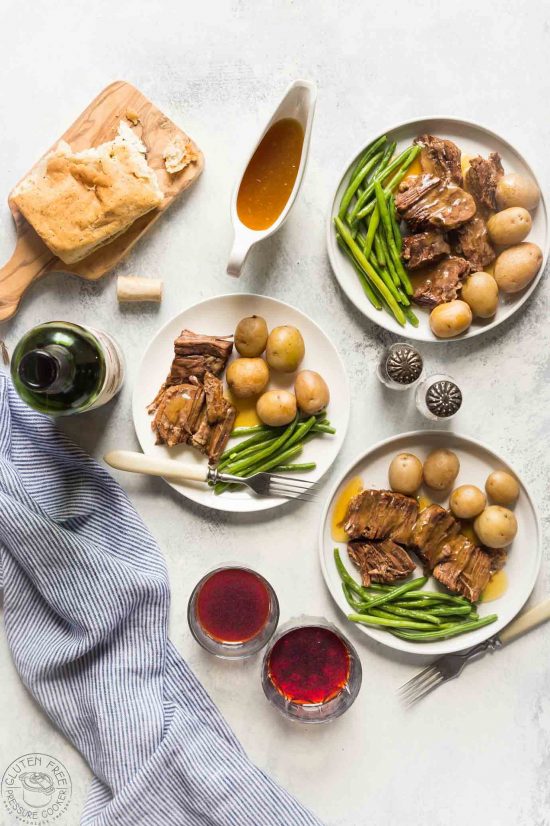 What is a pot roast?
It's a common misconception that the term Pot roast refers to the cut of meat used, it doesn't, it's simply the method used to cook the meat.
The typical way to cook a pot roast is to take a large cut of meat (in this case, beef) and brown it first to get that wonderful Maillard reaction which further boosts the flavor.
Then, the meat is usually cooked over a long time at a low temperature with the addition of some sort of liquid such as water, broth, or wine, until it is soft and tender.
Instant Pot Pot Roast
Now you can cook a classic Instant Pot Pot Roast in your electric pressure cooker in less than an hour! This easy recipe makes a really easy, healthy weeknight meal! It's gluten free, paleo and whole 30, low carb, and healthy!
Prep Time: 15 minutes
Cook Time: 47 minutes
Total Time: 1 hour 2 minutes
Total Carbs: 6 g
Protein: 58 g
Servings: 6
Ingredients
4lb boneless chuck roast
1 cup gluten/paleo free beef stock, or water , 250mls
2 onions
2 carrots , peeled and chopped
2 celery sticks , cut into pieces
1 sprig of thyme
2 garlic cloves , crushed
2 tbsp cornstarch, or arrowroot for paleo
Instructions
Watch my recipe video first! It's right after the directions.

Start by browning the chuck roast in a little oil in the inner pot by turning on the saute function on your electric pressure cooker and adjust it to the medium heat option. Don't wait for the display to say 'hot', add oil right away and brown the meat on both sides, then remove it.

If the chuck roast is really wide it may be easier to brown it in a skillet in the stovetop instead.

Add the vegetables and garlic, then place the meat on top of the vegetables and season well with salt and pepper. Please note that the vegetables that are cooked with the meat are simply there to enhance the flavor of the cooking liquid and make a great tasting gravy, they will be very soft at the end of the cook time so you should remove them from the gravy.

Tuck the thyme and bay leaves along the sides of the meat.

PLEASE read the recipe notes on cook time first! They are at the end of the recipe card.

Pour in the beef stock or water, lock the lid, turn the steam release vent to 'sealing' and using the manual setting, adjust it to cook for 47 - 50 minutes at High Pressure.

My chuck roasts are about 1.5 - 2 inches thick and a 47 minute cook time works for me, if yours is much thicker than that you may need to increase the time a little.

When the cook time time is up, allow the unit to reduce pressure on its own without opening the steam release vent (Natural Release) for at least 12 minutes.

After 12 minutes you can carefully and slowly release the rest of the pressure.

Remove the meat and cover with foil.

If you want to cook potatoes and carrots to serve with this then remove the meat once it's cooked and cover with foil to keep warm.

Add baby potatoes and carrot chunks to a steamer basket and cook on high pressure for 4 minutes. You can then quickly release the pressure.

To make the gravy mix the cornstarch, or arrowroot for paleo, with a little cold water.

Add half of the starch mixture to the meat juices then turn on the saute function if you need to let it heat up again until it thickens. If you want it thicker simply add more starch mixture.

Strain out the vegetables and serve over the meat.
Recipe Video
Recipe Notes
COOK TIME 
Cook time will vary depending on the size of your roast and it really depends on your tastes and how you like it cooked. So if you are used to slow cooking pot roast until it's totally falling apart and you can only pick it up in pieces with a fork then you'll need to cook your pot roast for longer than the time listed in my recipe.
The cook time as listed will typically create a roast that looks like the one in the video, so it's tender but not falling to pieces completely. I prefer it that way as I think cooking it until it falls apart makes it dry and stringy and all the flavor is lost from the meat and goes into the cooking liquid.
But as I said before it's all about personal preference so if you want it cooked like that it will probably take longer than 60 minutes at high pressure. 
If your roast is tough and rubbery then it is probably not cooked long enough, so simply put it back in your pressure cooker and cook for a little longer. 
PALEO BROTH
I have found it hard to find store bought paleo or whole30 beef broth for this recipe. There are several options available on Amazon that would be paleo compliant (you'll need to check for whole30) such as this Kettle and Fire Bone Broth, Bone Broth Powder, or LonoLife Grass Fed Beef Bone Broth.
You can easily use water as an alternative, it won't be quite as rich but it will work perfectly well. Or, you could  use your own home made beef broth that's paleo compliant
Nutrition Facts
Instant Pot Pot Roast
Amount Per Serving (533 g)
Calories 571 Calories from Fat 306
% Daily Value*
Total Fat 34g 52%
Saturated Fat 15g 75%
Cholesterol 208mg 69%
Sodium 271mg 11%
Potassium 1157mg 33%
Total Carbohydrates 6g 2%
Dietary Fiber 1g 4%
Sugars 2g
Protein 58g 116%
Vitamin A 69.9%
Vitamin C 5.6%
Calcium 7.4%
Iron 35.7%
* Percent Daily Values are based on a 2000 calorie diet.
Nutritional information on Noshtastic is provided as a courtesy and is approximate only. We cannot guarantee the accuracy of the nutritional information given for any recipe on this site.
Course: Main Course
Cuisine: American