Delicious, quick and easy Dairy Free Lemon Curd that's made without butter!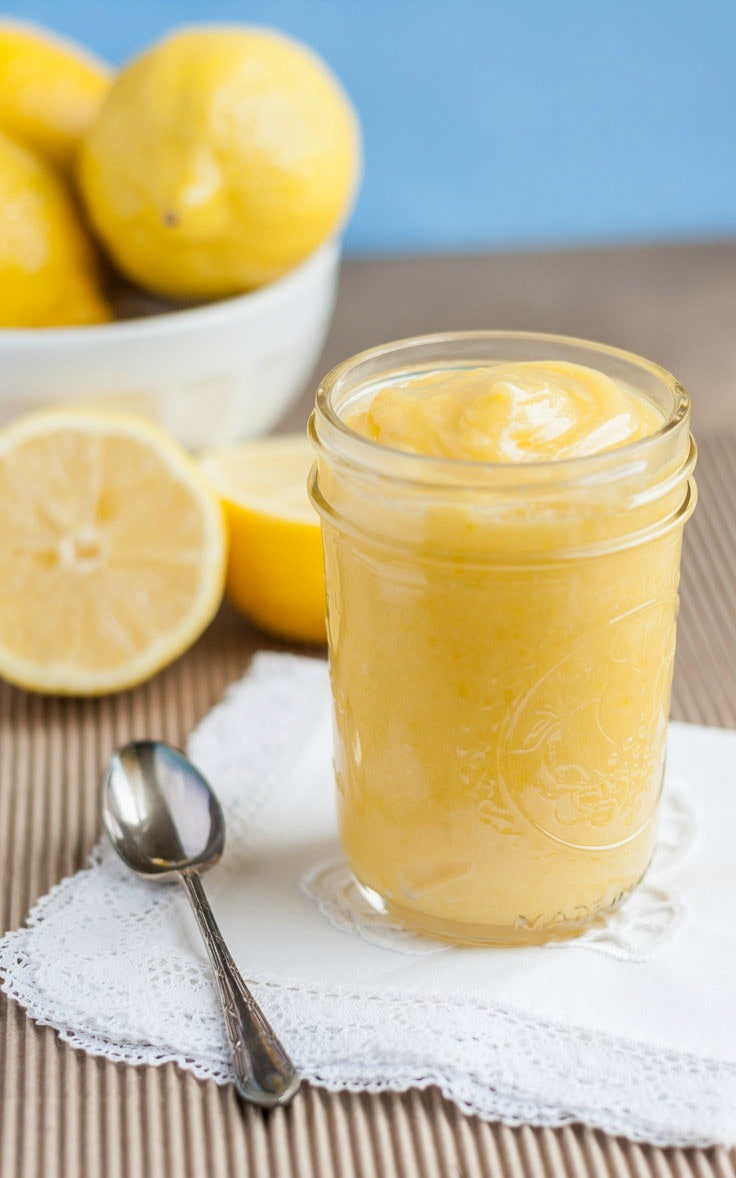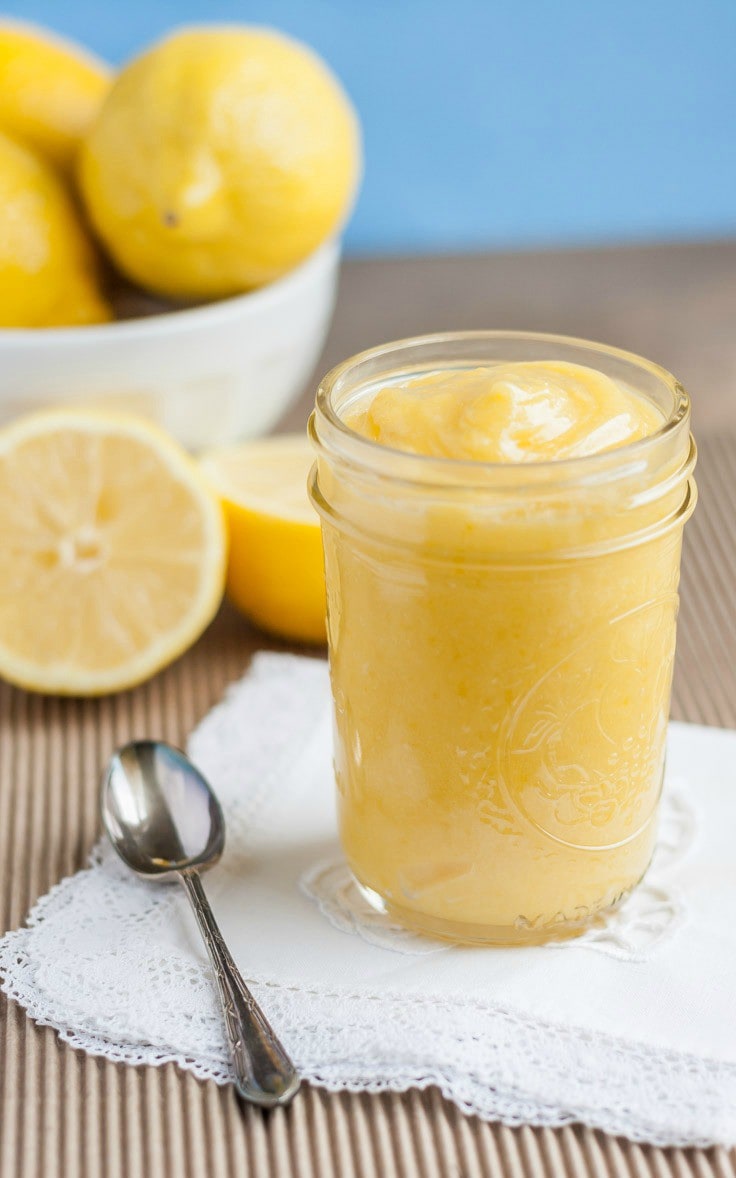 How to Make Dairy Free Lemon Curd
Can you make Lemon curd without butter? Is that even possible? Why, yes, yes it is!
Growing up in Scotland we ate lemon curd a lot as children. I don't believe we ever made it at home but it was easy to find in jars in the grocery store right next to the jam and marmalade.
Most of the time we put it on toast and if the grown ups weren't looking we would be eating it out of the jar with a spoon, but I don't think we managed to pull that off very often..
Well fast forward a lot of years and I'm no longer living in Scotland and as a result of having Celiac disease I can't tolerate dairy products very well in large amounts, so that's meant I've had to totally rethink and reinvent a lot of the foods that I grew up with.
So how 'bout this lemon curd, I mean traditionally it's made with butter so that's that's a bit of a problem for those of us who can't eat dairy, right?
Fortunately I've found that Earth Balance vegan butter is a good substitute both in my gluten free baking and for some other recipes that require a decent dairy free butter substitute.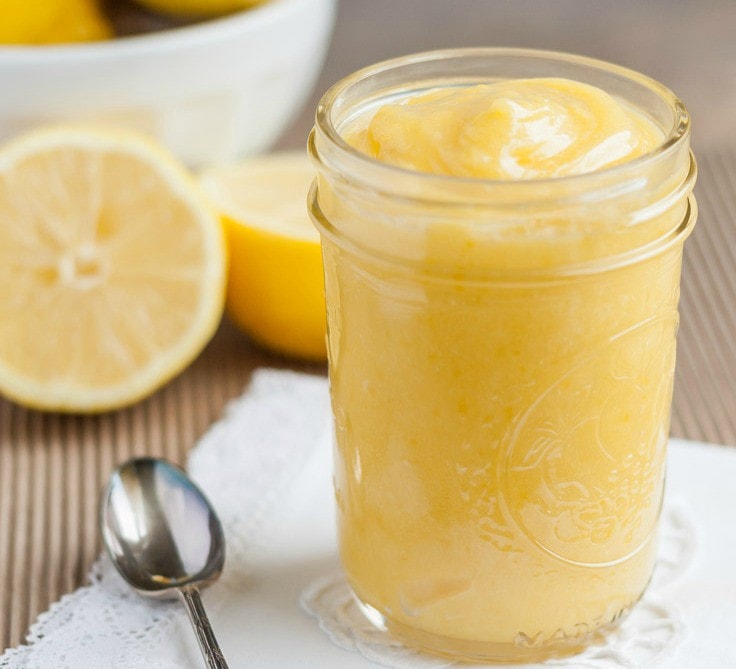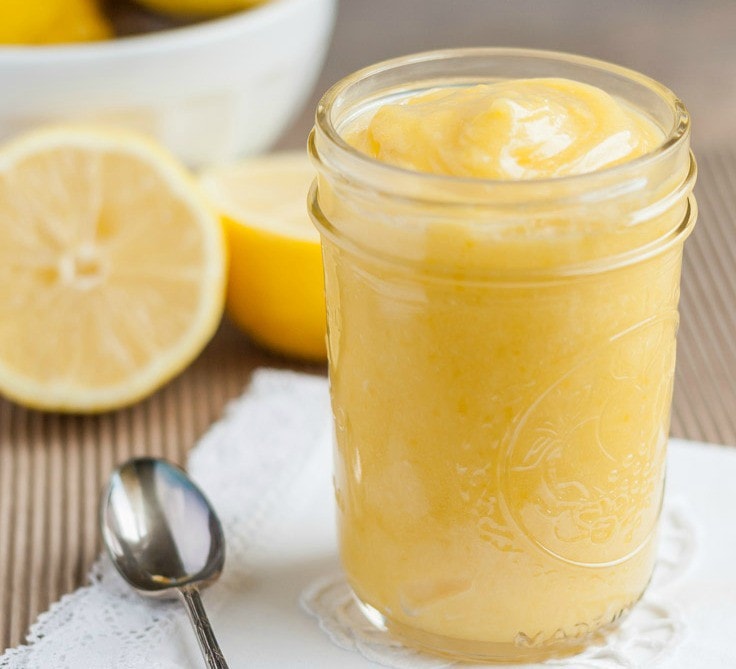 I just want to give you quick word of caution if you are either new to dairy free or are making this for someone else who has to eat dairy free.
Did you know that not all margarines are dairy free? In chatting to friends who have cooked for me at various times I realised that many of them assumed that margarine is only made with vegetable oils but almost all of them contain some milk so watch out for that.
And to add to the confusion some of the lower fat/low calorie dairy free varieties of margarine  are totally unsuitable for baking, frying or using as a general butter substitute in many recipes because they contain a lot of water and just don't work in the same way that butter does.
If you're not in the USA you will need to do a little research on what the best non dairy margarine is to use, if in doubt try one that says it's suitable for baking and frying as they are typically a little more robust.
More Gluten Free Dairy Free Recipes
Scrumptious Dairy Free Lemon Curd!
Delicious, quick and easy Dairy Free Lemon Curd that's made without butter!
Prep Time: 10 minutes
Cook Time: 10 minutes
Total Time: 20 minutes
Total Carbs: 2 g
Protein: 2 g
Servings: 6 servings
Ingredients
2 tsp grated lemon zest
1 ½ cups sugar
5 large egg yolks
½ cup fresh lemon juice
½ cup Dairy Free margarine or butter , I used Earth Balance
Instructions
Combine lemon zest and sugar in food processor.

Pulse to mince zest, then process until zest is as fine as the sugar.

Add egg yolks, lemon juice, process 10 seconds.

With machine still running, pour in melted butter or margarine

Transfer mixture to double boiler and cook over low heat until thickened, about ten minutes.

Cool and refrigerate.
Nutrition Facts
Scrumptious Dairy Free Lemon Curd!
Amount Per Serving
Calories 189 Calories from Fat 171
% Daily Value*
Fat 19g29%
Saturated Fat 4g25%
Cholesterol 162mg54%
Sodium 185mg8%
Potassium 45mg1%
Carbohydrates 2g1%
Protein 2g4%
Vitamin A 895IU18%
Vitamin C 8.7mg11%
Calcium 25mg3%
Iron 0.4mg2%
* Percent Daily Values are based on a 2000 calorie diet.
Nutritional information on Noshtastic is provided as a courtesy and is approximate only. We cannot guarantee the accuracy of the nutritional information given for any recipe on this site.