This easy Southern Chicken Salad is a classic American recipe you'll love and it's very versatile.
I've given measurements and detailed what I think are authentic Southern Chicken salad ingredients including the all important mayonnaise, fresh grapes, and nuts.
You can change up the ingredients some to make it the way you like it, we used almonds but pecans are very Southern and a great option for substituting for the almonds.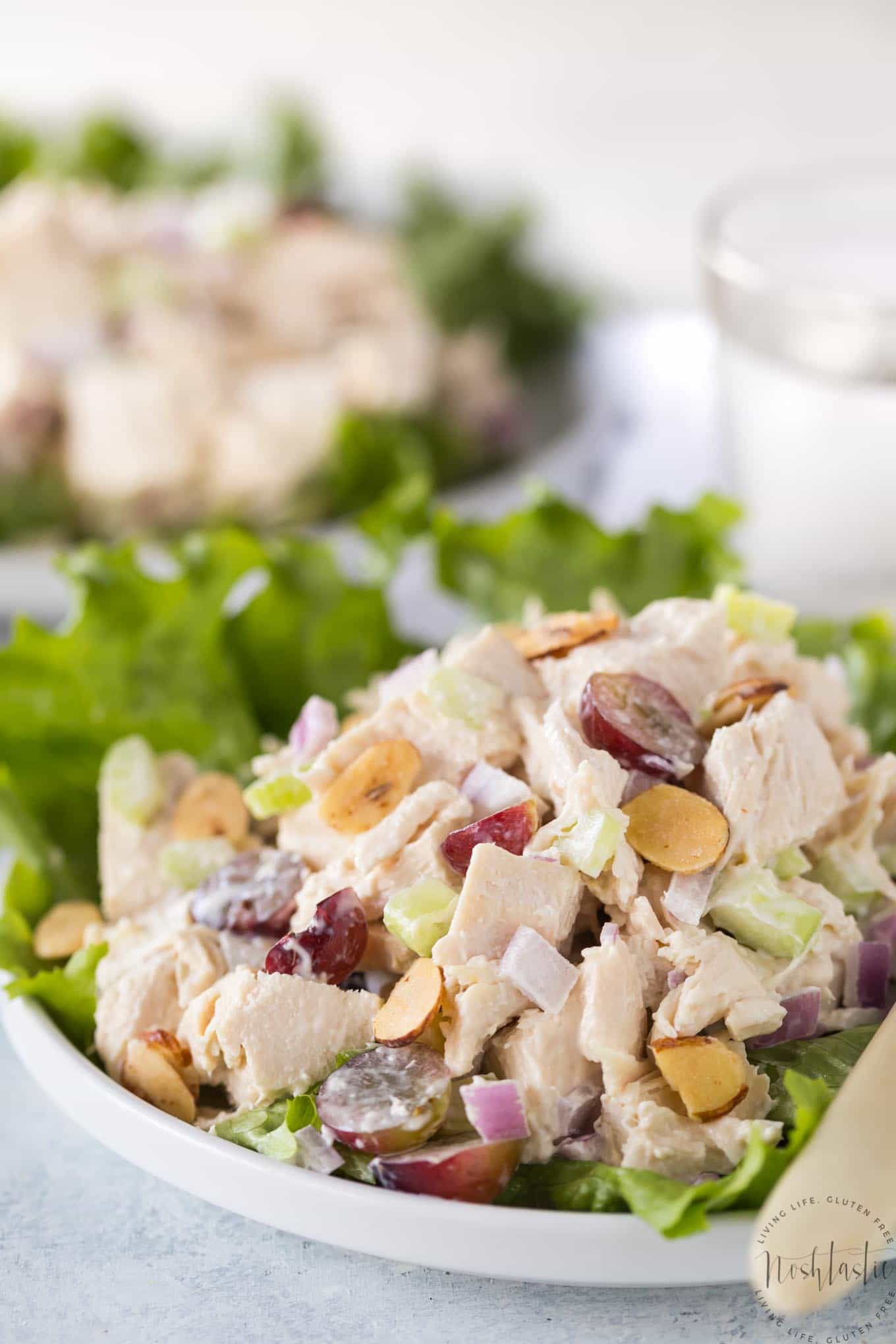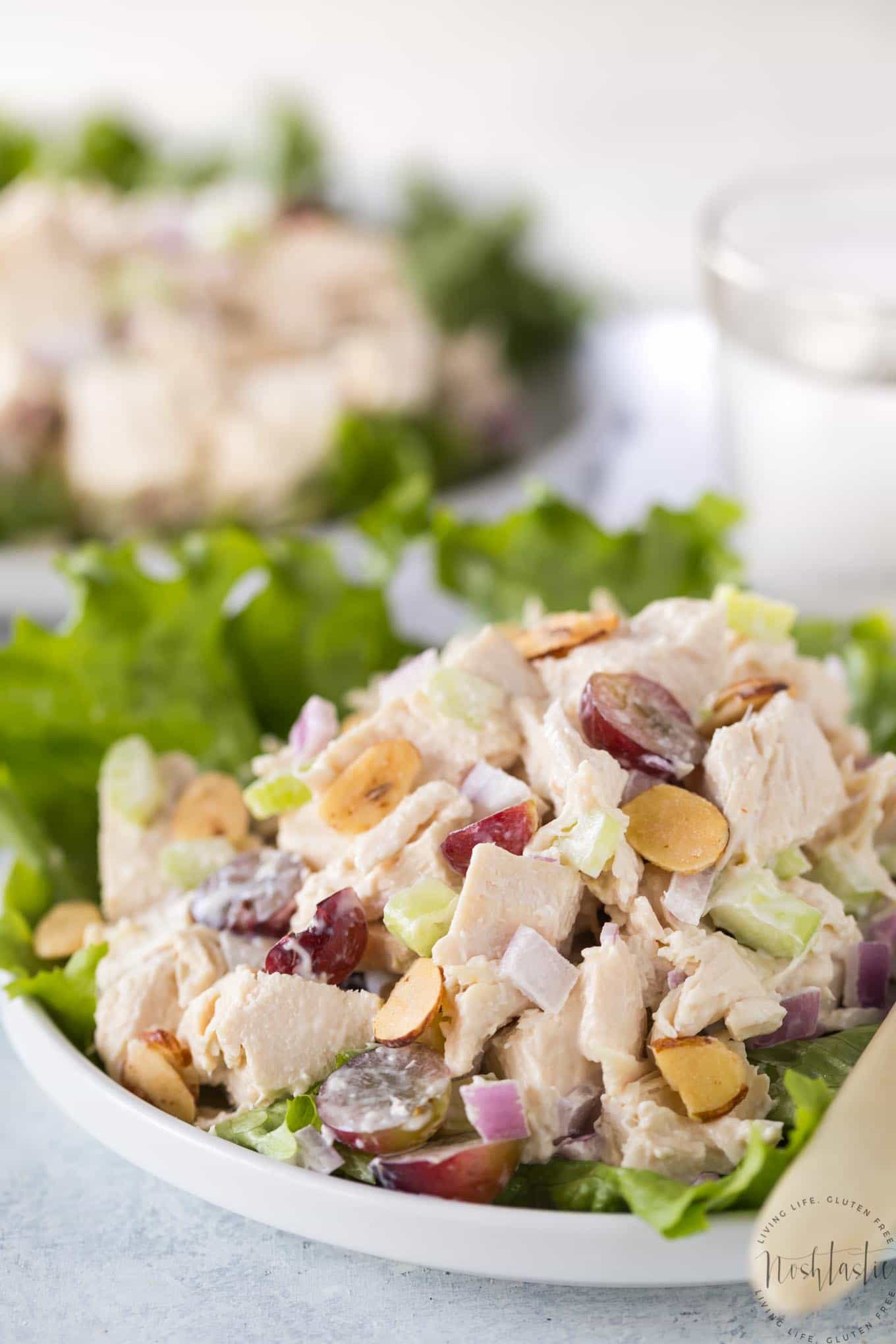 How to Make Southern Chicken Salad
This Southern Chicken Salad is an American classic and also one of my favorites. It's usually what I order when I go out for lunch and thankfully it's very easy to recreate at home!
The only cooking that may be involved is with the chicken. I usually use leftover roast chicken, rotisserie chicken works well too if you can find one in your grocery store that's gluten free.
I live in Mississippi and asked my local friends how to make an authentic Southern Chicken Salad and how they would do it, here's what they said:
"Southern Chicken salad has 'just enough mayonnaise to hold the ingredients together, so go light on the mayo"
"Die hard Southerners use Duke's Mayonnaise"  – I'm not a southerner, so I used another brand 🙂
So there you have it! It's really just a matter of assembling the ingredients together, you don't need any culinary skills whatsoever (except maybe to cook the chicken).
I think it's best if you can leave the chicken salad to sit for a while (overnight is best) in the fridge so that the flavors of the onion permeate the salad, it's really yummy like that.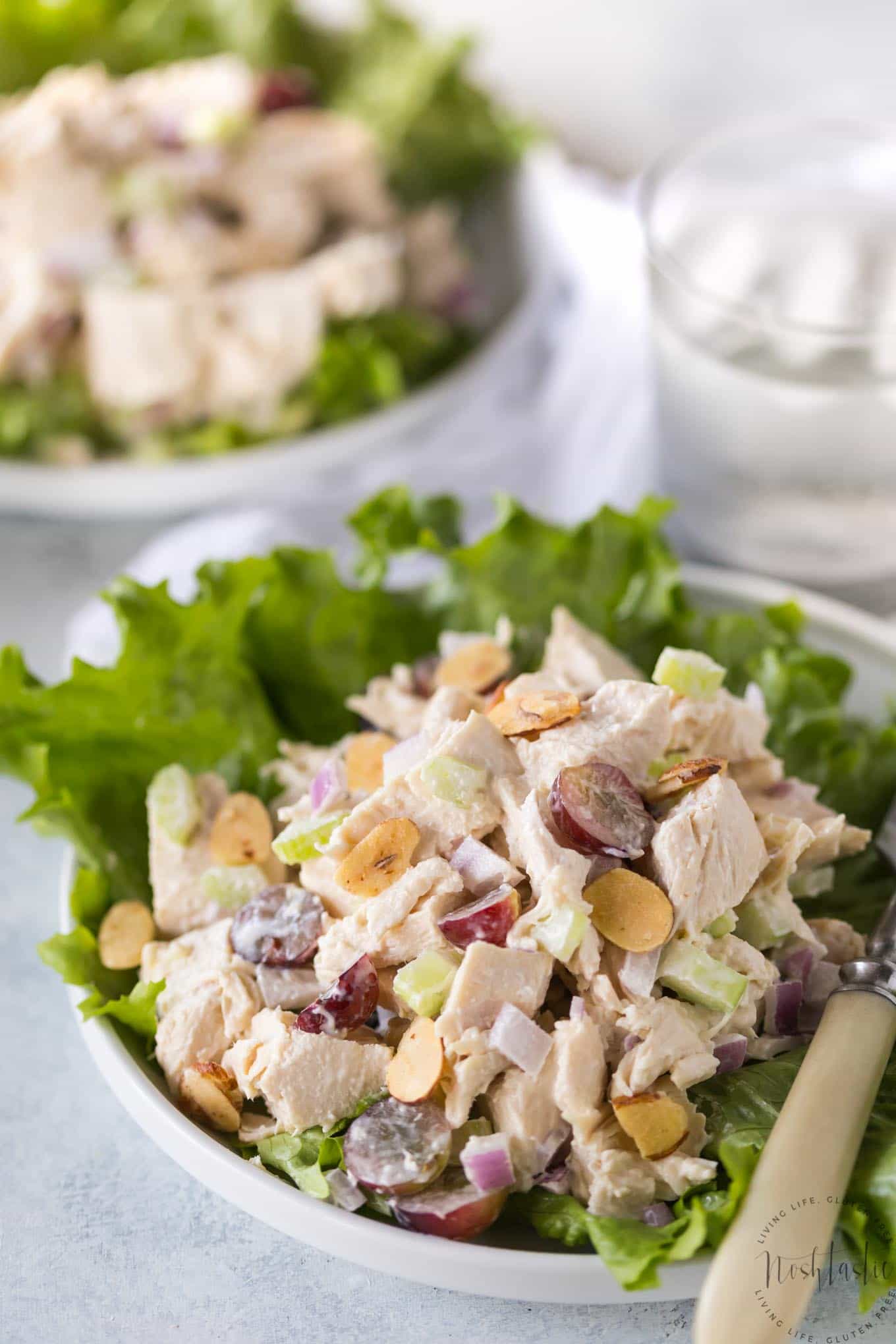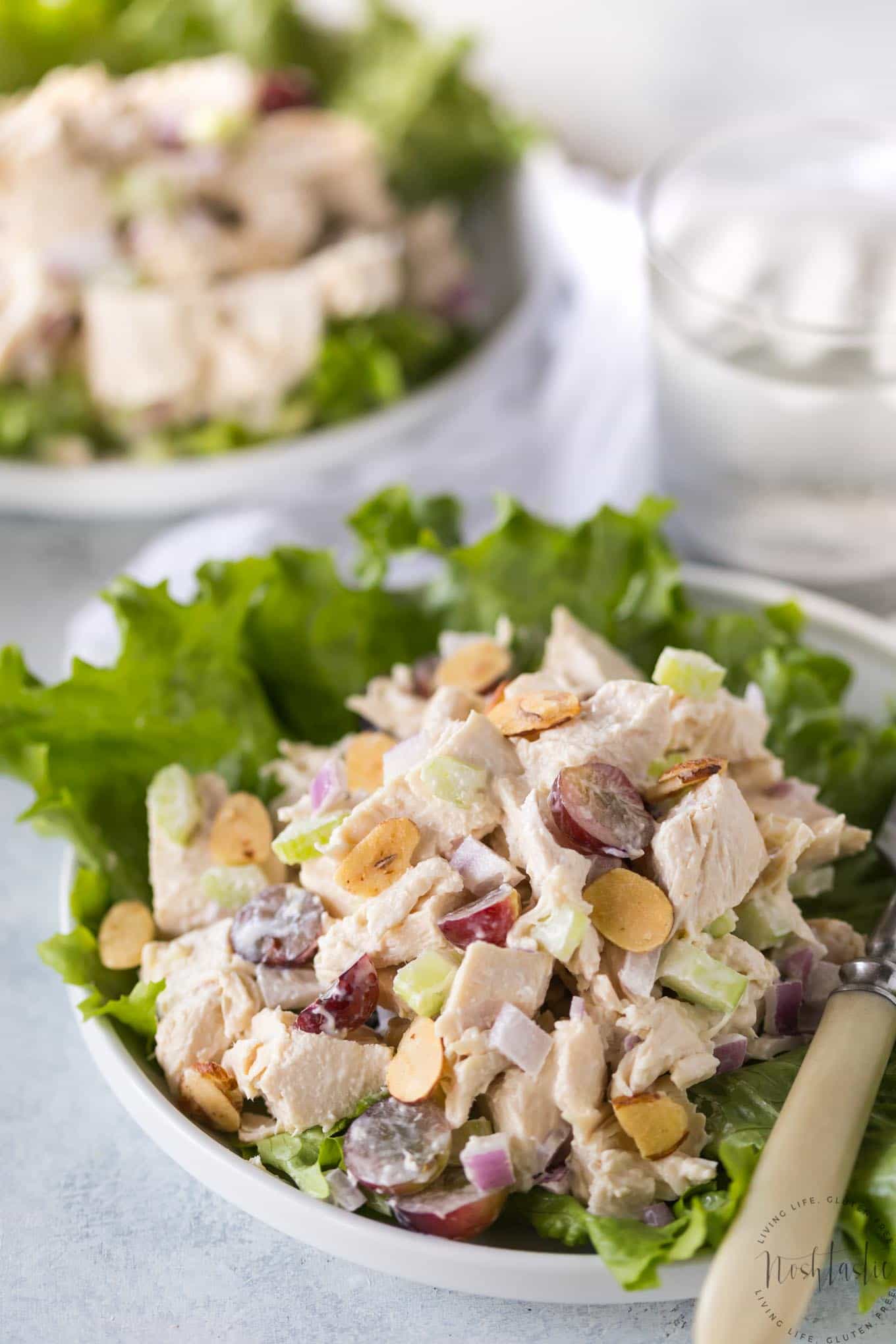 What Ingredients are in a Southern Chicken Salad?
How long is a piece of string?!
I guess it depends who you ask, but there are some ingredients that are common to an authentic Southern chicken Salad, and others that are optional and really down to personal preference.
Here's a list of the most common ingredients you'll find, and then some that are optional so you can add them if you like.
Chopped cooked chicken – obviously 🙂
Mayonnaise – Duke's brand, if you're a real Southerner!
Chopped celery
Chopped onion – I like red, but you can use any onion
Grapes, halved – I prefer seedless red grapes
Pecans – my son has a tree nut allergy, but not to almonds, so I used those instead.
Hard Boiled Eggs – this is optional, I didn't add them to mine
Pickles – some recipes had a little chopped dill pickles, but I don't love them so I left them out.
This post contains affiliate links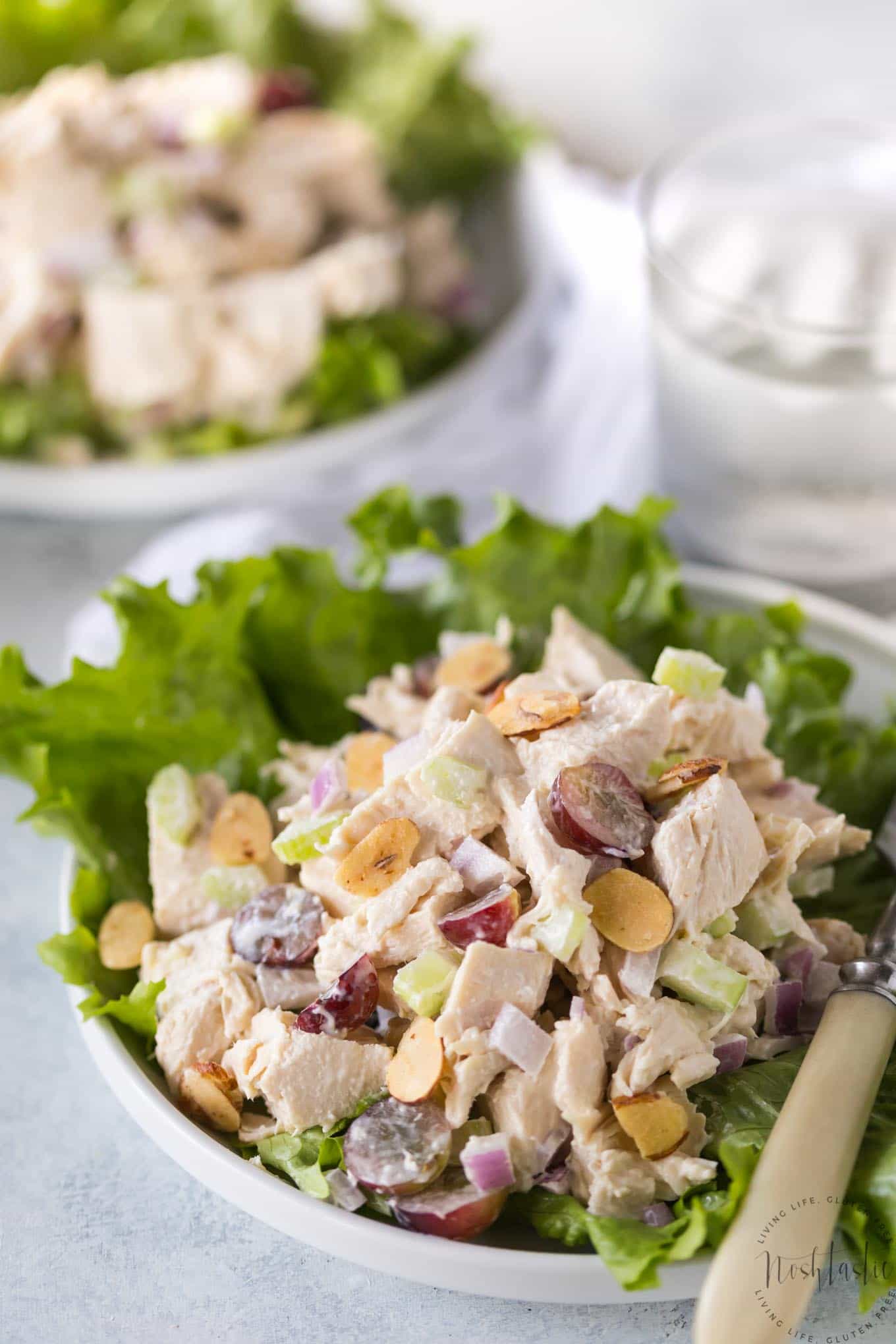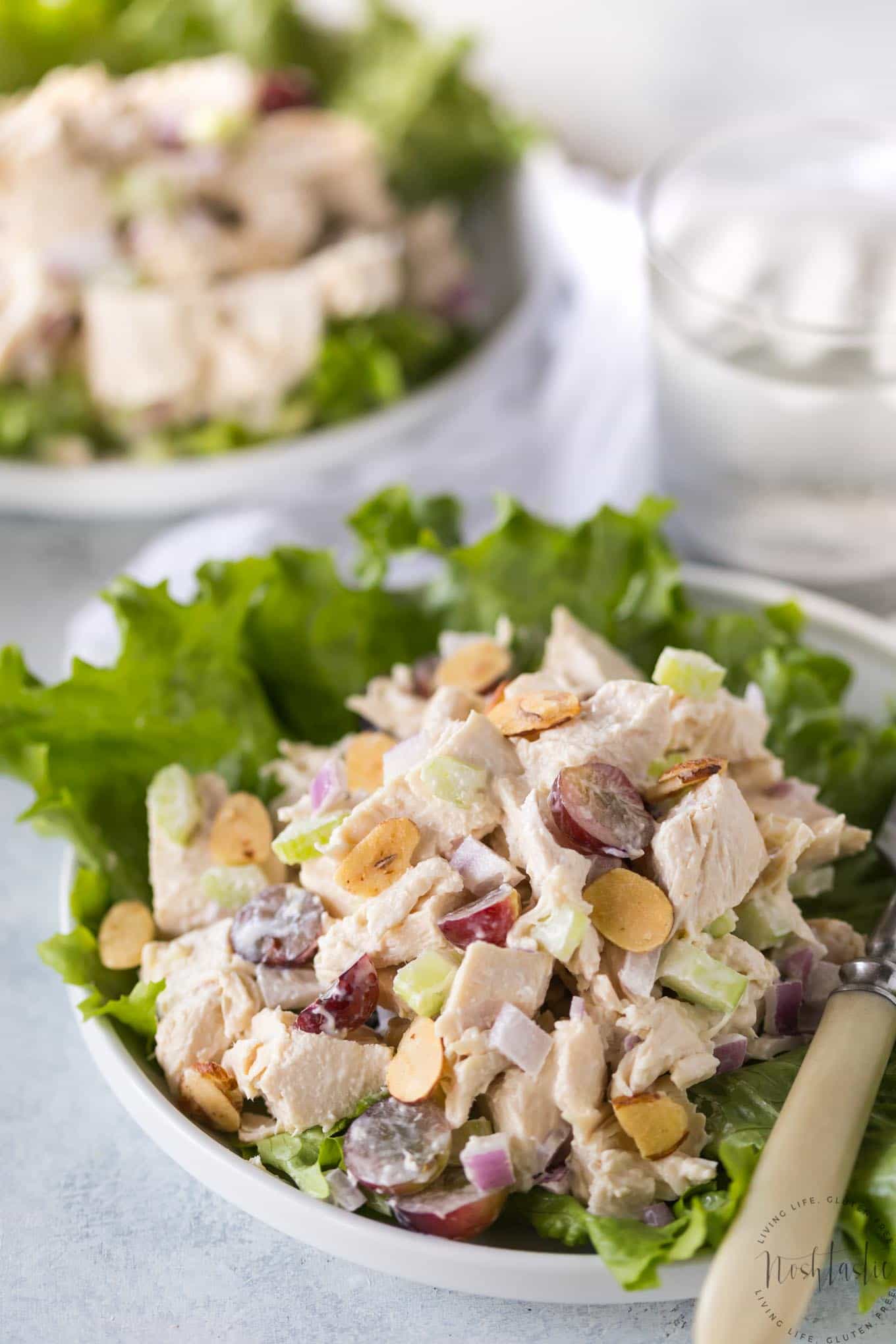 Related Chicken Salad Recipes
Southern Chicken Salad
This easy Southern Chicken Salad is a classic American recipe you'll love! gluten free, low carb, healthy, paleo and Whole30 compliant. Watch the recipe video, you'll find it right after the recipe directions.

Prep Time: 10 minutes
Total Time: 10 minutes
Total Carbs: 8 g
Protein: 17 g
Servings: 4
Ingredients
2 cups chicken breast , 330g, cooked and chopped
3 tbsp red onion , finely chopped
3 tbsp celery , finely chopped
1/2 cup red grapes , halved
1/4 cup sliced almonds
Southern Chicken Salad Dressing
Instructions
Watch the chicken salad recipe video, it's right after the directions.

With a sharp knife, chop the cooked chicken into small pieces and add to a large bowl.

Finely chop the red onions and celery and add to the bowl with the chicken. Then halve the grapes, and add them along with the almond slices to the bowl.

Mix the mayonnaise, lemon juice, and pepper together to make the salad dressing then add it to the bowl with the chicken and mix thoroughly.

Taste, and add salt if needed.

The salad tastes better if you can let it sit in the fridge so the onion flavor permeates through, but you can eat it immediately if you need to.
Nutrition Facts
Southern Chicken Salad
Amount Per Serving
Calories 208 Calories from Fat 99
% Daily Value*
Fat 11g17%
Saturated Fat 1g6%
Cholesterol 52mg17%
Sodium 300mg13%
Potassium 386mg11%
Carbohydrates 8g3%
Fiber 1g4%
Sugar 4g4%
Protein 17g34%
Vitamin A 65IU1%
Vitamin C 2.6mg3%
Calcium 22mg2%
Iron 0.6mg3%
* Percent Daily Values are based on a 2000 calorie diet.
Nutritional information on Noshtastic is provided as a courtesy and is approximate only. We cannot guarantee the accuracy of the nutritional information given for any recipe on this site.
Course: Main Course
Cuisine: American