Gluten free pancakes are one of the easiest gluten free recipe to make and was the first thing I made after going gluten free!
My recipe for fluffy gluten free pancakes has been updated to include directions for making it with several different store bought flour blends, plus a homemade gluten free flour blend option.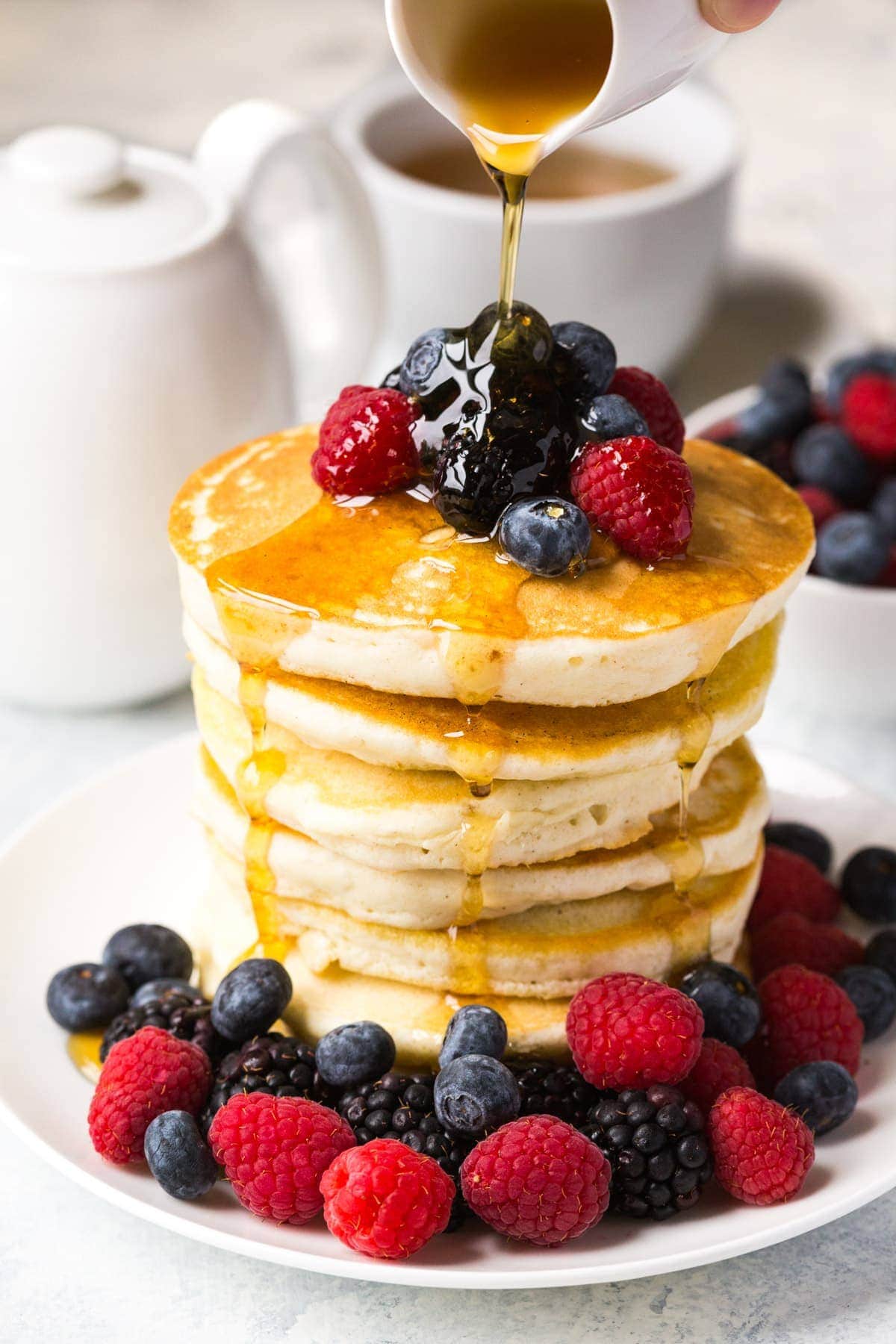 This post contains affiliate links
Tips for making Gluten Free Pancakes
I use a well seasoned cast iron skillet to make my pancakes. If you do not have a cast iron skillet then a non stick pan will work well too.
Grease the pan a little in between every batch of pancakes to make them easier to turn, you don't want them swimming in fat or you will end up frying your gluten free pancakes!
Don't expect them to show air bubbles like regular pancakes, they will make some but the batter is not exactly the same as regular pancakes, they also take a little longer to cook.
Make sure the baking powder you use is not old or your pancakes will not rise.
To prep ahead you can measure out your dry ingredients ahead of time and put them into ziplock bags to create your own gluten free pancakes mix that is ready to go in the morning when your children are getting ready for school.
Make the pancakes dairy free by using your favorite dairy free milk, I like to use unsweetened soy milk but any non dairy milk will work.
Serve them warm from the pan! This is the best way to eat them.
What's the best flour for making Gluten Free Pancakes?
I have tested this recipe extensively with my own homemade flour blend and with three other ready made store bought blends. My own blend made the lightest and fluffiest pancakes out of all the flours I tried. I'll list in order my favorites and what I recommend.
Homemade Gluten Free Flour Blend
Using a homemade mix of gluten free flours made the very best, soft, fluffy pancakes.
I think this is because I was able to adjust the amount of gum needed and I used the bare minimum per recipe as any more than that tends to make them sticky, this is a problem with most ready made blends that have gum added which is often too much in my opinion.
I tested and retested this recipe with various gluten free flour combinations and the best results I got were using a combination of white rice flour, brown rice flour, and potato starch. If you can find those specific flours I recommend using them in the quantities listed in the recipe below. You could substitute one or more of the flours but the result will probably be different.
Bob's Red Mill Gluten Free 1-to-1 Baking Flour
Please note that Bob's has TWO gluten free flour blends that are not the same as they contain different gluten free flours. I do not recommend you use their all-purpose blend as it is primarily made up of ground up garbanzo beans (!) whereas their 1-1 baking flour thankfully has no bean flour.
Out of the store bought blends I tested this was one made the best pancakes, not quite as good as using my own blend of flours but the pancakes were still nice and fluffy. They were more sticky than with the homemade blend, probably due to the level of gum in the flour blend.
King Arthur Gluten-Free All-Purpose Flour
This gluten free flour made pretty good pancakes overall, though they did take longer to cook than the pancakes made with the homemade and Bob's Red Mill flours.
As with the other ready made blends the texture of these pancakes was a little stickier than using the homemade blend.
Pillsbury Multi-Purpose Gluten Free Flour Blend
This was my least favorite ready made gluten free flour blend to use for making pancakes.
I tested several batches with differing amounts of milk but each time the cooked pancakes were pretty flat and much more gummy than the ones made with the other three flour blends listed above. And no matter how well we greased the skillet, the pancakes stuck to it every time.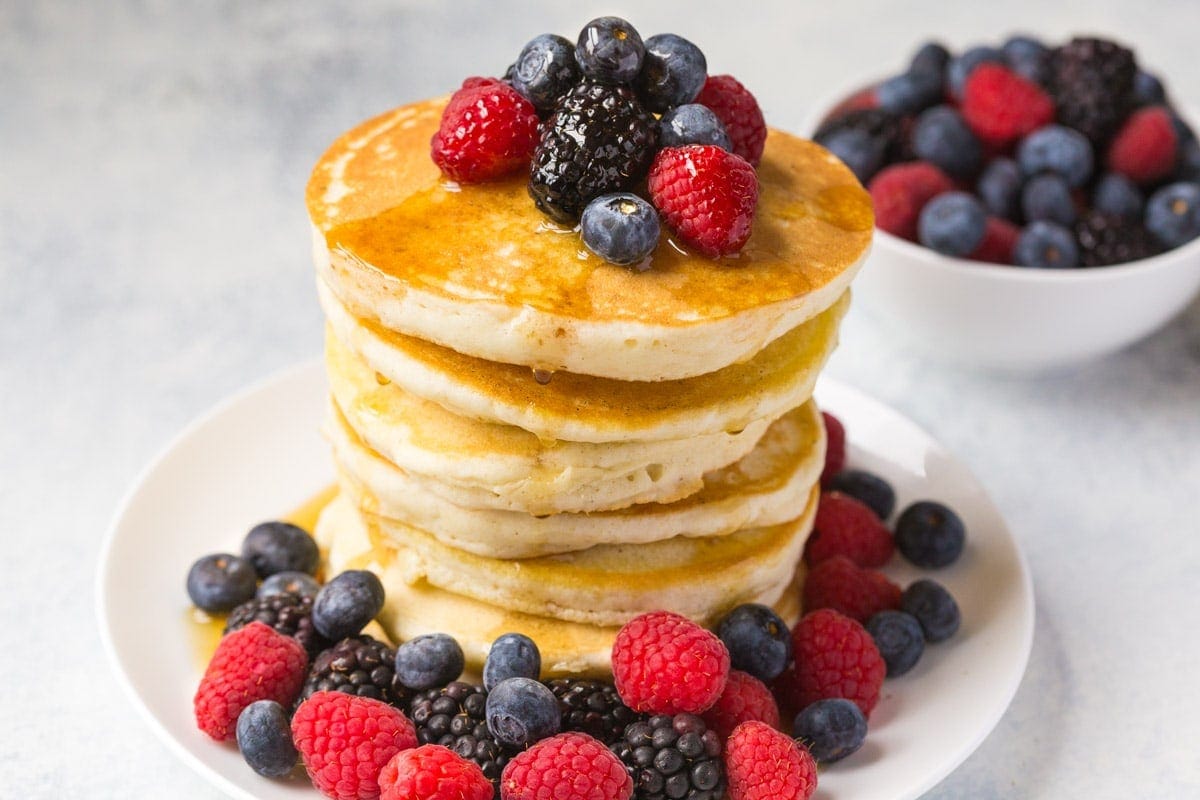 More Gluten Free Breakfast Recipes
Gluten Free Pancakes
I'll show you how to make perfect gluten free pancakes every time! Make them with my home made gluten free flour blend for best results, or with a store bought gluten free flour blend.
Prep Time: 10 minutes
Cook Time: 6 minutes
Total Time: 16 minutes
Total Carbs: 28 g
Protein: 4 g
Servings: 6 pancakes
Gluten Free Pancakes
Instructions
Important note: – For best results make this recipe with the gluten free flours listed above or with a recommended store bought blend (see recipe notes)

The amount of milk needs to be adjusted depending on the brand of flour you use so please read the recipe notes below for those details.

Add the gluten free flours, xanthan gum, (omit if using a blend that already contains gum) baking powder, and sugar to a large bowl and whisk to combine.

Add the oil, beaten egg, and milk to the gluten free flour mixture and whisk until combined and lump free.

The mixture should be a dropping consistency, if too thick add a little more milk.

Grease a cast iron skillet over a medium heat.

Drop 1/4 cup of pancake batter into the skillet and cook for about 3-4 minutes per side or until the pancake is cooked all the way through, it can take a little longer than cooking regular pancakes.
Recipe Notes
Gluten Free Flour Blend Options –  The best pancakes were made using the flours listed in the recipe ingredients above. I also used ready made flour blends including King Arthur Gluten Free Flour, Bob's Red Mill Gluten Free 1-1 Baking Flour, and Pilsbury Gluten Free Flour. For more information please read the details in the post on each flour blend I tested
What Gluten Free Flour Blend Makes the best Pancakes? You'll get the best results if you use my homemade blend of gluten free flours listed in the recipe ingredients, they were the fluffiest by far! If you prefer to use a ready made blend I recommend making the pancakes with either Bob's Red Mill gluten free 1-1 Baking Flour or King Arthur Gluten Free Flour. I do not recommend making this recipe with Pilsbury Gluten Free Flour unless it's all you have as the pancakes were gummy and they stuck to the skillet no matter well greased it was. See below for how much milk you need to use.
How Much Milk should I add? – If using the flours listed in the recipe ingredients you should also use the amount of milk listed in the ingredients. If you are using King Arthur Gluten Free Flour use 3/4 cup of milk, Bob's Red Mill gluten free 1-1 Baking Flour use 1/2 cup milk, and for Pilsbury Gluten Free Flour use 1 and 1/4 cup milk. 
Make it Dairy Free – Use your preferred dairy free milk in place of regular milk.
How Many Pancakes does this recipe make? Between 6- 8 pancakes if you use a 1/4 cup measure, may vary a little depending on how much milk you add.
Can I substitute one gluten free flour for another?  Yes, but you are not likely to get exactly the same results if you use different flour to the ones I use. This recipe works best when you use the flours listed in the recipe or use one of the brands of ready made gluten free flour recommended above. 
Nutrition Facts
Gluten Free Pancakes
Amount Per Serving (1 pancake)
Calories 192 Calories from Fat 63
% Daily Value*
Fat 7g11%
Saturated Fat 2g13%
Trans Fat 1g
Polyunsaturated Fat 1g
Monounsaturated Fat 4g
Cholesterol 35mg12%
Sodium 38mg2%
Potassium 296mg8%
Carbohydrates 28g9%
Fiber 1g4%
Sugar 6g7%
Protein 4g8%
Vitamin A 111IU2%
Vitamin C 1mg1%
Calcium 115mg12%
Iron 1mg6%
* Percent Daily Values are based on a 2000 calorie diet.
Nutritional information on Noshtastic is provided as a courtesy and is approximate only. We cannot guarantee the accuracy of the nutritional information given for any recipe on this site.
Course: Breakfast
Cuisine: American