Gluten free pancakes are one of the easiest gluten free recipe to make and was the first thing I made after going gluten free.
My recipe for fluffy gluten free pancakes is based on one that I have used for years at home, I've simply tweaked it to make sure that it works well as a gluten free recipe, we make it regularly at home.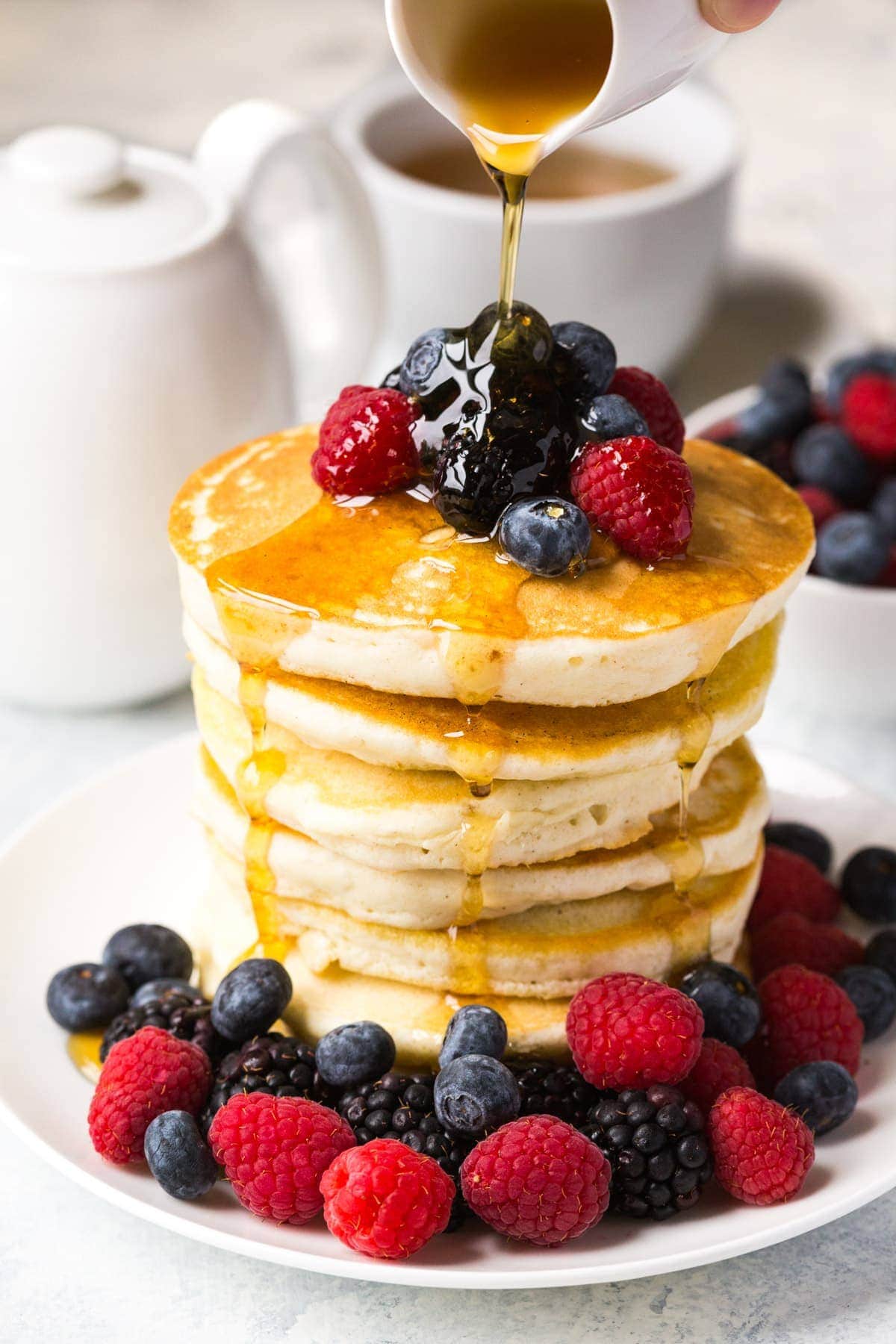 This post contains affiliate links
I eat dairy free so I used unsweetened soy milk to make these gluten free pancakes, but you can use whole milk if you are not dairy free.
Tips for making Gluten Free Pancakes
I always use a well seasoned cast iron skillet to make my pancakes, If you use a pan that is not non stick them you're likely to be frustrated pretty quickly as they will probably stick when you try to turn them.
Grease the pan just a little with small silicone brush in between every batch of pancakes to make them easier to turn, you don't want them swimming in fat or you will end up frying your gluten free pancakes!If you are not dairy free then a little butter works well.
Don't expect them to make air bubbles in quite the same way as regular pancakes, they will make some but it may not be as many as you are used to with regular pancakes.
Make sure your baking powder is not old or your pancakes will not rise.
I often measure out my dry ingredients ahead of time and put them into ziplock bags to create my own gluten free pancakes mix that is ready to go in the morning when the children are getting ready for school.
You can make the pancakes dairy free easily by using your favorite dairy free milk, I use unsweetened soy milk but other milks would work well too.
Serve them warm from the pan! This is the best way to eat them.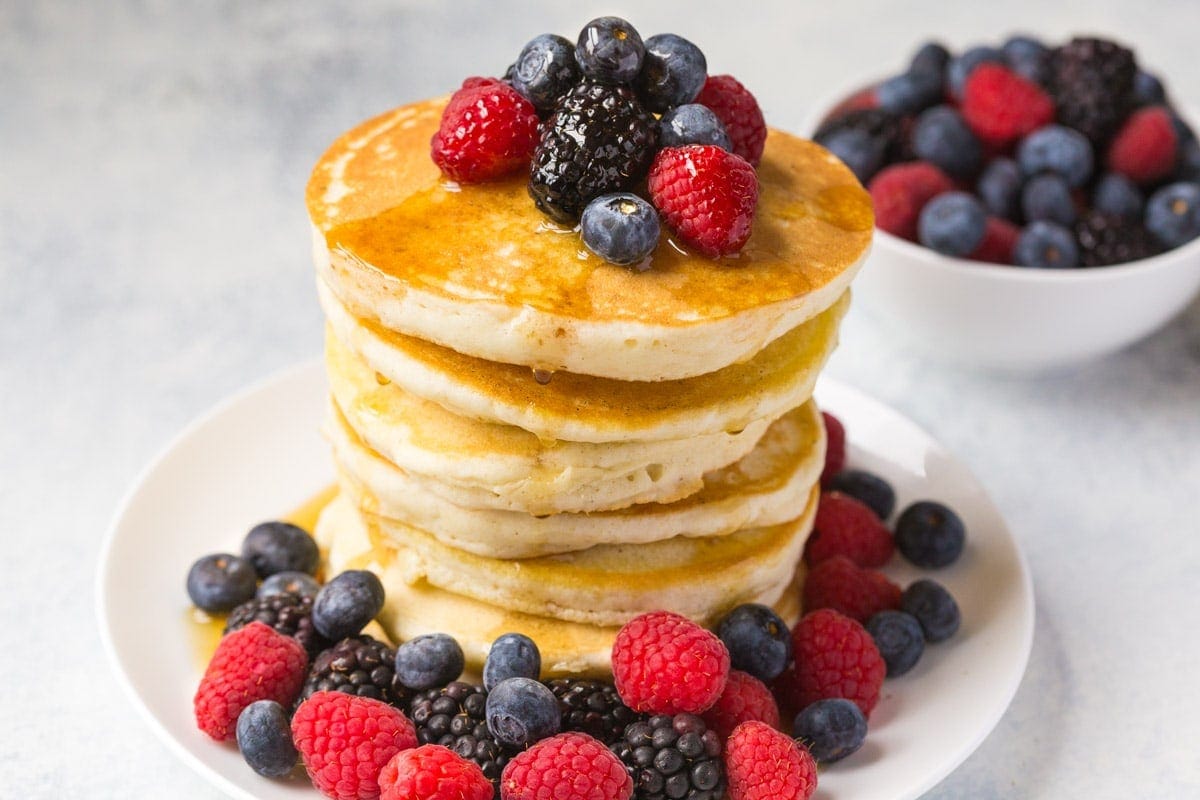 Related Gluten Free Recipes
If you're looking for more gluten free baking recipes I have a great recipe for Paleo Pancakes that are made with almond flour, they are super fluffy and taste fabulous!
You also would enjoy my gluten free lemon bars, they are one of my more popular posts!
I have a great recipe for gluten free waffles, they are also a popular breakfast recipe around here.
Gluten Free Pancakes
An quick and easy gluten free pancakes recipe that is far superior to any boxed mixes you've tried. Watch the Recipe video, it's just after the directions.
Prep Time: 5 minutes
Cook Time: 5 minutes
Total Time: 10 minutes
Total Carbs: 31 g
Protein: 5 g
Servings: 8 pancakes
Gluten Free Pancakes
Instructions
Heat your skillet to medium high heat.

Add all your dry ingredients to your mixing bowl, stir well.

Add the milk and mix with the egg and then add to flour.

The mixture should be a dropping consistency, you may need to add a little more milk to get it just right.

grease the skillet a little, then drop on spoonfuls of batter.

Turn the pancakes after about 2-3 mins each side, they might not make as many bubbles as regular pancakes

if they are too pale on the underside you may need to raise the heat a little.

Check the skillet each time to see if it needs regreased so the pancakes don't stick.
Recipe Notes
USE A SCALE IF POSSIBLE
I bake by weight as I find that gives the most consistent results, especially when baking gluten free. One cup of your gluten free flour blend may not weigh the same as my blend, all the commercially available blends have different mixes and ratios of flour in them. I've weighed cups of different blends of flour and noted that a cup of gluten free flour can vary in weight from 125g up to as much as 170g depending on how you scoop it, and what type of mix you use. You can see how this could drastically alter the outcome of a recipe.
USE A GOOD GLUTEN FREE FLOUR BLEND
I prefer to use my own  gluten free flour mix as it's cheaper and I get really great results.  If you can, avoid buying flour with gums already added. The reason for this is that you have no way of knowing how much gum is in there and that can alter the outcome of the recipe. 
Nutrition Facts
Gluten Free Pancakes
Amount Per Serving
Calories 162 Calories from Fat 27
% Daily Value*
Fat 3g5%
Saturated Fat 1g6%
Cholesterol 25mg8%
Sodium 34mg1%
Potassium 219mg6%
Carbohydrates 31g10%
Fiber 3g13%
Sugar 9g10%
Protein 5g10%
Vitamin A 105IU2%
Calcium 140mg14%
Iron 1.3mg7%
* Percent Daily Values are based on a 2000 calorie diet.
Nutritional information on Noshtastic is provided as a courtesy and is approximate only. We cannot guarantee the accuracy of the nutritional information given for any recipe on this site.
Course: Breakfast
Cuisine: Scottish