Make this easy Homemade Strawberry Lemonade in less than five minutes!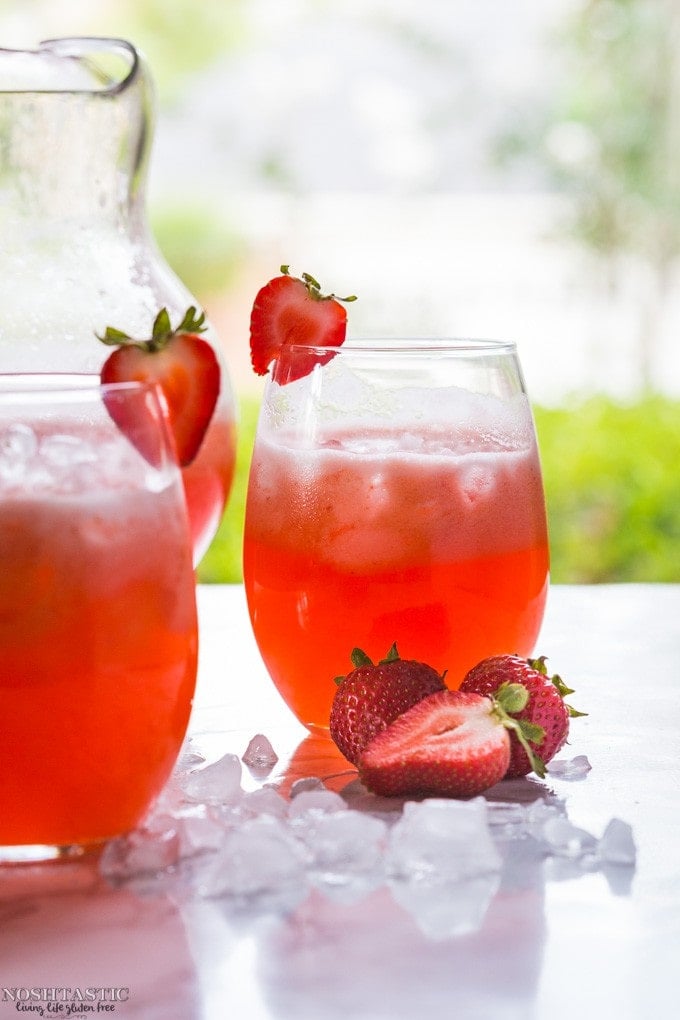 Homemade Strawberry Lemonade
There's really no better time of the year to make an ice cold pitcher of Homemade Strawberry Lemonade than Summer!
Fresh strawberries are in still in season for a little while longer and they taste so good at this time of year, this is a great way to use them up.
I know we are used to seeing strawberries in the grocery year round, but the rest of the year they are usually imported and simply don't have as nice of a flavor as the fresh in season ones.
If you are fortunate enough to live in a part of the country with a pick your own strawberry farm nearby and you've never visited then you really should go, I guarantee they will be the best strawberries you've ever tasted.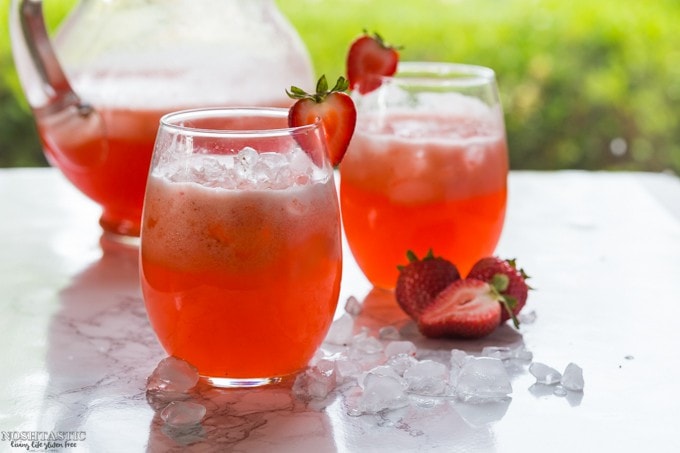 We lived in London when our children were little and there was a pick your own strawberry farm not too far from us in the Essex countryside.
I can still remember the taste of the strawberries, they were noticeably different from the varieties you find in the supermarkets.
They only lasted about a day or so after they were picked and you could see they were starting to get soft, not a problem as the four people in our house never usually let them last that long anyway!
This recipe is very simple and starts out with one batch of my  Fresh Squeezed Lemonade. In order to be able to make in in five minutes then I really recommend getting an small electric citrus juicer, they are pretty inexpensive and you can find them on Amazon for less than $20.
The one I had broke a while back so I need to order a new one. I currently have a very simple hand juicer with a little glass bowl attached underneath which works just fine but it may take just a couple more minutes to hand squeeze all the lemons! You'll also need a blender of course, mine is not a fancy one and works perfectly well for this sort of thing.
To make Strawberry Lemonade you will need
1.5 cups (375mls) freshly squeezed lemon juice (7 lemons)
1.5 cups (300g) sugar
10 or more large Strawberries
The taste and strength of your Strawberry Lemonade depends on two things, how many strawberries you use and how flavorful they are.
I've given a guide for how many fresh strawberries I typically use, if you find that the taste is not strong enough for you then you can always add more to the blender until you get the taste you prefer.
This post may contain Amazon affiliate links
More  Drinks Recipes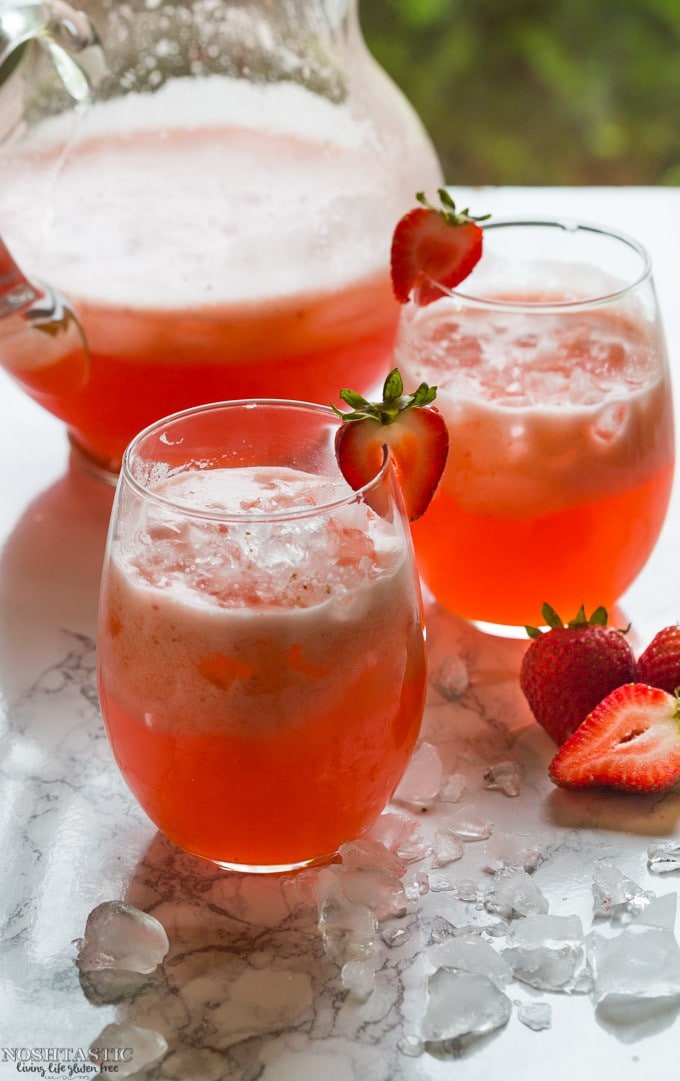 5 Minute Homemade Strawberry Lemonade
Make this Homemade Strawberry Lemonade in only FIVE minutes!! It's so good, you'll never want to go back to store bought! | gluten free, dairy free, vegan |
Prep Time: 5 minutes
Total Time: 5 minutes
Total Carbs: 62 g
Servings: 4
Ingredients
1 pitcher Fresh Squeezed Lemonade
10 large strawberries , cut into pieces
Instructions
Add enough of the lemonade into the jug of a

blender

so that you have about 3/4 of the blender full, then add in at least 8-10 large ripe strawberries with the tops removed.

Blend until smooth.

If you don't like the 'bits' in your lemonade you can pour it through a fine mesh sieve.

Stir well and serve over ice.
Nutrition Facts
5 Minute Homemade Strawberry Lemonade
Amount Per Serving
Calories 249
% Daily Value*
Sodium 30mg1%
Potassium 45mg1%
Carbohydrates 62g21%
Sugar 57g63%
Vitamin C 17.7mg21%
Calcium 5mg1%
Iron 0.1mg1%
* Percent Daily Values are based on a 2000 calorie diet.
Nutritional information on Noshtastic is provided as a courtesy and is approximate only. We cannot guarantee the accuracy of the nutritional information given for any recipe on this site.