Gluten Free Spiralizer Recipes
Gluten Free spiralizer recipes for lunch and dinner! I've included spiralizer zucchini recipes, spiralized sweet potato recipes, and more that I know you'll love! Many of the recipes are Paleo and Whole30 too.
What is a Spiralizer?
A Spiralizer is an easy to use kitchen gadget that cuts vegetables into long 'noodles' or ribbons. It's a really fun way to prepare vegetables and fruit, you can use them in salads, soups and all sorts of recipes as you can see from all the ones I have included in this post.
It's been a huge boost for those of use who follow a gluten free, Paleo or Whole30 diet as it's a nice way to replace traditional pasta in many recipes with a vegetable or fruit alternative that's much more healthy, can be low carb, plus it's easy to use and the vegetable noodles are very quick to cook.
This post contains affiliate links
What's the best Spiralizer to buy?
There are many spiralizers on the market, but not all are made equal. Here are three brands that I think you should consider.
I have the Paderno spiralizer, it comes with three blades that can make ribbons and different width noodles. I bought it based on recommendations from other blogger friends who recommended it. I've had it for a couple of years and I've not been disappointed. It does exactly what I need it to do and it's held up very well.
If I was buying one today, then I think I'd go for the Inspiralizer. I've heard so many great things about it from friends and I'm told it works particularly well with harder vegetables like butternut squash.
And lastly, if you have a Kitchen Aid stand mixer then their spiralizer attachment is worth considering. I don't think it comes with the blade for the fine noodles, you have to purchase that separately. It is double the price of the others, but you're using the mixer to do the work for you so it makes it much easier for those hard vegetables.
How long do you cook Spiralized Zucchini?
Spiralized zucchini noodles, or zoodles as they are sometimes known, can be eaten without cooking if you are using them in a salad or similar dish. They can cook in hot liquid in just a minute or two, or you can cook them in a covered bowl in a microwave with a minimal amount of liquid for about 30 seconds (or a little longer) depending on your microwave.
If you are including them in soup then they really only need to be added right at the end as the hot liquid will cook them very quickly, what you want to avoid is them turning into a soggy pile of mush.
Paleo Singapore Street Noodles, made with zucchini noodles, shrimp, chicken and tasty mild curry flavored sauce with added turmeric! Gluten free, healthy and low carb with Whole30 options.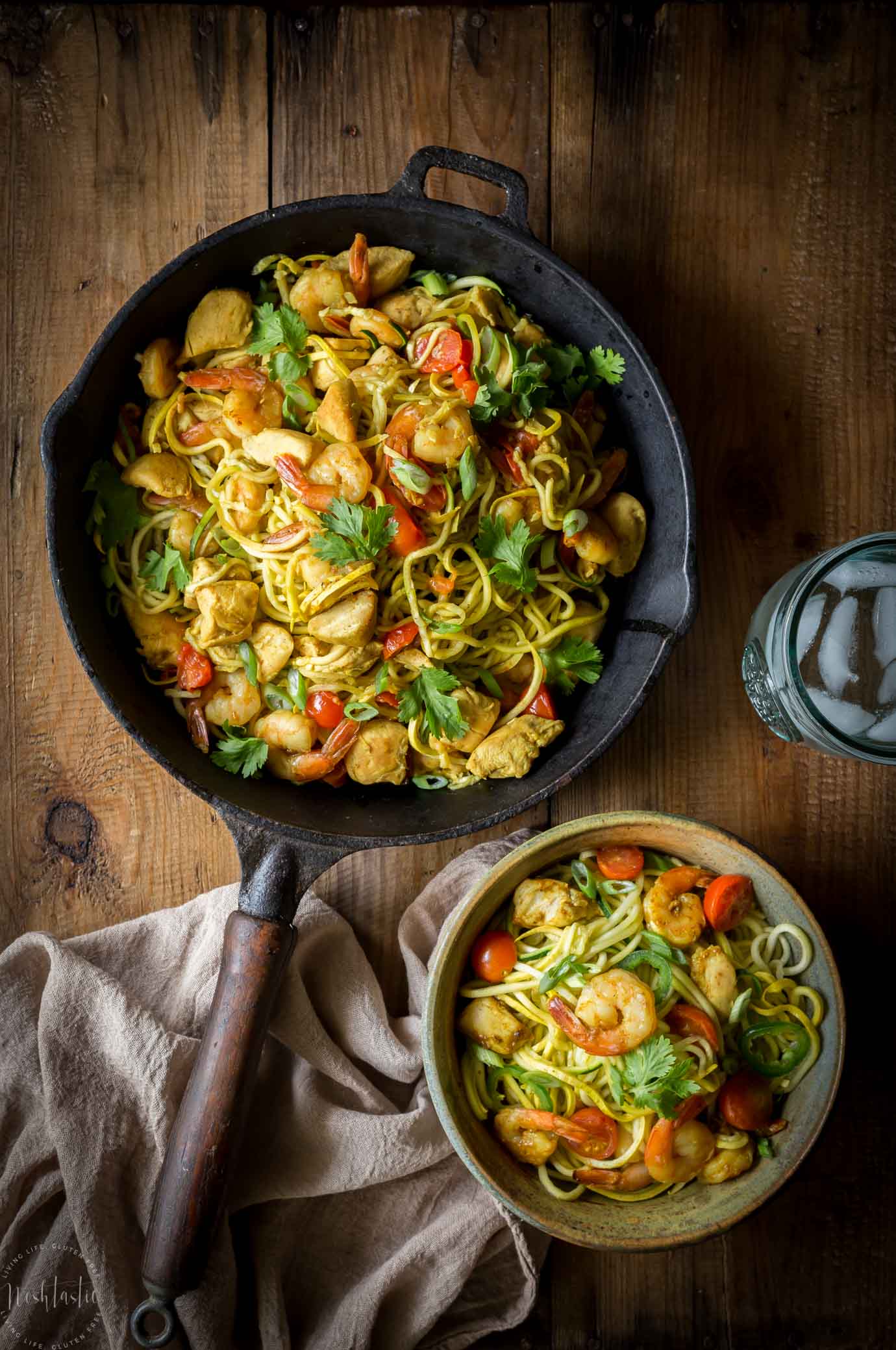 Paleo Italian Meatballs contain no breadcrumbs or grains of any kind. These beef and pork meatballs are baked in the oven and the Marinara sauce is made on the stove, from scratch, with tomatoes, onions, garlic and herbs and is served over zoodles!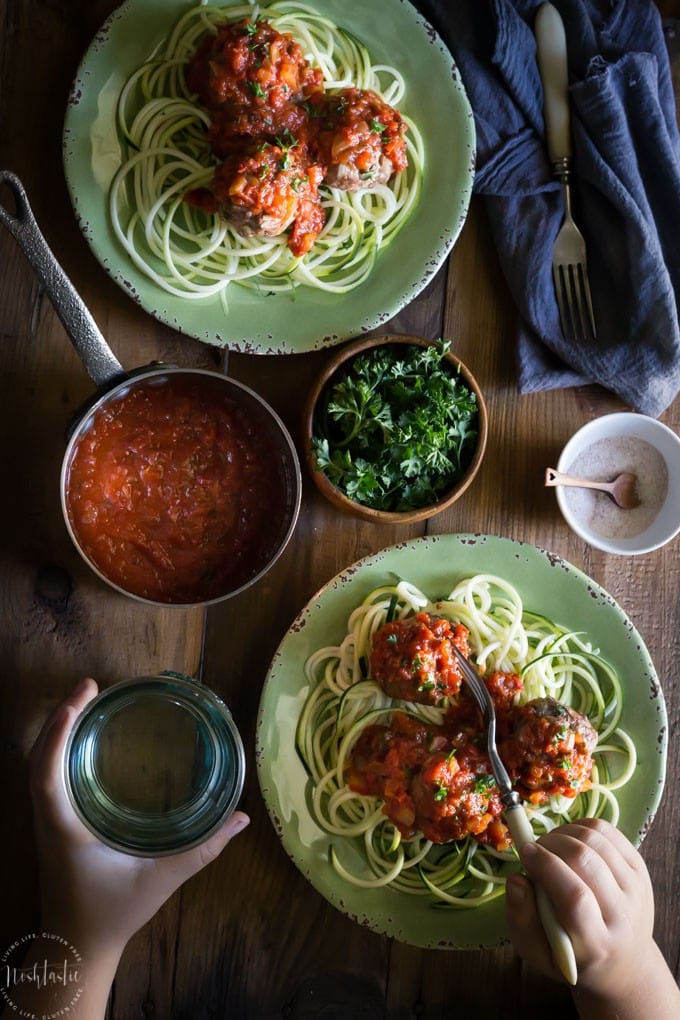 My Paleo Chicken Noodle Soup with zucchini noodles (or zoodles) can be made in 20 MINUTES! It's packed with flavor, is whole30 and gluten free too!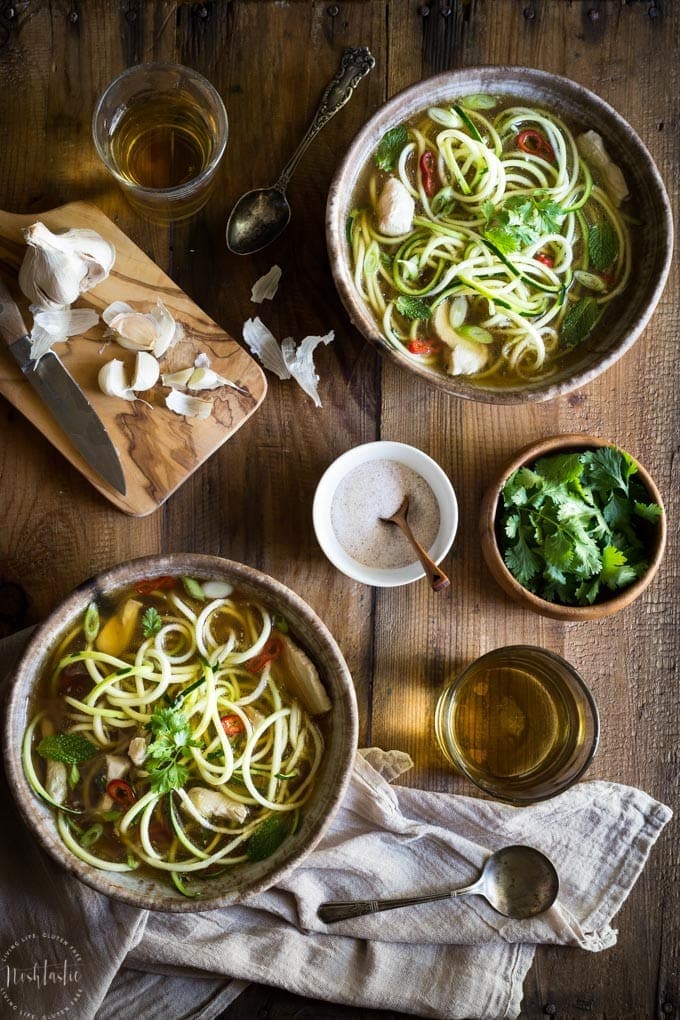 Perfect Sage and Onion Whole 30 Paleo Meatballs served with a tasty, creamy, dairy free gravy made from coconut milk and beef broth and served over zucchini noodles.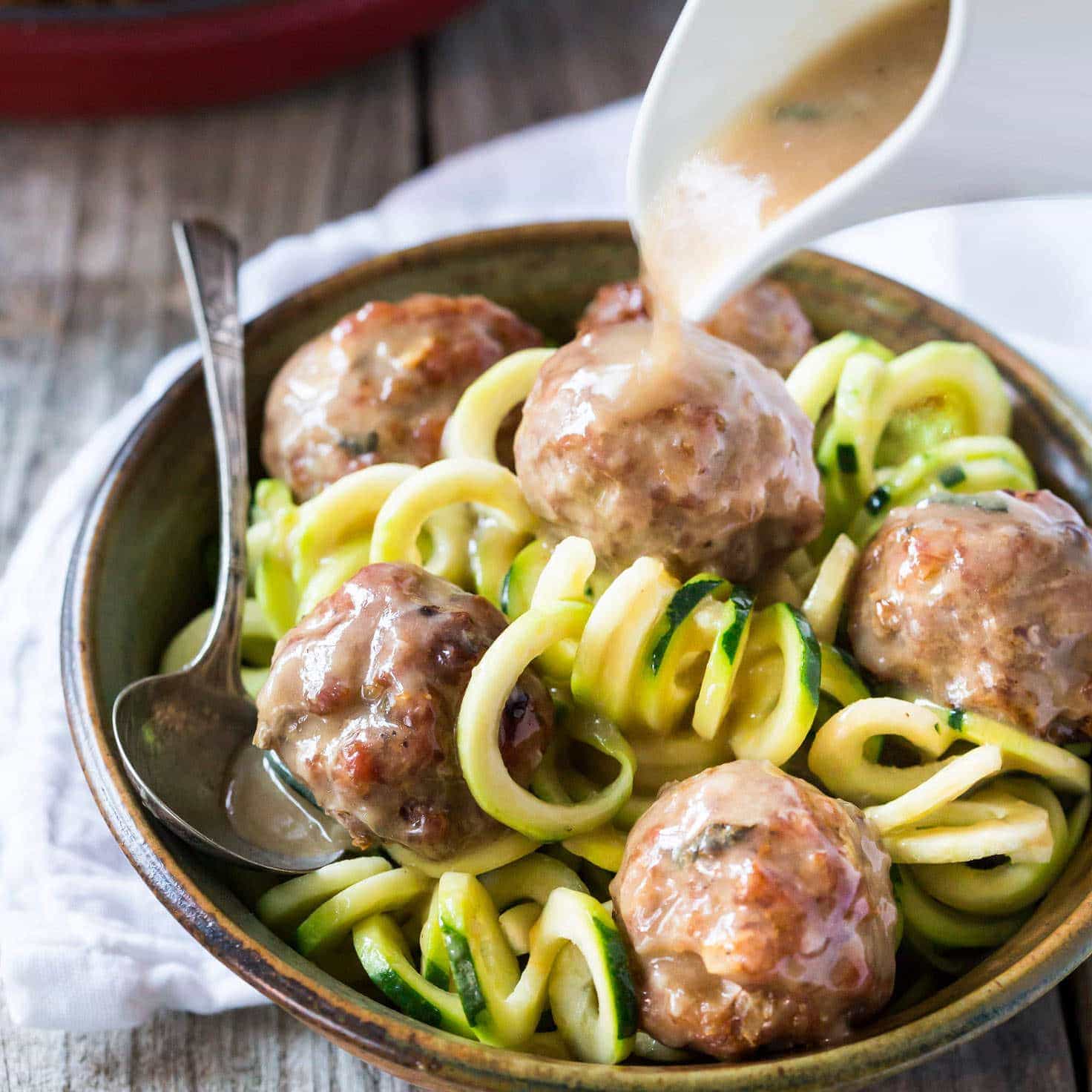 Chickpea Noodle Soup with spiralized Celeriac
You'll Love this Chickpea Noodle Soup with spiralized Celeriac, it looks like a very filling soup! It's vegan if you use a gluten free vegan stock or broth. I've not always been able to find gluten free vegetable bouillon cubes locally so if you're not vegan or vegetarian you could use gluten free chicken broth instead.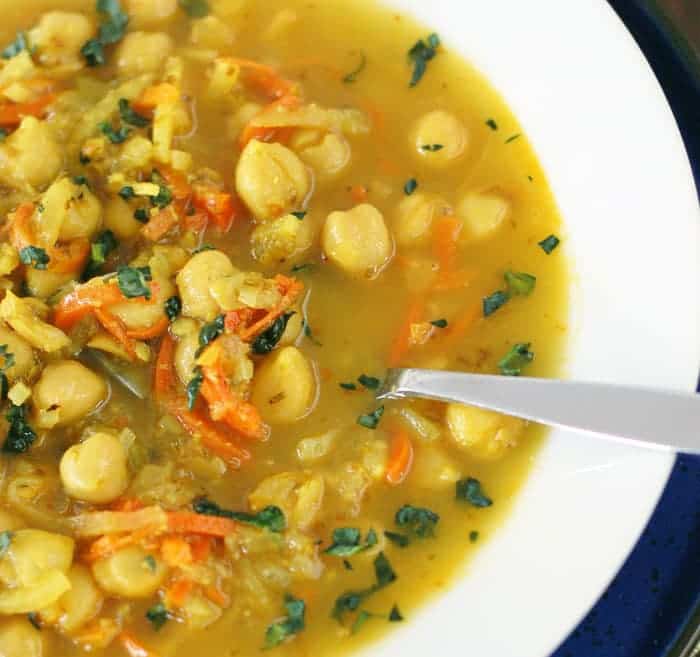 Zoodle Pad Thai Salad
Zoodle Pad Thai Salad is a refreshing low carb version of the beloved Thai street food, made with spiralized zucchini. Make sure you use Gluten Free Soy Sauce or Coconut Aminos in the dressing.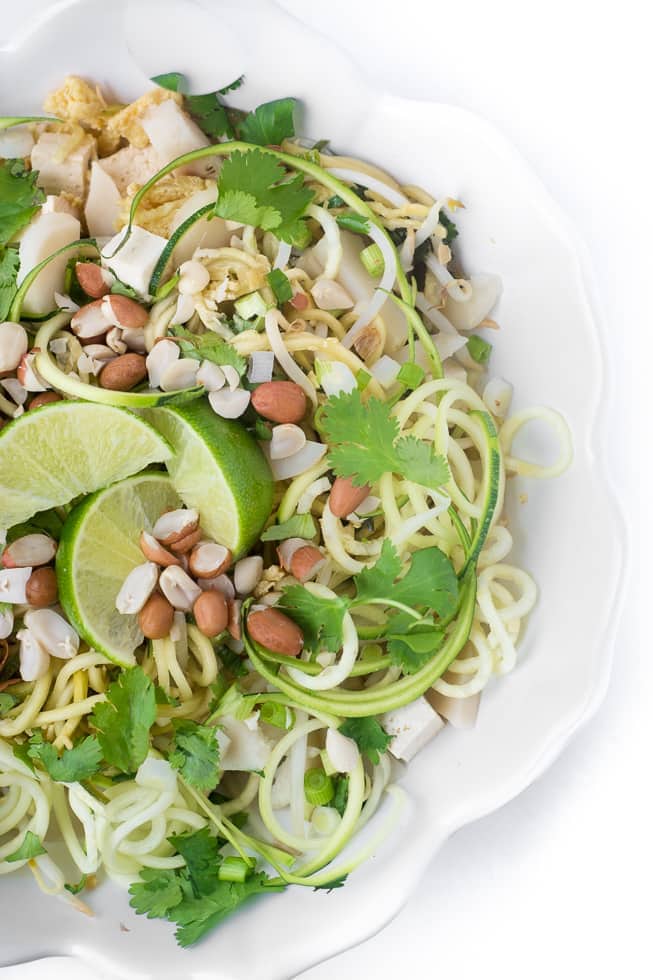 Paleo Tuna Green Chile Zoodle Casserole
Paleo Tuna Green Chile Zoodle Casserole. An easy, paleo, zucchini noodle casserole that's Whole 30 approved, high protein, and low carb. Wholesome yet healthy, this dish can feed a family! A great way to use your spiralizer and boost your nutrition.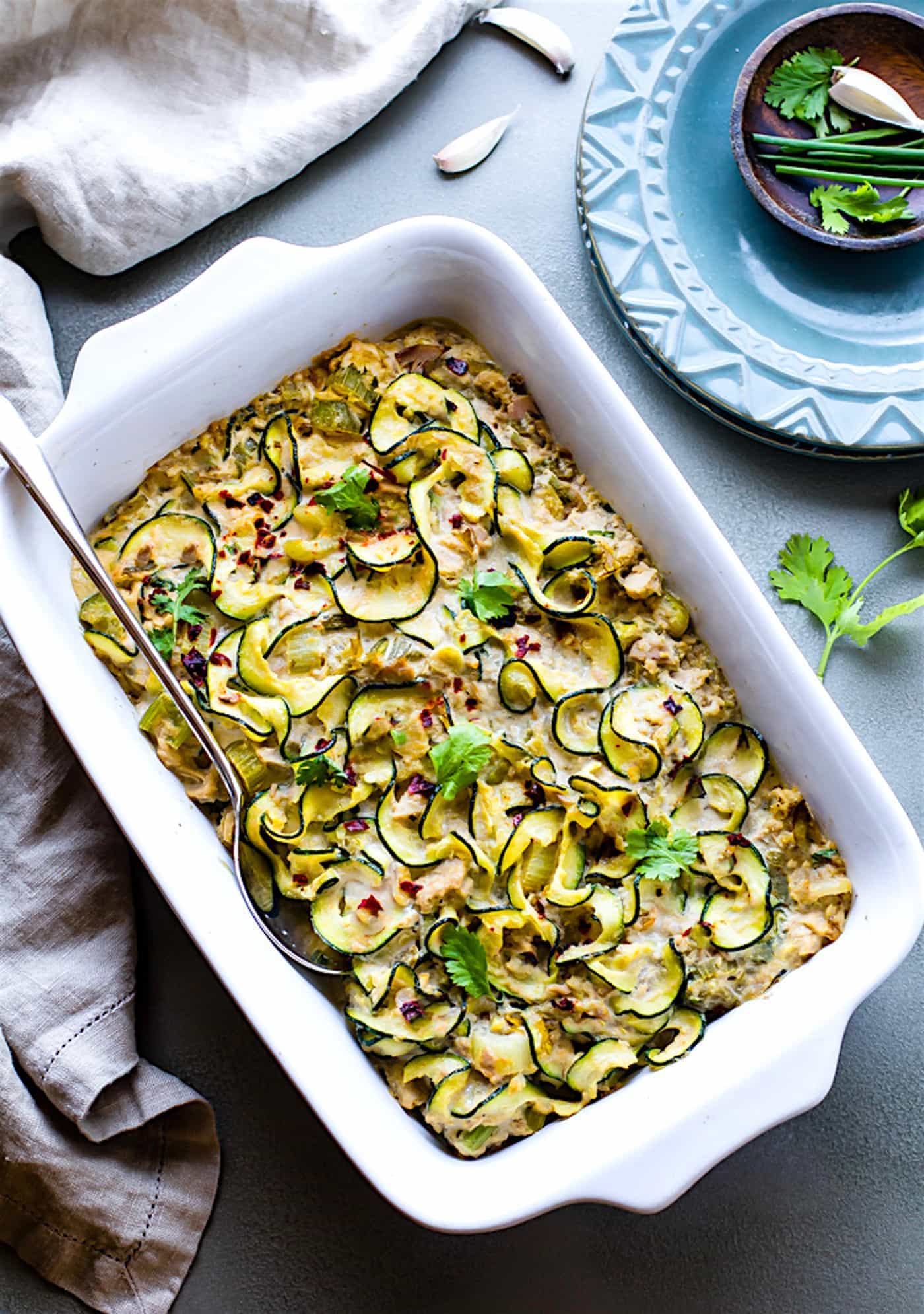 Thai Chicken & Sweet Potato Noodles Bowls
These Thai Chicken & Sweet Potato Noodles Bowls are a delicious way to give into your Thai craving while staying low-carb. Spiralized sweet potato "noodles" take the place of rice noodles, and are covered in a spicy satay-like sauce. Add in some fresh veggies and tender chicken, and you have a perfect meal for any night of the week!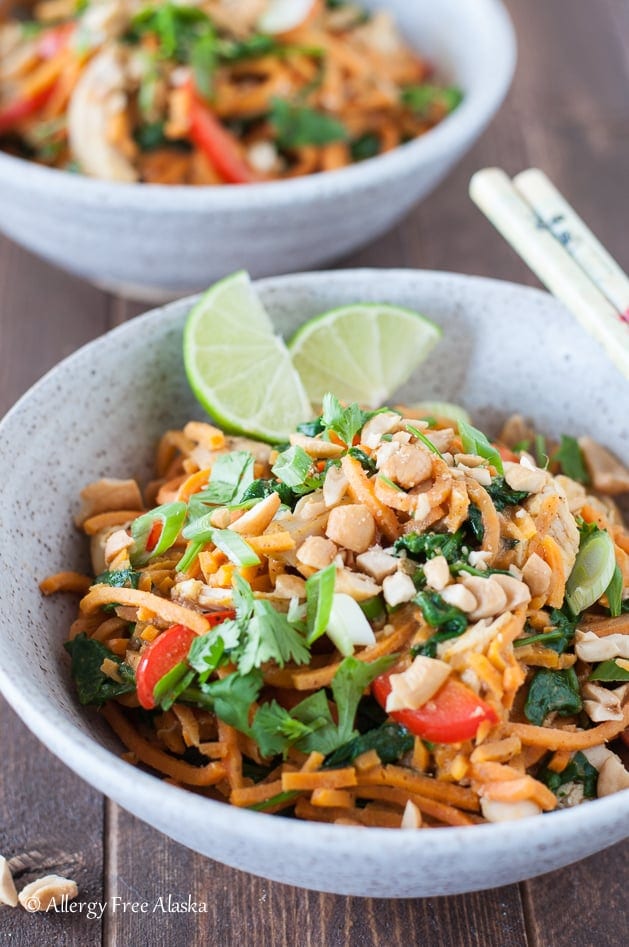 Vegan Mac and Cheese with Butternut Zoodles
So creamy you will never guess it's a healthy, vegan mac and cheese! Use butternut squash noodles to keep it gluten and grain free and only 6 ingredients!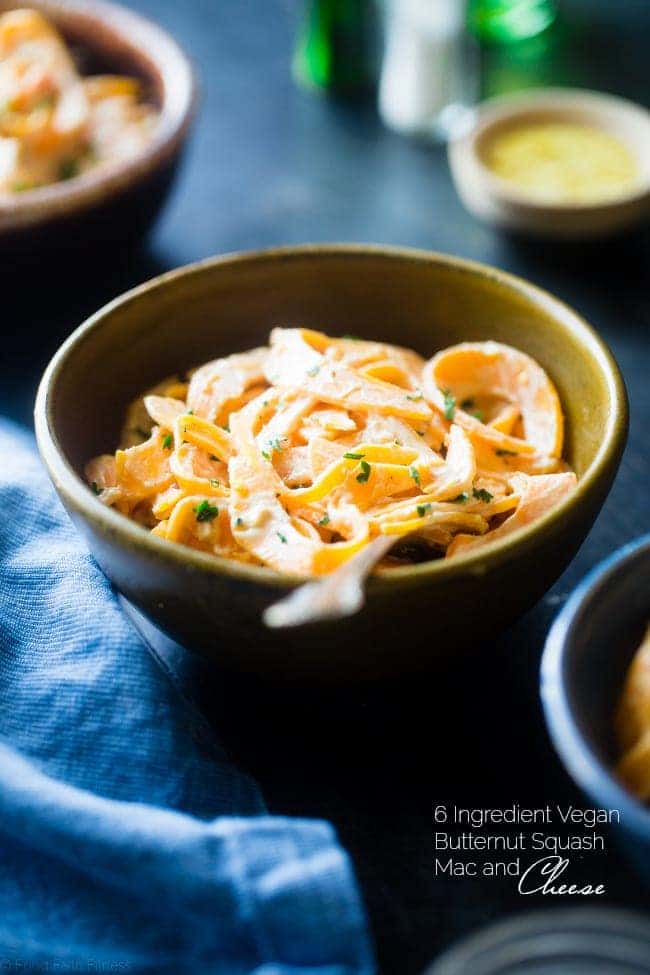 Thai Chicken Zucchini Noodle Salad with a Sesame Vinaigrette
Thai Chicken Zucchini Noodle Salad with a Sesame Vinaigrette done in 15 minutes and only 324 calories. This salad is served cold with raw zucchini noodles, it is refreshing, light, filled with bold flavors and perfect for the summer!
Daikon Radish and Green Apple salad
A spiralized Daikon Radish and Green Apple salad that is fresh, light and delicious! It's sprinkled with pepitas for a little bit of crunch.
Skinny Shrimp Piccata with Zoodles
Skinny Shrimp Piccata with Zoodles is low-carb, gluten-free, and cooks in under 20 minutes in just one skillet. Fresh, light, and delicious!
Zucchini pad Thai
An easy Zucchini pad Thai salad that is super easy to make and full or fresh ingredients, it's also paleo and grain free.
Moroccan Carrot Noodle Salad with Chickpeas, Feta and Walnuts
This Moroccan Carrot Noodle Salad with Chickpeas, Feta and Walnuts is flavorful, full of nutrients, and hearty enough to be a full meal! You're going to love this one!
Thai Steak Salad
This flavor-packed Thai Steak Salad is served over a bed of heart-healthy vegetable noodles. The slightly sweet, nutty sauce brings life to the raw zucchini noodles, and the longer they sit, the more they soften. Make sure you use gluten free soy sauce or coconut aminos.
Chinese chicken zoodles
These Chinese chicken zoodles are a quick and easy 15 minute meal. Packed with flavors from your favorite takeout dish but way healthier for you! Just make sure you use gluten free soy sauce, and if you want it to be paleo then you can use coconut aminos instead and omit the sriracha or substitute a paleo hot sauce instead.
Greek Spiralized Cucumber Salad
This Greek Spiralized Cucumber Salad features cucumber noodles for a sassy spiralized salad that's refreshing and delicious! It contains hummus and Feta cheese for a really great flavor combination.
Stir Fry Zucchini Noodles
Stir Fry Zucchini Noodles – Delicious, low-carb, healthy Stir Fry made with spiralized zucchini and onions tossed with teriyaki sauce and toasted sesame seeds. Make sure you use gluten free soy sauce and teriyaki sauce.
Spiralized Zucchini and Tomatoes
For nights you want a quick vegetarian meal, this delicious spiralized zucchini and tomatoes recipe is very easy to make and is paleo and whole30 compliant.
Butternut Squash Pasta Carbonara
This Butternut Squash Pasta Carbonara is the perfect fall meal and it will likely become a staple meal for you this time of year. It's deliciously creamy, it doesn't include eggs but it still has a wonderfully creamy texture that reminds me of classic pasta carbonara.