If you want to know how to make chicken broth from scratch then you've come to the right place!
This recipe couldn't be easier and with three different ways to make it you'll be all set! You can make either Stovetop Chicken Broth, Instant Pot Chicken Broth or Slow Cooker or Crockpot Chicken Broth.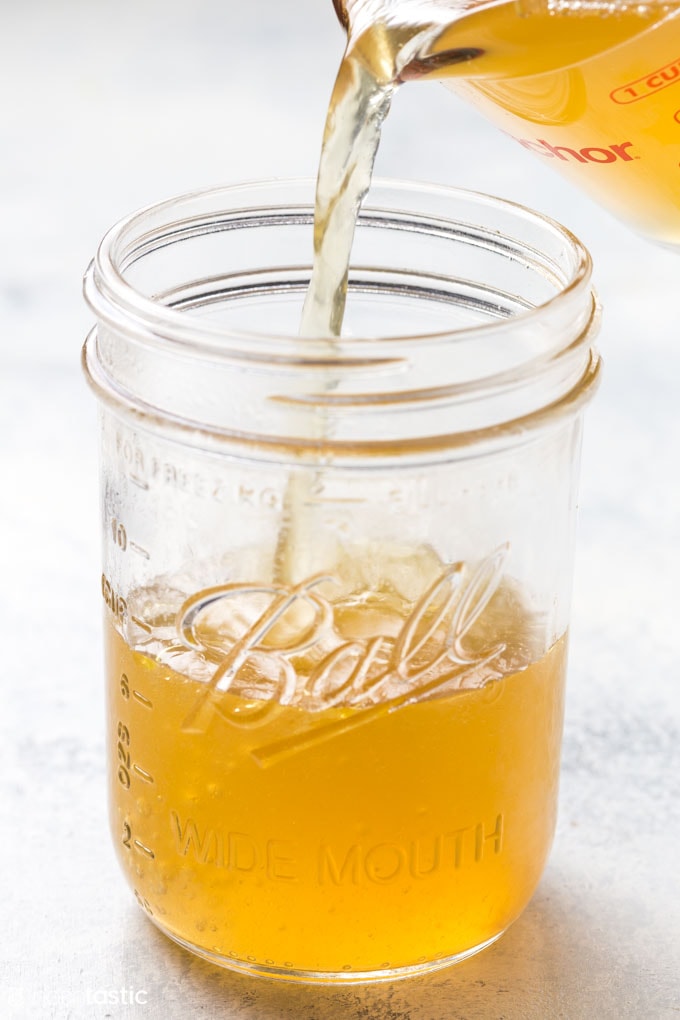 All my methods for making my homemade chicken stock recipe are very straightforward and use the same ingredients, the fastest is of course using a pressure cooker but if you don't have one yet, simply choose one of the other two options!
Every time I make homemade Chicken Broth I tell myself "I must make this more often!" because there's truly no comparison between a sad little can of store bought stock or broth, and the real thing.
Real homemade chicken broth has such a wonderfully homey, comforting, and rich depth of flavor that you can literally drink it hot without any additional flavors, except perhaps for a little salt. I think you'd be hard pressed to find any store bought chicken stock where you could say the same!
This post contains affiliate links
Tips for making great Chicken Broth
So there's a few tips and tricks to making awesome chicken broth but I promise none of them are complex in any way and even a novice cook can make this recipe successfully, it's really that simple!
So the first thing is to choose chicken pieces with bones, or use a whole (uncooked) chicken like I have done here. Now your first instinct may be that using a whole chicken to make stock or broth is extravagant, but not so fast!
For me it comes down to cost and more often than not the price of a whole chicken is cheaper per pound than buying wings (they are actually pretty pricey, believe it or not) drumsticks, or thighs. My other favorite piece of chicken to use for this is the prepackaged chicken backs as they are really cheap per pound and have plenty bones and little meat on them, but they are not always readily available in my grocery store.
The vegetables I add to my broth will vary depending on what I have in the fridge on any given day, but the real secret is to not go overboard with too many veggies as the dominant flavor needs to always be the chicken, here's a quick list of some vegetables and herbs that will really add flavor to your stock:
Parsley – love this flavor, it's so fresh! I usually just cut off the parsley stems for the stock and keep the leaves for making soup afterwards.
Onions – one small onion is enough, or if you have some leftover cut up onion in the fridge from another recipe, just cut it into large chunks and throw that in, skin and all!
Celery – don't be tempted to add too much as the flavor can overwhelm your chicken broth, I think one large celery rib is plenty (wash it to get any dirt off)
Peppercorns – about 10 whole peppercorns
Bay Leaf – I have a friend who is convinced that Bay Leaves are a scam and that they add no flavor, lol, but I disagree! I think one is just fine and will add a little warmth to the finished chicken broth.
Carrots-Add two or three. No need to peel just wash, cut into large chunks, and throw them in.
The beauty about this recipe is that it will work perfectly with whatever combination of the aforementioned veggies you happen to have languishing in the bottom of your fridge, so if you don't have them all that's totally fine!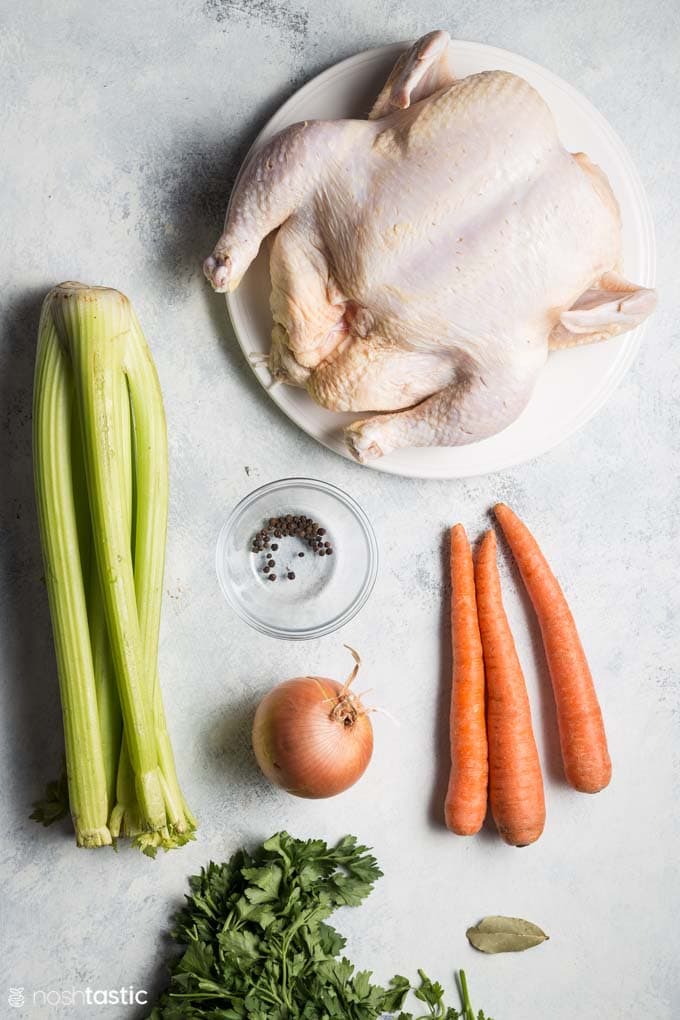 How to make Instant Pot Chicken Broth
Pressure cooking might be the easiest way ever to make chicken bone broth! If you are put off by the length of time it takes to make really good chicken broth then this version is for you!
I used my 6qt Instant Pot to make my chicken stock, but the larger 8qt will work too and you can of course make this in a stovetop pressure cooker or any other brand of electric pressure cooker.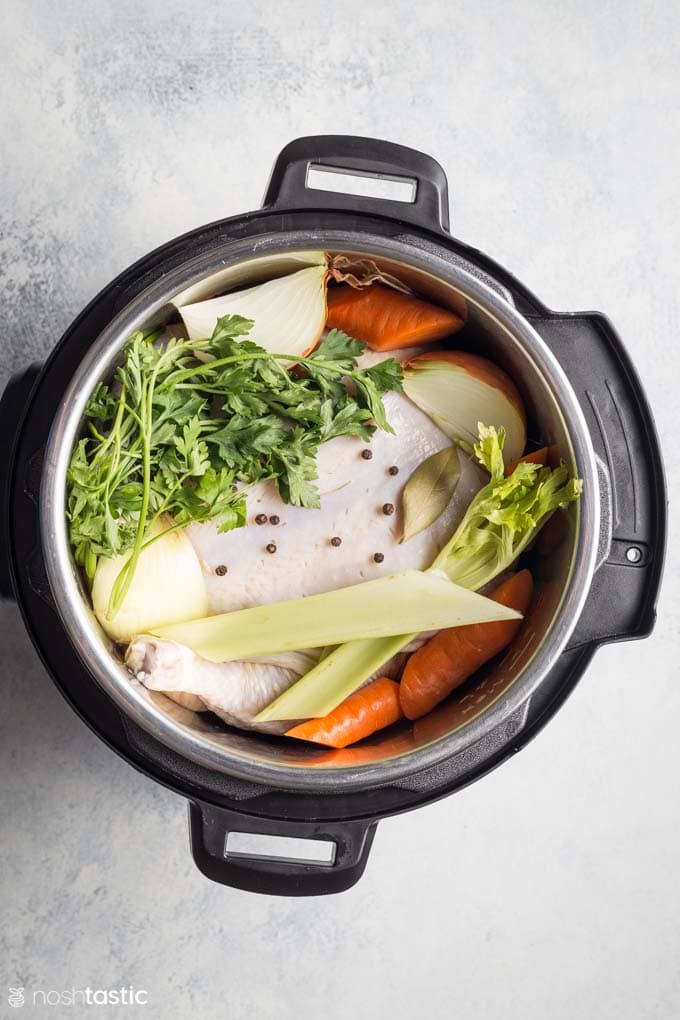 Start by adding the whole chicken to your Instant Pot, then simply add your chosen vegetables, peppercorns, bay leaf and fill it up with cold water to the maximum fill line on the inside of the pressure cooker insert, do not be tempted to overfill!
Next you simply need to add the Instant Pot lid, turn the weight to 'sealing' and program it to cook at high pressure for 25 minutes.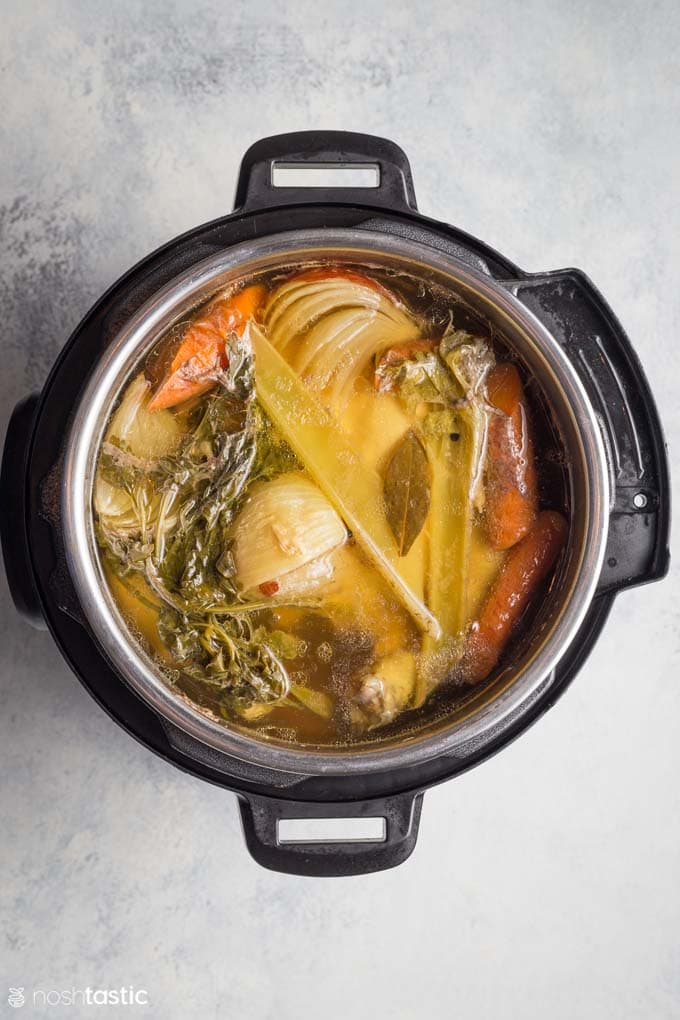 If you've not cooked with a full pressure cooker before be aware that just like on the stove with a full pan, it will take a long time to heat up and come up to pressure so don't panic! It may take twenty minutes or more.
When the cook time is up, let the pressure drop for at least fifteen minutes, then really slowly open the vent using a spoon or something similar to push it open.
If the pressure is too high still then liquid will come up through the vent as the pressure cooker is full to the top, if that happens close the vent and wait five more minutes and try again.
Once opened carefully remove the whole chicken, it may fall apart so just be aware of that! And then take all the meat from the bones and set aside. If you want a richer chicken stock you can add the bones back to the pressure cooker and cook for a further 30 minutes at pressure.
Then follow the same directions for opening the lid as before, and drain and discard the vegetables and bones from the chicken broth.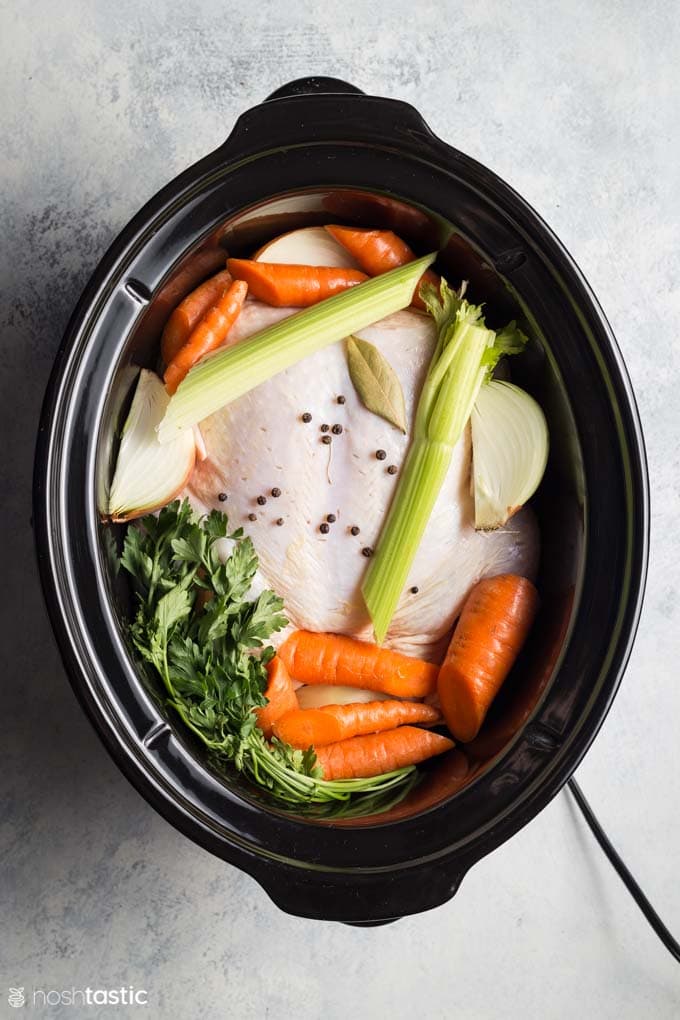 How to Make Slow Cooker (crockpot) Chicken Broth
Add the chicken to your slow cooker and tuck in the carrots, onions, parsley and aromatics around the top and sides, then fill it up with boiling water to about an inch from the top of your crockpot.
Cook on high for 3.5hrs – 4.5hrs, or low for 6-8hrs, exact timing will depend on how hot your slow cooker runs.
If you want to use the chicken meat for making chicken salad or chicken soup then be sure to check it after about 3.5hrs to see if it's fully cooked and you have a light broth, if you leave it too long the chicken meat will become dry, stringy, and inedible (but your chicken stock will taste great!)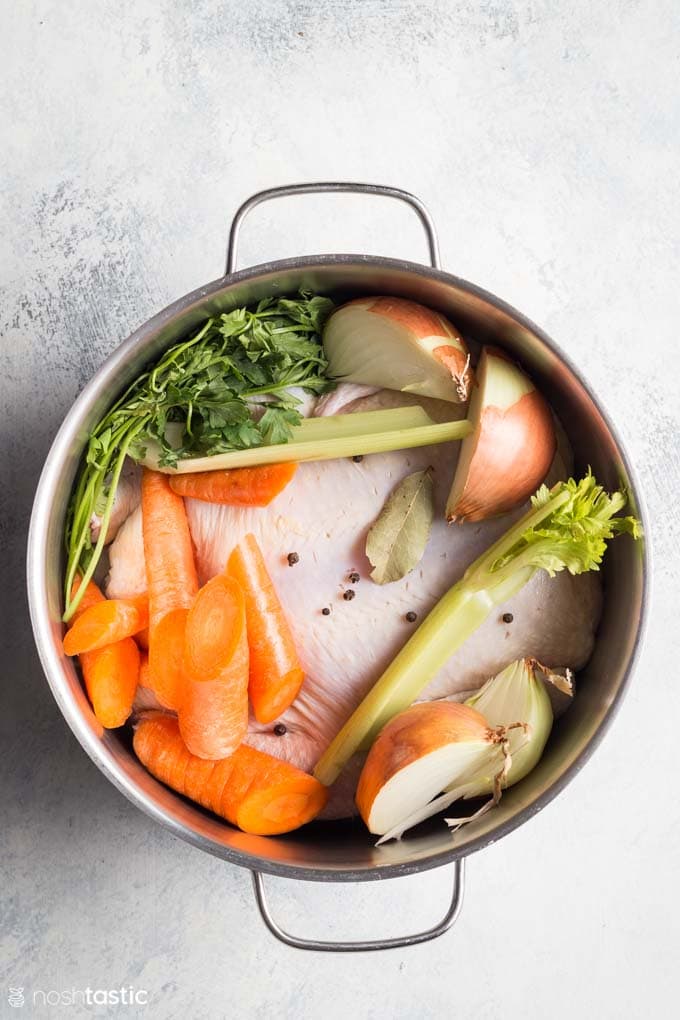 How to Make Stove Top Chicken Broth
You'll need a large heavy bottomed pan, preferably one that is at least 8 quarts in volume.
Then simply add the whole chicken, carrots, onions, parsley, aromatics, and whatever other vegetables you intend to use to the pan and fill with water.
Bring to the boil and then turn back to a simmer on the lowest heat, better to use a small burner on your stove if you have it. Place the lid on with it just a little ajar to let the steam out, and simmer slowly for 2-4 hours.
As before, if you plan to eat the meat from the chicken you'll want to remove it after it's just cooked and don't allow it to overcook.
Chicken Broth vs Chicken Stock?
So the burning question I know you all want answers to is, what's the difference between stock and broth?
Well, the general consensus is that chicken broth is cooked more quickly and includes cooking the meat, whereas chicken stock is cooked over a longer period of time and includes the bones, which will add more gelatin into the liquid. [1]
I think most people use the terms interchangeably these days.
Can I use the chicken meat for other recipes?
So that depends. If you want a lighter broth and you cook the chicken only for about 45 minutes then remove the meat you can totally use it in soups or for chicken salad.
At this point I keep the meat and return the chicken bones to the pot to cook a little longer.
Once the chicken and vegetables are cooked for longer than that they are tasteless, dry, and in my opinion not worth eating.
All the flavor by that point has transferred into your lovely chicken broth, which is what we want! But the meat is not very edible the longer you cook it.
Chicken Broth Storage
Perhaps this goes without saying, but you must store your homemade chicken broth in the fridge where it will keep safely for up to four days.
You can also freeze it easily but you must leave enough room in the container you freeze it in, between the container top and the lid.
I once froze chicken broth in mason jars with the lid on and the jars broke in the freezer because the frozen broth expanded and there was not enough space at the top so it cracked the glass, don't be like me!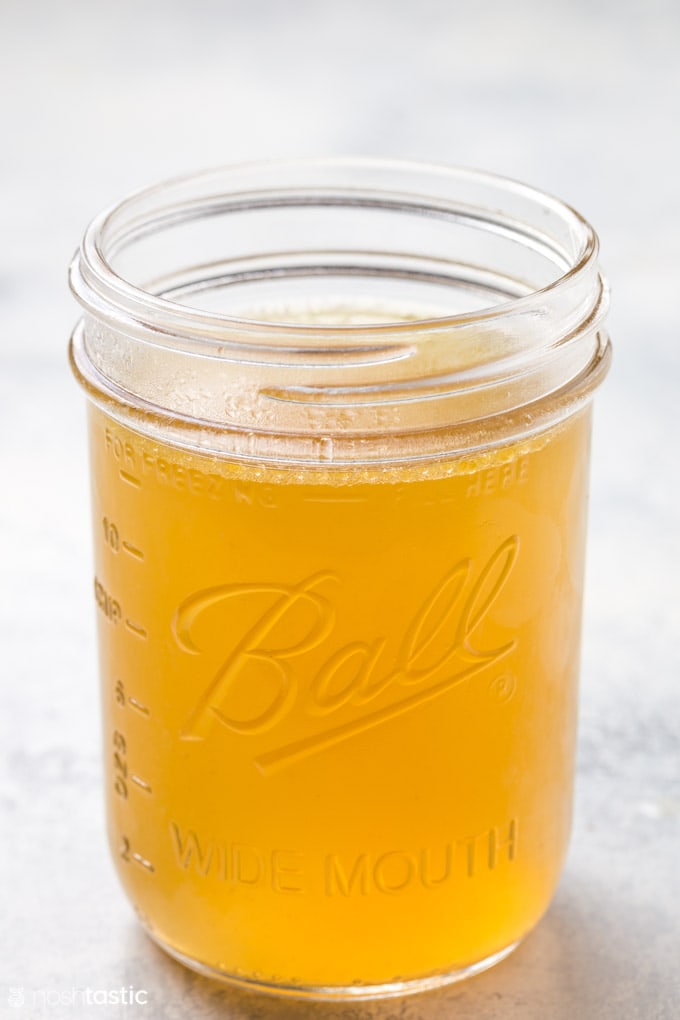 Make Soup with your Chicken Broth!
There's nothing like homemade soup made with your own broth, here's a few suggested recipes to make with it.
Want More Gluten Free Recipes like this? Subscribe to my newsletter!
How to Make Chicken Broth
Nothing beats homemade chicken broth made from scratch! With tips, tricks, and substitutions, you'll never use store bought broth again after you try this recipe! Three ways to cook it, directions for Instant Pot (pressure cooker) slow cooker, and stovetop.
Prep Time: 15 minutes
Cook Time: 3 hours
Total Time: 3 hours 15 minutes
Total Carbs: 2 g
Net Carbs: 2 g
Protein: 16 g
Servings: 10 cups
Ingredients
Instructions
How to Make Instant Pot Chicken Broth
Add a whole chicken to your pressure cooker insert and tuck in the carrots, onions, celery, bay leaf, parsley, and peppercorns around the chicken.

Fill with water to the maximum fill line.

Lock the lid, turn the steam vent to 'sealing' and using the 'manual' or 'pressure cook' button, adjust it to cook for 25 minutes at high pressure. Due to the volume of liquid, it will take about 20-30 minutes, or more to come to pressure.

When the cook time is up let the pressure release naturally for about 15-20 minutes, then release the remaining pressure very carefully. If liquid is coming out of the valve then let it sit for five more minutes, and then release the remaining pressure.

Carefully remove the chicken from the Instant Pot and pull off all the meat to use for salad or soup. If you want a richer chicken broth add the chicken bones back to the pressure cooker and cook for up to 30 more minutes at pressure, and then follow the directions as before for opening the cooker.

Strain the chicken broth into a suitable container, add more salt as desired.

Refrigerate right away or freeze it. Makes about nine cups of chicken broth if using the 6qt pressure cooker.
How to Make Stovetop Chicken Broth
Wash and prepare all the vegetables as directed then add to a large pan with the whole chicken bay leaf, salt and peppercorns and add about two to three quarts of water to cover it.


Bring to the boil, then skim off any foam that forms on the top of the water. Cover and reduce to a very gentle simmer for 45 minutes.

After 45 minutes remove the whole chicken, allow it to cool just long enough that you can handle it safely and remove all the meat from the bones. You can make soup, or chicken salad with the reserved meat.

Return the chicken carcass to the pan and continue to simmer for a further hour to two hours to get a really rich chicken broth.

Strain the cooked broth into a suitable container, taste and add more salt as desired. Then refrigerate right away or freeze it.
How to Make Slow Cooker Chicken Broth
Wash and prepare all the vegetables as directed above then add to a large slow cooker (at least 6qt) with the whole chicken bay leaf, salt and peppercorns and add enough boiling hot water to cover the chicken and up to the fill line.

Add the lid and cook for 3-4 hours on high, and 6-8 hours on low.

If you plan to eat the chicken meat then ensure you remove it when the chicken is 'just cooked' which might be after about 3 hours high, and 5 hours low, but every slow cooker timing may vary. Remove the meat from the bones and return the bones to the slow cooker to cook for the remaining cook time.

Strain the chick broth into a suitable container, add more salt as desired. Then refrigerate right away or freeze it.
Recipe Notes
Vegetables – you can use a variety of different vegetables in this recipe and it's a perfect way for using up old sad looking vegetables that are sitting in the bottom of your fridge! My favorites include onion, parsley, celery, and carrots. 
Salt – I've added a little salt to the recipe during the cooking, but feel free to add more to taste at the end.
Giblets – they make excellent chicken broth and add great flavor so don't be afraid to add them to the pot along with the chicken! (just remove them from the bag they are in)
Storage – will keep in the fridge for up to four days, and can be frozen for up to three months. If freezing in glass jars you must leave enough space ( a couple inches) at the top for the frozen liquid to expand or you risk breaking the jars.
Nutrition – the nutrition label includes all the vegetables as that's the only way I can calculate it. However, as we are not actually eating the vegetables I'm confident that the actual carb and net carb count is lower than listed, you could of course omit the carrots which are the source of the bulk of the carbs.  I'm also assuming about 9-10 cups of cooked broth (1 cup per serving)  but this will vary depending on how much of your liquid has evaporated along the way and how large your cooking vessel is.
Nutrition Facts
How to Make Chicken Broth
Amount Per Serving
Calories 196 Calories from Fat 117
% Daily Value*
Fat 13g20%
Saturated Fat 3g19%
Cholesterol 65mg22%
Sodium 323mg14%
Potassium 222mg6%
Carbohydrates 2g1%
Sugar 1g1%
Protein 16g32%
Vitamin A 2630IU53%
Vitamin C 2.8mg3%
Calcium 28mg3%
Iron 0.8mg4%
* Percent Daily Values are based on a 2000 calorie diet.
Nutritional information on Noshtastic is provided as a courtesy and is approximate only. We cannot guarantee the accuracy of the nutritional information given for any recipe on this site.