Air Fryer Baked Potatoes with perfect crispy potato skin and light and fluffy on the inside, Air fried potatoes are the only way to go!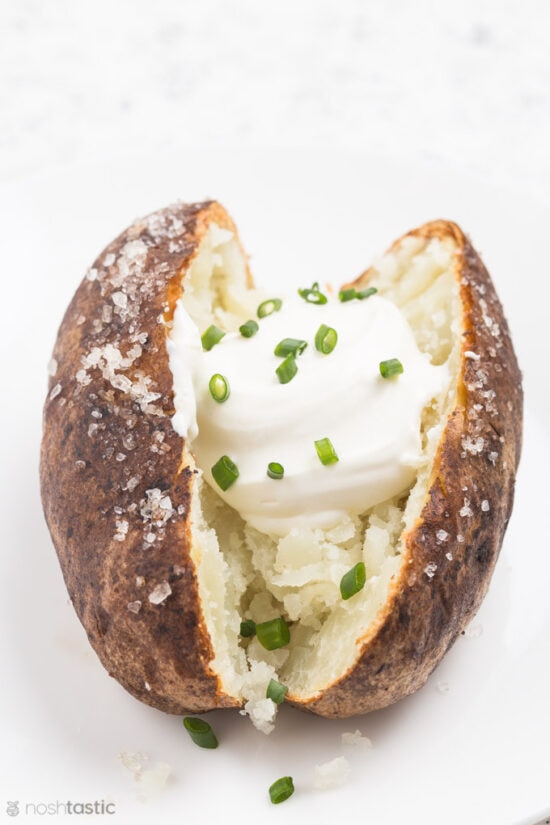 This post contains affiliate links
How to Cook Air Fryer Baked Potatoes
Step 1 – Pick the best potatoes for baking, we like Russets as they are starchy and fluffy and work really well. In theory you can use any potato you like, but starchy varieties will produce the best results.
Step 2 – Wash the potato and dry the skin with paper towels, then prick the skin with a fork.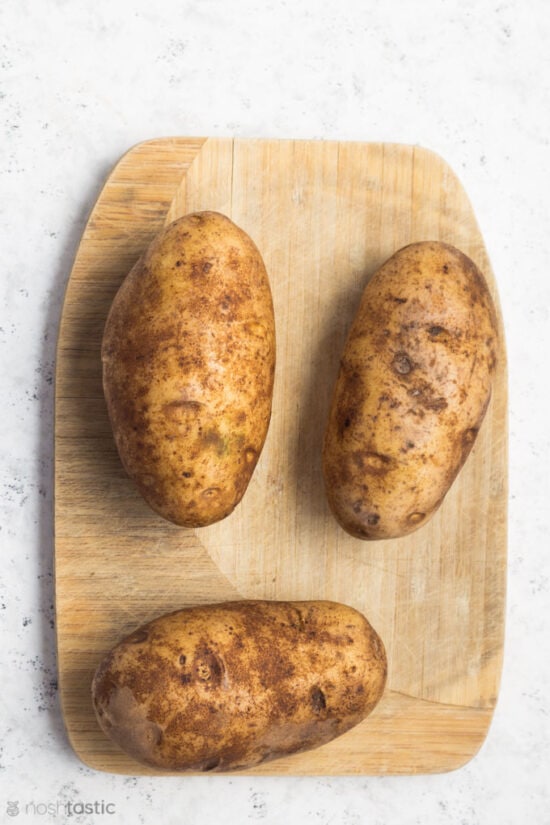 Step 3 – Rub the potatoes all over with olive oil or any other oil of your choice that has a high smoke point, this will help the potato skin get good and crispy in the air fryer!
Step 4 – Generously salt the baked potato skin all over, and on all sides.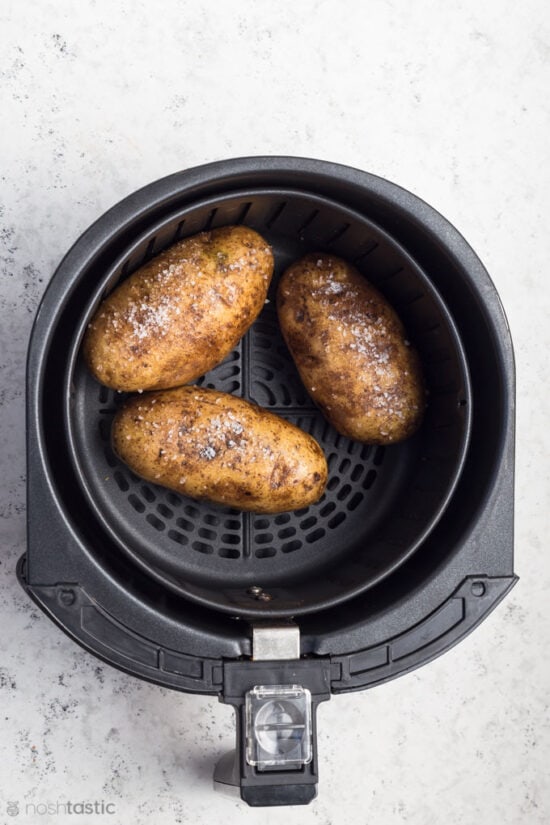 Step 5 – Turn on your Air Fryer to 400°F and place the potatoes in a single layer in the air fryer basket. Bake for 40-50 minutes (cook time depends on the size of the potato) or until the middle of your potatoes are soft and fluffy.
Air Fryer Baked Potato FAQ's
Olive oil substitute – You can use any other oil that has a high smoke point such as coconut oil or sunflower oil.
Can I Bake my potatoes ahead? – They are best eaten shortly after cooking if you want to retain the crispy skin.
Can I reheat my baked potatoes? – yes, but you may lose the crispiness of the skin if you reheat it. You can use your microwave, or warm it in your air fryer on a lower temperature.
Can I Freeze them? – I don't recommend freezing cooked potato, the texture changes once defrosted and it's simply not as nice.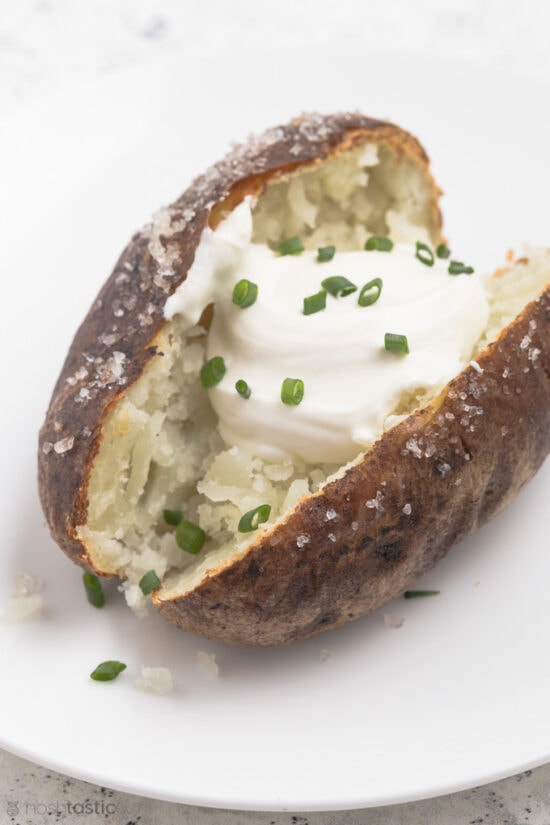 Air Fryer Baked Potatoes
Easy Air Fryer baked Potatoes fries
Prep Time: 5 minutes
Cook Time: 50 minutes
Total Time: 55 minutes
Ingredients
6oz russet potatoes
1/2 tbsp olive oil
1 tsp sea salt
Instructions
Turn on your air fryer to 400°F

Wash the potatoes and dry with paper towels.

Prick the skin with a fork.

Rub the skin with olive oil and season all sides of the potato generously with salt.

Arrange in a single layer in your air fryer basket. (you may need to cook in batches depending on the size of the potatoes)

Cook for 40-50 minutes, until the middle of your baked potato is soft. Check after 40 minutes for doneness and then cook for longer as needed. They are best served immediately to retain the crispy potato skin.
Recipe Notes
Potato Size – We used russet potatoes that were between 5-6oz (140g – 170g) and about 5 inches long (12.7 cm) and they took 40 minutes to cook. If you use larger baking potatoes they will take longer to cook.
Nutrition label – is based on one 6oz baked potato per person, approximate only. Does not include additional toppings.
Cook Time – All air fryer brands work a little differently so you'll need to check your baked potato as you go and continue to cook until you get the desired level of done-ness.
Nutrition Facts
Air Fryer Baked Potatoes
Amount Per Serving (6 oz)
Calories 31 Calories from Fat 36
% Daily Value*
Fat 4g6%
Saturated Fat 1g6%
Sodium 1163mg51%
* Percent Daily Values are based on a 2000 calorie diet.
Nutritional information on Noshtastic is provided as a courtesy and is approximate only. We cannot guarantee the accuracy of the nutritional information given for any recipe on this site.
Course: Side Dish
Cuisine: American