My Paleo Pad Thai is so close to the real deal I promise you won't even miss the noodles!
I've used Tamarind paste to recreate that really authentic unique flavor you get from real pad Thai takeout, I  know you're going to love it!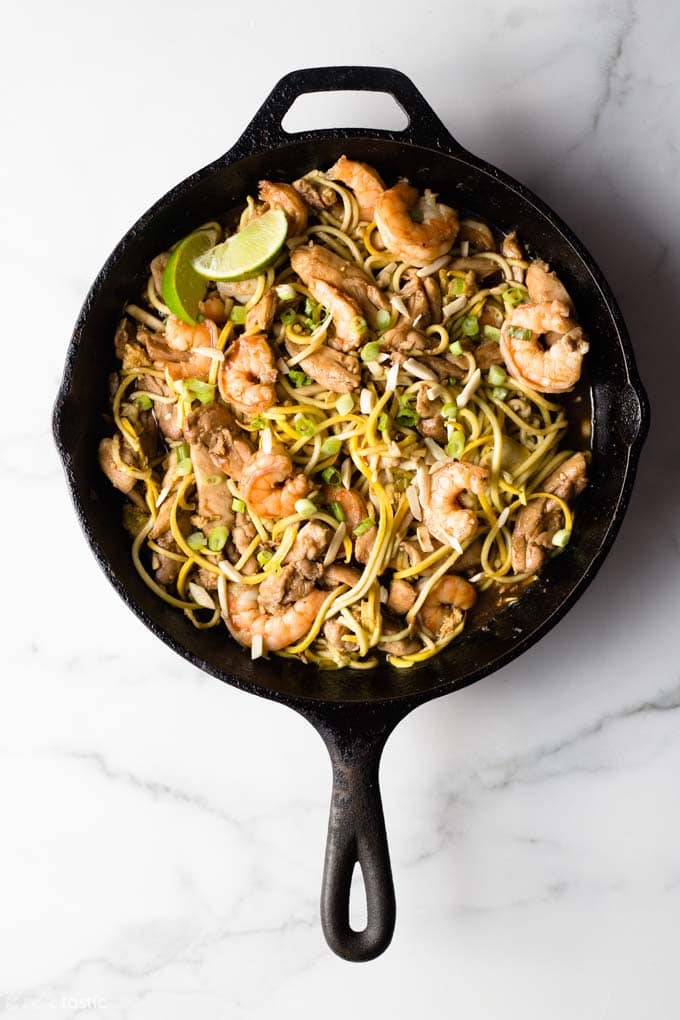 I also used zucchini noodles to replace regular noodles and make it Paleo compliant, along with using almonds instead of peanuts, and coconut sugar instead of palm sugar.
This post contains affiliate links
Quick Paleo Pad Thai Tips!
This is one of my favorite new weeknight recipes because it's SO easy and yet it's packed full of tangy bold flavors that'll have you coming back for seconds!
Tamarind – You'll notice that one of the key ingredients in this recipe is tamarind paste, if you want authentic Pad Thai flavors then you really need to get hold of some tamarind.
You have a couple of options here, the first and easiest is to find ready prepared tamarind paste, if you get a good quality version it will only contain tamarind with no added sugar or preservatives and I was able to find some locally in both my Asian grocery store and Whole Foods.
I've also seen blocks of tamarind pulp in my grocery store and they are fairly easy to reconstitute by cutting off a piece of the block and adding it to a some very hot water.
What is Tamarind?
The fruit of the tropical Tamarind tree is a large brown pod that contains an edible pulp that is used in many world cuisines including for chutnies and curries.
Back home in the UK it's found in Worcestershire Sauce and HP Sauce!
Zoodles – Zucchini noodles are a healthy Paleo compliant replacement for regular noodles in this recipe.
I used a Paderno spiralizer to make them (see photo below) and used the smallest noodle blade to create them. In this instance I didn't cook the noodles before adding them to the recipe as I prefer them barely cooked and the heat from the other ingredients is just enough to do that.
However, if you prefer to cook them ahead I'd simply place them in a microwave safe bowl and cook for about 45 seconds and then drain and pat dry.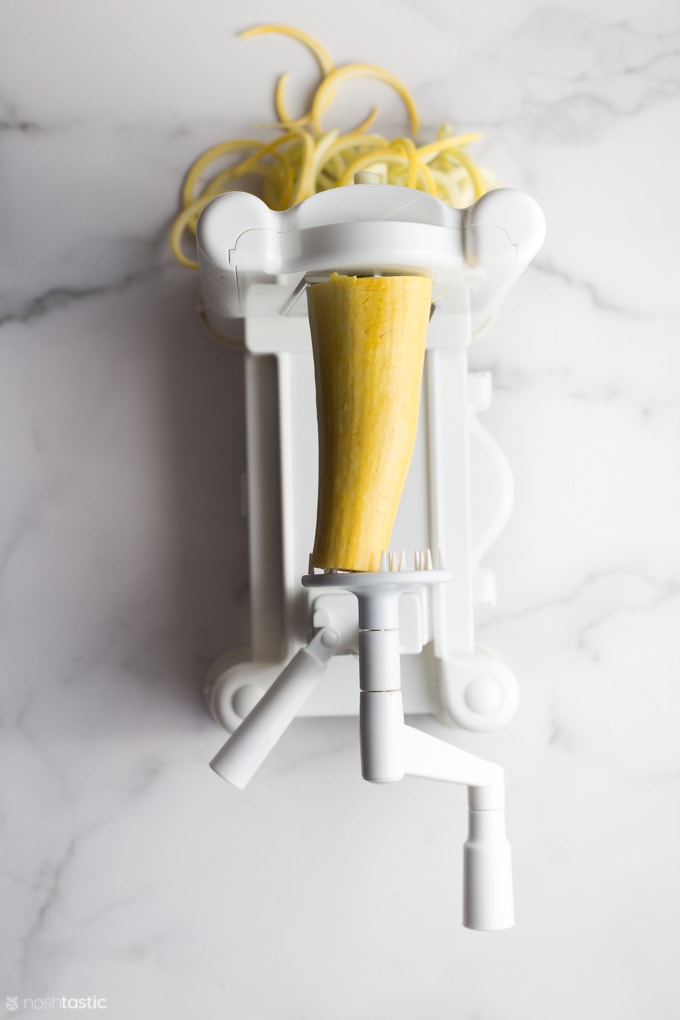 The Pad Thai Sauce – the key to this sauce as I've mentioned already is the tamarind flavor, it's quite unique and impossible to recreate using other paleo compliant ingredients.
However, if you really can't find it I'd suggest you simply omit it and simply add a little more of all the other sauce ingredients.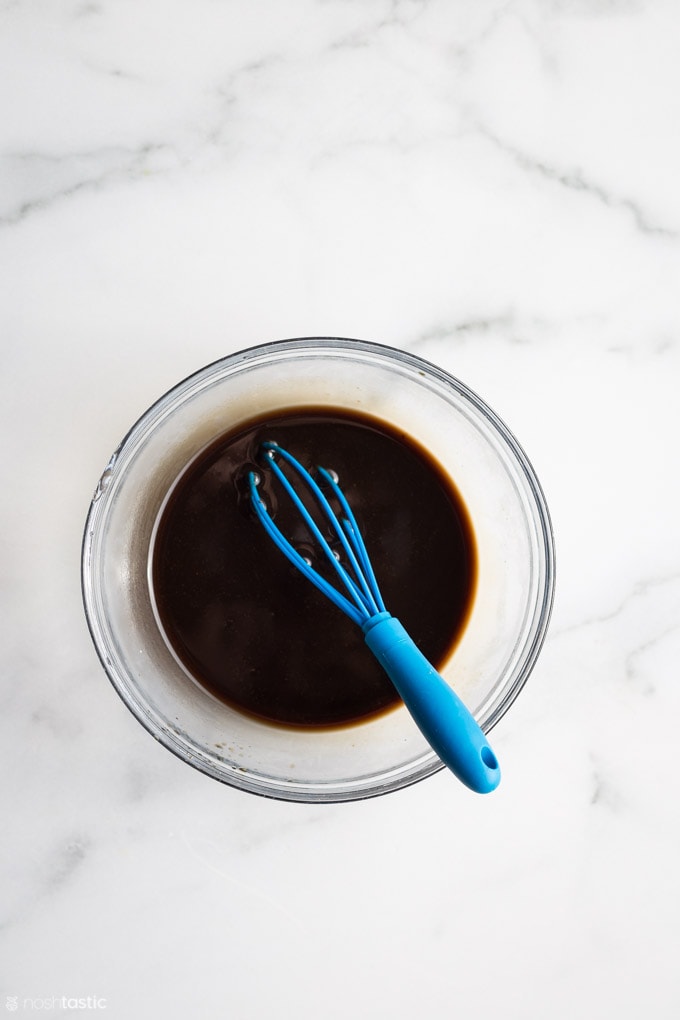 Can I make this ahead?
You can most certainly make the sauce ahead and you can also prepare the zoodles, toast the almonds and slice the chicken.
However, although I have reheated my Pad Thai leftovers I will caution you that zucchini noodles tend to get soft and soggy pretty quickly and especially when reheated.
I'll still eat them like that so just as long as you're aware you can decide what you want to do!
How do I make it Low Carb?
You'd need to omit the sugar or replace it with a low carb sweetener that you like the taste of.
Most of the other carbs are in the zucchini noodles so you could replace them with low carb Shirataki noodles (Amazon has some) but I've seen very mixed reviews so I can't wholeheartedly recommend them.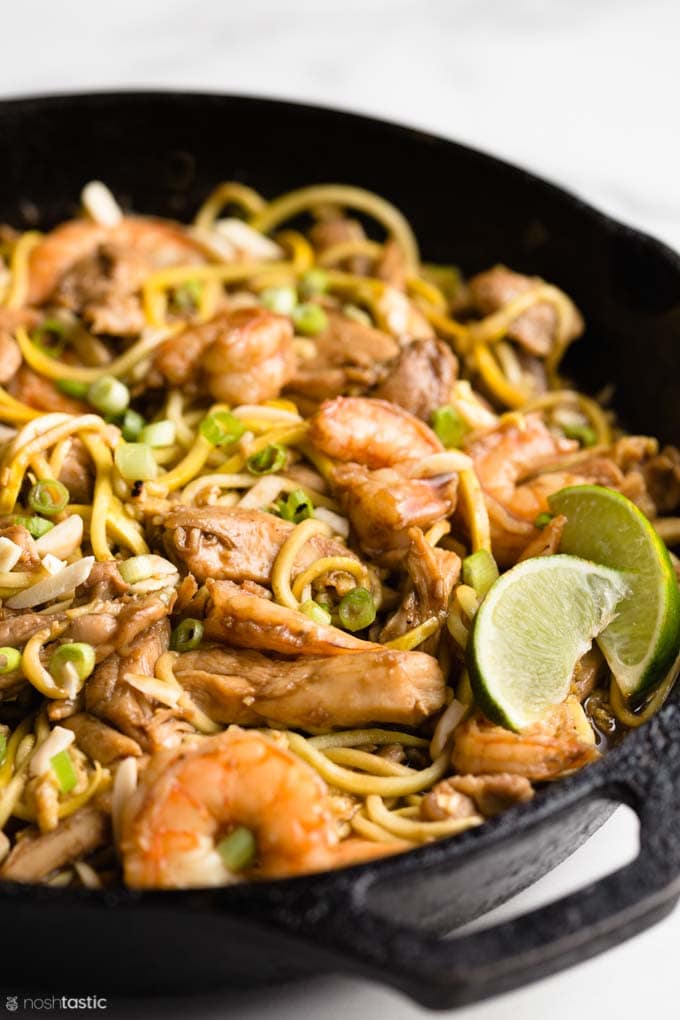 What about Whole30?
The only non compliant ingredient here is the coconut sugar, so you can remove that and you're good to go! It won't be as sweet as the traditional version but still very good.
Related Paleo Take Out Recipes
Paleo Pad Thai (with low carb option)
Wow your family with this easy Paleo Pad Thai recipe made with authentic ingredients and rich flavors!
Total Carbs: 20 g
Net Carbs: 18 g
Protein: 36 g
Servings: 4
Ingredients
Pad Thai Stir Fry
3 tbsp coconut oil
2 small zucchinis, spiralized into 'noodles' , 300g
4 tsp garlic cloves , crushed
4 boneless skinless chicken thighs , 650g cut into slices
16 large shrimp , peeled and deveined
2 large eggs , lightly whisked
1 cup beansprouts (optional)
4 scallions , finely sliced
1/2 cup almonds slivers , sub cashews, or other nut of choice
lime wedges , to serve
Instructions
Toast the almonds in a dry skillet over a medium heat for three to four minutes, stir frequently so they don't burn, and then set aside.

Prepare your zucchini noodles using a spiralizer or julienne peeler (see photo in post)

Mix the fish sauce, tamarind puree, coconut aminos, and coconut sugar together in a small bowl.

Heat one tbsp oil in a large cast iron skillet over a medium heat and add the garlic and cook for one minute.

Add chicken and cook for a couple of minutes on all sides until cooked through, then cook the shrimp in the same way but for just one to two minutes per side until it turns pink.

Push meat and shrimp to the sides of the pan, add a touch of oil if the pan is dry and pour in beaten eggs in the middle and scramble over a medium heat. (see photo in post)

Add the zucchini noodles (and bean sprouts if using) to pan along with the pad thai sauce and scallions. Toss the noodles and meat in the sauce and warm through for a couple of minutes.

Serve immediately, sprinkled with toasted almonds and serve with a wedge of lime.
Recipe Notes
Nutrition - Label does not include optional beansprouts. If you omit the coconut sugar it will reduce the carbs to 18g and 15g net carbs per serving. However, you should know that authentic Pad Thai sauce has a LOT of sugar so the taste will be quite different. I have not tested it with any of the low carb sugar substitutes so if you want to do that my advice would be to taste the sauce before you add it to the meat and vegetables, to see if you like it. 
Substitutions - there really is no substitute for the tamarind paste, it's what makes Pad Thai what it is! However, I recognize that it can be hard to find unless you have a Whole Foods or Asian Grocery store in town, so if you can't find it I would just omit it and accept that the sauce will taste a bit different.  You could substitute low sodium gluten free soy sauce for the coconut aminos if you have to, but the coconut aminos have a natural sweetness that makes up for having a bit less sugar in this recipe. 
Fish Sauce - I love Red Boat fish sauce, it very pungent (in a good way!) with a rich depth of flavor and has no funky additives or added sugar like some of the more popular brands. My grocery store carries it now, and you should be able to find it in Whole Foods. 
adapted from Recipe Tin Eats
Nutrition Facts
Paleo Pad Thai (with low carb option)
Amount Per Serving
Calories 442 Calories from Fat 225
% Daily Value*
Fat 25g38%
Saturated Fat 12g75%
Cholesterol 273mg91%
Sodium 2013mg88%
Potassium 798mg23%
Carbohydrates 20g7%
Fiber 3g13%
Sugar 12g13%
Protein 36g72%
Vitamin A 450IU9%
Vitamin C 18mg22%
Calcium 139mg14%
Iron 3.4mg19%
* Percent Daily Values are based on a 2000 calorie diet.
Nutritional information on Noshtastic is provided as a courtesy and is approximate only. We cannot guarantee the accuracy of the nutritional information given for any recipe on this site.
Course: Main Course
Cuisine: Thai