Keto Low Carb Cashew Chicken – don't you just love making your own copycat takeout recipes at home? I'm always in the mood for takeout but due to the lack of safe gluten free options locally (not to mention all carbs and calories!) I usually cook my own at home.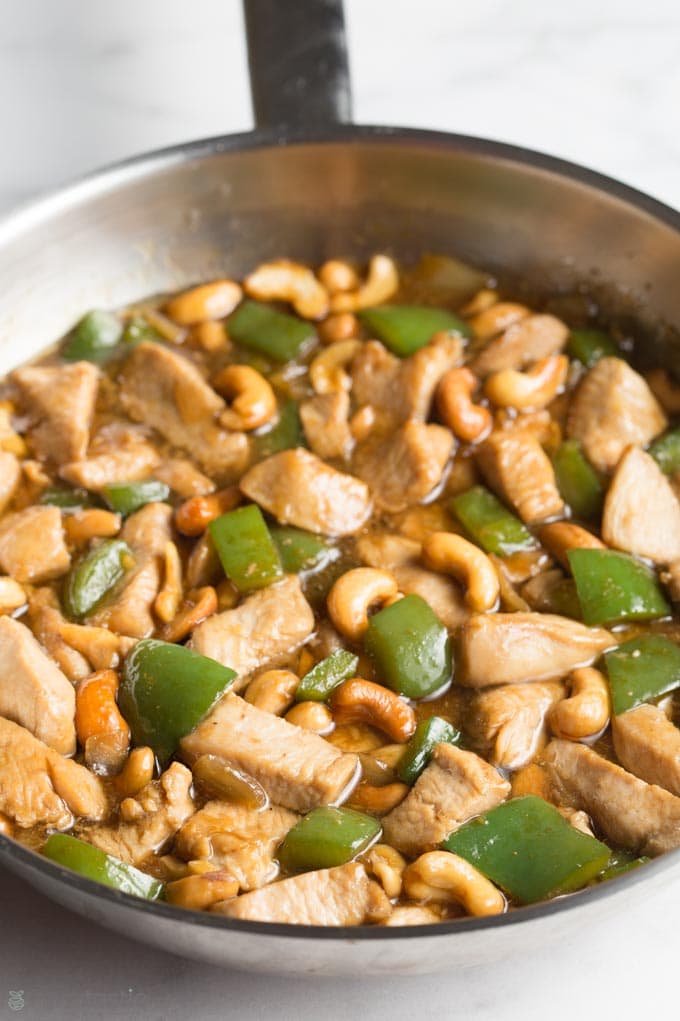 Surprisingly, cashews are relatively high in carbs compared to other nuts. But no matter, I've simply tweaked the recipe for maximum cashew flavor but with significantly lower carbs that the average cashew chicken recipe.
This post contains affiliate links
The Easy Way to Make Low Carb Cashew Chicken
I start by making the sauce and marinade, all you need to do is add coconut aminos, dry sherry, sesame oil, fish sauce and white pepper into a bowl and give it a quick whisk.
If you plan to add the teaspoon of potato starch (see the paragraph below about sauce thickening options) add it to the marinade at this stage.
Cut the chicken into one inch pieces then pour over two tablespoons of the marinade mixture.
I prefer to use chicken thigh meat, it's juicier, tastier and less prone to drying out, but my other family members prefer chicken breast which is what I've used here so you can use whatever cut of chicken you like.
It only need a short marinate time, about fifteen minutes should be sufficient.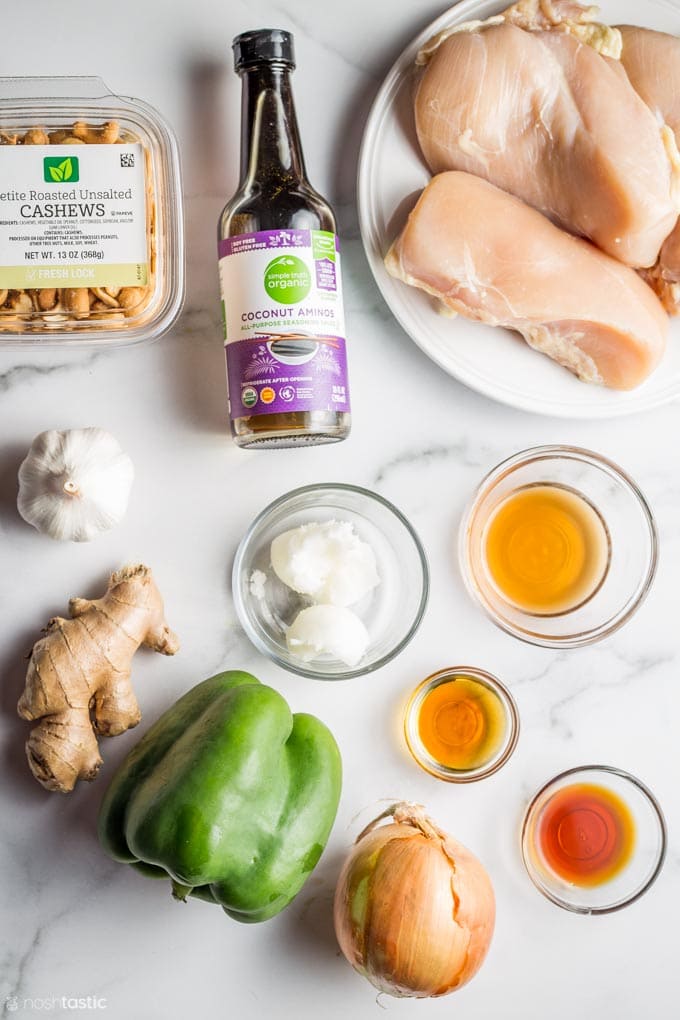 While it's marinating you can go ahead and cut up the onion and bell peppers.
When you are ready to cook simply add a little coconut oil to the skillet and get it medium hot then add the onion and garlic and cook for a minute, then add the chicken and cook for about two minutes per side.
Add the chopped bell pepper and the remaining marinade sauce and two tablespoons of water then simmer for a couple more minutes until chicken is fully cooked. Lastly add the cashews and warm through for just a minute or two, then serve!
What Can I serve it with?
I think this recipe works great with a simple side of cauliflower rice, or you can serve it as is as there's already bell peppers and onions in the recipe.
Related Chinese Takeout Recipes
Can I thicken the sauce?
Typically most sauces in Chinese takeout recipes like these are thickened with a lot of cornstarch or some other starche.
I've added an optional teaspoon of potato starch if you want to thicken it. The added carbs really are minimal when divided between four servings, but it works just as well and the taste is the same without any added starch, you'll simply have a thinner sauce.
Some people who are following a low carb or keto diet like to use a tiny bit of xanthan gum to thicken sauces.
However, I've found that even the tiniest amount doesn't really thicken it in the same way as starch does and it can very quickly add a slimy texture to the sauce that I don't care for so I'd rather leave it un-thickened.
But, do feel free to add a little gum if you are familiar with it and like it.
Low Carb Cashew Chicken
The takeout recipe you love but with a fraction of the carbs! works great for Keto, low carb, and Paleo diets.
Prep Time: 20 minutes
Cook Time: 10 minutes
Total Time: 30 minutes
Total Carbs: 11 g
Net Carbs: 10 g
Protein: 27 g
Servings: 4
Ingredients
1 lb skinless boneless chicken breast or thigh , cut into one inch pieces
2 garlic cloves , crushed
1 tbsp coconut oil
2 tsp fresh root ginger , peeled & grated, do not use powdered ginger
1/2 cup white onion , 65g – cut into large chunks
1 green bell pepper , 150g – cut into one inch pieces
1/2 cup roasted cashew nuts (unsalted) , 80g
Low Carb Cashew Chicken Sauce
Instructions
Scroll up to watch the recipe video!

Mix together the coconut aminos, dry sherry, sesame oil, fish sauce and white pepper. If you are using the potato starch (to thicken) add it now, if not omit.

Chop the chicken into one inch sized pieces and then pour over two tablespoons of the marinade and set aside for fifteen minutes

Heat the coconut oil over a medium heat in a large skillet and add the chopped onion and garlic and peeled and grated root ginger (do not use powdered ginger) and cook for one to two minutes.

Add chicken pieces and cook for two minutes per side.

Add the chopped bell pepper and the sauce, plus two tablespoons of water, and simmer for a couple of minutes.

Add the cashews and warm them in the sauce for one to two more minutes.
Recipe Notes
Ginger – use only root ginger, this is not interchangeable with powdered ginger that you use in baking. You should be able to find ginger root at any grocery store so just ask if you are not sure. You need to peel it and then grate it.
Nutrition –  10 grams net carbs per serving, mostly due to the cashews. if you decide to use 1 tsp potato starch to thicken this will add a negligible amount of carbs per serving but if you are trying to stay in ketosis then you may want to avoid it.
Serving size –  is about 1/2 to 3/4 cup size.  If you want a bigger portion you could increase the amount of chicken and double the sauce, but keep the cashews the same (they have a lot of carbs for a nut!) which means  the carbs per serving for the bigger portion are slightly more at 11g net carbs. 
Nutrition Facts
Low Carb Cashew Chicken
Amount Per Serving
Calories 337 Calories from Fat 171
% Daily Value*
Fat 19g29%
Saturated Fat 6g38%
Cholesterol 107mg36%
Sodium 1465mg64%
Potassium 531mg15%
Carbohydrates 11g4%
Fiber 1g4%
Sugar 3g3%
Protein 27g54%
Vitamin A 165IU3%
Vitamin C 31.8mg39%
Calcium 33mg3%
Iron 2.7mg15%
* Percent Daily Values are based on a 2000 calorie diet.
Nutritional information on Noshtastic is provided as a courtesy and is approximate only. We cannot guarantee the accuracy of the nutritional information given for any recipe on this site.
Course: Main Course
Cuisine: Chinese