Low Carb General Tso's Chicken is a keto friendly remake of this American Chinese classic, all the taste you love but without the added sugar and carbs.
This recipe comes in at around 4g net carbs per serving, which makes it perfect for dinner!
This post contains affiliate links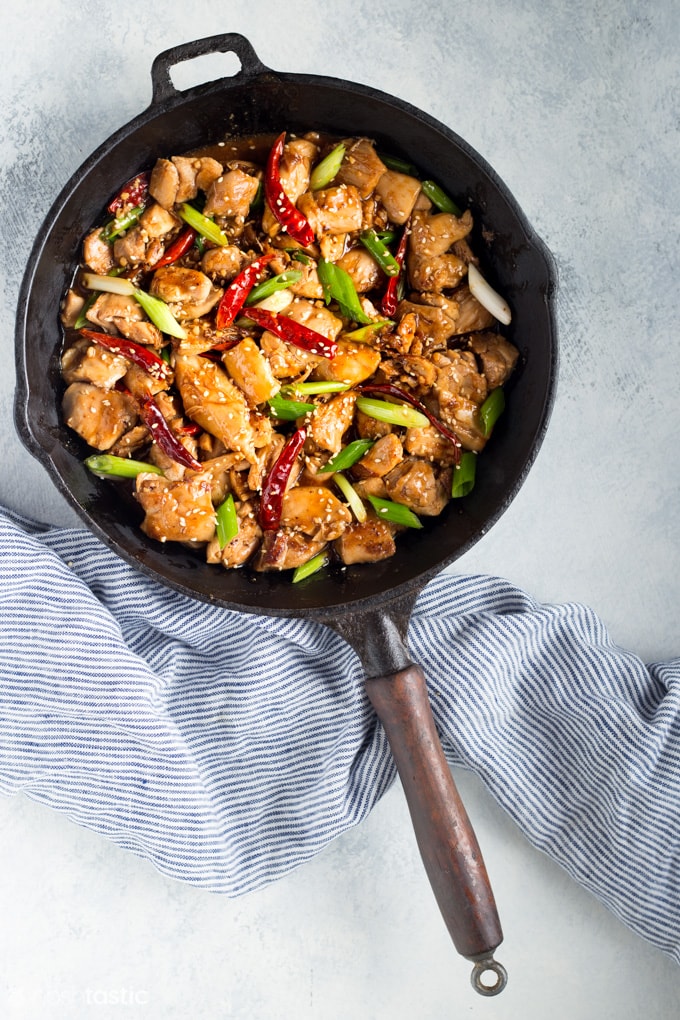 Tips for Making Low Carb General Tso's Chicken
While you could use chicken breast for this recipe if you must, it will taste a whole lot better with chicken thighs.
Despite the number of dried chilis used, this is not a really hot dish. The chilis add just a touch of heat, and of course you don't eat them.
However, not all chilis have the same amount of heat so just be sure to check before you use them what sort of chili it is.
Don't skip the marinating time, it doesn't take long but it will help to add flavor to the finished recipe.
In order to keep this recipe low carb and keto we are not thickening the sauce, instead we are reducing the liquid. Just make sure that you take enough time to complete this step.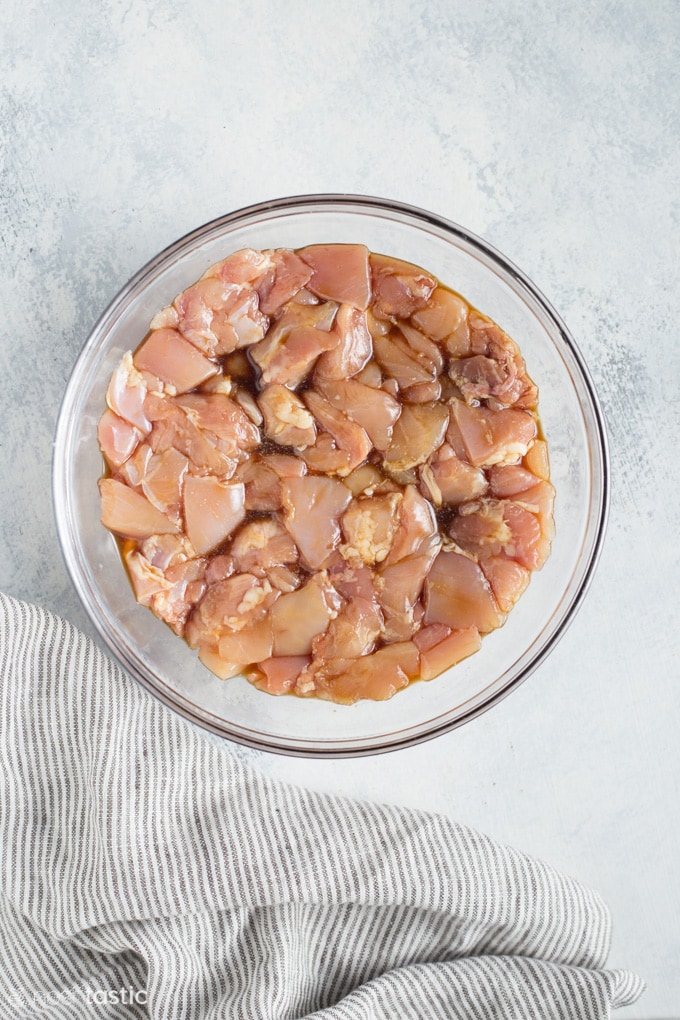 More Keto Chicken Recipes
Is General Tso's Chicken Spicy?
Although there are quite a few dried chilis in this recipe I did not find it spicy and my children ate it without complaint. There is of course some flavor from the chilis, which is why we added them, but it's not hot.
Just ensure that you are not buying a really hot variety of dried red chili and you should be just fine.
Why is it called General Tso's Chicken?
General Tso's Chicken as it's commonly made and eaten in the USA is not known in China.
Apparently the dish was created by Chef C.K. Peng (or Peng Chang-kuei) in Taiwan during the 1950s. In the 1970's the same chef brought the dish over to New York City and served it to Henry Kissinger who was fan.
There is a Chinese version but the actual recipe is not at all similar as it's not deep fried and doesn't contain lots of sugar, so perhaps our low carb General Tso's Chicken is more authentic after all!
Pin This Recipe To Your Low Carb Board!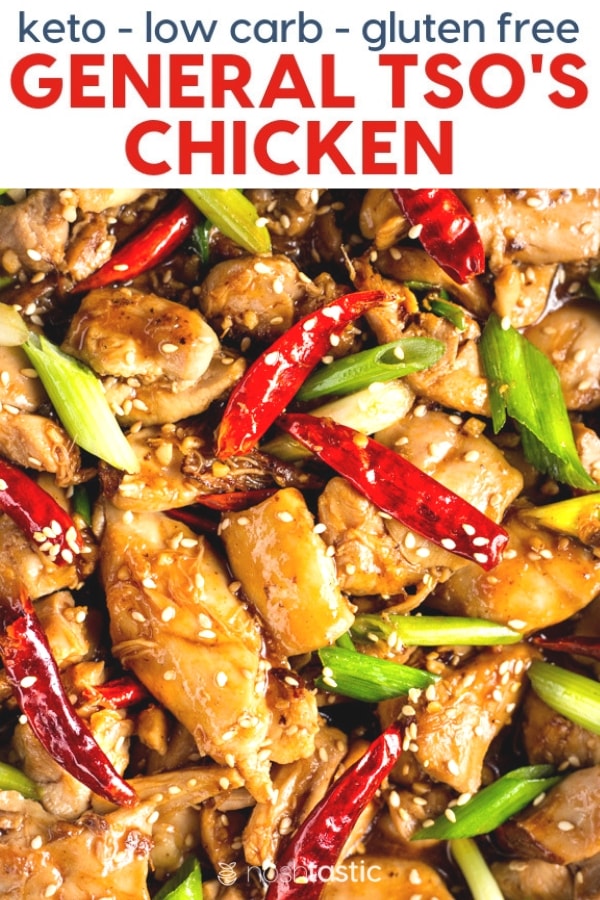 Low Carb General Tso's Chicken
An easy to cook low carb keto friendly General Tso's Chicken that's a perfect weeknight meal.
Prep Time: 15 minutes
Cook Time: 15 minutes
Marinate: 30 mins
Total Time: 30 minutes
Total Carbs: 4 g
Net Carbs: 4 g
Protein: 46 g
Servings: 4
Ingredients
Instructions
Mix all the marinade ingredients together and add the cut up chicken thighs and marinate for 30 minutes.

Stir fry the chicken using a little oil over a medium high heat for 3-5 minutes, then remove it from the pan and set aside.

Add all the General Tso's Chicken Sauce ingredients to the wok or cast iron skillet and reduce it over a medium heat for about 10 minutes. Add the chilis in the last three minutes.

Return the cooked chicken to the pan with the sauce, add the toasted sesame oil and green onions and cook for one minute or until warmed though

Serve hot with a sprinkle of toasted sesame seeds.
Recipe Notes
Root Ginger – use only root ginger, this is not interchangeable with powdered ginger that you typically use in baking. You should be able to find ginger root at any grocery store so just ask if you are not sure. You need to peel it first and then grate it or finely chop it.
Nutrition Facts
Low Carb General Tso's Chicken
Amount Per Serving
Calories 322 Calories from Fat 90
% Daily Value*
Fat 10g15%
Saturated Fat 2g13%
Cholesterol 215mg72%
Sodium 1298mg56%
Potassium 701mg20%
Carbohydrates 4g1%
Sugar 1g1%
Protein 46g92%
Vitamin A 215IU4%
Vitamin C 3.4mg4%
Calcium 34mg3%
Iron 2.5mg14%
* Percent Daily Values are based on a 2000 calorie diet.
Nutritional information on Noshtastic is provided as a courtesy and is approximate only. We cannot guarantee the accuracy of the nutritional information given for any recipe on this site.
Course: Main Course
Cuisine: Chinese / American