My easy Thai Coconut Chicken soup (Tom Kha Gai) has a wonderfully rich and warming flavor due in large part to authentic Thai ingredients such as coconut milk (full fat please!) fresh lemongrass, lime juice, fish sauce, and fresh aromatic kaffir lime leaves.
Don't be intimidated by the ingredients, this healthy low carb and keto soup comes together very quickly and most of the ingredient can be found at your local Asian grocery store.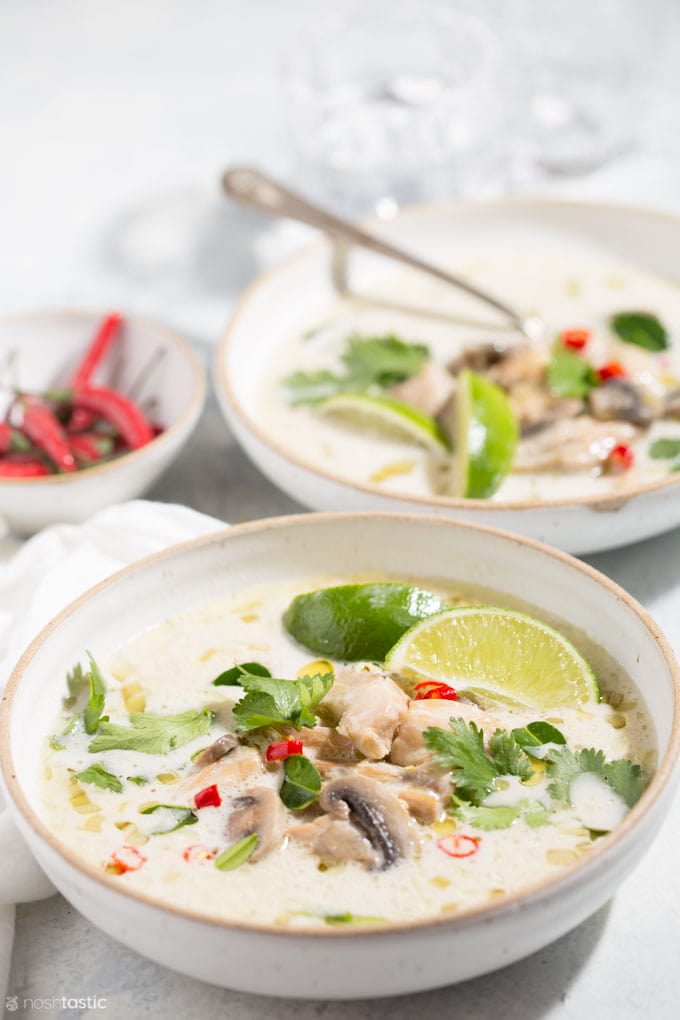 This post contains affiliate links
How to Make Thai Coconut Chicken Soup
I promise this is an easy soup to make! Start by chopping the chicken thighs or chicken breast (I think thighs add more flavor!) into about inch size pieces and then sprinkle with salt and let them sit for about ten to fifteen minutes or so while you prep the rest of the soup.
Next, choose a nice large pan to make your soup in. Add a little oil and heat over a medium to high heat and brown the cut up chicken. You may need to brown it in batches.
Don't be tempted to crowd the pan or you'll end up with steamed chicken!
Lastly add in the chopped shallots and saute them for a couple of minutes.
How to prep the Lemongrass
Lemongrass is wonderfully aromatic and has a unique flavor but if you've never used it before you may not have a clue what to do with it.
Don't panic, it's very easy to work with! Bash the lemongrass stalk (gently!) up and down the length of the stalk once or twice so that it will release the oils and flavors.
Then cut it into longer lengths that are about two to three inches long. Lemongrass has a woody-ish texture and it will not soften as it cooks so most people prefer to remove it before they eat the soup and this is much easier to do if it's in bigger pieces.
Quality chicken broth is a must here, add it to the pan to deglaze all those tasty browned chicken bits from the bottom of the pan then go ahead and add in the chopped chili, galangal (or ginger), kaffir lime leaves, lemongrass and simmer for about ten minutes, then add the mushrooms and full fat coconut milk and simmer for five more minutes
When you are ready to serve you can remove the lemongrass and lime leaves if you prefer, you don't actually eat those, and garnish with a little chopped cilantro.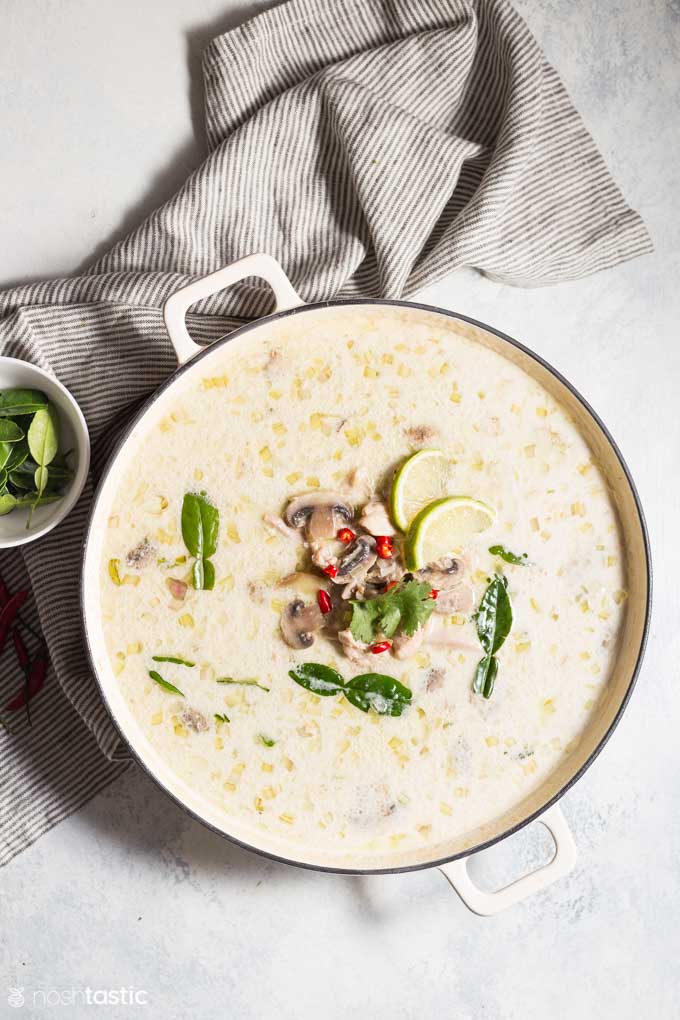 What if I can't find Galangal or Kaffir Lime Leaves?
You can still make this soup, don't worry!
You can substitute the fresh galangal for fresh ginger, and I would simply omit the Kaffir lime leaves if you can't find fresh or frozen leaves. Some people substitute the lime leaves for basil, but the flavors are not the same so I'd just omit altogether if you can't find any.
What is the difference between Tom kha and tom yum soup?
All Thai soups are totally delish, but they are not all the same!
Tom Kha soup is the coconut milk and Thai chicken soup we have here. It can be hot depending on how many chilis you add, and in common with many other Thai recipes it typically contains lemongrass and Kaffir lime leaves and it's quite creamy due to the coconut milk.
Tom Yum soup also contains lemongrass and Kaffir lime leaves, however, it's basically a hot and sour soup and is usually made with shrimp and has no coconut milk.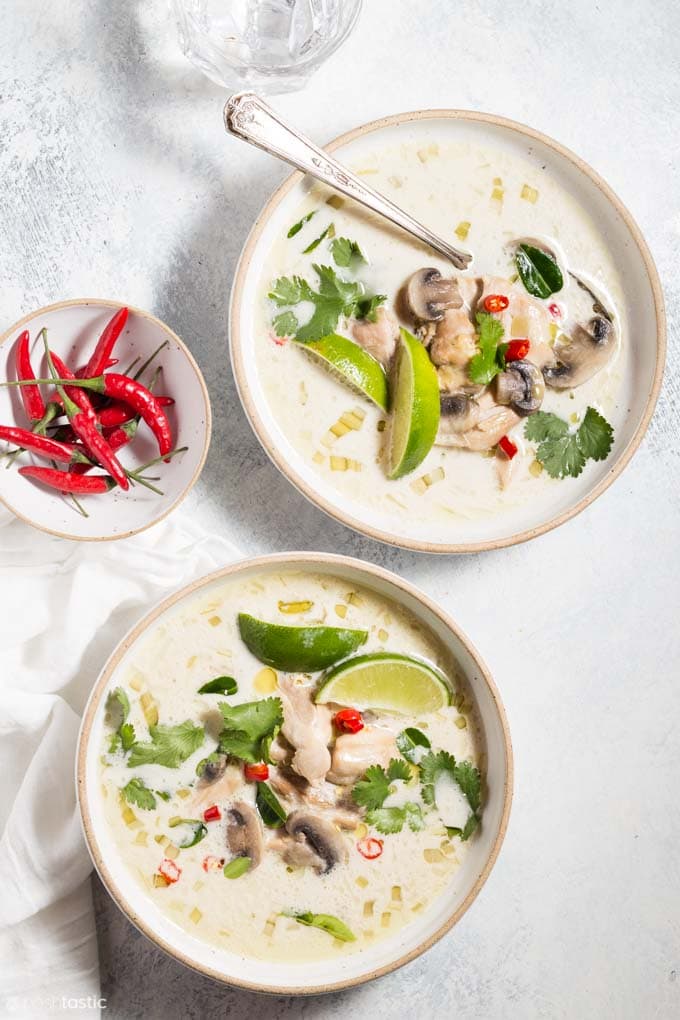 Related Soup Recipes
Thai Coconut Chicken Soup (Tom Kha Gai)
Warming, fresh and delicious, this easy Thai chicken soup is full of flavor and totally delicious.
Prep Time: 20 minutes
Cook Time: 20 minutes
Total Time: 40 minutes
Total Carbs: 8 g
Net Carbs: 8 g
Protein: 14 g
Servings: 6
Ingredients
1 pound chicken thighs , cut into chunks
1 tbsp coconut oil
2 shallots , 50g approx – finely chopped
4 cups homemade chicken broth , 1 liter
1 small thai chili , sliced
6 slices fresh galangal, or root ginger , do not use powered ginger
6 kaffir lime leaves
2 stalks fresh lemongrass , crushed & cut into 2-3 inch lengths
1 cup sliced mushrooms , 80g approx
28 oz full fat canned coconut milk , 414mls
2 tbsp fish sauce
1 tbsp fresh lime juice
cilantro leaves , for garnish
Instructions
Scroll up to watch recipe video!

Cut the chicken thighs into small pieces and season with a little salt and then set aside for 10 – 15 minutes to let the meat absorb the salt.

In a large pan that you'll use for making the soup, brown the chicken thigh pieces in a little oil for a few minutes on all sides, then add the chopped shallots in the last two or three minutes of browning.

Deglaze the pan with the chicken broth and add in the chili, galangal or ginger (use peeled grated root ginger, do not use powdered ginger), kaffir lime leaves, lemongrass and simmer gently for 10 minutes, then add the mushrooms and coconut milk and simmer for five more minutes

Add the fish sauce and fresh lime juice right at the end of cooking.

Remove the galangal and lemongrass before serving, and garnish with cilantro leaves.
Recipe Notes
Galangal – this is a popular root in Thai cuisine with an aromatic flavor. You need to peel and grate it, if you can't find it use root ginger.
Ginger – use only root ginger, this is not interchangeable with powdered ginger that you use in baking. You should be able to find ginger root at any grocery store so just ask if you are not sure. You need to peel it and then grate it.
Carbs per serving – the lemongrass and the sliced ginger combined total about 2-2.5g carbs per serving, however, you're not actually going to eat them (I hope!) as they are typically removed before serving, so that will reduce the carb count per serving from what you see on the nutrition label.
Serving size – is about one cup/ 250mls
Substitutions – If you can't find fresh galangal you can use fresh ginger instead. I would omit the Kaffir lime leaves if you can't find fresh or frozen leaves.
Nutrition Facts
Thai Coconut Chicken Soup (Tom Kha Gai)
Amount Per Serving
Calories 417 Calories from Fat 342
% Daily Value*
Fat 38g58%
Saturated Fat 29g181%
Cholesterol 38mg13%
Sodium 1100mg48%
Potassium 653mg19%
Carbohydrates 8g3%
Sugar 1g1%
Protein 14g28%
Vitamin A 70IU1%
Vitamin C 16.1mg20%
Calcium 48mg5%
Iron 5.8mg32%
* Percent Daily Values are based on a 2000 calorie diet.
Nutritional information on Noshtastic is provided as a courtesy and is approximate only. We cannot guarantee the accuracy of the nutritional information given for any recipe on this site.
Course: Soup
Cuisine: Thai