Easy to make, my Keto Low Carb Hot and Sour Soup is rich, tasty, and full of familiar Asian flavors we love but without all the added carbs!
Coming in at around 5g net carbs per cup, this keto hot and sour soup would make a perfect make ahead lunch!
Quick Tips for Making Keto Low Carb Hot and Sour Soup
Start by prepping your mushrooms.
If you are using dried shitake mushrooms then all you need to do is add the amount you need to a bowl and pour over a little boiling water to cover them and let them soak for about half an hour and then you can remove and slice them.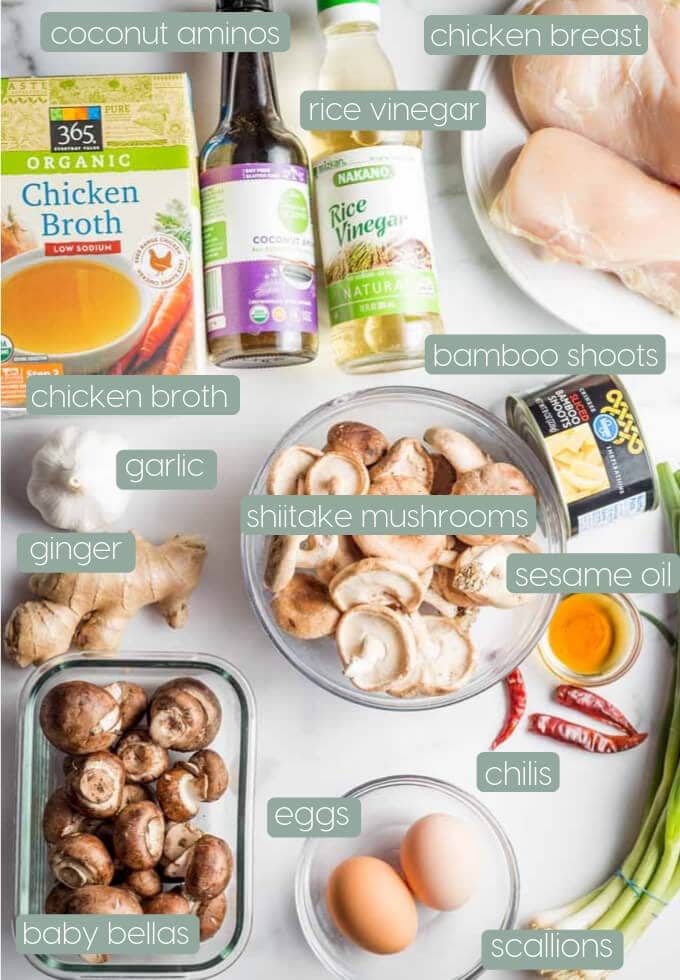 If you have fresh mushrooms them simply clean them off as needed with a dry paper towel and slice them.
I honestly think this soup is SO much tastier with homemade chicken broth. You can make broth really easily on the stove or in your pressure cooker, I have directions for both. As the broth forms the base of the soup you really want broth that is packed full of flavor for a great end result.
Add your chicken broth to a large pan along with the chicken breasts, diced dried red chilis, coconut aminos, fresh ginger, and garlic and let it simmer for around 15 minutes or until the chicken breast is cooked all the way through.
Take out the chicken breast from the broth and shred it with a couple of forks, if it's fully cooked this should be easy to do.
Return the shredded chicken to the soup pot along with the rice vinegar, toasted sesame oil, baby bella mushrooms, shiitake mushrooms, bamboo shoots (sliced), and white pepper and simmer for about five more minutes.
The fun part is adding the egg!
beat the egg in a small bowl or jug and then with one hand stir the hot soup in a circular motion and keep it moving. Then simply pour in the egg in a thin drizzle while the soup is still moving to create the fabulous long egg ribbons that hot and sour soup is known for! If your soup is not swirling around when you add the egg, or if you pour it too fast you'll end up with bigger lumps of cooked eggs.
Serve it hot with thinly sliced scallions on the top.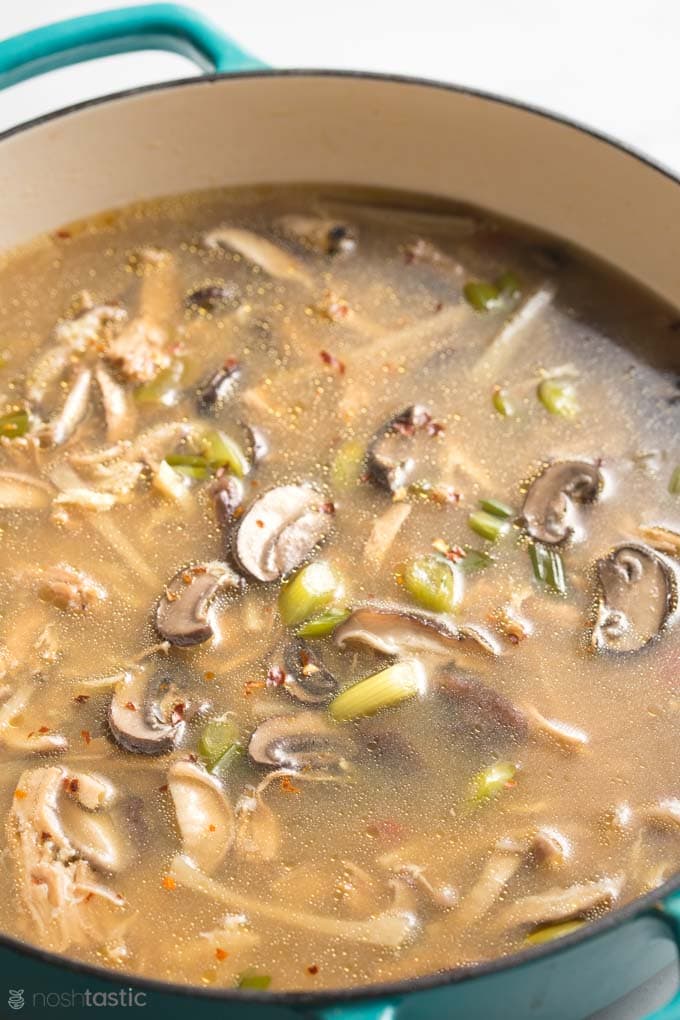 Related Low Carb Soup Recipes
Can I thicken the soup?
Traditionally authentic hot and sour soup is thickened with starch of some sort. However, as this is a low carb version I've chosen to omit starch to keep the carb count lower. 
Some people who are following the Keto diet like to use xanthan gum as a low carb thickener and I've experimented various times with it, and even used very small amounts of it to thicken sauces.
However, I think it tends to create a rather slimy texture (even with small measures) as opposed to actually thickening the soup or sauce, so I prefer not to use it and think this recipe is better without it.
But, if you like it and are familiar with using it like this do feel free to add a little, it's really up to you!
Keto Low Carb Hot and Sour Soup
A low carb remake of a favorite take out soup, quick and easy to make and packed full of flavor!
Prep Time: 20 minutes
Cook Time: 20 minutes
Total Time: 40 minutes
Total Carbs: 5 g
Net Carbs: 5 g
Protein: 15 g
Servings: 8 cups
Ingredients
1.5 cups shiitake mushrooms, sliced , 65g fresh, if dried soak first for 30 minutes
8 cups homemade chicken broth , 1900 mls (approx)
1 lb chicken breast , 454g
2 dried red chilis, diced
3 tbsp coconut aminos , or use low sodium gluten free soy sauce
1 tsp fresh ginger , grated
1 clove garlic , crushed
1/4 cup rice vinegar , or white vinegar
1 tsp toasted sesame oil
6 baby bella mushrooms , 75g – sliced
1/2 cup bamboo shoots , 75g – sliced small
2 eggs , beaten
4 scallions , thinly sliced
½ tsp white pepper
Instructions
Scroll up to watch recipe video!

If using dried shiitake mushrooms pour over boiling water and let stand for at for 30 minutes. Drain the liquid, and then slice thinly and set aside.

Into a large pot add the homemade chicken broth (for best results use homemade), whole chicken breast, two dried red chilis(finely diced), coconut aminos, fresh ginger, and garlic

Simmer for 10-15 minutes or until chicken breast is just cooked. Then remove it from the pot and shred it with two forks.

Add the rice vinegar, toasted sesame oil, baby bella mushrooms, sliced shitake mushrooms, sliced bamboo shoots, white pepper, along with the cooked shredded chicken into the pot. Simmer gently for five more minutes.

At the end of the cook time stir the soup well and while the hot soup is still moving in the pan, add the beaten eggs in a drizzle to the pot to create egg ribbons in the soup.

Serve hot garnished with thinly sliced scallions
Recipe Notes
Thicker soup – As this is a low carb soup I have not added the usual starch thickener. Xanthan gum is a somewhat popular low carb and keto thickener alternative but I think the texture it creates is undesirable in a recipe like this (more slimy than thick) so I've opted not to use it and simply left the soup un-thickened.
Red Chilis – the authentic version uses dried red chilis which you can find at any Asian grocery store, red pepper flakes are a good alternative. 
Shitake Mushrooms – if you can't find them simply use more fresh baby bellas instead.
Nutrients – makes about 8 cups of soup, one cup serving per person. 
Nutrition Facts
Keto Low Carb Hot and Sour Soup
Amount Per Serving
Calories 119 Calories from Fat 27
% Daily Value*
Fat 3g5%
Cholesterol 77mg26%
Sodium 1073mg47%
Potassium 565mg16%
Carbohydrates 5g2%
Sugar 1g1%
Protein 15g30%
Vitamin A 245IU5%
Vitamin C 34.7mg42%
Calcium 32mg3%
Iron 1.2mg7%
* Percent Daily Values are based on a 2000 calorie diet.
Nutritional information on Noshtastic is provided as a courtesy and is approximate only. We cannot guarantee the accuracy of the nutritional information given for any recipe on this site.
Course: Soup
Cuisine: Chinese