My Best BBQ Baked Beans with Beef is one of my families favorite recipes this year, it's been a huge hit!
This recipe has been the surprise hit of the summer with my children. Usually they are not overly enthusiastic about beans of any kind, but they loved this recipe!
Well I totally underestimated how popular it would be and I failed to make enough the first time around.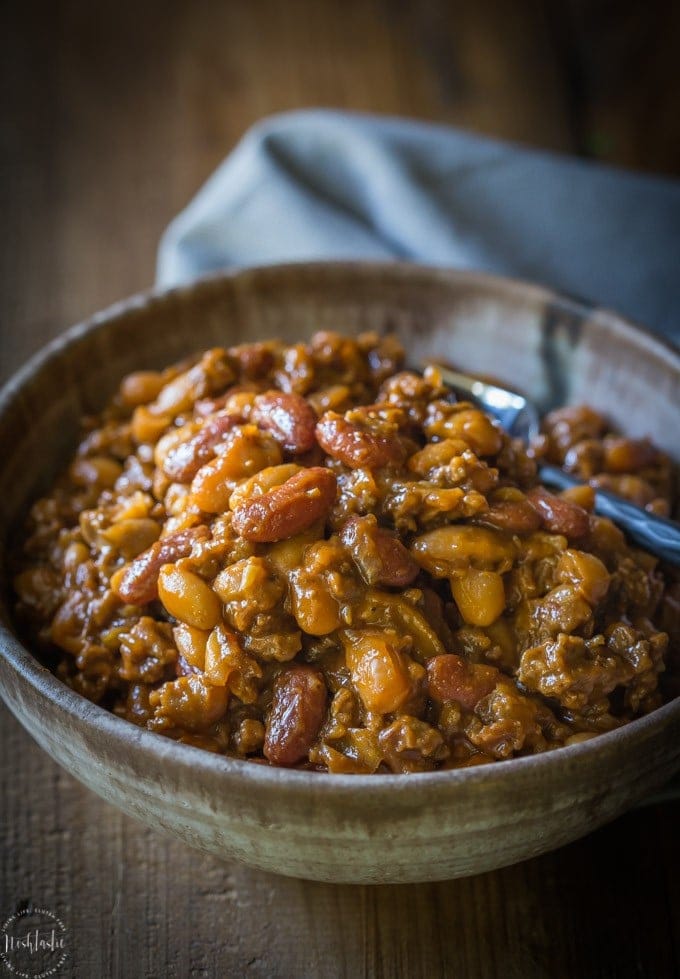 I don't want to give the impression that is doesn't make very many portions. This recipe actually makes a pretty big pot of beans but when everyone decided they wanted seconds, and some even had thirds, it was gone in a flash.
I like to use lean ground beef for most recipes that call for ground beef as I hate to pour off the water and fat, I think you lose a lot of flavor in doing that.
But of course you can go ahead and drain the excess liquid off if that's what you normally do.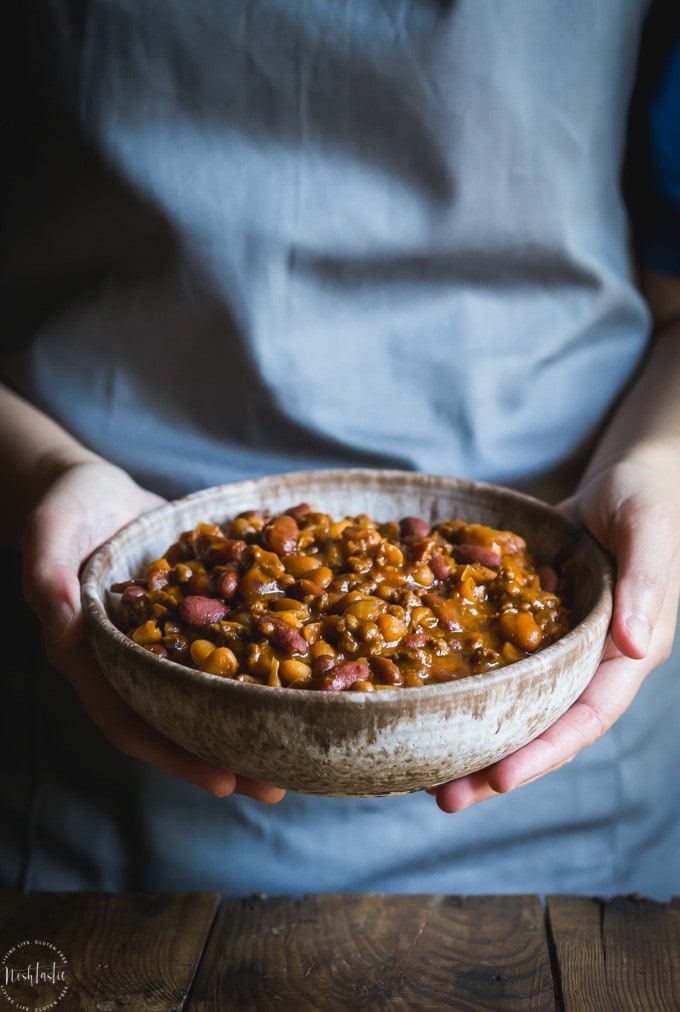 I wanted a recipe that didn't involve soaking beans and all that preplanning. I aspire to be that mom who is super organised and plans ahead of time, soaking beans and all that good stuff.
The truth is I'm just not there yet so working with canned baked beans will have to suffice for the moment.
I think if you can use a really nice gluten free BBQ sauce in this recipe it will make all the difference to the final flavor rather than using a cheapest one you can find.
There are several options for good gluten free BBQ sauces, we really like Stubbs brand and it's usually pretty easy to find in our local grocery store. If you can't get it locally you can click the Amazon Link above to buy it there.
If you can't find molasses then you could substitute dark brown sugar instead, that will work almost as well.
You can change up the type of beans listed in the recipe for some others if you prefer, these are simply my favorite types to use. As I mentioned already this recipe makes a fairly large pot of beans which will keep in the fridge for a couple of days if your family doesn't eat it all at once!
It's hearty enough to serve as a meal in itself with all that ground beef in it, but it also goes well as a side dish with pulled pork. If you're looking for a soup course to serve before it, then this Broccoli Cheese Soup from Wholesome Yum would work really well!
This post may contain Amazon affiliate links
Here are a few more of my recipes you may enjoy,  you can find my full Recipe Index here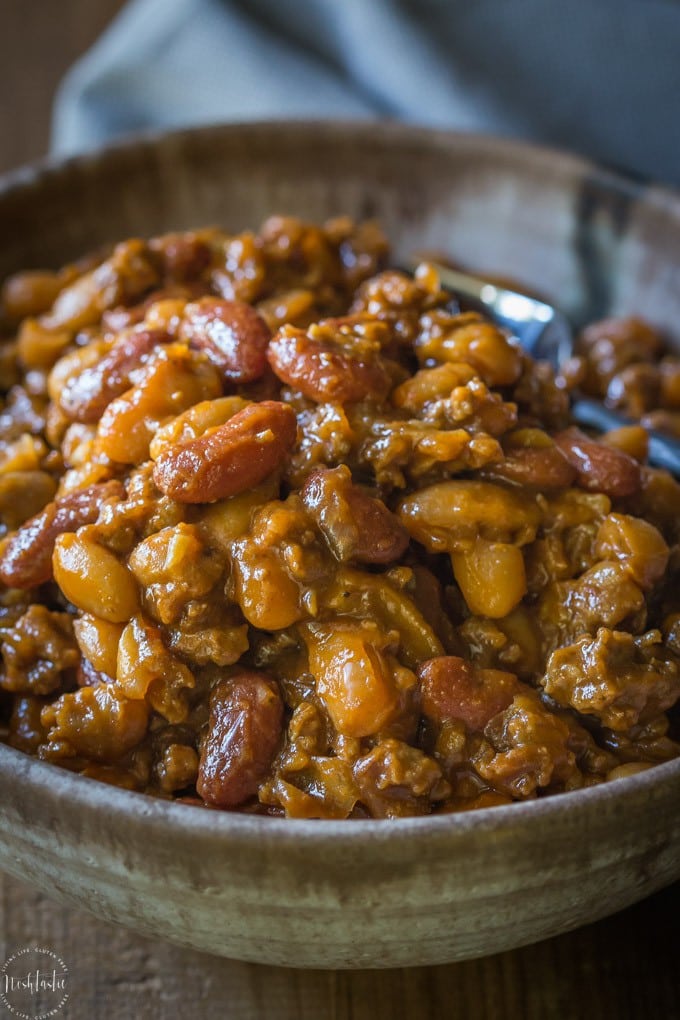 Cowboy baked beans
My Best BBQ Baked Beans with Beef is one of my families favorite recipes this year, it's been a huge hit!
Prep Time: 10 minutes
Cook Time: 1 hour 10 minutes
Total Time: 1 hour 20 minutes
Total Carbs: 70 g
Protein: 32 g
Servings: 6
Ingredients
1 lb lean ground beef , 453g
4 slices bacon , chopped
1 small onion , chopped
1 tablespoon gluten free Worcestershire sauce
1/4 cup brown sugar
1/4 cup molasses
1 tbsp yellow mustard
1/2 ccup gluten free barbecue sauce
1/4 tsp ancho chili powder
1 16 oz can kidney beans , drained
1 16 oz can cannellini beans , drained
1 16 oz can great northern beans , drained
Instructions
I use lean ground beef for this recipe so I don't pour off any liquid or fat from it after it's cooked as I think you lose some flavor that way. If you have ground beef with a high fat content you may prefer to cook the ground beef on it's own first and then drain the fat, it's up to you.

Cook the lean ground beef, bacon pieces, and chopped onion in a dutch oven until the beef and bacon are cooked, about 7- 10 minutes.

Add remaining ingredients and stir well.

cover and bake at 350 degrees for 1 hour, serve hot.

Please watch the recipe video first! it's right below the directions.
Nutrition Facts
Cowboy baked beans
Amount Per Serving
Calories 494 Calories from Fat 90
% Daily Value*
Fat 10g15%
Saturated Fat 3g19%
Cholesterol 56mg19%
Sodium 816mg35%
Potassium 1075mg31%
Carbohydrates 70g23%
Fiber 11g46%
Sugar 29g32%
Protein 32g64%
Vitamin A 80IU2%
Vitamin C 3.5mg4%
Calcium 166mg17%
Iron 6.7mg37%
* Percent Daily Values are based on a 2000 calorie diet.
Nutritional information on Noshtastic is provided as a courtesy and is approximate only. We cannot guarantee the accuracy of the nutritional information given for any recipe on this site.