Instant Pot Short Ribs with Red Wine Sauce is the most flavorful, fall apart tender beef recipe I've had in a very long time! As always it's a gluten free recipe, and can be slightly adapted (see my recipe notes) to make it Keto and low carb compliant.
The red wine sauce is amazingly rich and flavorful, and the beauty of it all is that your pressure cooker does all the work while you put your feet up! It cooks in a fraction of the time it would take in the oven and the end result is amazing.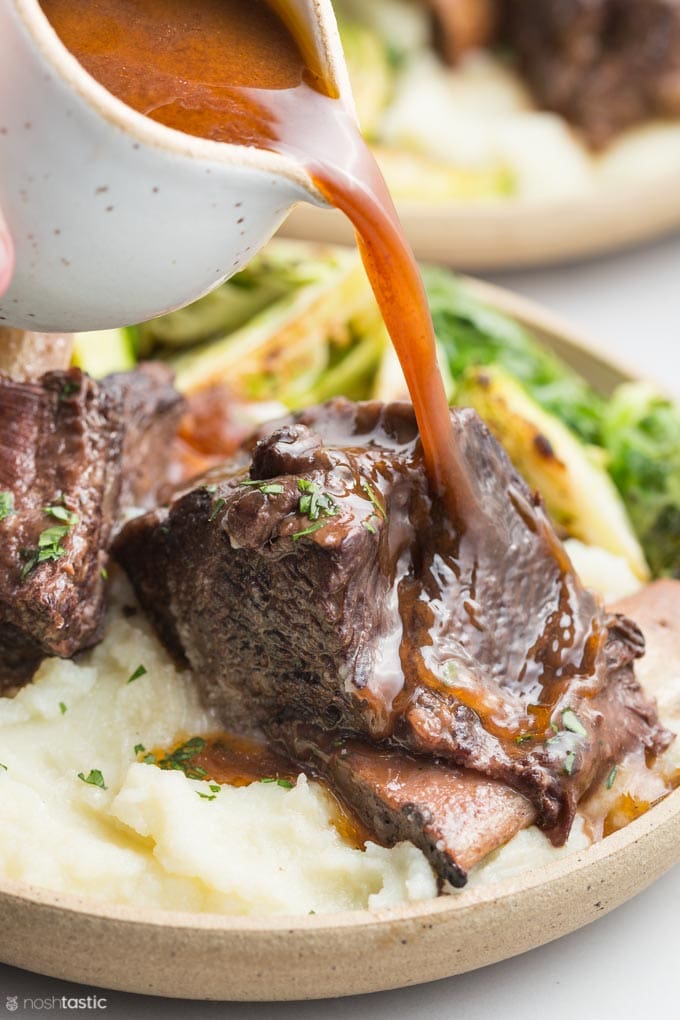 Instant Pot Short Ribs – the best way to make them
Last year we were in New York City and I was treated to the most fabulous beef short ribs cooked in a red wine sauce, and I set about recreating a similar recipe when I got home, and this is it!
Don't be intimidated by this recipe, it's very easy to throw together and the technique of cooking it is very straightforward and your pressure cooker does it all, it's effortless.
this post contains affiliate links
Start with the best ingredients!
Red Wine – you don't need an expensive bottle of wine, I paid $3 or $4 for a bottle and used about half of it, any dry red wine will do and don't spend loads of money on it! But while I'm here let me make a plea for you to never use 'cooking wine'. I don't mean real cooking wines such as Marsala or Sherry, I mean the kind of cooking wine you get in the grocery store that has added salt and preservatives, it's best avoided.
Beef Short Ribs – the type of short ribs I have for this recipe are about 2 inches thick and up to 4inch square, on average. They are not cheap to buy, so this is very much a treat in our house but so worth it!
Vegetables – so unlike the ribs and the red wine where you want them to be nice quality, you can actually use onions, celery and carrots that are past their best and languishing in the bottom drawer of your fridge, this is a great way to use them up! As they are essentially there to add flavor to the sauce it doesn't matter if they are not super fresh.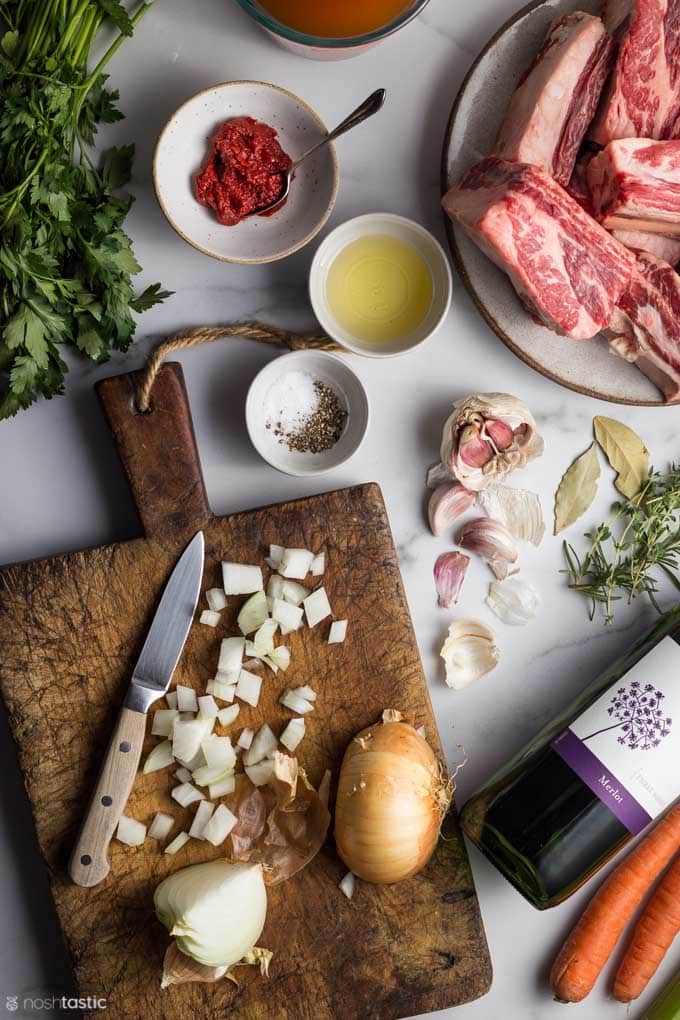 Brown those Ribs!
Although I have an Instant Pot and it does have a saute function I don't think it works well if there's any possibility of the food sticking to the pot and with my expensive beef short ribs I certainly don't want to be ripping them off the base of my pressure cooker!
My preference is to brown them in my trusty cast iron skillet instead and then simply deglaze the pan with a little beef broth before adding it into the pressure cooker later.
My tips for browning beef are simple: don't crowd the pan, don't rush it, and don't forget to brown the beef on all sides for maximum flavor.
Once the meat is evenly browned simply remove it and set aside, then fully deglaze the pan over a low – medium heat with a little of the beef broth.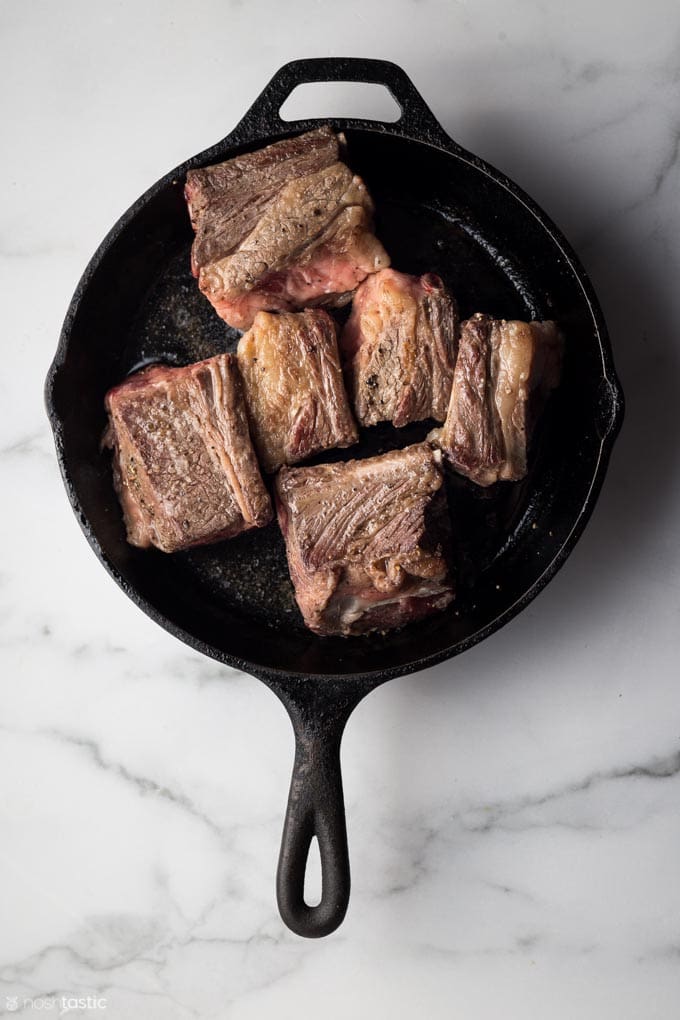 Add the Vegetables..
Chop up the carrots (omit if you are making this low carb/keto) onions and celery into small pieces, then turn on the saute function in your Instant Pot or other electric pressure cooker and add a little oil, then add you chopped veggies and garlic and saute for about three to four minutes or so.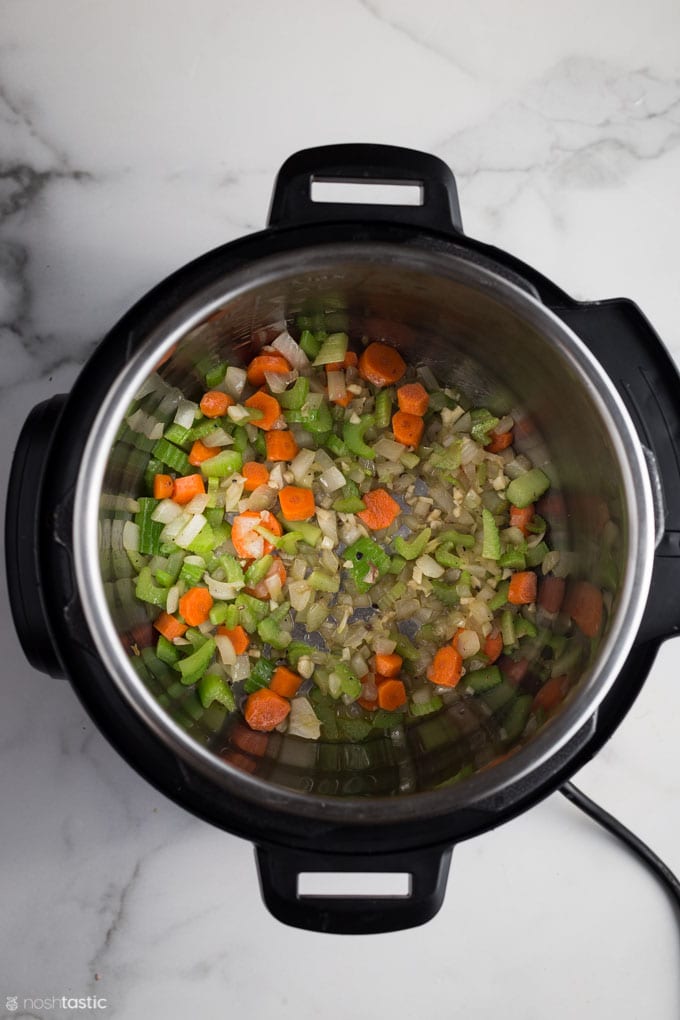 Then Pour in the Wine..
All you need to do now is add in the deglazed beef broth from your skillet along with the red wine, rosemary, thyme, bay leaves, parsley, and tomato paste and place the beef short ribs back in to the pot (see photo below) and place the lid on.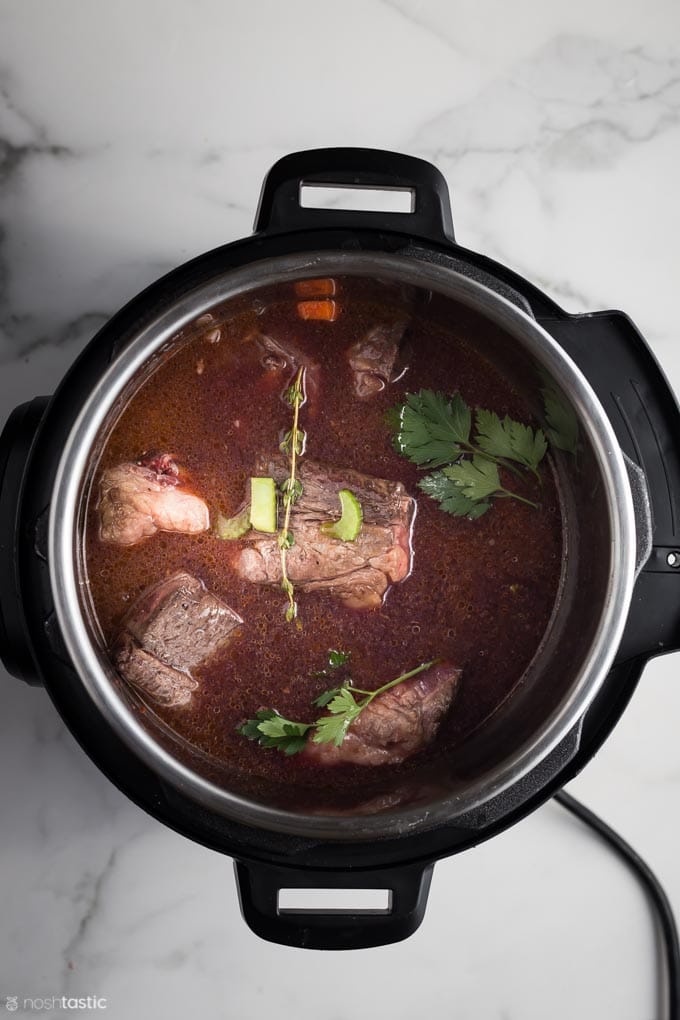 How long does it take to pressure cook beef short ribs?
Short ribs are quite chunky and if you were cooking them in the oven at a low temperature they would take up to three hours.
To pressure cook them until they are fork tender, but not overcooked, will take about 40 minutes at pressure with an additional 15 minute wait ('natural pressure release') to allow the pressure to drop before you open the lid.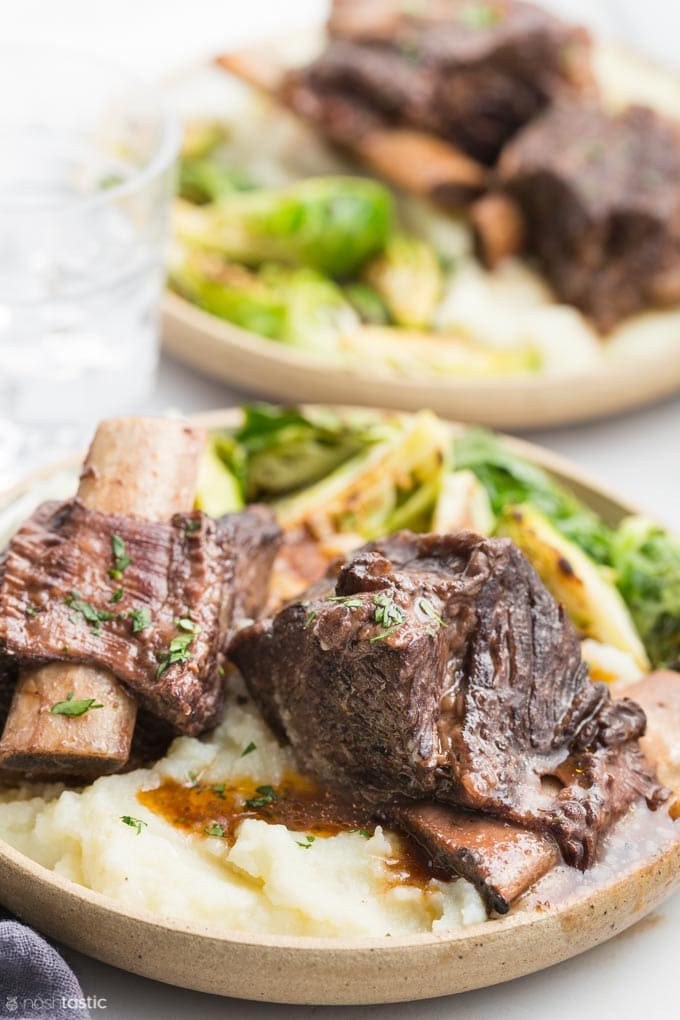 Beef Short Ribs – More Quick Tips
Serving size – I allow two ribs per person, so pick generous sized ribs from the butcher counter that are nicely marbelled with fat, but not all fat or your peeps will be complaining! My crew would easily eat more than two ribs, but we'd be broke if they had more, so two ribs it is!
The fat – This is crucial for the taste and texture, but when it cooks a LOT of fat will render out into the sauce. Don't panic! you can simply skim it off the top. If you are making it a day ahead you can chill the sauce in the fridge and lift the hardened fat off the top.
Cook time – the time it takes to pressure cook meat depends more on the thickness of the meat rather than the weight. So if your ribs are thinner than mine (mine are about 2 inches thick) then you'd need to reduce the cook time a tad, and same applies regarding increasing the cook time if they are much thicker.
Make ahead – this is a perfect make ahead dish, the flavor of the sauce will only improve if left overnight. To reheat I simply add the meat and sauce to a pan and warm over a low heat with the lid on (do NOT boil the sauce!) until the meat is warmed through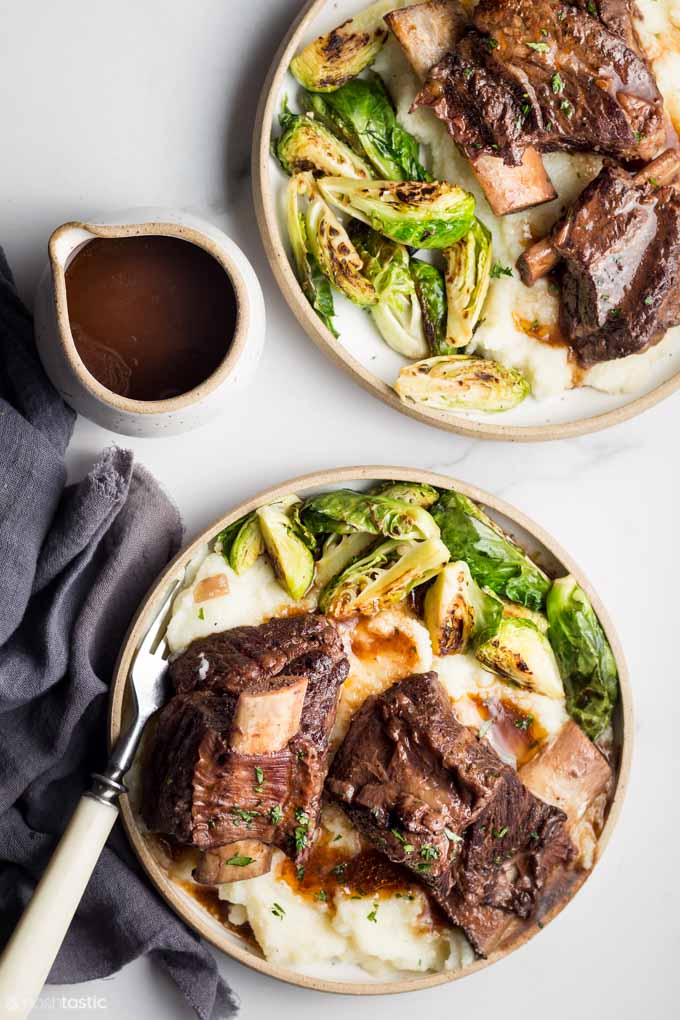 Sides to Go with Instant Pot Short Ribs
If you take a close look at the photos you can see I've served this over Cauliflower Mashed Potatoes and with a simple side of sautéed Brussels sprouts, it was a perfect low carb match!
It would also be delicious served over sweet potatoes, did you know you can make them in your Instant Pot too?
My husband loves these Balsamic Brussels sprouts with bacon and we often make them if we have guests as they go with so many dishes and they are great with the short ribs, a great flavor combo!
Parmesan Asparagus couldn't be simpler to make. My tip would be to have your asparagus ready to go and the oven preheated and then when the ribs are cooked, but ten minutes before you open the lid, pop them in the oven and they will be ready to serve at the same time.
Instant Pot Short Ribs in Red Wine Gravy
The best way to cook beef short ribs is in your Instant Pot or pressure cooker. My beef short ribs recipe is made with a rich red wine gravy and served over cauliflower mash.
Prep Time: 20 minutes
Cook Time: 40 minutes
Natural Pressure Release: 15 mins
Total Time: 1 hour 15 minutes
Total Carbs: 13 g
Protein: 4 g
Servings: 4
Ingredients
8 bone-in beef short ribs , 2-inch pieces
1 tsp salt
1 tsp ground black pepper
2 cups gluten free beef broth (low sodium)
1 cup onion , peeled, and finely chopped
2 carrots , peeled, and finely chopped
2 celery stalks , cut into thin slices
2 tsp garlic
2 cups dry red wine , preferably Cabernet Sauvignon
2 tbsp tomato paste
2 sprig thyme
1 sprig rosemary
2 sprigs parsley
Instructions
Season the beef short ribs evenly on all sides with salt and pepper.

Brown the ribs over a medium high heat in a cast iron skillet using a little olive oil if needed (or using the saute function on your pressure cooker) to get them brown on all sides, you may need to do this in batches. If you used a skillet instead of your pressure cooker you will need to deglaze that pan with some beef broth, then simply add that deglazed liquid to the pressure cooker after the vegetables are sauteed.

Saute the onions, carrots, celery, and garlic for two to three minutes by using the saute function in your Instant Pot (see photo in post) When done turn off the saute function in the pressure cooker.

Add the beef broth, red wine, and tomato paste to pot with the vegetables and deglaze the pot to ensure that the bottom of the pot is clean. (If you used a skillet, add the already deglazed beef broth from the earlier step)

Add back the short ribs along with the bay leaves, rosemary, and thyme and parsley.

Lock the lid, turn the steam vent to 'sealing' and using the 'manual' or 'pressure cook' button. Adjust it to cook for 40 minutes at high pressure then let it do a natural pressure release for 15 minutes.

Release any remaining pressure and open the lid and remove the beef ribs carefully from the sauce so that the meat stays on the bone and cover with foil to keep warm.

Strain the herbs and vegetables out of the sauce and skim some of the fat off the top, then simmer using the saute setting for five minutes or so to reduce the sauce.
Keto and Low Carb Instant Pot Short Ribs
To reduce the carbs omit the carrots completely and use only half a cup of onions (85g) see recipe notes for macros per serving.
Recipe Notes
Low Carb Nutrition - For low carb option omit carrots and reduce onions to  1/2 cup, makes 10g carbs / 8g net carbs, this amount is calculated to include all the vegetables (except carrots and only half the onion) and herbs listed, however, we are not actually eating any of the herbs and the onions and celery will be strained out though I'm sure some of the carbohydrates from them will have found their way into the sauce. If you don't count the carbs from the herbs or the veggies it is 5g carbs per serving, and 4g net carbs per serving. 
Red Wine - A cheap dry red wine such as a cabaret sauvignon or merlot is best, but please oh please don't ever use 'cooking wine'! It will make your sauce taste terrible and has added preservatives and salt which is not what we want here!
alcohol substitute - it's best just to omit the wine and add in about 1/2 - 1 cup extra low sodium beef broth instead, but it will not taste the same. 
Low Sodium Beef Broth - depending on the brand you might find that some beef broths are very salty, so I usually opt for a low sodium version for this recipe as we are reducing the sauce which will concentrate the flavor and may make it too salty if the broth is not low sodium.
Herbs - you can replace the herbs with dried if you can't access fresh herbs, but if you can find a small bit of fresh rosemary this will really transform the flavor of the sauce!
Nutrition Facts
Instant Pot Short Ribs in Red Wine Gravy
Amount Per Serving
Calories 240 Calories from Fat 99
% Daily Value*
Fat 11g17%
Saturated Fat 8g50%
Cholesterol 1mg0%
Sodium 905mg39%
Potassium 529mg15%
Carbohydrates 13g4%
Fiber 2g8%
Sugar 4g4%
Protein 4g8%
Vitamin A 5330IU107%
Vitamin C 8.3mg10%
Calcium 33mg3%
Iron 0.6mg3%
* Percent Daily Values are based on a 2000 calorie diet.
Nutritional information on Noshtastic is provided as a courtesy and is approximate only. We cannot guarantee the accuracy of the nutritional information given for any recipe on this site.
Course: Main Course
Cuisine: American