Gluten Free Brownies really are the easiest gluten free baking recipe to make at home from scratch, whether you are new to gluten free baking or a veteran baker this recipe is for you!
Forget the gluten free brownie box mixes, my from scratch brownies are fudgy, chewy, and utterly delicious!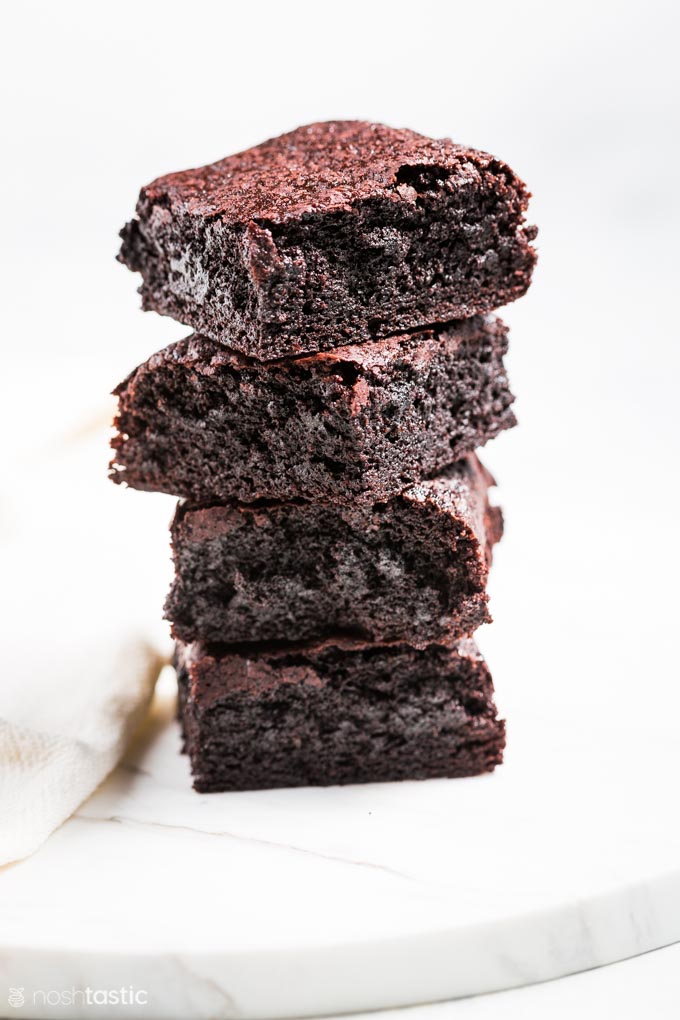 This post contains affiliate links
How to Make the Easiest Gluten Free Brownies ever!
I promise that this is a winning fudgy gluten free brownie recipe! I've tested and tweaked it multiple times and the end result is fantastic. There are no complex steps or fussy ingredients so let me show you how to make them!
Start by preheating the oven and then carefully measuring out all your ingredients. I like to sift the cocoa powder to ensure that there are zero lumps in the brownie batter.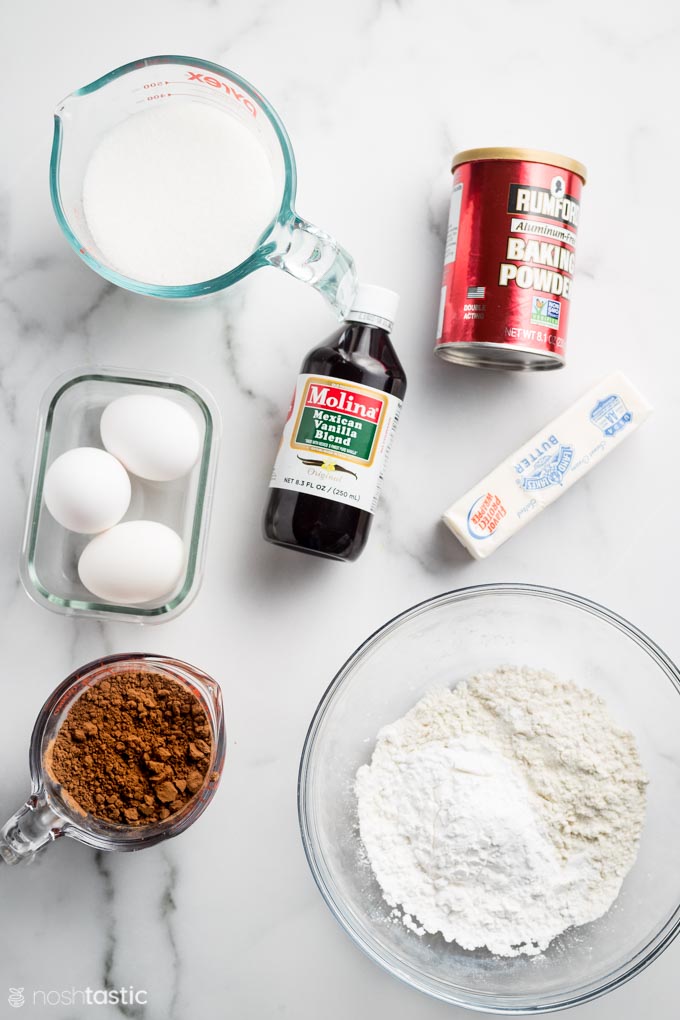 In order to get a gorgeous glossy top on your gluten free brownies then you'll need to melt the butter and sugar together first, and guess what?! This works just as well with dairy free margarine too!
Once you've done that simply let it cool for a few minutes and add it to a bowl. Then beat the eggs and vanilla and whisk it all in together with the butter sugar mixture and add the sifted cocoa powder and whisk it up until you get the mixture nice and glossy.
Carefully measure the brown rice flour, tapioca starch, potato starch, xanthan gum, and baking powder, then add them into the chocolate mixture.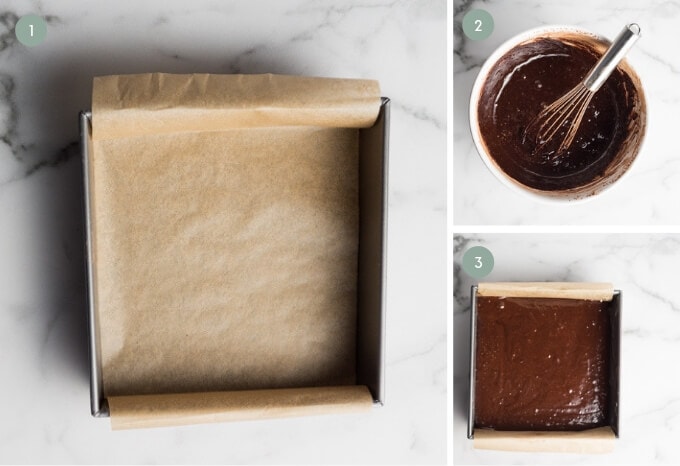 Line an 8×8 inch pan with parchment paper (see photo above) and grease the other sides of the pan and then pour in your gluten free brownie batter mixture and spread it out evenly.
Bake it for about 20 minutes and check to see if it is done enough, actual oven temps can vary so you'll need to check yours.
Once it's cooked I'd advice leaving it to cool for at least twenty more minutes before you attempt to cut it. You can eat it hot but you'll probably need a spoon!
Dairy Free Brownie Option
If you can't eat dairy then you can really easily substitute the butter in this recipe for an alternative such as Earth Balance margarine for US readers, or Pure Dairy Free spread if you are in the UK.
If you can't find either of those ingredients then you could try using melted coconut oil instead.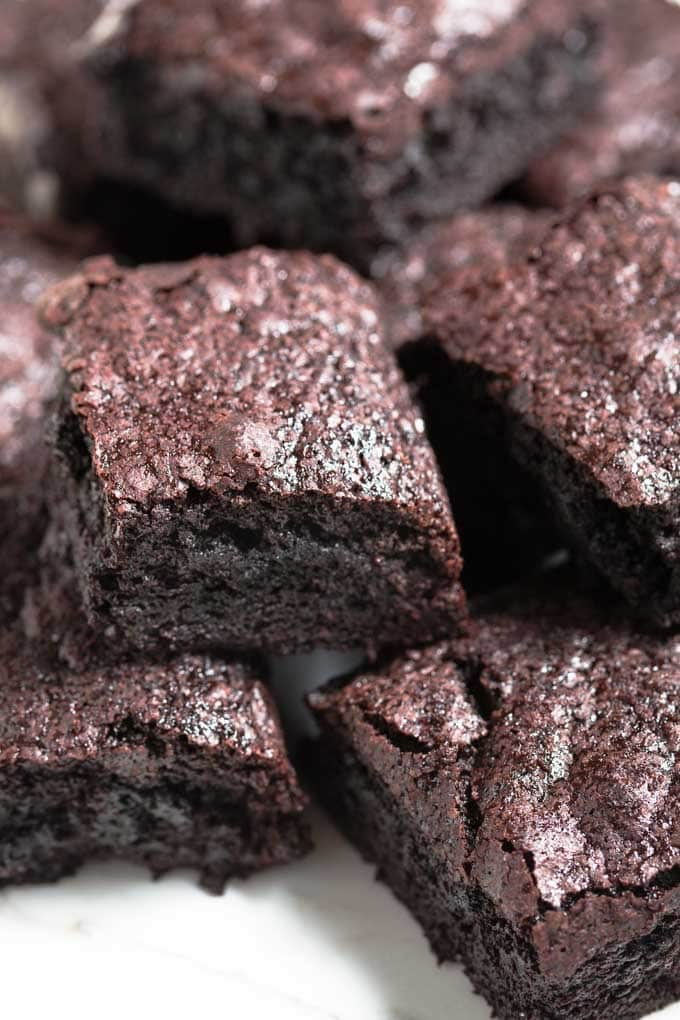 More Gluten Free Baking Recipes
Gluten Free Brownies
Easy Gluten Free Brownie Recipes
Prep Time: 15 minutes
Cook Time: 20 minutes
Total Time: 35 minutes
Total Carbs: 24 g
Protein: 2 g
Servings: 16 pieces
Instructions
Scroll up to watch the recipe video!

Preheat your oven to 350°F

Melt the butter and sugar over a low heat for a couple of minutes, stirring, until the sugar dissolves, do not boil the mixture!

Pour the butter and sugar mixture into a mixing bowl and let cool for three minutes.

Add the vanilla extract to the eggs and beat together, then add to the butter sugar mixture along with the sieved cocoa powder and whisk until shiny.

Measure and mix the gluten free flours,

xanthan gum

, baking powder, then mix into the chocolate mixture.

Pour the batter into the parchment lined pan and use a spatula to evenly spread it out.

Bake the brownies for 20 -25 minutes. You'll need to check them for doneness after 20 minutes as oven temperatures vary.

Allow the brownies to cool for at least 20 minutes before cutting them.
Recipe Notes
Dairy Free Option – I made this with Earth Balance vegan butter, it worked perfectly. Not all dairy free margarines are suitable for baking (especially the 'diet' versions) so ensure that you use one that is.
Gluten Free Flour Substitutions – For brown rice flour you can sub white rice flour or sorghum. For tapioca or potato starch subs you can try cornstarch or arrowroot. I have not tested the recipe with alternative gluten free flours so the outcome may vary depending on what you use. 
Cakey Brownies – If you want more cakey brownies increase the brown rice flour to 1/3 cup and add 1 tbsp more of another starchy flour and simply bake them a little longer.
Storage – they will keep for a couple of days in an airtight container, you do not need to refrigerate. They can also be frozen.
Nutrition Facts
Gluten Free Brownies
Amount Per Serving
Calories 109 Calories from Fat 9
% Daily Value*
Fat 1g2%
Saturated Fat 1g6%
Cholesterol 31mg10%
Sodium 17mg1%
Potassium 106mg3%
Carbohydrates 24g8%
Fiber 2g8%
Sugar 19g21%
Protein 2g4%
Vitamin A 45IU1%
Calcium 17mg2%
Iron 0.8mg4%
* Percent Daily Values are based on a 2000 calorie diet.
Nutritional information on Noshtastic is provided as a courtesy and is approximate only. We cannot guarantee the accuracy of the nutritional information given for any recipe on this site.
Course: Dessert
Cuisine: American