My Air Fryer Chicken breast recipe is your new favorite way to cook chicken! It's quick, easy, and can be used for a variety of meals including cold cuts for lunch, or eat it hot for dinner!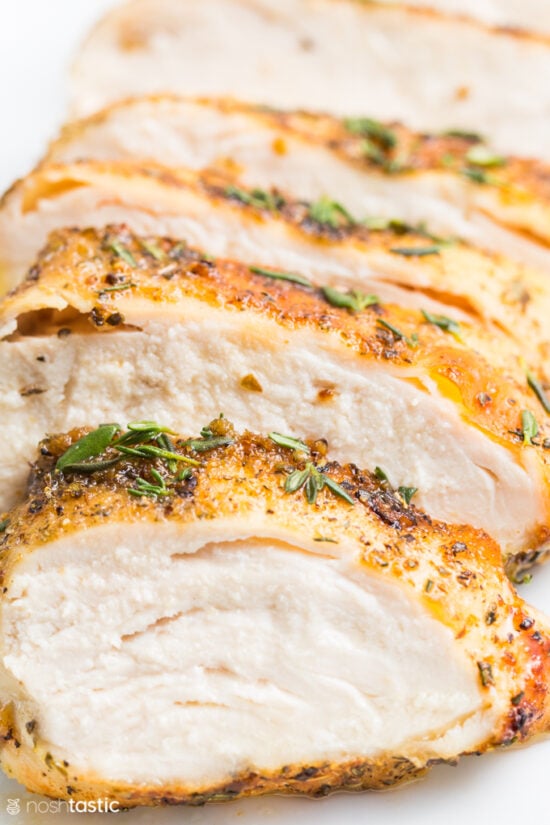 How to Cook Air Fryer Chicken Breasts
Step 1 – Start by preheating your Air Fryer to 350°F
Then, take the chicken breast and cover the top in cling wrap and pound gently (don't go crazy!) the thicker end of the chicken breast with the flat end of a meat mallet. If you don't have a mallet a rolling pin works well too.
this post contains affiliate links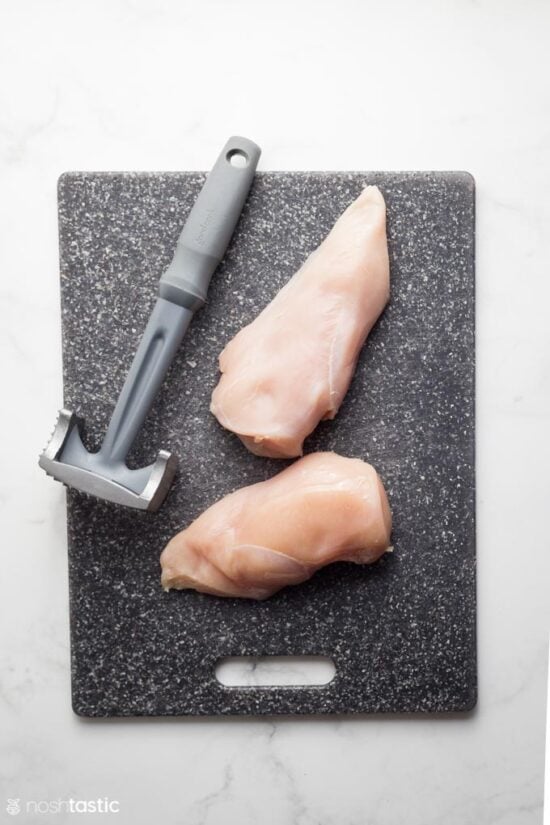 Step 2 – Mix together the oregano, rosemary, onion powder, salt, and pepper to make your poultry seasoning.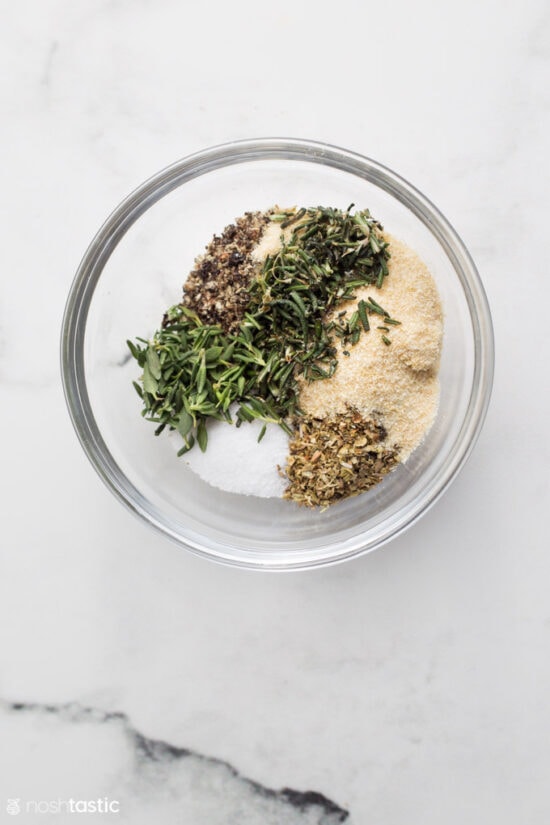 Step 3 – Sprinkle the poultry seasoning evenly over both sides of the chicken breasts, you may not need it all.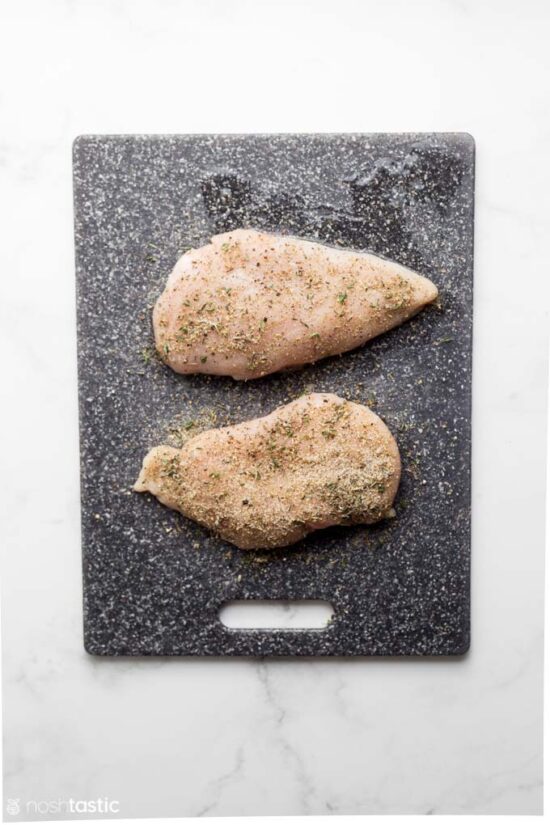 Step 4 – Add the seasoned chicken to your preheated Air Fryer basket in a single layer, do not stack the chicken or it will not cook evenly.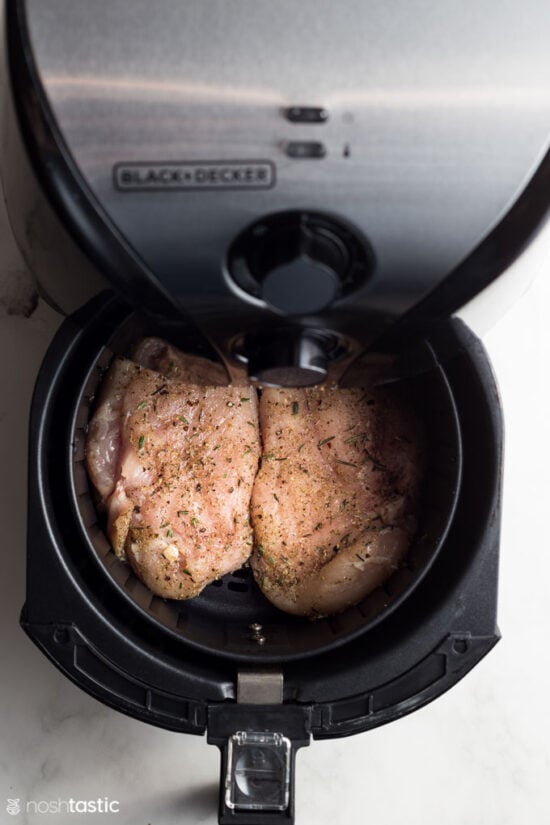 Step 5 – Cook for 18- 20 minutes or until the chicken is fully cooked, we use a digital thermometer to check it.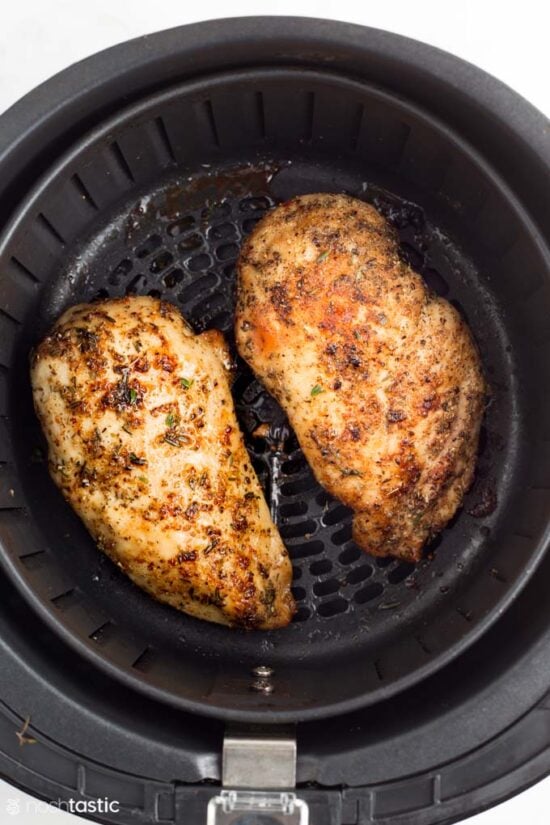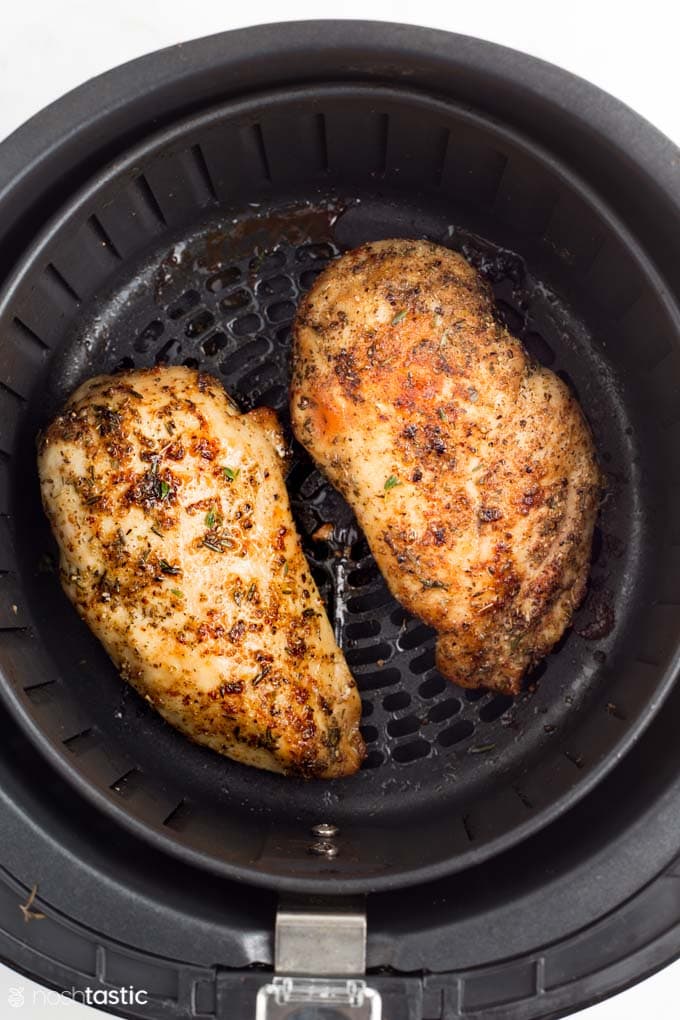 Air Fryer Chicken FAQ's
Can I make it ahead? Yes, this is a great recipe to make if you want cold sliced chicken later on, it's perfect for sandwiches.
How long will it keep? You can keep the cooked chicken for about 3-4 days in the fridge.
Can I Freeze it? Yes, you can freeze it in an airtight container for up to four months.
How do I reheat it? You can use the microwave on the reheat setting, or use a lower heat on your air fryer to warm it through.
What can I serve with my Air Fried Chicken? My boys love to eat it with Potato Salad, but my favorite is with Cauliflower mashed potatoes.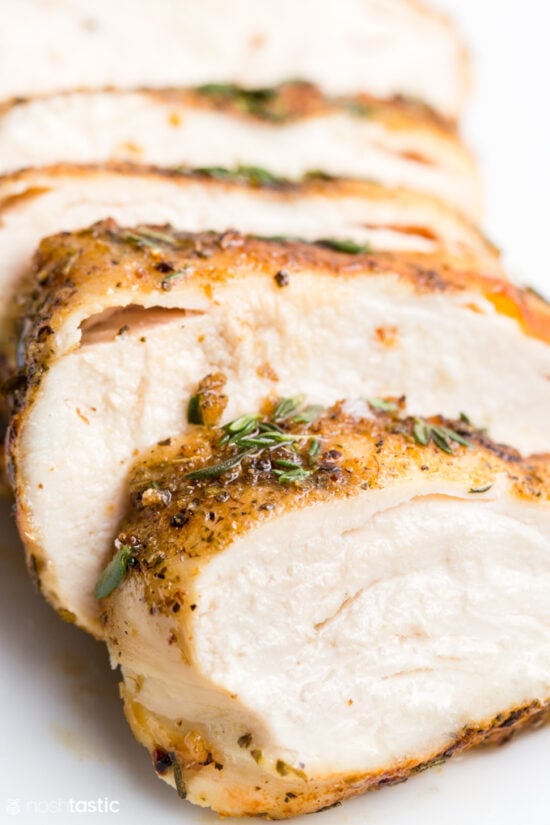 Related Air Fryer Recipes
Air Fryer Chicken Breast
Learn how to cook flavorful tender chicken breast in your air fryer
Prep Time: 5 minutes
Cook Time: 20 minutes
Total Time: 25 minutes
Total Carbs: 1 g
Protein: 27 g
Servings: 4 servings
Ingredients
Air Fried Chicken Breast
2 large skinless chicken breasts , approx. 9oz / 275g each
Instructions
How to Air Fry Chicken Breasts
Place the chicken breast on a cutting board and cover the top with cling wrap.

Using a meat mallet (smooth end) or a rolling pin gently pound the fat end of the chicken breast to get a more even thickness of about 1.5 inches.

Mix the poultry seasoning ingredients together and apply evenly to all sides of the chicken, you may not need all the seasoning.

Bake chicken breasts in a single layer for up to 20 minutes for a 9oz/ 275g chicken breast that is about 1.5inch thick.

Exact cook time may vary depending on the model of your air fryer and the size of the chicken. It should be cooked to an internal temperature of 165°F, you can check it using a digital thermometer.
Recipe Notes
Serving Size – is 4.5 ounces, which is about half of a large chicken breast. 
Cooking Time – I cooked a 275g/ 9.7oz  chicken breast and I cooked it for 20 minutes, it was pounded to an even thickness of about 1- 1.5inches. All Air Fryers are a bit different so the exact timing may vary. You will need to test the chicken for doneness, I prefer to use a digital thermometer. 
Make Ahead – makes great deli meat for sandwiches. We cook it ahead and slice it cold.
Storage – will keep for 3-4 days in the fridge, can be frozen in an airtight container for up to four months.
Nutrition Facts
Air Fryer Chicken Breast
Amount Per Serving (4.5 oz)
Calories 149 Calories from Fat 27
% Daily Value*
Fat 3g5%
Saturated Fat 1g6%
Cholesterol 82mg27%
Sodium 439mg19%
Potassium 472mg13%
Carbohydrates 1g0%
Fiber 1g4%
Sugar 1g1%
Protein 27g54%
Vitamin A 38IU1%
Vitamin C 2mg2%
Calcium 10mg1%
Iron 1mg6%
* Percent Daily Values are based on a 2000 calorie diet.
Nutritional information on Noshtastic is provided as a courtesy and is approximate only. We cannot guarantee the accuracy of the nutritional information given for any recipe on this site.
Course: Main Course
Cuisine: American