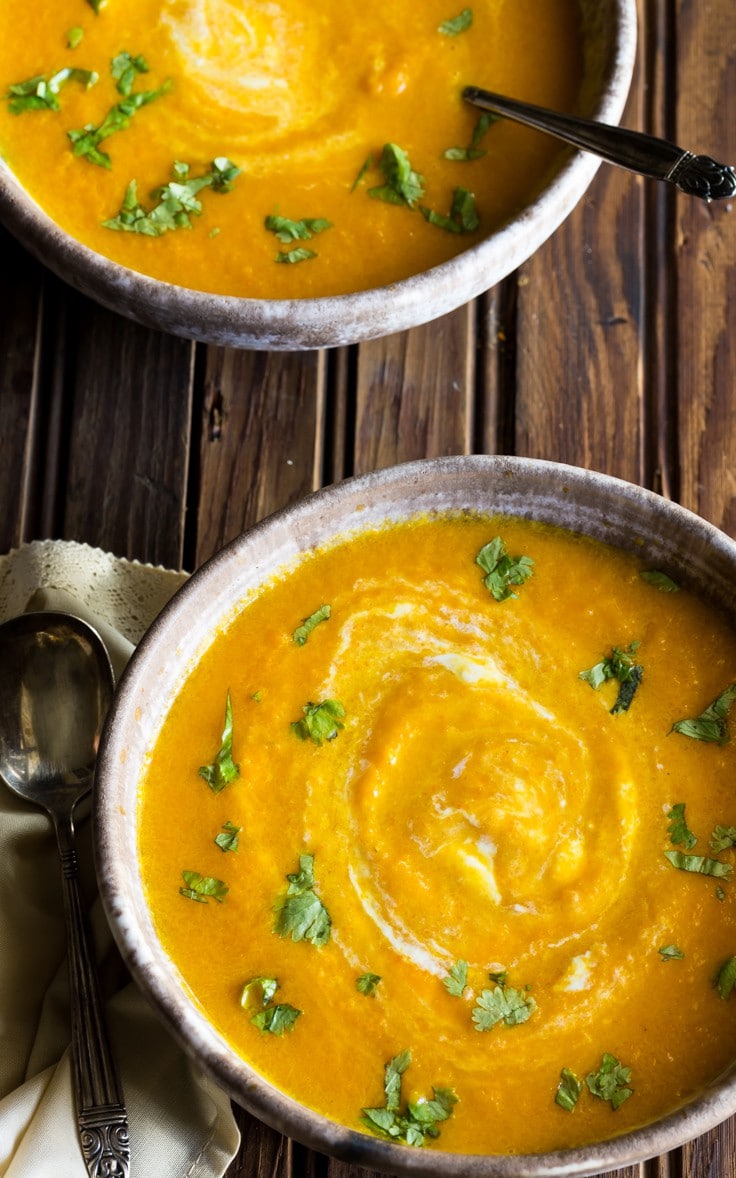 I'm a big fan of homemade soup but I've not made any in quite a while, so I figured it was about time to remedy that! Carrot and Coriander Soup is a really popular back home in the UK but not one I've seen anyone make it   here.
It's really lovely though so I hope you'll try it! It has such a warming flavor and it's just perfect for the Fall, it's not in the least bit spicy so don't be intimidated by the addition of ground coriander.
If you've read any of my previous recipe posts then you know I'm a fan of recipes that are quick, easy, tasty and full of fresh ingredients. Soup is so simple to make and a really great way to pack fresh vegetables into a meal that your kids will love.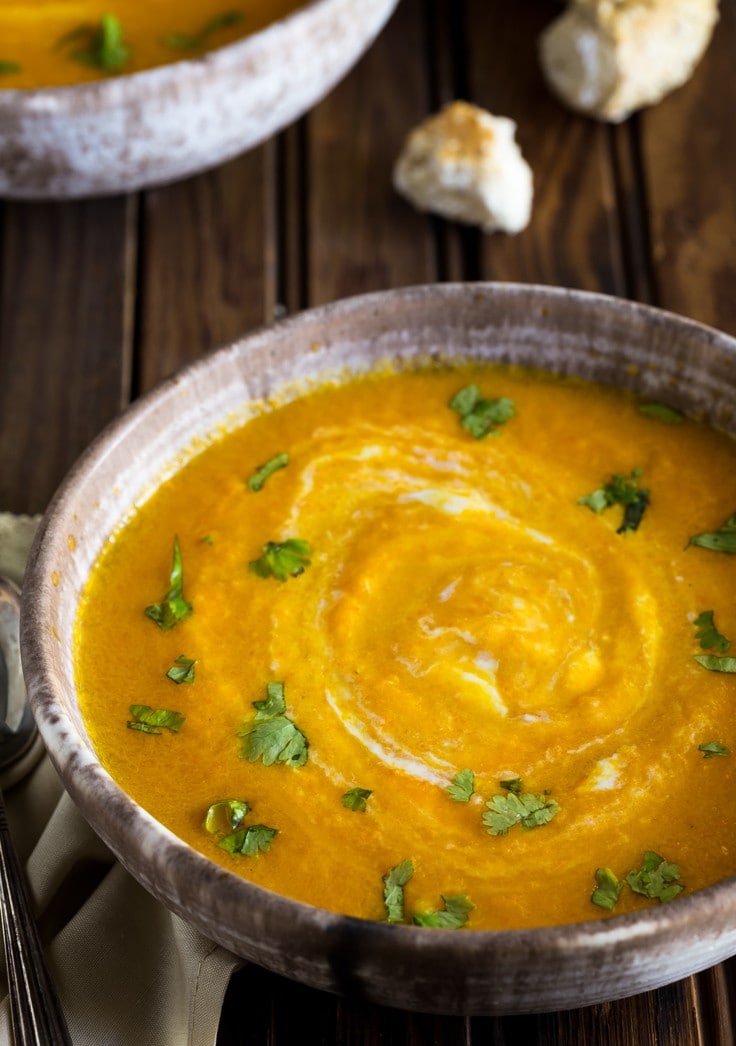 How to make Paleo Carrot Soup with Coriander
One of the keys to a really flavorful soup is to gently saute the vegetables for at least five minutes, especially if you are using onions, doing this  helps draw out the sweetness in the vegetables in a way that doesn't happen as well if you just threw them all in a pot with stock.
The easiest way to do this is to cook them on a low heat with just a little bit of oil for a minute or two, then add the lid to your pot and set the timer.
I cheated a bit and used a large bag of ready peeled  baby carrots, but it made the prep so much easier.
If you can get hold of some organic or farmers market carrots then  they will taste the best. Even with my ready peeled carrots, it tasted pretty great!
You'll get the best flavor for your soup if you can make it with homemade vegetable or chicken broth.
Then, you simply add the chicken stock, garlic and simmer until the carrots are fully cooked. Once they are nice and soft, you can add the soup to a blender and blend until smooth.
It's nice served with a garnish of chopped cilantro leaves, and if you eat dairy, a drop of sour cream too.
MORE SOUPS AND STEW RECIPES!
I have a lot more soup and stew recipes on the blog so let me share a few of them with you, many of them are Paleo and Whole30 compliant so hopefully you'll find another recipe you'll love.
One of my newer recipes is for Butternut Squash and Apple Soup, it has a really rich flavor from roasting the Butternut Squash.
My most popular Soup recipe is for Gluten Free Zuppa Toscana, it's gluten and dairy-free version of the Olive Garden classic.
And lastly how about Paleo Italian Meatballs with Marinara Sauce or Shepherd's Pie? Both are very easy weeknight dinners you'll love.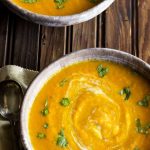 Paleo Carrot Soup with Coriander
Carrot and Coriander Soup recipe, a delicious spin on regular old carrot soup, it's perfect for Fall!
Ingredients
2

tbsp

olive oil

1

onions

finely sliced

1

lb

carrots

450g

1

clove

large garlic

crushed

1

tsp

ground coriander

1.2

pints

vegetable stock, or chicken stock

1/2

cup

fresh cilantro

roughly chopped

salt and freshly ground black pepper
Instructions
Heat the oil in a large pan and add the onions and the carrots.

Cook for 3-4 minutes until they start to soften.

Stir in the ground coriander and season well. Cook for 1 minute.

Add the stock and garlic and simmer until the vegetables are tender, about 20 minutes.

When the vegetables are cooked add the soup to a blender and blend until smooth.

Add the chopped cilantro leaves after you have blended the soup, if you prefer the leaves to be cooked then cook the soup for a minute or two more.

Taste and adjust the seasoning as required

You can serve it as it is, or if you eat dairy, with a swirl of sour cream on top.
Nutrition Facts
Paleo Carrot Soup with Coriander
Amount Per Serving
Calories 172
Calories from Fat 81
% Daily Value*
Total Fat 9g 14%
Cholesterol 4mg 1%
Sodium 282mg 12%
Potassium 552mg 16%
Total Carbohydrates 18g 6%
Protein 5g 10%
* Percent Daily Values are based on a 2000 calorie diet.
This post may contain affiliate links .