Air Fryer Cauliflower is just about the easiest side dish you'll ever make! If you want to know exactly how to make fried cauliflower in your air fryer then you've come to the right place!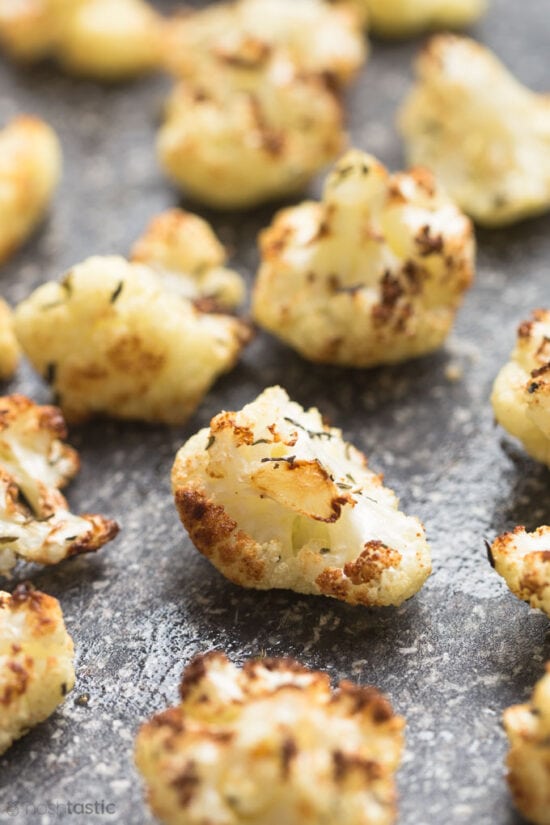 This post contains affiliate links
Air Fried roasted cauliflower is about the only way that my kids will eat it, now. It's crispy, tasty, has a little char on it and it doesn't have that funky overcooked smell you sometimes get when it's boiled or steamed.
If I'm in a rush I'll buy the ready cut bagged cauliflower florets as they are very convenient to use. Most of the time I will buy the whole cauliflower and cut it up myself as it's cheaper and it really doesn't take long to prepare it for air frying.
Air Fryer FAQ's
What Air Fryer should I buy? It depends how many people you will be cooking for as the air fryers with smaller baskets will mean you have to cook in multiple batches if you are cooking for more that two people. Usually the toaster oven style air fryers have a larger capacity so they are worth considering if you have a larger family.
Are Air Fryers Bad for you? Air fryers work with minimal oil so in that regard they are considered by some to be a healthier option than deep frying. If you are counting calories then it's beneficial as you can cut back the oil for air frying.
Can I Air Fry Cauliflower without Oil? In theory yes you can, however I find it's prone to be more dry without any oil at all.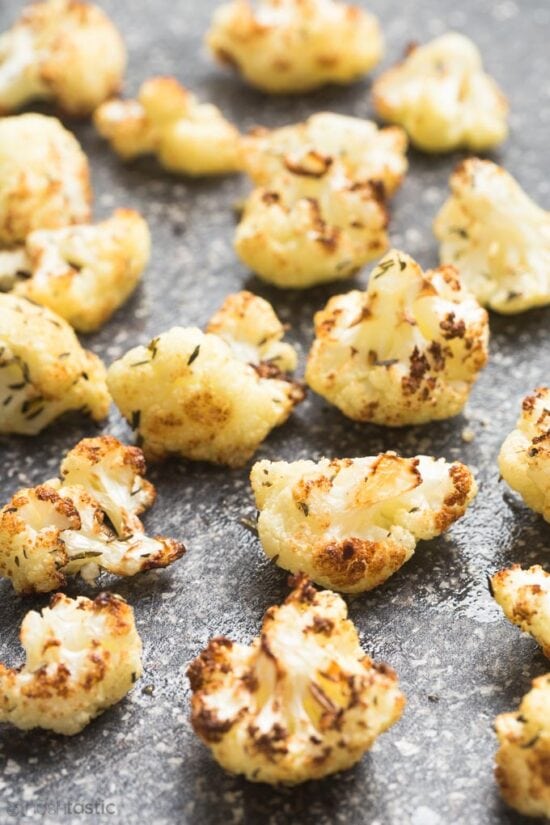 Air Fryer Cauliflower
A quick and easy method for roasting cauliflower in any air fryer.
Prep Time: 10 minutes
Cook Time: 10 minutes
Total Time: 20 minutes
Total Carbs: 4 g
Net Carbs: 2 g
Protein: 2 g
Servings: 4
Instructions
Peel and crush the garlic and mix it in a large bowl with the olive oil, salt and thyme leaves

Cut your cauliflower into small florets of even size and then toss them in the bowl with the oil and ensure they are evenly coated.

Turn your air fryer on to 375°F and place a single layer of cauliflower into the basket and close it.

Cook for 7 minutes, then pull out the basket and turn the cauliflower pieces. Cook for a further 3 minutes and check to see if it's done enough for you.

Usually it takes between 10-15 minutes to cook depending on the model of your air fryer and the size of the cauliflower pieces, exact cook time will vary so you must check it as you go.

Once the cauliflower is cooked you can toss it in a little lemon juice (optional) and sprinkle with a little chopped fresh parsley.
Recipe Notes
Cauliflower – to save time you can buy the ready cut up bagged florets, but it's cheaper to buy a whole cauliflower and cut it up yourself.
Flavors – this method works with a variety of herbs and spices so you can try different spices and cook it in the same manner. We like to add cumin instead of the thyme sometimes, and smoked paprika instead of the thyme is also a good option. 
Nutrition – assumes that a half head of cauliflower will serve four people so the nutrition label is calculated on that basis. 
Nutrition Facts
Air Fryer Cauliflower
Amount Per Serving
Calories 53 Calories from Fat 36
% Daily Value*
Fat 4g6%
Saturated Fat 1g6%
Sodium 313mg14%
Potassium 224mg6%
Carbohydrates 4g1%
Fiber 2g8%
Sugar 1g1%
Protein 2g4%
Vitamin A 24IU0%
Vitamin C 36mg44%
Calcium 20mg2%
Iron 1mg6%
* Percent Daily Values are based on a 2000 calorie diet.
Nutritional information on Noshtastic is provided as a courtesy and is approximate only. We cannot guarantee the accuracy of the nutritional information given for any recipe on this site.
Course: Side Dish
Cuisine: American