This is the only Gluten Free Chocolate Chip Cookies recipe you'll ever need, I promise! You'll never want to go back to store bought gluten free cookies again after you taste these, they are insanely delicious and have just the right amount of 'crunch', you'll love them!

Gluten Free Chocolate Chip Cookies
In the interests of full disclosure I need to let y'all know that these are crispy, not chewy, cookies.
If you're a soft chewy cookie kind of a person please don't click away just yet!
I'm convinced if you make these chocolate chip cookies you'll be delighted with them and instantly come over to the dark and crispy cookie side for good.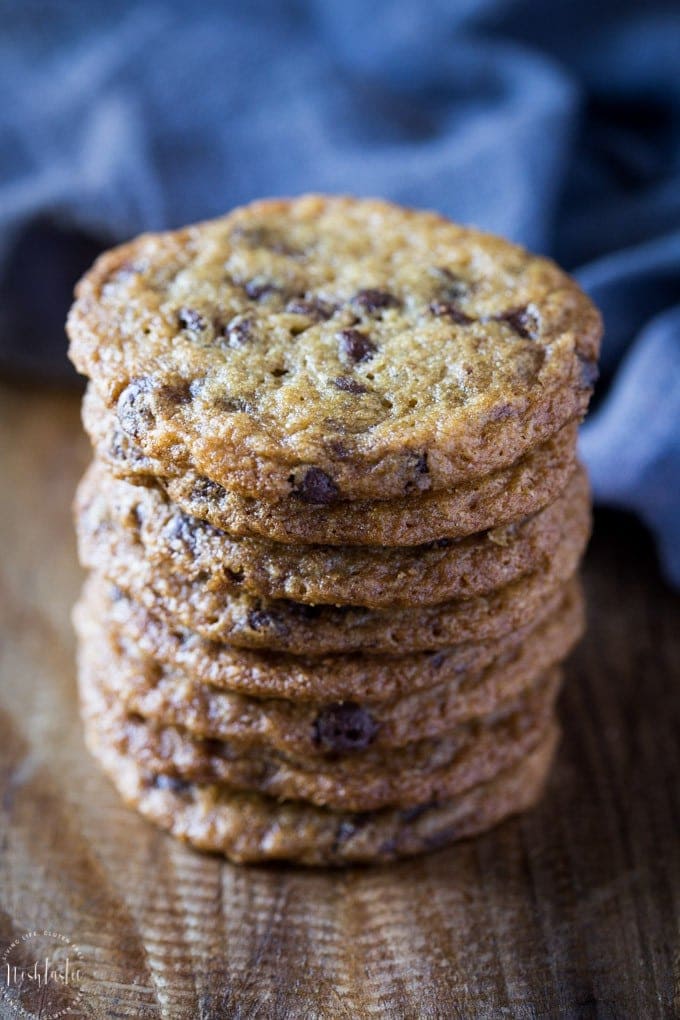 I set out to make the best crispy gluten free chocolate chip cookie recipe I could, that shouldn't be too hard, right? I don't buy store bought gluten free cookies very often as they usually perpetuate the stereotype that gluten free baked goods taste like cardboard.
The one exception to that are Tate's Bake Shop Gluten Free Cookies, they are amazing and my recipe is an attempt to recreate those magical crispy cookies.
How to make gluten free Chocolate Chip Cookies
There's a lot of science involved in creating either soft or crispy cookies. I'm too old and tired to get into all that stuff, I just want to eat cookies after all, but knowing at least a little bit of what works is helpful.
According to Serious Eats some the of the smashing sciencey stuff that ensures crispy cookies has to do with creaming the butter and sugar, (check) and using baking soda (check).
The naysaysers will tell you that you have to use real butter in cookies as it's far superior to using shortening, and I'll concede that they're probably correct.
However if, like me, you have no choice but to eat dairy free then finding a good buttery alternative is key to crispy cookie success.
I've used Earth Balance Vegan Butter in all my baking since going gluten and dairy free, I haven't found another dairy free brand that will work as well for baking.
Most margarines have a lot of water in them and simply don't work for baking so if you are in another country or can't find Earth Balance in the USA do make sure you use a margarine that is labeled as suitable for baking.
More Gluten Free Cookie Recipes!
I have several easy gluten free cookie recipes you'll need to check out! If you only have time to look at one of my recipes then make sure you bookmark my Gluten Free Cut Out Cookie recipe, I use it every year for my iced Christmas cookies.
Oh, and don't miss my Stained Glass Window Cookies, they look very impressive and are so fun to make with kids!
I have a slightly softer gluten free Chocolate Chip Cookie recipe that has a fabulous orange flavor, they are some of my favorite cookies to make, and Meaningful Eats has a lovely Almond Flour Chocolate Chip cookie recipe that looks delicious!
And lastly I have a simple recipe recipe for gluten free Lemon Cookies, they're easy to make too.
This post may contain Amazon affiliate links

Gluten Free Chocolate Chip Cookies
Easy to bake and deliciously crispy gluten free Chocolate Chip Cookies! Watch the recipe video, it's just below the directions.
Prep Time: 15 minutes
Cook Time: 12 minutes
Total Time: 27 minutes
Total Carbs: 23 g
Protein: 2 g
Servings: 30 cookies
Recipe Video
Instructions
Scroll up to watch recipe video!

*Please read the notes before you start*

Preheat the oven to 350 degrees F.

Line two cookie sheets with parchment paper.

In a large bowl, stir together the flour, baking soda, xanthan gum and salt.

In another large bowl, cream the butter and sugars then add the water and vanilla.

Mix the ingredients until they are just combined then add the eggs and mix them lightly.

Stir the flour mixture into the butter/sugar mix and then fold in the chocolate chips.

Drop one tablespoon of cookie mixture 2 inches apart onto the prepared cookie sheets.

Bake them in the middle of the oven for 10-12 minutes or until the edges and centers are brown. Remove the cookies to a wire rack to cool.
Recipe Notes
1. This recipe will work best if you bake it using a kitchen scale and weigh the ingredients, especially the flour, sugar and butter. I use a digital kitchen scale.
2. If you are using dairy free margarine instead of butter please make sure you use one that is labeled as suitable for baking. Some brands have high levels of water and will not work for baking. I use Earth Balance.
3. I use Enjoy Life Foods dairy free mini chocolate chips, they are the best dairy free variety I've found.
4. Please note the Baking soda, NOT baking powder!
Adapted from Bon Apetit
Nutrition Facts
Gluten Free Chocolate Chip Cookies
Amount Per Serving
Calories 198 Calories from Fat 99
% Daily Value*
Fat 11g17%
Saturated Fat 6g38%
Cholesterol 27mg9%
Sodium 181mg8%
Potassium 81mg2%
Carbohydrates 23g8%
Fiber 1g4%
Sugar 15g17%
Protein 2g4%
Vitamin A 210IU4%
Calcium 21mg2%
Iron 1.2mg7%
* Percent Daily Values are based on a 2000 calorie diet.
Nutritional information on Noshtastic is provided as a courtesy and is approximate only. We cannot guarantee the accuracy of the nutritional information given for any recipe on this site.
Course: Cookies
Cuisine: American