If you've been looking for a tasty easy gluten free sugar cookies recipe but didn't know where to start then we've got you covered! This recipe is simple enough for those who are new to gluten free baking to try complete with a step by step guide and some gluten free baking tips you can't go wrong!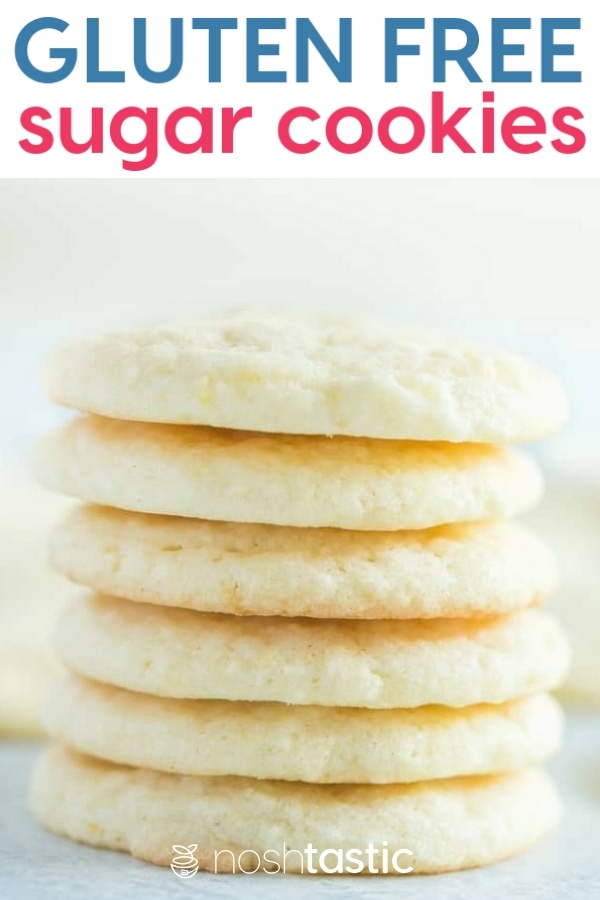 Ingredients and Equipment for Gluten Free Sugar Cookies
Gluten Free Sugar Cookies are very easy to make and a great cookie for those of you who are new to gluten free baking and for veteran gluten free bakers alike.
You don't need a lot of fancy equipment to make them, though I do love my Kitchen Aid Stand Mixer for all my gluten free baking, but you can make them with a hand held mixer too.
This is a list of the equipment you'll need and some of the ingredients, the full ingredients list and recipe directions are at the end of the post: (This post contains affiliate links)
How to make Gluten Free Sugar Cookies
This recipe is very easy to make so here's my step by step guide for baking gluten free sugar cookies. You'll find the complete printable recipe at the end of the post.
Step 1 – Cream the butter and sugar together until soft and fluffy, this will help aerate the cookie dough.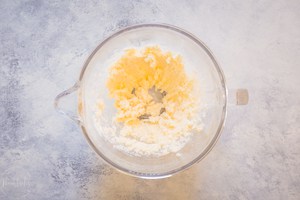 Step 2 – Then, add egg, vanilla, almond extract to the butter and sugar mixture and and whisk to combine.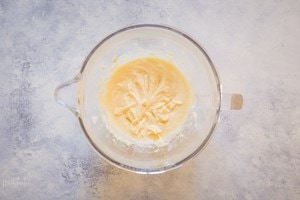 Step 3 – In another bowl mix the gluten free flour, xanthan gum, and baking powder and whisk it a little to mix them properly. Now you just need to add the flour to the butter/sugar mixture and mix together until it's combined well.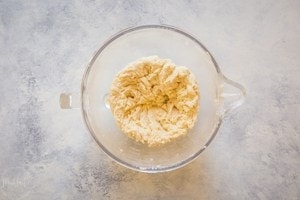 Step 4 – Use a cookie scoop to drop tablespoons of cookie dough into a little bowl of sugar, then place them onto a parchment lined cookie sheet or sheet pan and flatten the cookies a little with your fingertips.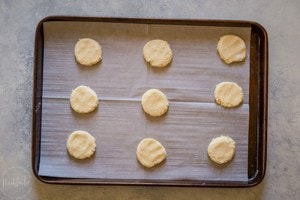 Step 5 – Bake for 10-15 minutes, or until done, they will get a little crunchier the longer you cook them.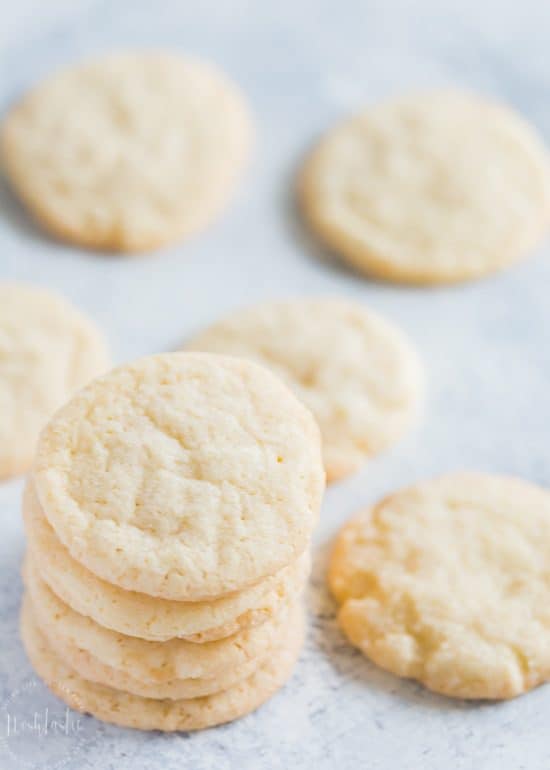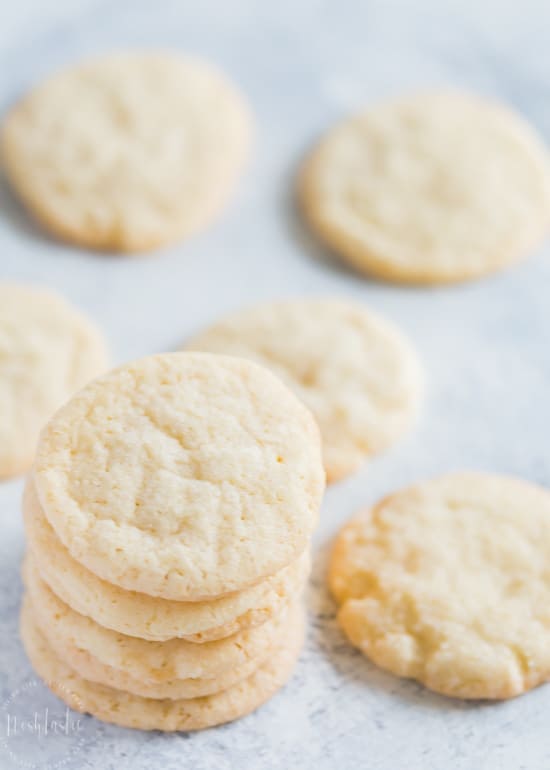 Gluten Free Sugar Cookies
Finally a gluten free sugar cookie you'll love! Rolled in sugar, they are soft and crisp all at the same time!
Prep Time: 45 minutes
Cook Time: 12 minutes
Total Time: 57 minutes
Total Carbs: 15 g
Protein: 1 g
Servings: 22 cookies
Ingredients
1/2 cup unsalted butter , or dairy free margarine 110g
1 cup sugar , 225g + more to roll cookie dough in
1 large egg
1/4 tsp salt , omit if your butter or margarine has added salt
1 tsp vanilla extract
1/2 tsp almond extract optional
1.5 cups all purpose gluten free flour , 225g
1/2 teaspoon xanthan gum , omit if your flour has gum
1/2 tsp gluten free baking powder
Instructions
Preheat your oven to 325F

Cream butter and sugar together and beat for 5 minutes until soft and fluffy. This will help incorporate air into the cookies so don't skip this step

Add egg, salt,(omit salt if your butter/margarine has salt added) vanilla, almond extract, to the mixture and mix briefly to combine.

In a separate bowl mix together the flour, xanthan gum, baking powder and mix to make sure the gum is evenly distributed.

Add the flour slowly to the butter and sugar and mix well, don't forget to scrape the sides and bottom of the bowl and make sure it's all incorporated.

Chill cookie dough for at least 30 minutes or until it firms up.

Use a cookie scoop to drop tablespoon sized balls of cookie dough into a small bowl of sugar and roll it to coat, then put the cookie dough onto a parchment lined baking sheet.

Flatten each cookie with your hand to about 1/4th to 1/2 inch thick.

Bake the gluten free sugar cookies for 12 -15 minutes.

Allow the gluten free sugar cookies to cool a little on the cookie sheet before transferring onto a cooling rack.

These Cookies are best eaten fresh within a day or two, you can freeze them.
Recipe Notes
BAKE BY WEIGHT
I bake by weight with a digital kitchen scale as I find that gives the most consistent results for gluten free baking, not all gluten free flour blends weigh the same due to the different flours. I also have cup measure for those that don't yet have a scale.
GLUTEN FREE FLOUR
I prefer to use my own homemade gluten free flour blend as it's cheaper and I get really great results over using ready mixed blends.
Nutrition Facts
Gluten Free Sugar Cookies
Amount Per Serving
Calories 103 Calories from Fat 36
% Daily Value*
Fat 4g6%
Saturated Fat 2g13%
Cholesterol 18mg6%
Sodium 32mg1%
Potassium 14mg0%
Carbohydrates 15g5%
Sugar 9g10%
Protein 1g2%
Vitamin A 140IU3%
Calcium 13mg1%
Iron 0.3mg2%
* Percent Daily Values are based on a 2000 calorie diet.
Nutritional information on Noshtastic is provided as a courtesy and is approximate only. We cannot guarantee the accuracy of the nutritional information given for any recipe on this site.
Course: Dessert
Cuisine: American