Easy recipe for Gluten Free Banana Bread , very simple to make and I've also tested it with a dairy free option.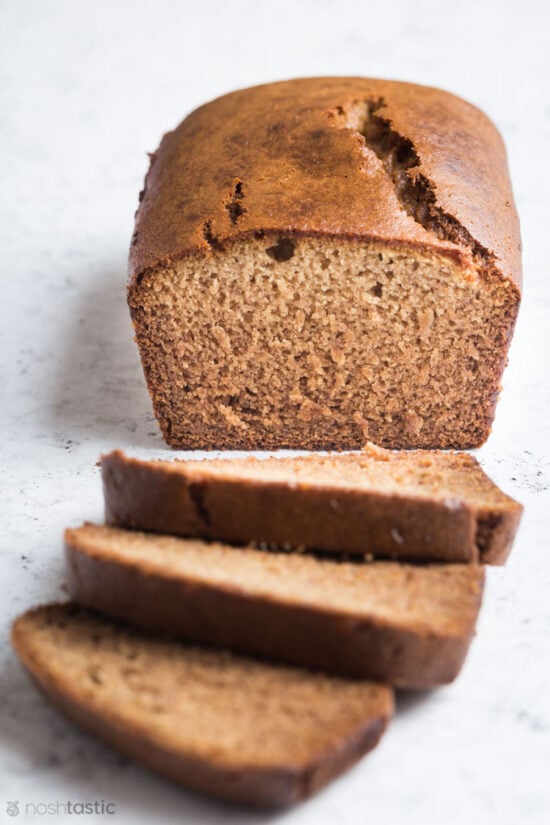 This post contains affiliate links
How to Make Gluten Free Banana Bread
STEP 1 – Measure out your ingredients first. This recipe works best if everything is at room temperature as it will bake more evenly.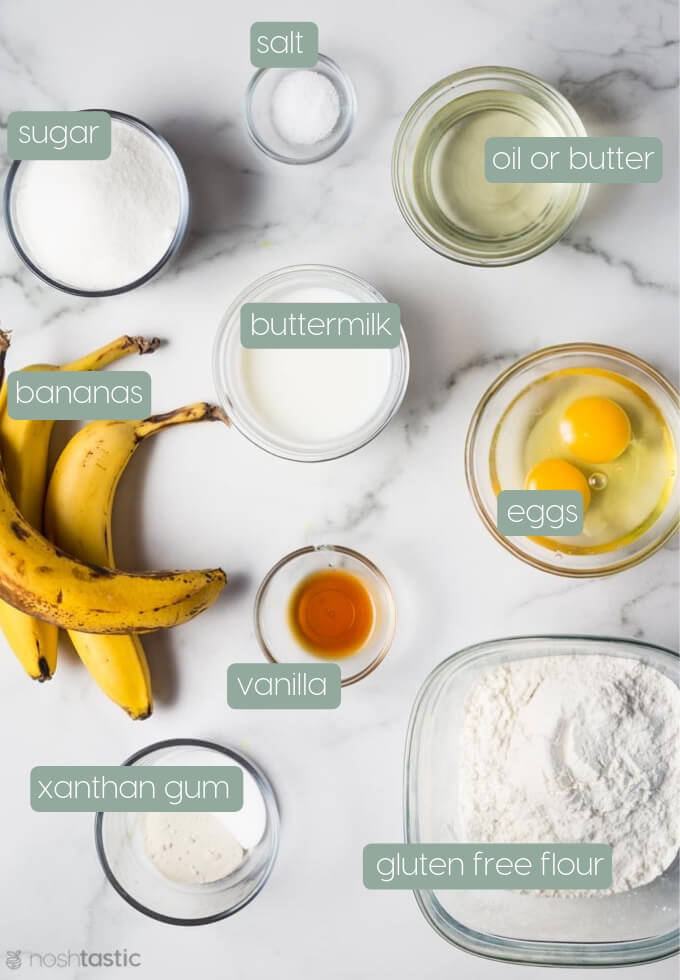 STEP 2 – Turn on your oven and let it pre-heat to 350°F
STEP 3 – You'll need two bowls. In the first bowl add melted butter, sugar, beaten eggs, and make sure it's all mixed together really well. Then add the buttermilk, salt, vanilla, mashed bananas, and mix and ensure it's all fully combined. (For dairy free options please refer to the notes in the recipe card. at the end of the post)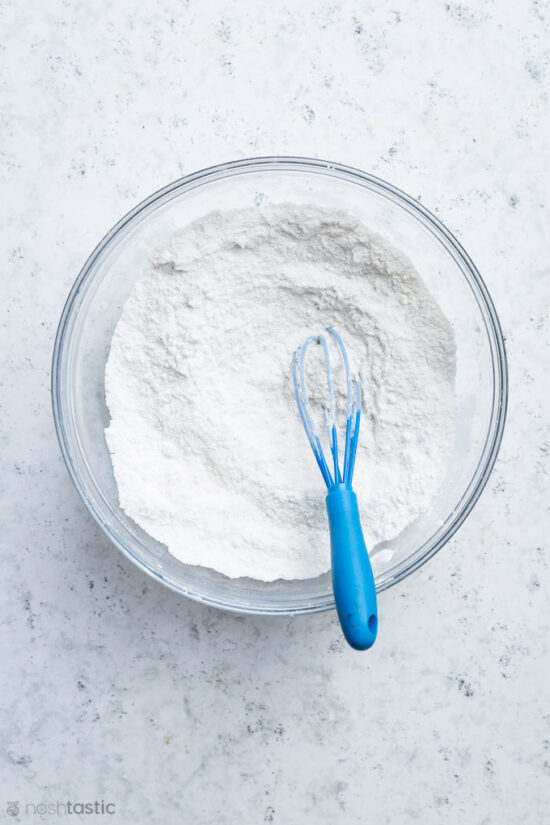 STEP 4 – In the second bowl mix the gluten free flour, xanthan gum, baking soda, salt, and stir well so it's all evenly distributed then add it into the bowl with the mashed banana mixture and mix again until your gluten free banana bread batter is properly mixed.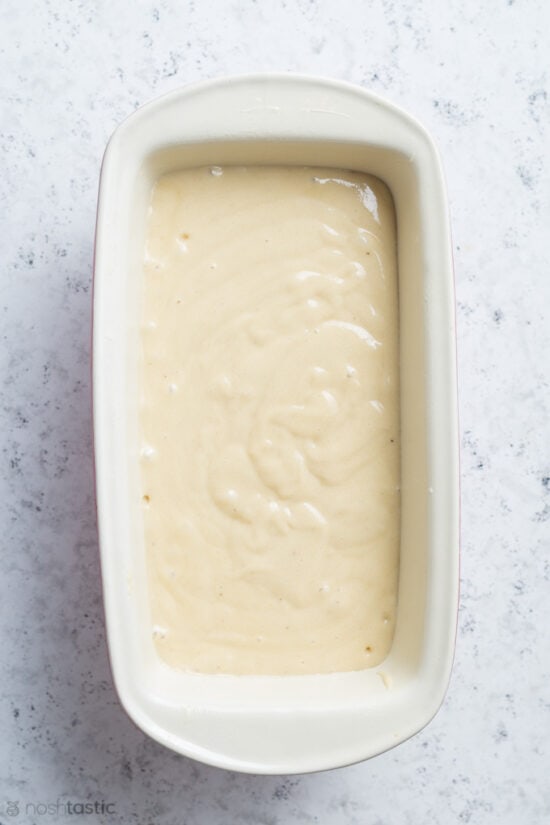 STEP 5 -Pour batter into a parchment lined and greased loaf pan and spread it out with a silicone spatula. Do not use wax paper. Then place it on the middle shelf of the oven for 45 minutes then check to see if it's cooked by using a skewer, if not done cook for up to 15 more minutes.
Once the skewer is clean remove your gluten free banana bread from the oven and set aside to cool, if it's not cooked at this point continue baking for 10 more minutes and check again.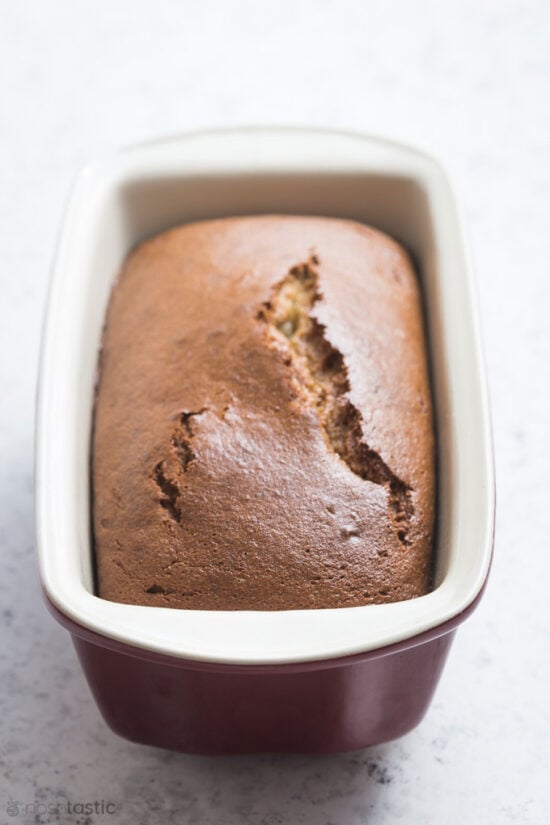 More Baking Tips and Tricks!
Weigh or measure your bananas – For best results weigh your bananas using a digital kitchen scale. If you do not have a scale then cup measure will work but they are not quite as accurate.
Your loaf pan matters – glass pans can cook up to 20% faster than metal pans as they retain heat better, and dark metal pans cook faster than light metal pans. For this recipe I used a 9 inch ceramic loaf pan, I love it as it tends to bake very evenly and the loaf never burns on the bottom.
Preheat your oven first – The oven needs to be at temperature before you add the banana bread.
Gluten free flour blend – not all flour blends are created equal and some will work better than others. I prefer to use my own homemade gluten free flour blend and measure out the additional xanthan gum as required for each recipe.
Ripen your unripe bananas in the oven! – This is so easy to do, just place them as they are (with peel on) on a baking sheet and let then cook for about ten to fifteen minutes in a 350F oven. The skin will turn black and your kids will think you've lost your mind for ruining perfectly good bananas, but it does give them a bit more of that 'ripe' banana flavor without having to wait a couple of days.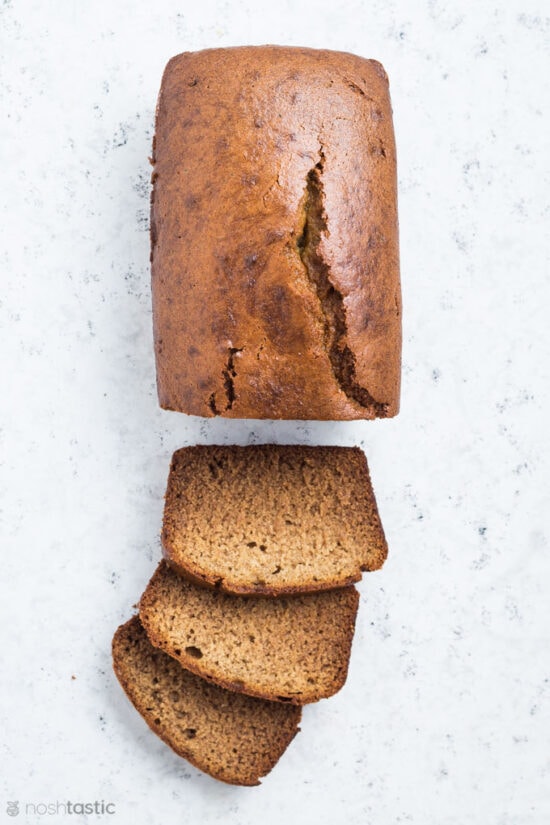 More Gluten Free Baking Recipes
Gluten Free Banana Bread
Best Gluten Free Banana Bread recipe, tasty, moist and with easy dairy free substitution options.

Prep Time: 15 minutes
Cook Time: 1 hour
Total Time: 1 hour 15 minutes
Total Carbs: 34 g
Protein: 3 g
Servings: 12 slices
Instructions
Scroll up to watch recipe video!

Preheat your oven to 350F

Add melted butter, (note 1 for dairy free) sugar, beaten eggs, into a large bowl and mix until fully combined.

Into the same bowl add buttermilk, (see note 2 for dairy free) vanilla, mashed banana, and mix well.

In a separate bowl sift together gluten free flour (see note 3) Xanthan gum, baking soda, salt, and stir well.

Add gluten free flour into the banana mixture and mix well until combined.

Line the base of a 9 inch loaf pan (see note 4) and grease the sides, then pour in the gluten free banana bread batter and spread it out evenly with a spatula.

Bake for 45 – 60 minutes on the middle shelf. Check after 45 minutes with a toothpick or skewer, if it comes out the clean the banana bread is cooked, if not cook for a further 10 minutes and check again.

Let it cool in the loaf pan for 15 minutes before removing to a cooling rack.
Recipe Notes
Dairy Free Butter – Use Earth Balance or other dairy free margarine suitable for baking instead of butter. Coconut oil also works, but all your other ingredients must be at room temperature or it will solidify in lumps in the batter if it's too cold.
Dairy Free Buttermilk – Make dairy free 'buttermilk' by using one cup of unsweetened soy or almond milk mixed with one tablespoon of lemon juice, let sit for 20 minutes.
Gluten Free Flour – Not all gluten free flour blends are created equal, if your pre-made blend is very high in starches and/or has too much gum added it can affect the outcome of your gluten free baked goods. For best results I prefer to create my own gluten free flour blend.
Loaf Pan – I use this 9 inch ceramic loaf pan.
Nutrition Facts
Gluten Free Banana Bread
Amount Per Serving
Calories 224 Calories from Fat 81
% Daily Value*
Fat 9g14%
Saturated Fat 5g31%
Cholesterol 48mg16%
Sodium 280mg12%
Potassium 124mg4%
Carbohydrates 34g11%
Fiber 2g8%
Sugar 21g23%
Protein 3g6%
Vitamin A 305IU6%
Vitamin C 2.6mg3%
Calcium 26mg3%
Iron 0.8mg4%
* Percent Daily Values are based on a 2000 calorie diet.
Nutritional information on Noshtastic is provided as a courtesy and is approximate only. We cannot guarantee the accuracy of the nutritional information given for any recipe on this site.
Course: Cake
Cuisine: American