This is the only gluten free Banana Bread recipe you'll need so make sure you save it for later, and did I mention it's dairy free too?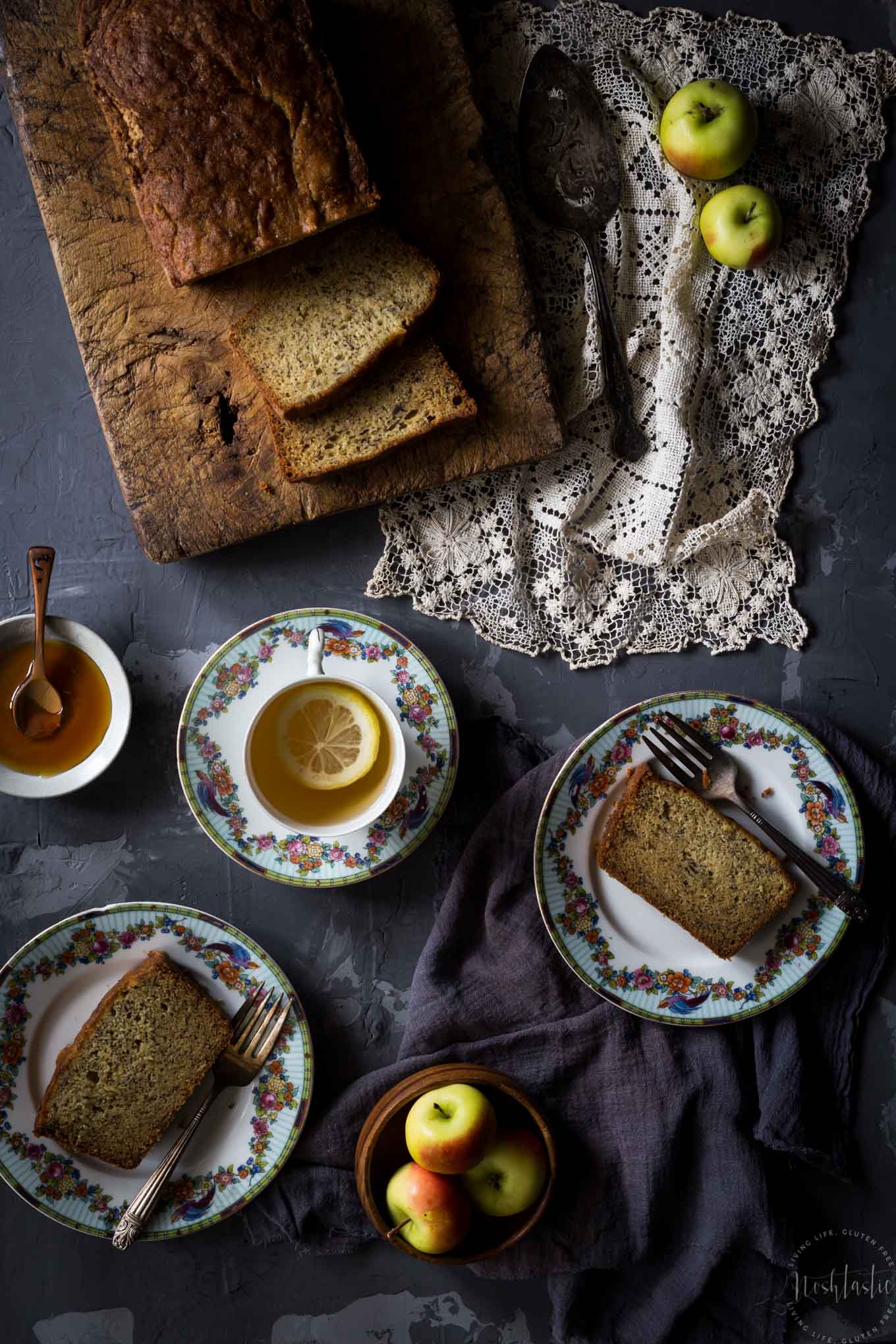 Banana Bread really is the holy grail of quick breads. I've been on a recent quest to find a recipe that's both banan-ey (I know, it's not a word) and not dry in the middle, like so many recipes tend to be.
Well, I didn't find one I liked that checked all those boxes and was gluten free to boot, so as usual, I tinkered around with a couple of regular banana bread recipes until I created one that works, I think you'll love it!
And although it's called banana 'bread' it's really more of a cake if we're being honest, it has somewhat of a muffin like texture to it.
This post may contain Amazon affiliate links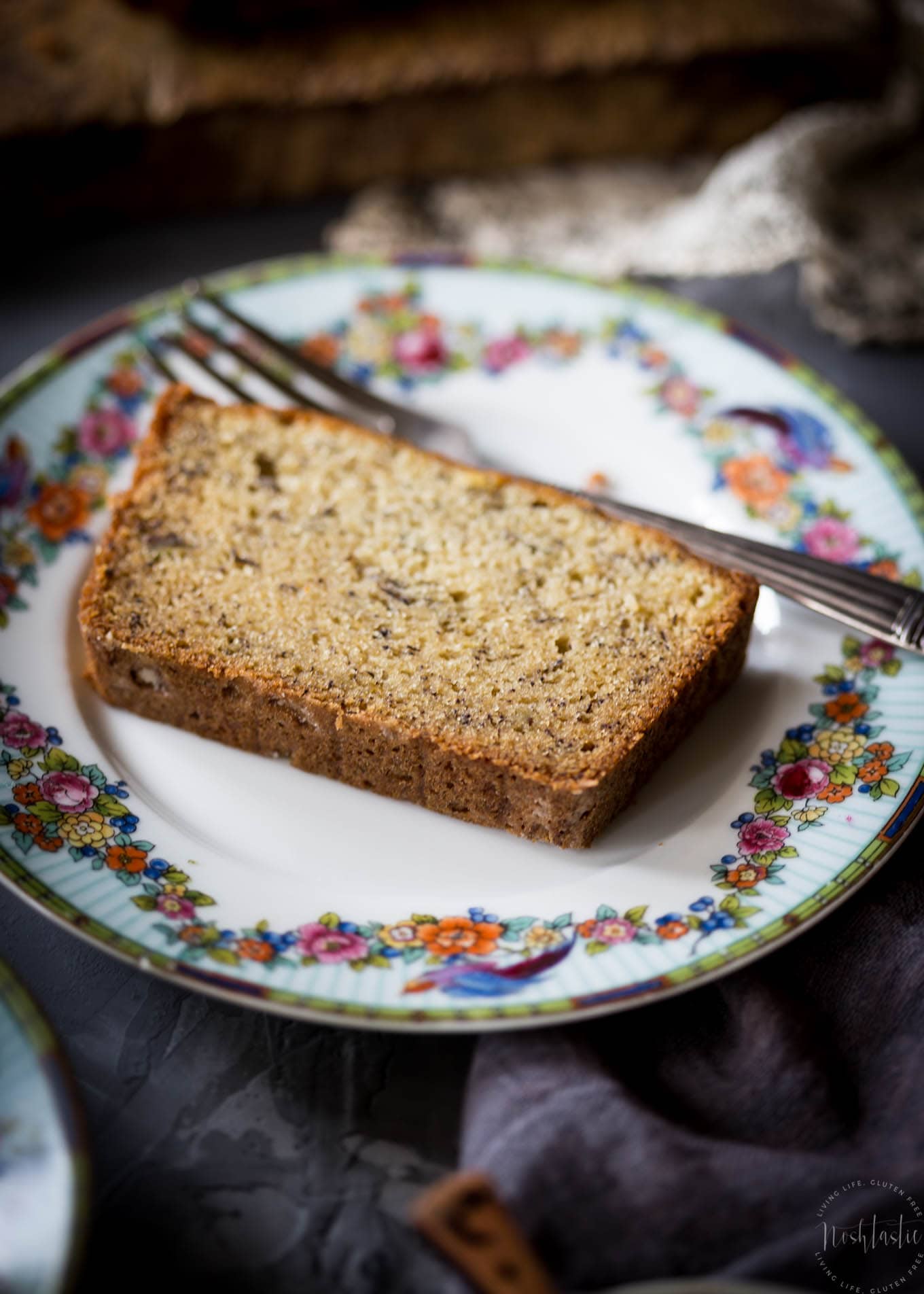 How to Make the Best Gluten Free Banana Bread
As mentioned above a common complaint with many comments on banana bread recipes you'll find online is that they end up being pretty dry by the time they are cooked through.
There are probably a few reasons for this and some of them will be recipe dependent.
Here are several of the steps I've taken to try and ensure that this recipe will be a great all rounder and one you'll keep coming back to!
Use an Oven Thermometer – It may seem like a little bit of a waste of time to some people to use an oven thermometer , but if your oven temperature is inaccurate then it will cause no end of frustration with undercooked or burned items at either end of the spectrum.  Cooks Illustrated cites their own study where some home ovens were off by as much as 50 degrees! You can buy a decent thermometer via the Amazon link above for less than $10, it's money well spent.
Weigh your bananas – when recipes call for "3-4 bananas" there's good odds that your recipe will be a flop because as anyone who's ever bought more than one banana in their lifetime knows, they come in quite a large variety of shapes and sizes. I've weighed my mashed bananas and also given approximate cup measure for those of you who don't yet have a digital kitchen scale (you really should get one! 🙂 )
Don't over cook it – well this is a tad tricky as you need to know the temperature of your oven so make sure you use an oven thermometer, as mentioned above. When I set my oven at 350F it's actually at 355F on the center rack according to my oven thermometer, so I adjust it down a little.
Your loaf pan matters –  glass pans can cook up to 20% faster than metal pans as they retain heat better, and dark metal pans cook faster than light metal pans. For this recipe I used a 9 inch ceramic loaf pan, I love it as it tends to bake very evenly and the loaf never burns on the bottom.
Use oil instead of butter – This applies to muffins too, but using oil instead of butter will help the loaf stay moist.
Preheat your oven first – a no brainer perhaps, this advice applies to all your baking recipes!
Use a good gluten free flour blend – not all flour blends are created equal and some will work better than others. I prefer to use my own homemade gluten free flour blend and measure out the additional xanthan gum as required for each recipe.
Ripen your  unripe bananas in the oven! – you can ripen your bananas in ten minutes in the oven, it's true! just place them as they are (with peel on) on a baking sheet and let then cook for about ten to fifteen minutes in a 350F oven. The skin will turn black and your kids will think you've lost your mind for ruining perfectly good bananas, but it does give them a bit more of that 'ripe' banana flavor without having to wait a couple of days.
Dairy Free 'Buttermilk' – This is a dairy free recipe so it goes without saying that we would include a dairy free buttermilk! I used unsweetened soy milk with added lemon juice to get the buttermilk effect. My soy milk only has soy beans and water as the ingredients so I'm not sure how well this would work from brand to brand. I think canned (not from a carton) coconut milk would be a nice alternative too.
So there you have it,  my top tips for making awesome gluten free banana bread that will wow your family and friends!
I have frozen this bread with some success. I like to slice it first and then freeze it two slices at a time as that's what suits my family.
I don't think that baked good like this do terribly well in the freezer for more than a few weeks, but most of the time there's not enough left around here to freeze as it's gone in a flash!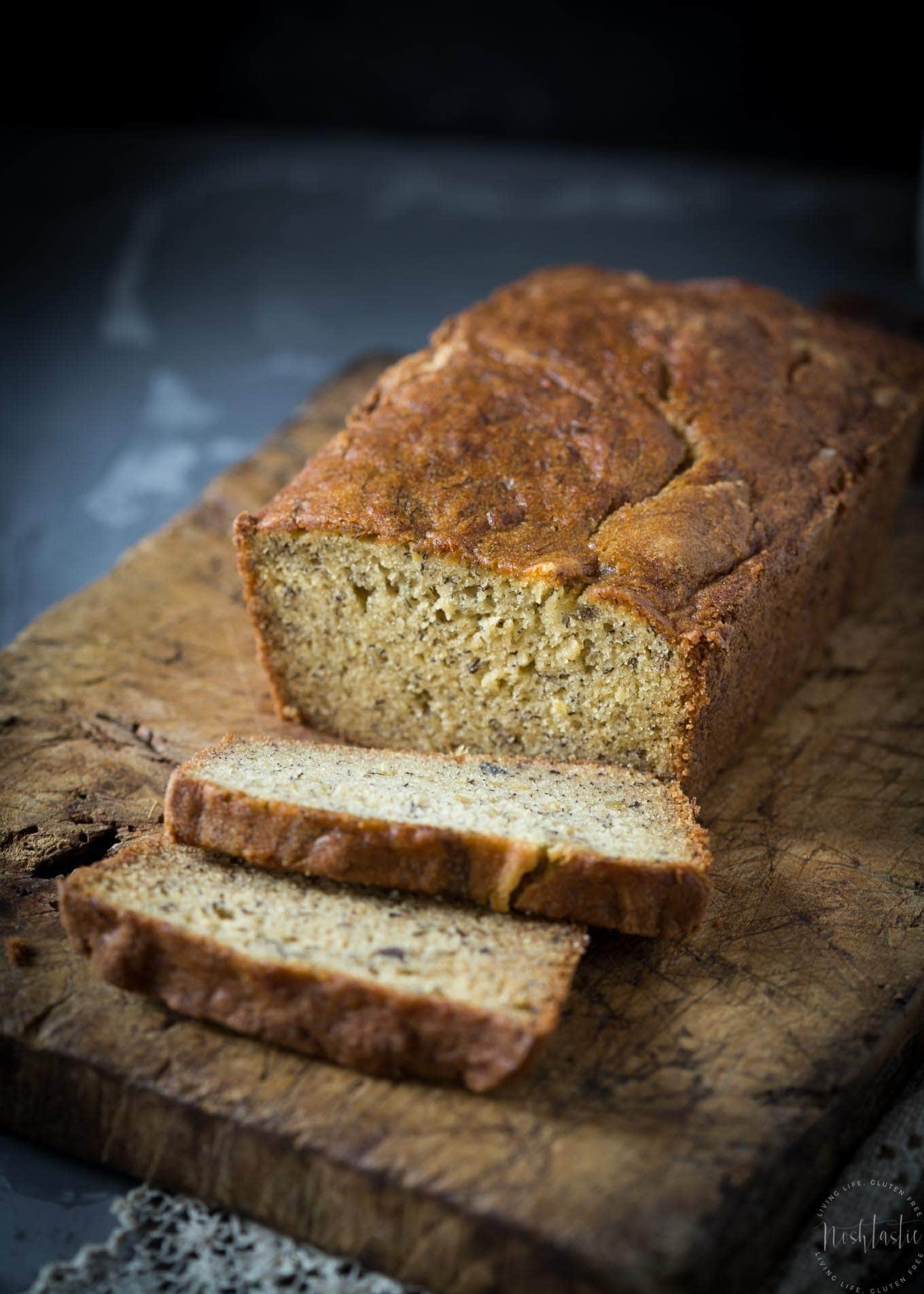 More gluten free cake recipes you'll love!
I have lots of gluten free baking recipes right here that I know you'll want to check out, here are a few of my favorites.
I think my favorite cake of all time is my gluten free Chocolate Cake, it's been my go-to recipe for family birthday cakes for the last few years.
A close second is my Pineapple Upside Down Cake, it's a really fun cake any time of the year! And lastly I have to include my Cranberry Upside Down Cake too, it's very festive! And lastly, if you're looking for a gluten free, dairy free and vegan sweet bread recipe, this gluten free vegan pumpkin bread from Beaming Baker fit's the bill really well!
Gluten Free Banana Bread
Total Time
1
hour
15
minutes
Instructions
This recipe will make a moist loaf, if you want a drier loaf reduce the bananas by one third and reduce the oil by 30mls.

Preheat your oven to 350F, I recommend checking the temp wiht

Add oil, sugar and beaten eggs into your mixing bowl and mix together to combine.

Add buttermilk (see note 2 for dairy free), salt, vanilla, and mashed banana and mix well.

In another bowl sift together flour, xanthan gum, baking soda and salt and stir so that its all evenly distributed.

Now add the flour mixture a little at a time and mix into the banana mixture until it's all well combined.

Line the base of of the loaf pan and grease the sides, then pour the batter in and spread it out evenly with a spatula.

Bake at 350 degrees on the middle shelf for 60 minutes, or until a toothpick comes out clean.
Recipe Notes
I always use my own gluten free flour blend as I find it usually works better than the ready mixed store bought versions.
 I used this pretty Ceramic Loaf Pan to bake my loaf in, it's 13.1 x 8.8 x 7.7 inches
I made dairy free 'buttermilk' by using 1 cup of unsweetened Soy Milk with 1 tablespoon of lemon juice and leaving it for 15 -20 minutes. My soy milk is made with only soy beans and water, so I can't say how it would work with soy milk that has multiple ingredients or with some other dairy free milk, such as rice.
Adapted from Food. This is the only gluten free Banana Bread recipe you'll need so make sure you save it for later, it's dairy free too.
Nutrition Facts
Gluten Free Banana Bread
Amount Per Serving (8 g)
Calories 354
Calories from Fat 126
% Daily Value*
Total Fat 14g 22%
Cholesterol 41mg 14%
Sodium 176mg 7%
Total Carbohydrates 55.9g 19%
Protein 4g 8%
* Percent Daily Values are based on a 2000 calorie diet.
PIN IT TO YOUR GLUTEN FREE BAKING BOARD!