Grilled Lamb Chops are my absolute favorite to cook on the grill, the meat is tender, flavor packed and is a perfect treat any day of the week!
With my fabulous flavor packed herb marinade your grilled lamb chops will taste good enough to serve at your next dinner party, or you can whip them up for an easy weeknight meal.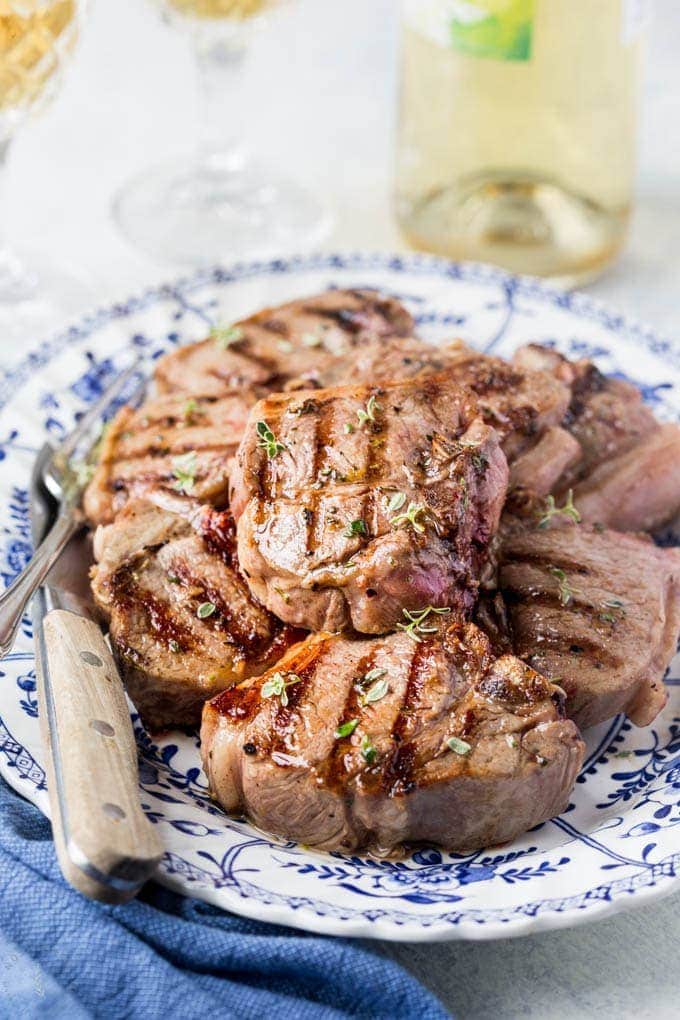 How long does it take to cook grilled Lamb Chops?
It typically takes about 8 minutes to cook grilled lamb chops, though that will depend on the thickness of the chops and how hot your grill is.
Give the lamb chops about 4 minutes per side, and move them to the side away from direct heat if a flare up occurs.
What's the best seasoning for lamb chops?
Lamb goes well with fresh herbs such as rosemary and thyme. My recipe for grilled lamb seasoning includes both plus some salt, garlic and a little lemon juice.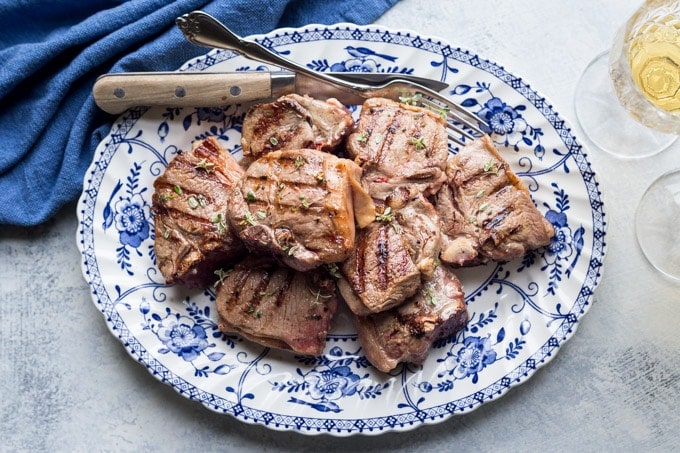 Is Lamb Meat Good for You?
Lamb is very nutritious and tastes fantastic! According to the American Lamb Board it's an excellent source of Vitamin B12, niacin, zinc and selenium. And unlike beef, pork and chicken, lamb is never factory farmed.
A 3-ounce serving of lamb provides nearly five times the essential omega-3 fatty acids and alpha linoleic acid of a 3-ounce serving of beef, that's pretty nutrient dense!
How Many Grilled Lamb Chops per Serving?
It depends what sort of lamb chop you buy. I used lamb loin chops for this recipe, they are small thick chops with the bone wrapped around the edge like a t-bone steak so about 3-4 per person is sufficient.
If you are using Lamb shoulder chops then usually one per person is enough, they are quite a bit bigger.
This post contains affiliate links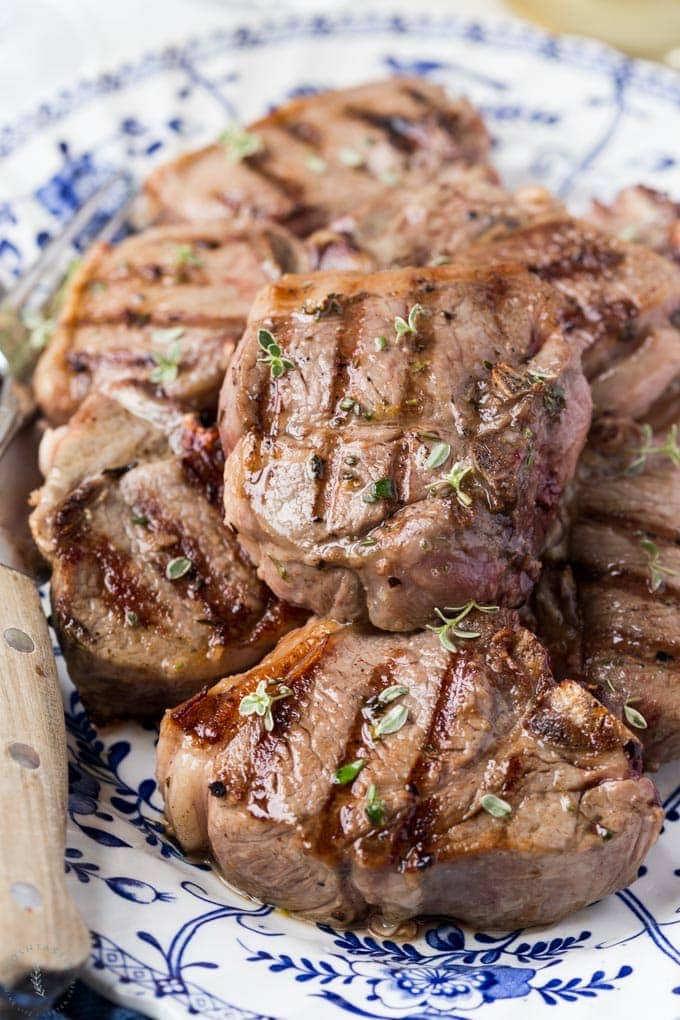 What to serve with Grilled Lamb Chops
My Lentil Quinoa Salad would be a nice side dish for this recipe, as would my smashed potatoes, they would be PERFECT! If you want a simple vegetable side then my glazed carrots or roasted cauliflower would be best.
Grilled Lamb Chops
Grilled Lamb Chops with a fantastic, flavorful rosemary and thyme marinade that give your lamb a great flavor
Prep Time: 1 hour
Cook Time: 8 minutes
Total Time: 1 hour 8 minutes
Total Carbs: 1 g
Protein: 55 g
Servings: 3
Ingredients
Instructions
Finely chop the garlic and rosemary, then add to the blender along with the olive oil, lemon juice, salt, and thyme leaves and blitz until smooth.

Rub the marinade on both sides of the lamb chops and marinate for at least 1-3 hours in the refrigerator. Let sit at room temperature for 20 minutes before grilling

Heat a grill pan over high heat until almost smoking, add the chops and sear for about 2 minutes. Flip the chops over and cook for another 3 minutes for medium-rare, and 3 1/2 minutes for medium.

Serve with a green salad.
Nutrition Facts
Grilled Lamb Chops
Amount Per Serving
Calories 1140 Calories from Fat 891
% Daily Value*
Fat 99g152%
Saturated Fat 41g256%
Cholesterol 250mg83%
Sodium 965mg42%
Potassium 739mg21%
Carbohydrates 1g0%
Protein 55g110%
Vitamin A 110IU2%
Vitamin C 6.3mg8%
Calcium 64mg6%
Iron 5.9mg33%
* Percent Daily Values are based on a 2000 calorie diet.
Nutritional information on Noshtastic is provided as a courtesy and is approximate only. We cannot guarantee the accuracy of the nutritional information given for any recipe on this site.
Course: Main Course
Cuisine: American