Gluten free shortbread cookies dipped in chocolate!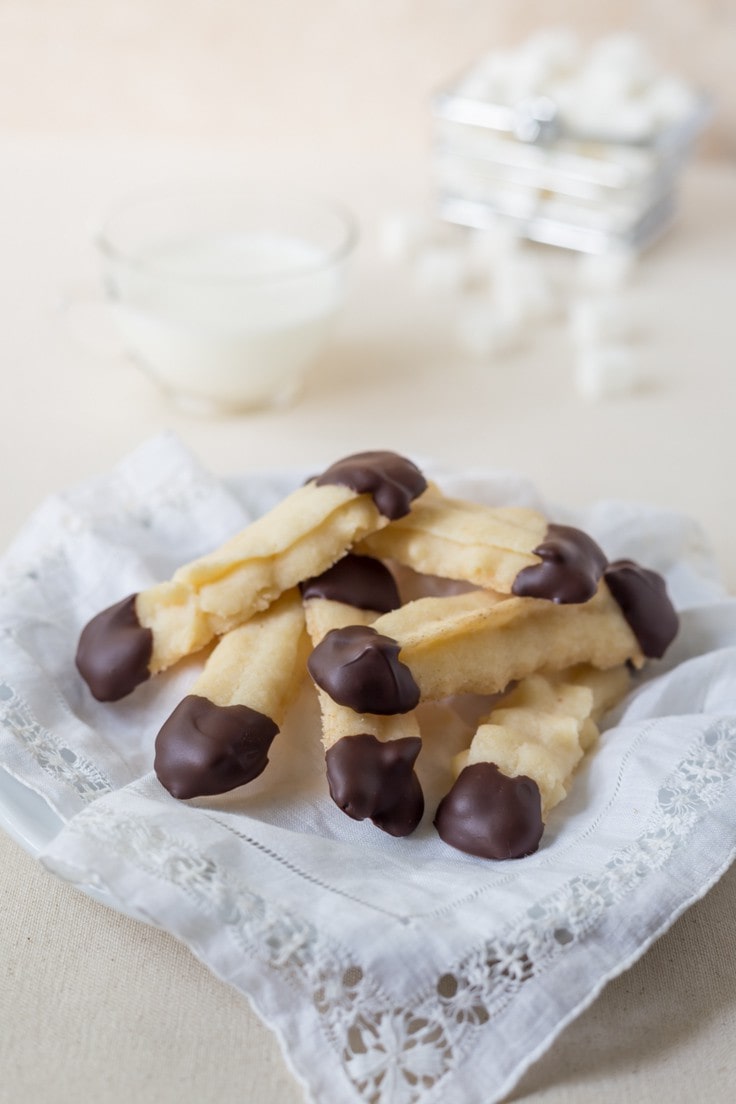 How to Make Gluten Free Shortbread Cookies
My Gluten Free Shortbread Cookies are an adaptation from a Mary Berry recipe for Viennese Whirls, they are a classic British cookie that is really a sandwich of two soft shortbread type cookies with buttercream and jam filling in the middle, they are in my humble opinion, cookie perfection!
Mary Berry is a well-known British TV cook, she was one of the judges on the 'Great British Bake Off' which aired on PBS last year.
Her baking recipes are legendary back home and although they are not gluten free that hasn't stopped me buying some of her books and converting the recipes to gluten free for my family.
For this recipe, the shortbread cookies are made with powdered sugar and all starch flours which gives them a really lovely soft, melt in your mouth texture. I've found that they do not keep well so I prefer to make them on the day that I plan to serve them.
In my house, there are usually sticky little fingers scrambling for them before the chocolate has had a chance to dry, so not many cookies make it to the next day!
Baking with gluten free flour
I always make my own gluten free all purpose flour  for baking as it's cheaper and I get better results than I've had with most of the ready mixed flours.
Any high starch flour mix should work, I would avoid using a flour mix that has the gum already added, it's better to measure it out yourself.
As always I use a digital kitchen scale to weigh my ingredients, I find I  get consistent results  that way and rarely have a baking recipe fail. If you find you struggle with gluten free baking then I highly recommend buying a kitchen scale and weighing your ingredients.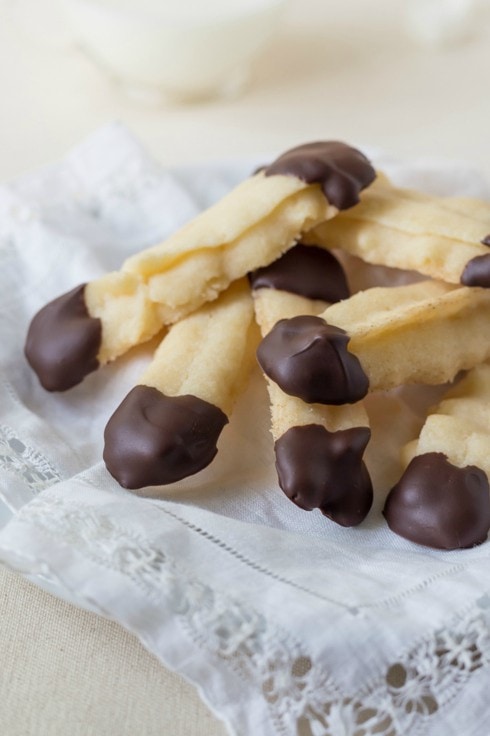 I try to post easy recipes here that everyone can make, and this one is no exception. It's also free from the top eight allergens so would be a great treat to make for someone you know with dairy, gluten, nut or egg allergies or intolerances.
It's  a perfect recipe to make with your kids, I baked some with my ten year old son today, he really enjoyed making and eating them!
There were a few casualties as we dipped the cookies into the chocolate, they are pretty soft and can break if you don't handle them carefully, but nothing was wasted and he happily gobbled up the chocolate covered breakages.
This post may contain Amazon affiliate links
Gluten Free Shortbread Cookies
Delicate and tasty gluten free shortbread cookies dipped in chocolate!
Ingredients
1/2

cup

dairy free margarine, or butter

110g

3/4

cup

all purpose gluten free flour

110g

4

tbsp

powdered sugar

30g

1/4

tsp

gluten free baking powder

1/4

tsp

xanthan gum

2

oz

chocolate

50g, I used dairy free chocolate chips
Instructions
*READ NOTES FIRST!*

preheat your oven to 350f

line a baking sheet with parchment paper, and then add a large star tip (such as a 1M) to a piping bag.

add the margarine and sugar to a mixing bowl and beat until combined.

add in the flour, baking powder and xanthan gum and mix well.

Add the mix to the piping bag and pipe out three inch long fingers onto your lined baking sheet, spaced well apart.

bake for ten to fifteen minutes until a pale golden color. Keep a close watch on them as they can go from cooked to burned in only a minute or two!

Let them cool on the cookie sheet for a couple of minutes, then transfer to a wire rack.

The cookies are very soft and fragile, so be careful not to break them!

melt your chocolate either in the microwave or in a bowl over a pan of hot water.

dip both ends of the cookie in the melted chocolate and leave to set on the wire rack.
Recipe Notes
1.You will need a baking sheet, and a piping bag with a large star tip. I used a Wilton 1M tip.

2. I have used a mix of 75% white rice flour and 25% arrowroot sometimes (because that's what I had in my pantry) with good results, but really any AP flour blend should work.

3. I bake by weight as I find that gives the most consistent results, especially when baking gluten free. One cup of your gluten free flour blend may not weigh the same as my blend regardless of how you scoop it. All the commercially available blends have different mixes and ratios of flour in them. I've weighed cups of different blends of flour and noted that a cup of gluten free flour can vary in weight from 125g up to as much as 170g depending on how you scoop it, and what type of mix you use. You can see how this could drastically alter the outcome of a recipe.

4. I recognise that most Americans are used to the cup method which is why I also include those measurements,but they may not give you the most accurate results. If you are a keen gluten free baker I would encourage you to invest in a scale, you can get one for only $10 - $15.

5.I prefer to use my own homemade gluten free flour blend as it's cheaper and I get really great results.

6. If you can, avoid buying flour with gums already added. The reason for this is that you have no way of knowing how much gum is in there and that can alter the outcome of the recipe. So for example, too much gum can give you a more sticky texture in a cupcake. And though the cupcake recipe will still work, it won't be as nice as if you measured and added the gum yourself.
Nutrition Facts
Gluten Free Shortbread Cookies
Amount Per Serving
Calories 93
Calories from Fat 54
% Daily Value*
Total Fat 6g 9%
Sodium 68mg 3%
Potassium 19mg 1%
Total Carbohydrates 8g 3%
* Percent Daily Values are based on a 2000 calorie diet.