The BEST Gluten Free Pumpkin Muffins made with real pumpkin and Pumpkin Pie Spice topped with a delicious streusel oatmeal topping.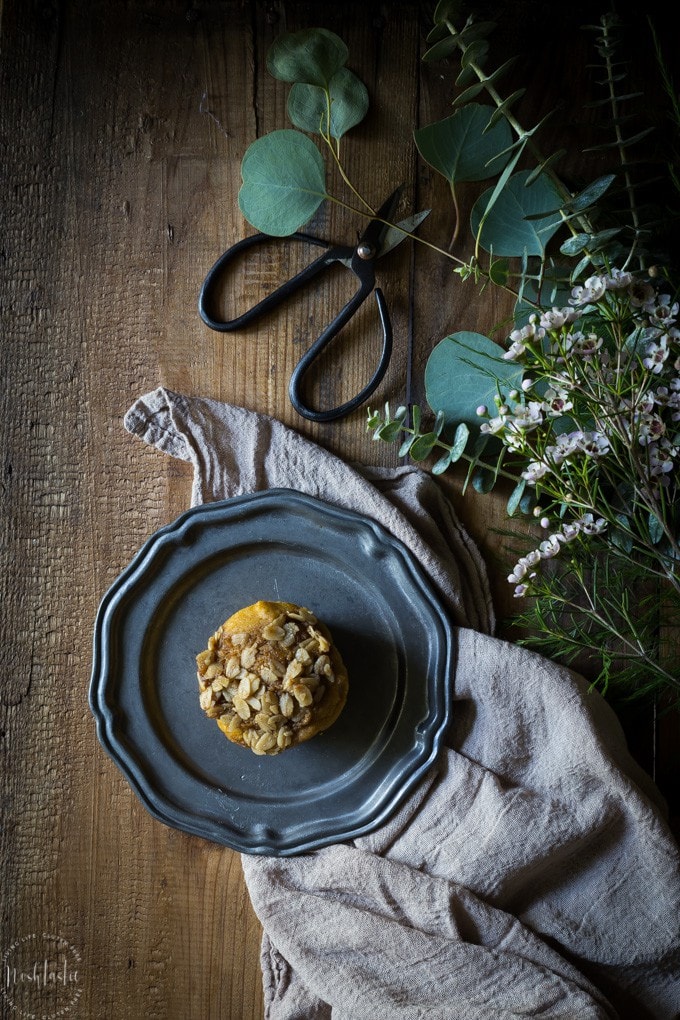 Gluten Free Pumpkin Muffins with Streusel Topping
I can't believe that Pumpkin Spice season is upon us already!
I'm in Mississippi where despite being September it's still a million degrees outside, but I'm going to go with it and pretend that Fall is right around the corner.
As someone who didn't grow up eating pumpkin anything in Scotland,  I'd say since moving to the USA several years ago I've well and truly drunk all the pumpkin spice Kool Aid and I'm now fully on board with the whole thing.
I will even admit to stalking the aisles in my local Kroger before Labor Day in a futile attempt to find a real pumpkin, which of course they didn't have as it was much too early. I did manage to find canned pumpkin instead which was all I really needed for this recipe, but don't you just love the real thing?! They are so pretty.
ITEMS YOU MAY NEED TO MAKE THIS RECIPE
This post may contain Amazon affiliate links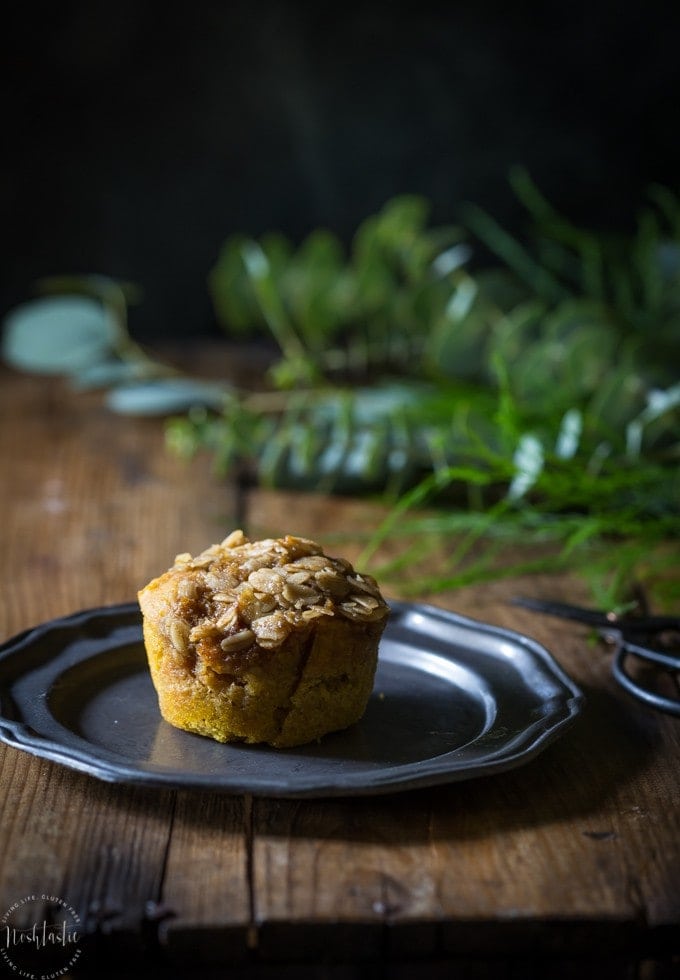 Pumpkin pie spice mix is similar to the ground mixed spices that we used back in the UK at Christmas time in things like Mince Pies and Christmas Pudding, so I'm very familiar with it. I love the smell and I think it adds wonderful flavor to baked goods, it's just a shame it's relegated to use for only a couple of months a year.
My Gluten Free Pumpkin Streusel Muffins have both pumpkin and pumpkin pie spice, so they're the real deal! They are very moist and a great breakfast option. If you're like me and you like a little something to eat with your afternoon cup of tea or coffee, then this will make a perfect snack.
As with a lot of gluten free baking I think they are best eaten on the day you make them, which is not a problem in our house! If you can't eat all twelve muffins in one day then they will keep well in your freezer for a couple of weeks.
If you're looking for a really nice gluten free Oatmeal Cookie recipe then I know you'll love this recipe from Texanerin, or alternatively you could try this Gluten Free Cinnamon Swirl Muffin from A Mindful Mom, or this Gluten Free Pumpkin Cake from Flippin Delicious, or even these gluten free pumpkin cookies from What the Fork Blog, and  if you're looking for some fantastic pancakes try these Gluten Free Pancakes from Gluten Free Palate.
MORE RECIPES YOU'LL ALSO ENJOY!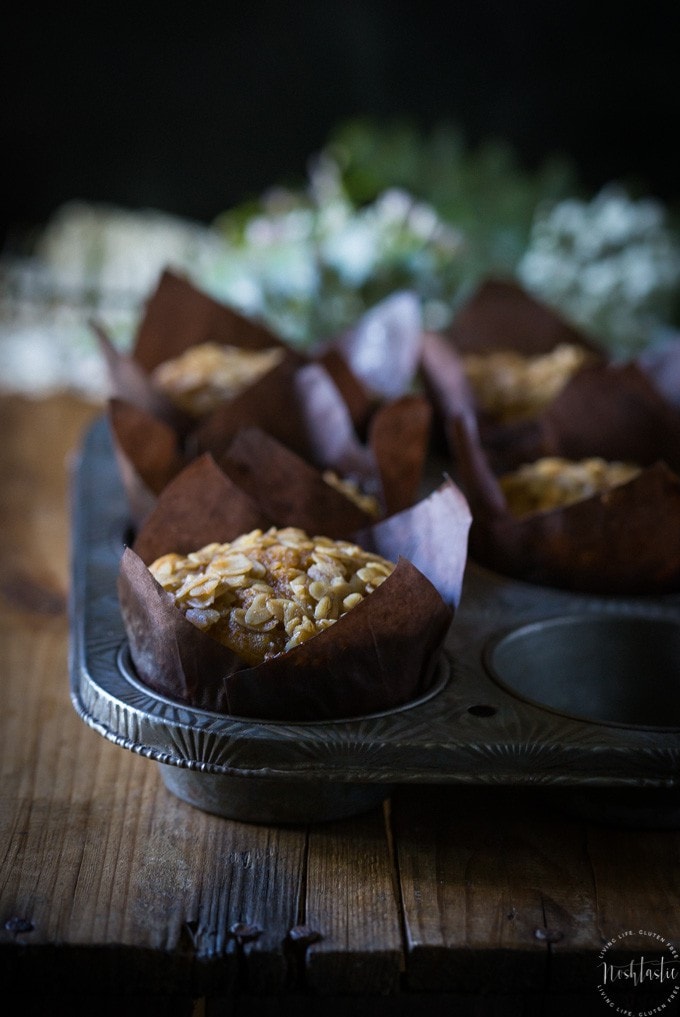 The Best Gluten Free Pumpkin Streusel Muffins
The best Gluten Free and dairy free Pumpkin Streusel Muffins ever! Adapted from
Taste of Home
Prep Time: 15 minutes
Cook Time: 25 minutes
Total Time: 40 minutes
Ingredients
1/4 cup vegan margarine, or butter , 59g
1/2 cup granulated white sugar , 110g
1/4 cup packed light brown sugar , 55g
2 tbsp dark brown sugar
2/3 cup canned pumpkin , 150g
1/2 cup unsweetened soy milk, or whole milk , 125mls
2 eggs , lightly beaten
2 cups + 2 tbsp gluten free all-purpose flour , 280g
1 tbsp baking powder
1 tsp pumpkin pie spice
1/4 tsp cinnamon powder
STREUSEL TOPPING:
2/3 cup gluten free rolled oats , 60g
3 tbsp brown sugar
2 tbsp cold vegan margarine or butter
Instructions
In a large mixing bowl cream together the vegan margarine (or butter) with all the sugar until soft and combined.

Add in the pumpkin, soy milk (or whole milk), eggs and mix well.

In another bowl combine the gluten free flour, baking powder, pumpkin pie spice and cinnamon and mix well; gradually add flour mix to the pumpkin mixture and stir until blended.

Fill paper-lined muffin cups two-thirds full.

For streusel topping, combine oats and brown sugar and vegan margarine or butter; cut up the butter or margarine into very small pieces and sprinkle a little over the top of each muffin.

Bake at 375° for 20-25 minutes or until a toothpick inserted in the muffin comes out clean.

Cool in pan for 5 minutes before removing to a wire rack.
Nutrition Facts
The Best Gluten Free Pumpkin Streusel Muffins
Amount Per Serving
Calories 259
* Percent Daily Values are based on a 2000 calorie diet.
Nutritional information on Noshtastic is provided as a courtesy and is approximate only. We cannot guarantee the accuracy of the nutritional information given for any recipe on this site.
Course: Muffin
Cuisine: American