Gluten Free Oatmeal Raisin cookies that are full of chewy, healthy, oaty goodness, just like your Grandma used to make! We've tweaked and tested this recipe to make sure that you'll love them.
It's really easy to make this cookie dough ahead of time so that you can pop them in the oven in the morning and have freshly baked Gluten Free Oatmeal Raisin Cookies to start the day with, they are perfect for breakfast or as a lunchbox snack later in the day.
This batch will make about 36 cookies so if you want to freeze half for later that will work really well. Do make sure you use certified gluten free rolled oats as not all oats are truly gluten free unless they are labeled as such.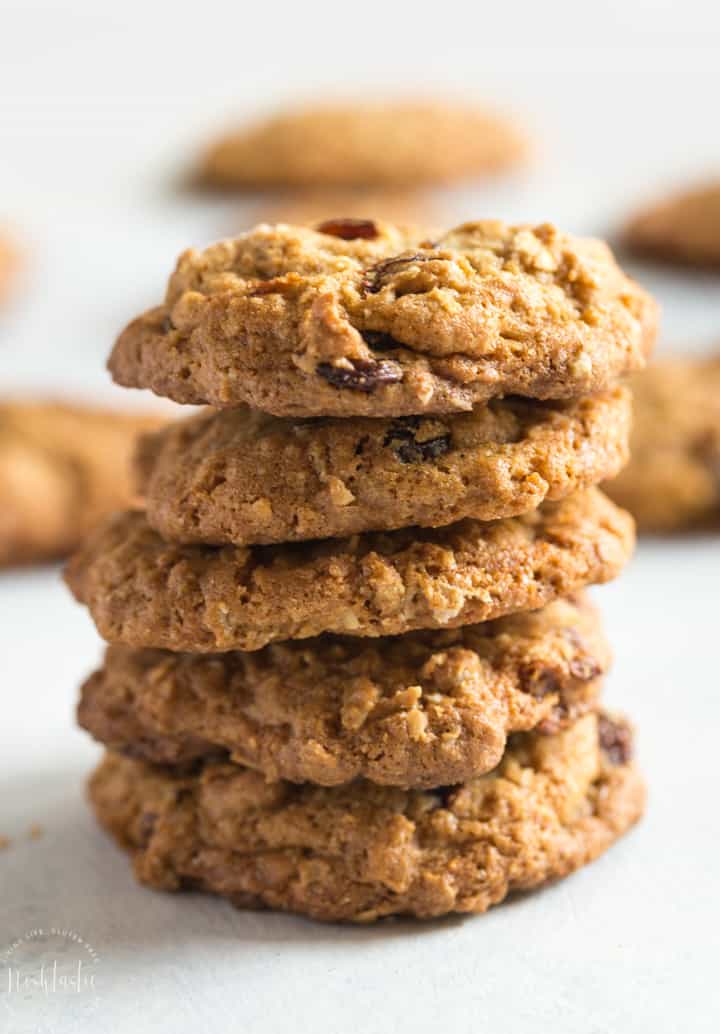 Quick Tips for Making Gluten Free Oatmeal Raisin Cookies
As I mentioned before, not all Oatmeal is gluten free and so make sure that you use certified gluten free Rolled Oats for these cookies.
If you want to make these cookies a little healthier you could reduce the sugar content and substitute the white and brown sugar for Coconut Sugar instead, and use solid coconut oil instead of shortening. I use expeller pressed Palm shortening which has no trans fats.
This amount makes about 36 cookies, which is quite a lot so you could easily half the recipe if that seems too much for your household.
Use a Cookie Scoop! Seriously folks, this will make your cookie baking life a million times easier! The cookies will all be a more uniform size and it is so much easier than trying to scoop out the dough with a spoon.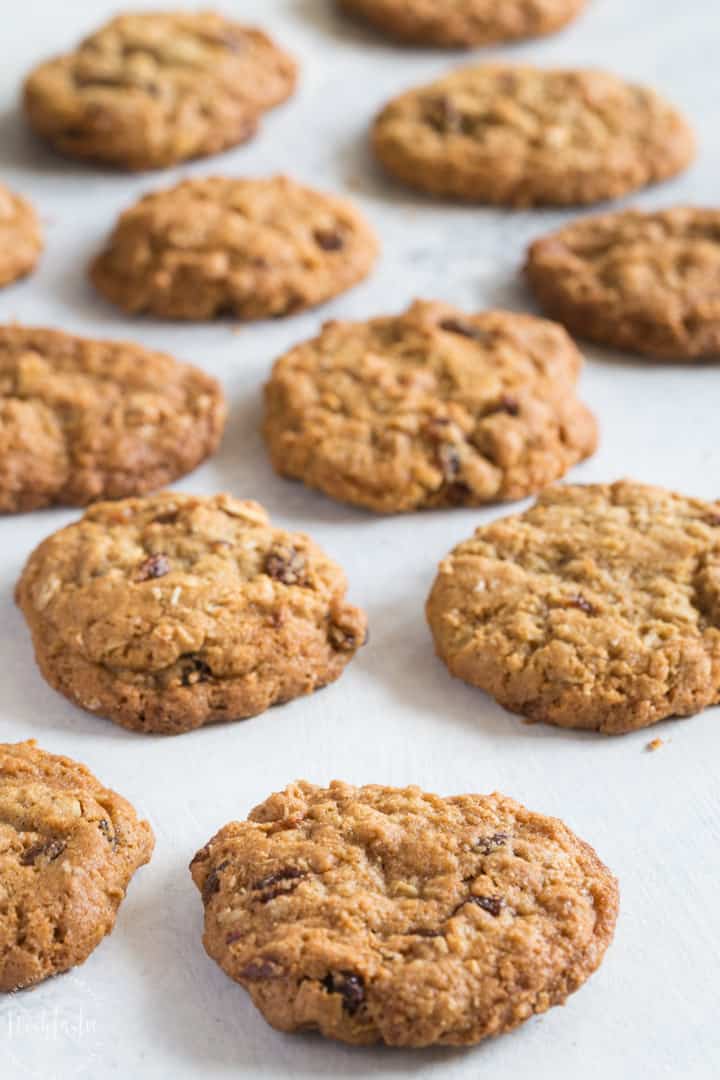 This post contains affiliate links

Can you use steel cut oats instead of rolled oats?
Steel-cut oats are oat kernels that are cut into smaller pieces, in order to use them in baking they would need to be cooked first so I would not recommend them for this recipe
Are Oatmeal Cookies Good for you?
Oatmeal cookies are very nutritious and contain healthy doses of fiber and some vitamins and minerals. However, they also contain lots of sugar so they're not your typical health food!
You could reduce the sugar amount in my cookie recipe and if you prefer, replace it with coconut sugar which is an unrefined sugar with a little bit of a higher nutrient content than regular sugar.
How many calories are in a homemade Oatmeal Raisin Cookie?
My gluten free Oatmeal Raisin Cookies recipe makes about thirty six cookies and each cookie has 137 calories per cookie. That amount may vary depending on the type of gluten free flour you use and how accurate your measuring is. You can reduce the calories further by reducing the sugar.
More Gluten Free Cookie Recipes
Gluten Free Oatmeal Raisin Cookies
Gluten Free Oatmeal Raisin Cookies are an easy healthy snack!
Prep Time: 10 minutes
Cook Time: 13 minutes
Total Time: 23 minutes
Total Carbs: 23 g
Protein: 2 g
Servings: 36 cookies
Instructions
Preheat your oven to 350F

Mix gluten free flour, xanthan gum, salt, baking soda, cinnamon, and sugars together in a large bowl.

Then add the beaten eggs, vanilla and shortening and mix well, then lastly add the gluten free rolled oats and raisins and mix really well to combine all ingredients.

Use a cookie scoop to place equal sized balls of cookie dough onto a parchment lined baking sheet.

Bake for 11-13 minutes or until cookies are a little brown around the edges.
Nutrition Facts
Gluten Free Oatmeal Raisin Cookies
Amount Per Serving
Calories 157 Calories from Fat 54
% Daily Value*
Fat 6g9%
Saturated Fat 1g6%
Cholesterol 13mg4%
Sodium 145mg6%
Potassium 62mg2%
Carbohydrates 23g8%
Fiber 1g4%
Sugar 11g12%
Protein 2g4%
Vitamin A 20IU0%
Vitamin C 0.2mg0%
Calcium 17mg2%
Iron 0.7mg4%
* Percent Daily Values are based on a 2000 calorie diet.
Nutritional information on Noshtastic is provided as a courtesy and is approximate only. We cannot guarantee the accuracy of the nutritional information given for any recipe on this site.
Course: Cake/ Dessert
Cuisine: American