My easy homemade Barbacoa recipe creates melt in your mouth tender pieces of beef that work well for making tacos, burritos, salads, and more!
This post contains affiliate links
How to Make Slow Cooker Barbacoa
There are several ways to make this Barbacoa recipe, either in the oven, in a pressure cooker or Instant Pot, or in a slow cooker or crockpot.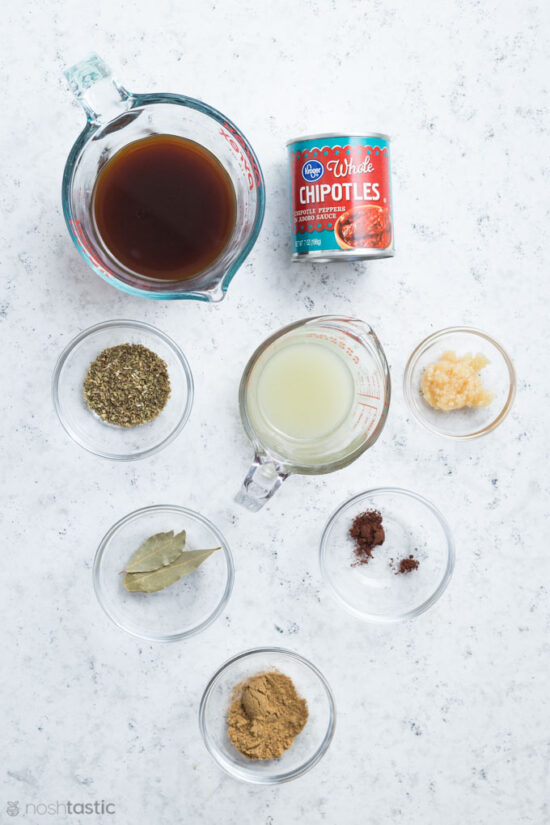 Step 1 – Season the beef on all sides with salt and pepper. Add a little oil to a non stick or cast iron skillet and brown the beef over a medium heat on both sides.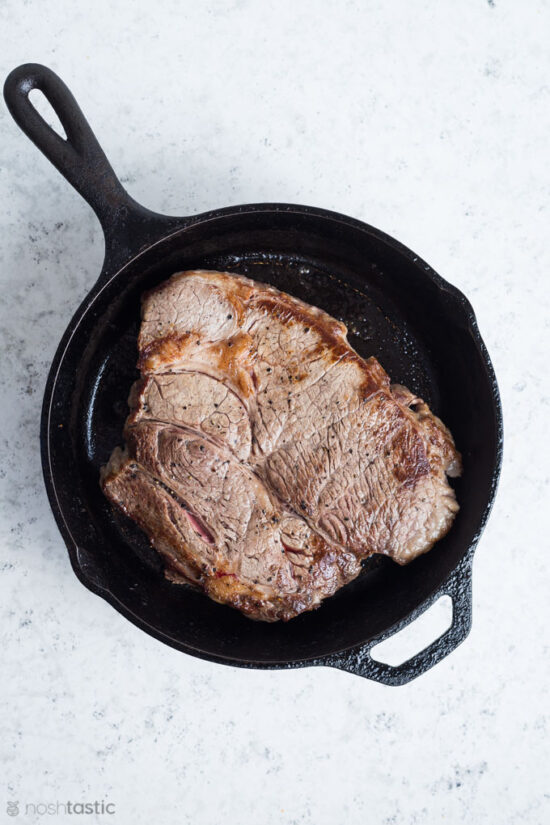 Step 2 – Add the chipotle peppers and adobo sauce, garlic, cumin, oregano, salt, pepper, cloves, beef broth, and lime juice to your blender or food processor and blend until it's all smooth.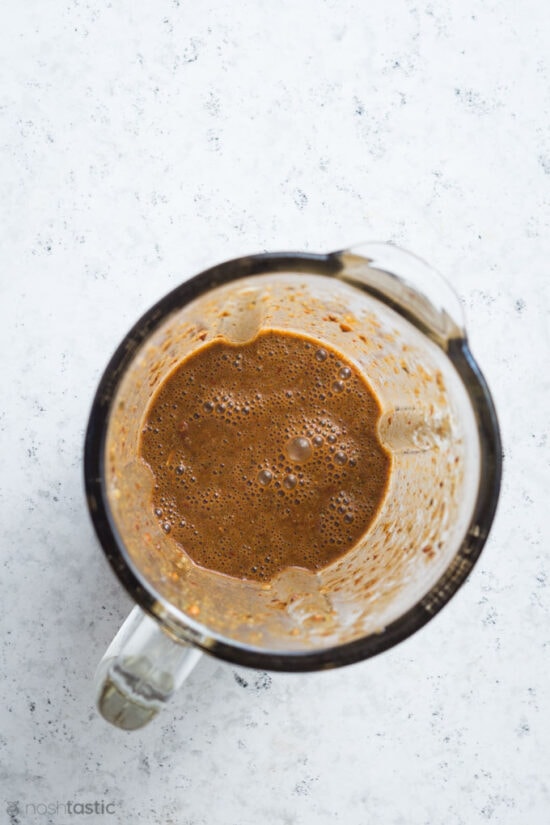 Step 3 – Put the browned chuck roast into the slow cooker and pour over the chipotle sauce along with a couple of bay leaves.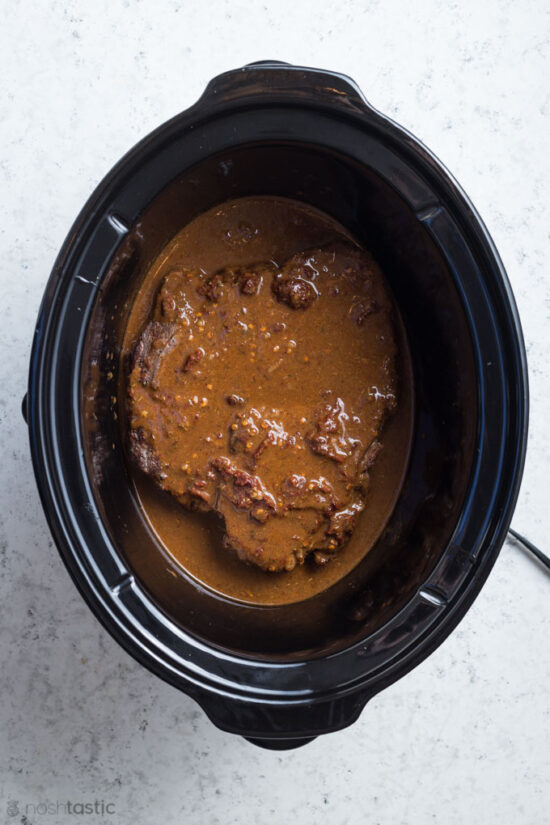 Step 4 – Put the lid on and cook on low for 6-8hrs, or high for 3-5hrs. Some slow cookers run hotter than others so your Barbacoa may be cooked in less time than that so check it as you go.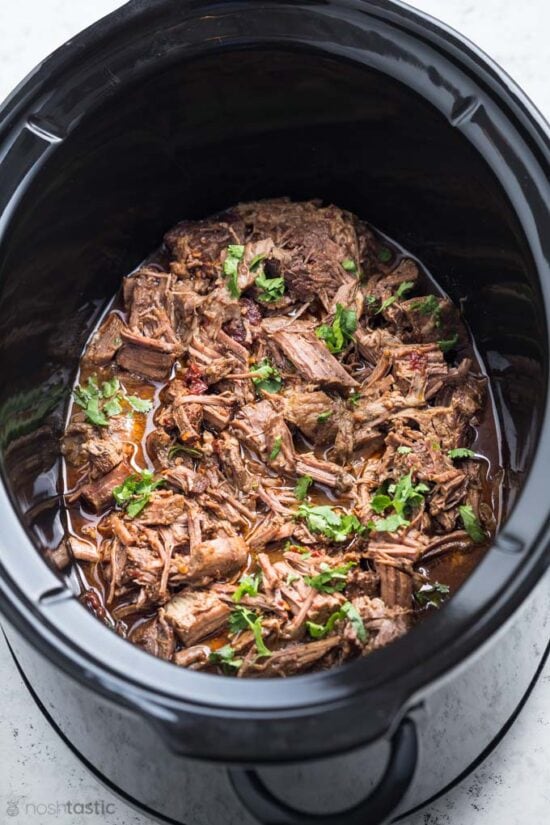 What kind of Meat is Barbacoa?
In Mexico traditional Barbacoa is usually made with lamb or goat and wrapped in maguey leaves. In the USA it's usually with beef cheeks and cooked long and slow over an open fire pit, it's often served with onions and cilantro.
As we don't have access to beef cheeks or goat and decent cuts of lamb are both expensive and hard to come by, we have opted for good old beef chuck roast instead as it's easy to find and will make fall apart Barbacoa that everyone will love!
What's the difference between Carnitas and Barbacoa?
Carnitas are pork shoulder that's slow cooked often with herbs and garlic, then pulled apart and oven roasted until a little crispy. You can make tacos, salads and all kinds of yummy dinners with it!
Barbacoa might seem similar to Carnitas but as mentioned above it's typically made here with beef and it's a little more spicy than carnitas, at least our version is! It's also great on tacos and that's how we usually serve it.
What to serve with Barbacoa
The traditional Mexican way of eating Barbacoa is on top of warm corn tortillas with guacamole, salsa, onions and cilantro.
I served ours with red onion as I love the flavor of it with beef, but basically any kinds of taco fixings that your family loves will work well.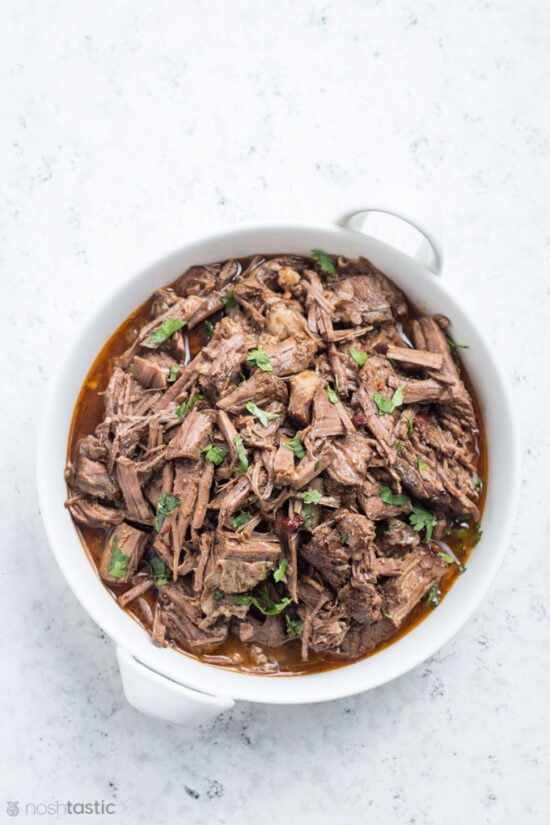 Barbacoa Beef
Easy recipe for fall apart tender Barbacoa beef cooked in adobo sauce
Prep Time: 10 minutes
Cook Time: 6 hours
Total Time: 6 hours 10 minutes
Total Carbs: 1 g
Protein: 44 g
Servings: 6
Instructions
Recipe Notes
Chuck Roast – this is the best cut of meat to use for Barbacoa because it has just enough fat running through it so it lends itself well to slow cooking or pressure cooking. If you use a leaner cut of meat you run the risk of it becoming dry. You can remove any excess fat from the chuck roast after it's cooked.
Chipotles in Adobo Sauce – you'll find these at almost any grocery store in the USA, they come in small cans. You can adjust the heat up or down by adding more or less chillies to the blender when you make the sauce. 
Storage – cooked Barbacoa will keep for up to four days in the fridge and can be frozen in an airtight container for up to three months.
Nutrition Facts
Barbacoa Beef
Amount Per Serving
Calories 421 Calories from Fat 234
% Daily Value*
Fat 26g40%
Saturated Fat 11g69%
Cholesterol 156mg52%
Sodium 779mg34%
Potassium 802mg23%
Carbohydrates 1g0%
Protein 44g88%
Vitamin A 55IU1%
Vitamin C 0.4mg0%
Calcium 66mg7%
Iron 5.8mg32%
* Percent Daily Values are based on a 2000 calorie diet.
Nutritional information on Noshtastic is provided as a courtesy and is approximate only. We cannot guarantee the accuracy of the nutritional information given for any recipe on this site.
Course: Main Course
Cuisine: American / Mexican