The secret to making really great gluten free cut out cookies is using a recipe that will hold its shape when baked and not spread out.
Fortunately I was a cookie decorator full time before I started this website and I created this gluten free cut out cookie recipe to do exactly that!
If you follow the tips and directions outlined in the recipe you won't go wrong.
This post contains Amazon affiliate links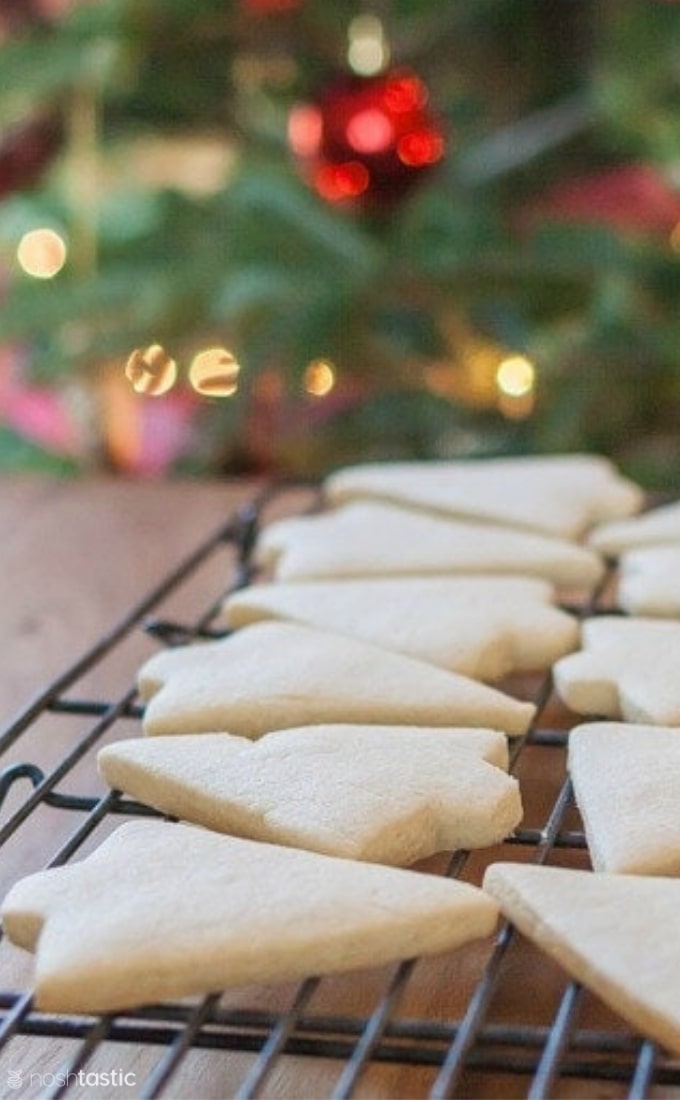 tips for making the best gluten free cut out cookies
REFRIGERATE – If you use soft butter, or dairy free margarine like I did, then you may need to refrigerate your dough for at least 30 minutes to firm up.
DAIRY FREE OPTION – I use Earth Balance margarine to make my gluten free cut out cookie dairy free and it's perfect!
It is much softer than butter so as mentioned above I will chill the dough before rolling it out.
XANTHAN GUM – if your gluten free flour blend does not contain gums of any kind you'll need to add xanthan gum as directed in the recipe.
NO FLOURED SURFACE – I roll the cookies out on parchment and then transfer them to a parchment lined baking sheet.
Adding flour to roll them out will skew the flour ratio in the recipe.
WEIGH INGREDIENTS – For best results use a kitchen scale and weigh your ingredients.
I have included cup measures for those of you who don't have a scale, but cups of gluten free flour can vary in weight due to different flours so the results may vary.
Cookie Decorating equipment you'll need
Here's a list of my recommended basic cookie decorating equipment you'll need to decorate one batch of cookies with my Royal Icing Recipe:
Meringue powder I prefer to use either Wilton or Ateco meringue powder. Don't wait until too near to Christmas to buy it as almost every year I've had to go round all the stores in town looking for meringue powder but they often sell out.
Americolor Food Coloring – This is the best food coloring out there, so much better than the gel type! The colors are vibrant and the selection is the best you'll find.
No:2 Tips – If you only buy one size of decorating tip, the Wilton No:2 Tip would be a good size to get.
Decorating Bags – These disposable decorating bags by Wilton are what you'll need. I prefer to use re-usable bags and wash them, but if you don't decorate cookies very often the others may be a better bet.
Decorating Tip Set – if you want to splurge and get a whole set of tips, this is a nice one to start with.
Coupler Set – you'll need one coupler set for every decorating bag you use.
Icing Bag Ties – you need these to tie the bags tightly at the top.
Cookie Cutters – I have SO many cookie cutters, including this bucket of 101 cookie cutters which covers most of the holidays!
Toothpicks – they are awesome for popping bubbles in wet icing and helping to push icing around on the cookie surface.
best royal icing for gluten free cut out cookies
I make my royal icing with meringue powder and powdered sugar and I use a foolproof method to make it which is outlined in some detail in this royal icing recipe post.
You can make the royal icing ahead of time if you need to, it will keep in an airtight container for a couple of weeks until it's time to use it.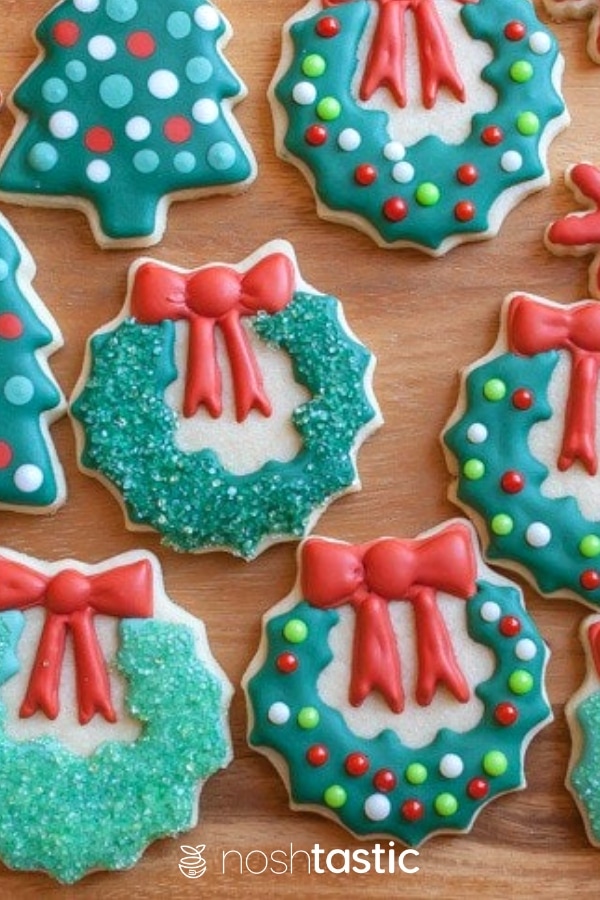 Kitchen Items You'll need for gluten free cut out cookies
COOKIE CUTTERS – I have this set of 101 cookies, it's great!
SHEET PANS – These are ideal for baking large batches of cookies
PARCHMENT SHEETS – these ready cut sheets save so much time for batch baking.
GLUTEN FREE FLOUR – I prefer to make my own gluten free flour blend, but choose a high quality blend if you buy from the store.
XANTHAN GUM – you'll need this if your flour blend does not have it.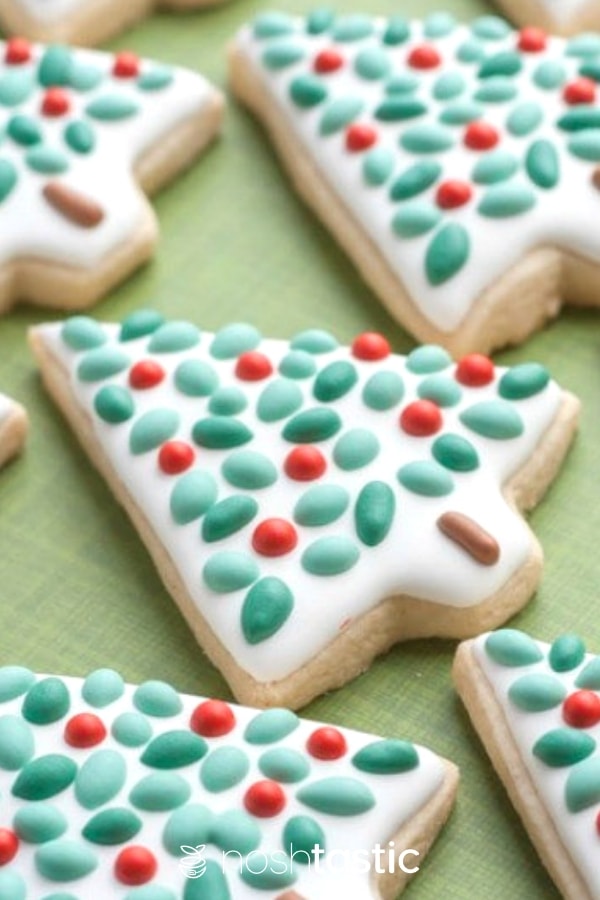 related gluten free cookie recipes
Gluten free shortbread cookies are the easiest cookie in the world to make, and they really are melt in your mouth tender with a delicious buttery taste.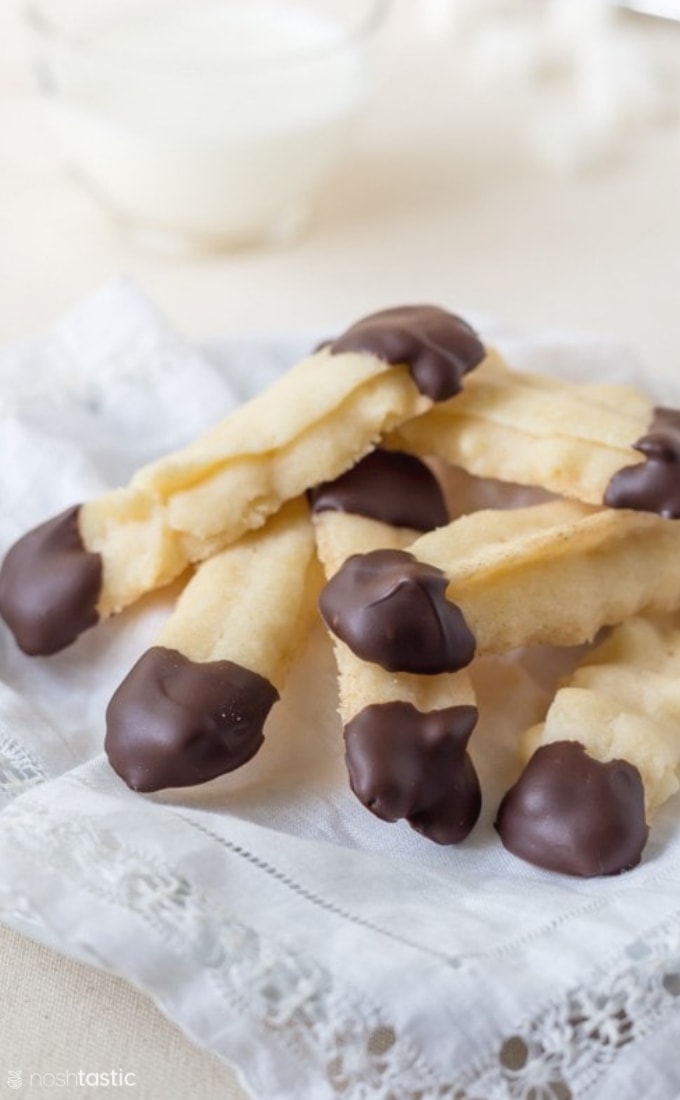 Gluten Free Oatmeal Raisin cookies that are full of chewy, healthy, oaty goodness, just like your Grandma used to make! We've tweaked and tested this recipe to make sure that you'll love them.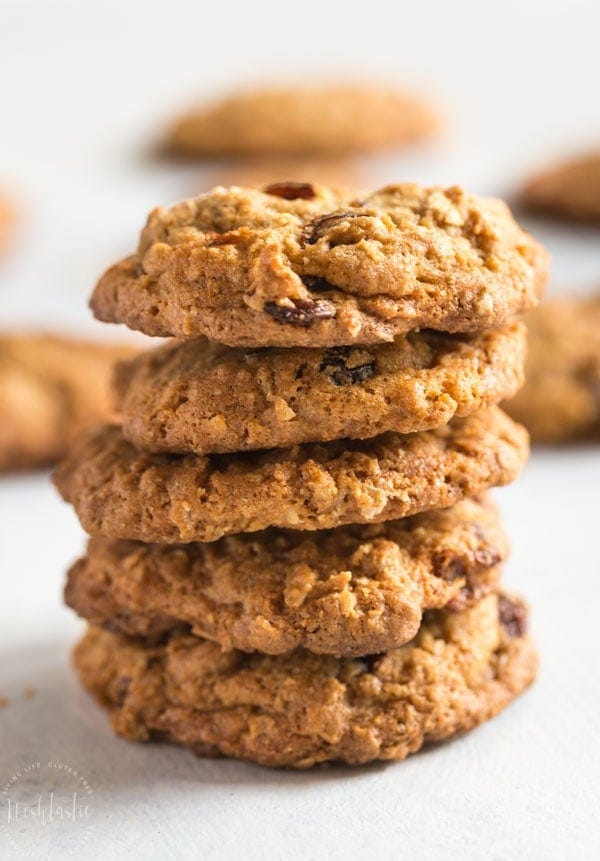 Crunchy Gluten Free Peanut Butter Cookies that are really easy to make at home. If you are new to gluten free baking and you're a huge peanut butter fan then this recipe is for you!
Gluten Free White Chocolate Chip Cookies with Peppermint! this is such a fun Christmas holiday cookie and really easy to make with your children.
It has a lovely soft gluten free cookie with white chocolate chips and crushed candy cane pieces which bake up nice and chewy!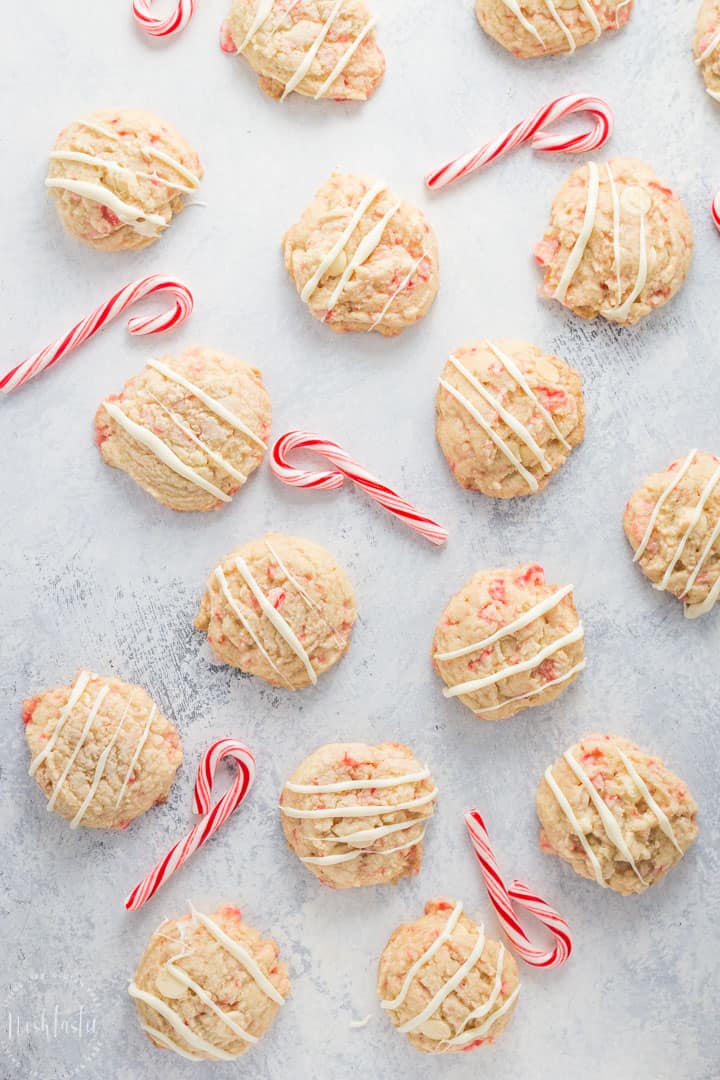 This is a really quick and easy gluten free lemon cookies recipe that will please everyone! My gluten free lemon cookies are really , soft, chewy, and sooo yummy.
You can easily leave these cookies as they are and eat them straight out of the oven, or you can make a simple lemon glaze and drizzle that over the top.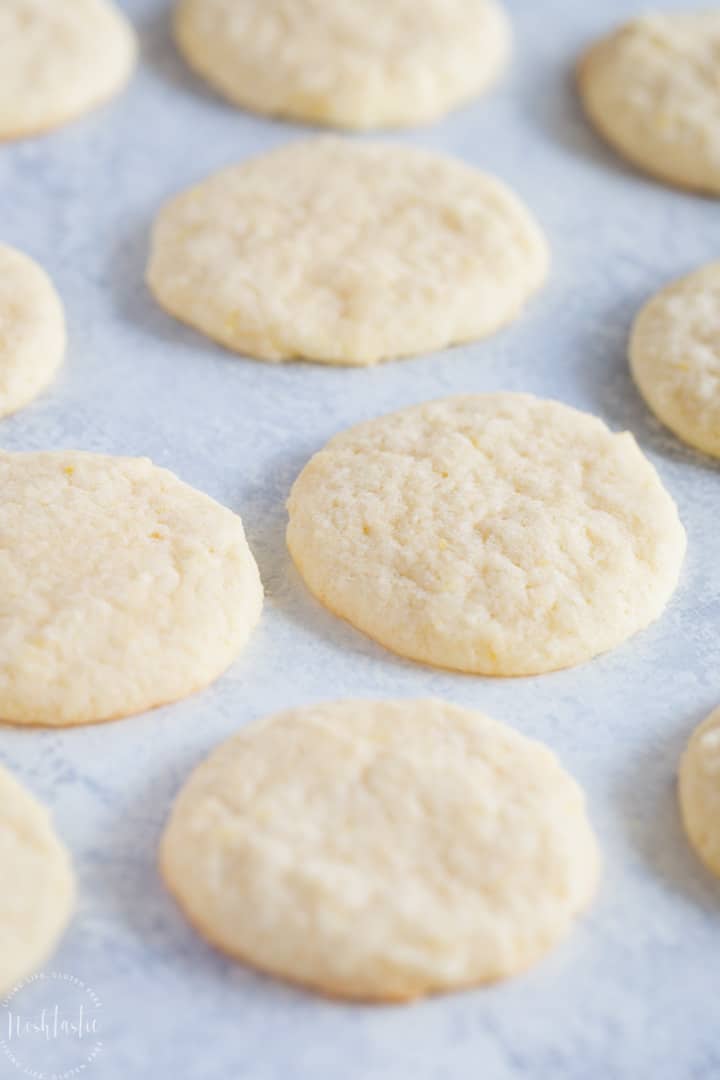 This is the only Gluten Free Chocolate Chip Cookies recipe you'll ever need, I promise!
You'll never want to go back to store bought gluten free cookies again after you taste these, they are insanely delicious and have just the right amount of 'crunch', you'll love them!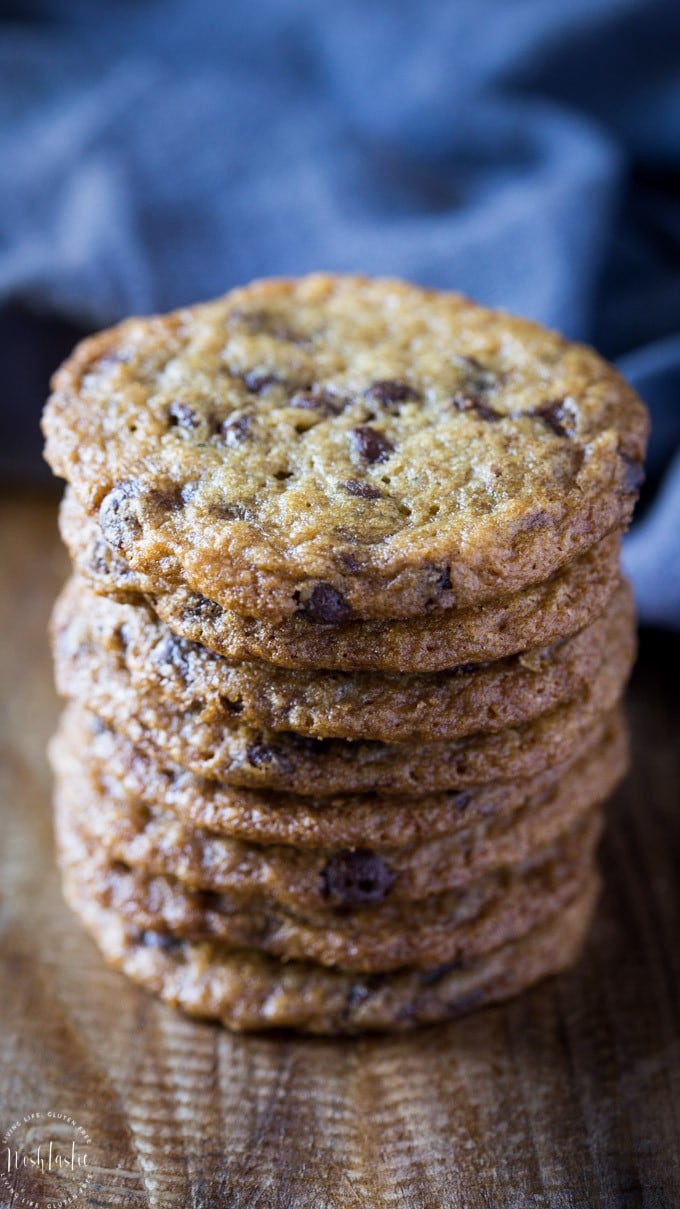 Save this recipe to your Gluten free Cookies Pinterest Board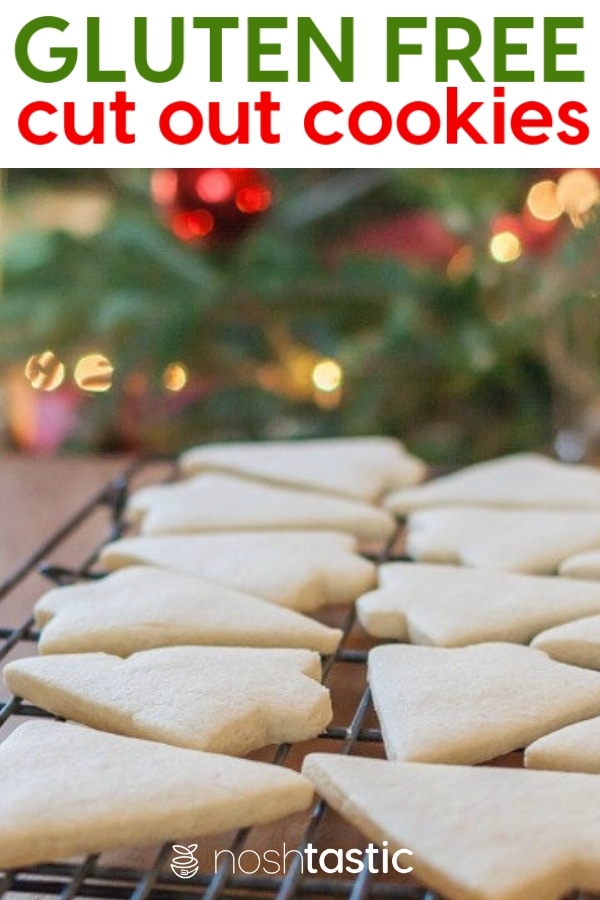 Gluten Free Cut Out Cookies Recipe
A simple, quick, and tasty gluten free cut out cookies recipe that holds its shape well and is perfect for decorating.
Prep Time: 20 minutes
Cook Time: 12 minutes
Total Time: 32 minutes
Total Carbs: 21 g
Protein: 2 g
Servings: 24 cookies
Instructions
Preheat your oven to 350°F

Using a stand mixer or hand mixer cream together butter and sugar.

In the same bowl add eggs, vanilla extract, and almond extract and mix until combined.

Measure out the gluten free flour, xanthan gum, and baking powder into another bowl and whisk to combine. I use my own gluten free flour mix, I find it works better than most ready made blends.

Add the dry ingredients to the sugar and egg mixture and mix until a dough is formed, don't forget to scrape down the sides of the bowl.

If the cookie dough is too soft to roll out cover dough and place in the fridge until it hardens up which usually takes 30 minutes to 1 hour.

Roll out the dough onto parchment paper, I use cling wrap to cover the top of the dough as I roll it out so that it does not stick to the rolling pin. Do not use extra flour to roll the dough.

Bake cookies for 12 – 14 minutes at 350°F on a parchment lined baking sheet. (do not use wax paper)

Allow cookies to cool on baking sheet, the cookies will firm up more when cooled.

When they are fully cooled they are ready for decorating with royal icing.
Recipe Notes
Weigh your ingredients –  I bake by weight using a digital kitchen scale  as I find that gives the most consistent results especially when baking gluten free. Cup measures are approximate as not all gluten free flours are weigh the same cup for cup. 
Gluten Free Flour – One cup of your gluten free flour blend may not weigh the same as my flour blend, all commercially available blends have different mixes and ratios of flour. I've weighed cups of different blends of flour, a cup of gluten free flour can vary in weight from 125g up to as much as 170g depending on how you scoop it, and what type of mix you use. You can see how this could drastically alter the outcome of a recipe. I have based my cup measures assuming that a cup of gluten free flour would be an average of 130g per cup. You cannot substitute a gluten free flour blend for either almond, coconut or other nut flours, they will not work in this recipe.
Cookie dough – can be refrigerated for a couple of days or frozen and used as needed, defrost it in the fridge. 
Storage – cookies can be kept in an airtight container for a couple of days, gluten free baked goods do not usually last as long as regular baking. You can freeze the cookies in an airtight container or ziplock bag, they will defrost in minutes at room temperature. 
Nutrition Facts
Gluten Free Cut Out Cookies Recipe
Amount Per Serving (1 cookie)
Calories 148 Calories from Fat 63
% Daily Value*
Fat 7g11%
Saturated Fat 4g25%
Cholesterol 31mg10%
Sodium 60mg3%
Potassium 28mg1%
Carbohydrates 21g7%
Fiber 2g8%
Sugar 9g10%
Protein 2g4%
Vitamin A 199IU4%
Calcium 25mg3%
Iron 1mg6%
* Percent Daily Values are based on a 2000 calorie diet.
Nutritional information on Noshtastic is provided as a courtesy and is approximate only. We cannot guarantee the accuracy of the nutritional information given for any recipe on this site.
Course: Cookie
Cuisine: Gluten Free