You'll absolutely love my Gluten Free French Fried Onions, they are so easy to make and much healthier than the ready made kind and very easy to adapt to make them Paleo and Whole30.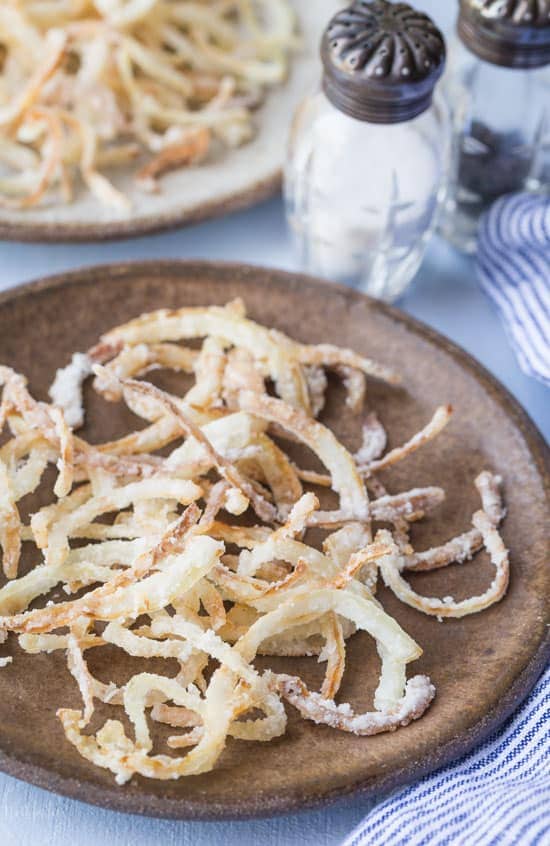 This post contains affiliate links
Even though I have zero desire to eat canned condensed soup of any kind ever again, I admit that around Thanksgiving it can be hard to miss out on all the 'holiday food' because I just want to feel included, but mostly it's due to the nostalgia factor rather than any real need to eat a green bean casserole made from canned and processed ingredients!
Anyway, my favorite part of the aforementioned green bean casserole was always the French fried onions that graced the top of it.
But, they are fried in wheat flour so that's big no-no for me now so my only option is to make my own gluten free French Fried Onions!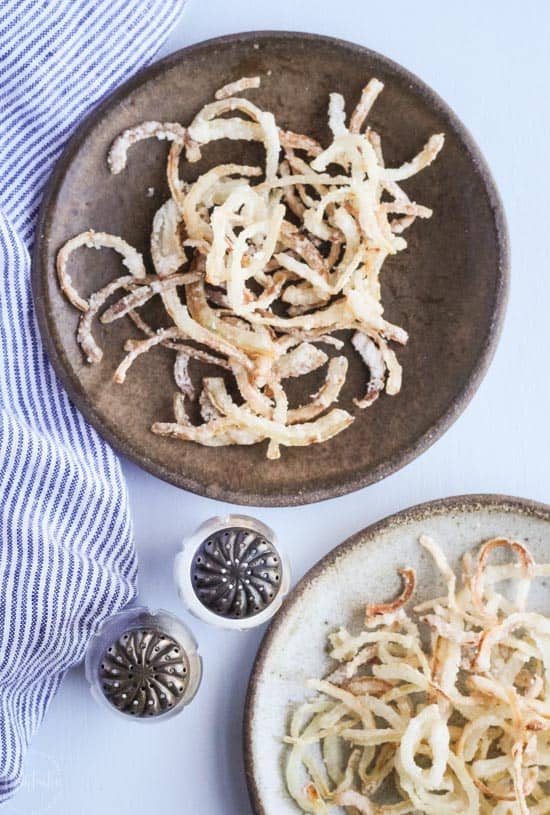 How to Make Gluten Free French Fried Onions
I've tried making gluten free French Fried Onions several times over the last few months and I've learned a few things along the way, so here are my top tips for making them
It really helps if the onion slices are all the same thickness.  The easiest way to do this is with a mandoline. You can also do it with a large sharp knife, it's just a little bit more tricky to get even slices.
I think it helps to really get crispy gluten free French Fried Onions if you are able to pat dry the onion slices in paper towels before you start.
Toss the onion slices in either corn starch, tapioca starch, or arrowroot until they are well coated. As I wanted this recipe to resemble the original French Fried Onions, and to be both gluten free and have Paleo and whole 30 options.

The oil needs to be on a medium-high heat. If you are not using a deep fat fryer which will regulate the temperature, you need to watch the Pan very carefully. Do not walk away from hot oil in case it catches on fire.
To test the oil drop a small amount of starch into the hot oil, if the oil is ready to cook it should sizzle right away. When you add the onions be careful not to crowd the pan or they will all stick together and not brown properly.

You need to cook the onions for approximately two minutes and then flip them over in the hot oil and cook for a further two minutes.  The gluten free French Fried Onions will continue to brown and crisp up a little more when you drain them onto the paper towels.
Remember that the onions will shrink down as you cook them so it may be worth your while cooking up two or three onions at a time as it's kind of a messy process with the flour and the oil, or maybe that's just in my kitchen 🙂
You can store the onions in a ziplock bag but they will lose their crispiness overnight, so if you're able, it is best to make them fresh on the day you plan to use them.
The onions are fabulous addition to any curry dish or they go particularly well with any kind of grilled meat.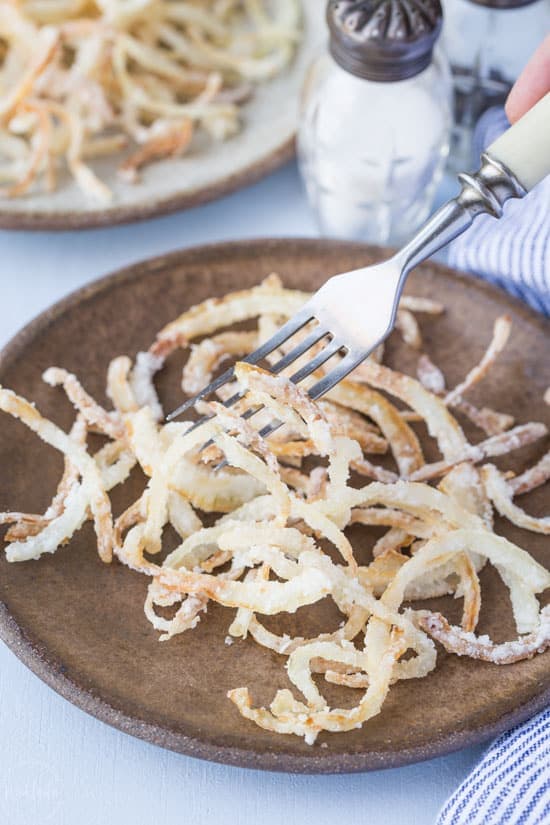 Gluten Free Thanksgiving Recipes
Gluten Free French Fried Onions
You'll absolutely love my Gluten Free French Fried Onions, they are so easy to make and much healthier than the ready made kind, with paleo and Whole30 options.
Prep Time: 10 minutes
Cook Time: 20 minutes
Total Time: 30 minutes
Total Carbs: 57 g
Servings: 2
Ingredients
1 cup olive oil , or Coconut Oil
1 onion
1 cup cornstarch , tapioca, or arrowroot for paleo / whole30
Instructions
Cut onion in half from root to tip. Peel off outer skin of onion.

Slice onions on the thinnest setting on your mandoline.

Heat oil on a medium heat. To test that it has heated thoroughly, drop a tiny bit of the arrowroot and see if it sizzles.

Dredge the onions in the corn starch to lightly dust. You should use tapioca starch or arrowroot for Paleo or Whole30.

Drop small amounts of the starch coated onion into oil and cook for 4 minutes, turning once after 2 minutes. Do not crowd the pan or the onions will stick together and not brown properly.

When the onion starts to brown around the edges it's time to remove it, do not wait until it's really brown or you will have overcooked it.

Remove the onions from oil and place on paper towel to cool. Sprinkle with salt if needed.
Nutrition Facts
Gluten Free French Fried Onions
Amount Per Serving
Calories 317 Calories from Fat 90
% Daily Value*
Fat 10g15%
Saturated Fat 1g6%
Sodium 2mg0%
Potassium 80mg2%
Carbohydrates 57g19%
Sugar 2g2%
Vitamin C 4mg5%
Calcium 13mg1%
Iron 0.8mg4%
* Percent Daily Values are based on a 2000 calorie diet.
Nutritional information on Noshtastic is provided as a courtesy and is approximate only. We cannot guarantee the accuracy of the nutritional information given for any recipe on this site.
Course: Side Dish
Cuisine: American