A very healthy, easy, Southwestern Chicken Salad recipe with Cilantro Lime Dressing, it's gluten free and low carb too!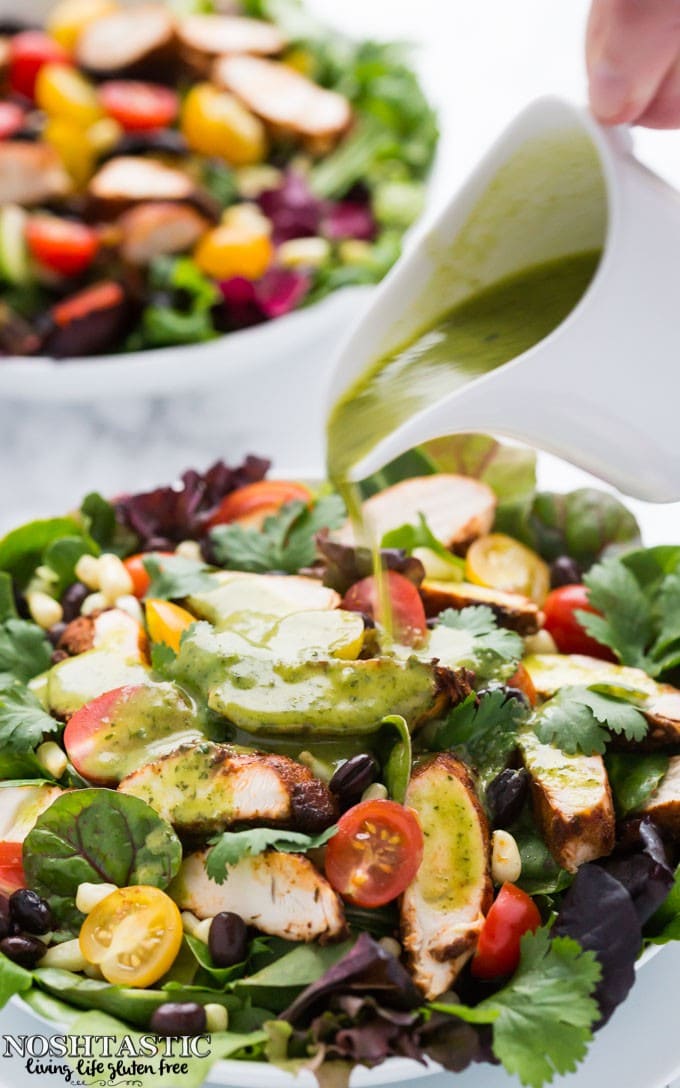 I'm kind of fussy when it comes to salad. I think perhaps some of that stems from having to order safe gluten free food on the rare occasions that I eat out and usually the default gluten free option in most restaurants is always salad, usually an enormous bowl of uninspiring romaine lettuce, tomatoes and not much else.
I prefer a salad with lots of flavor, plenty of meat or fish, and a little bit of crunch. My Southwest Chicken salad checks all these boxes and is better than most of the restaurant salads I've had so far (not hard , I know). I got the dressing recipe from my friend Amanda who based it on one from a local Jackson restaurant. It's really tasty and almost creamy, but it's totally dairy free. I used an indoor grill to cook the chicken but you could easily cook it in a non stick or a cast iron skillet, or outdoor grill. The last time I made it I actually cooked about 2lbs of chicken tenders on a sheet pan in the oven as it was much easier than cooking then bit by bit in a skillet.
This post may contain Amazon affiliate links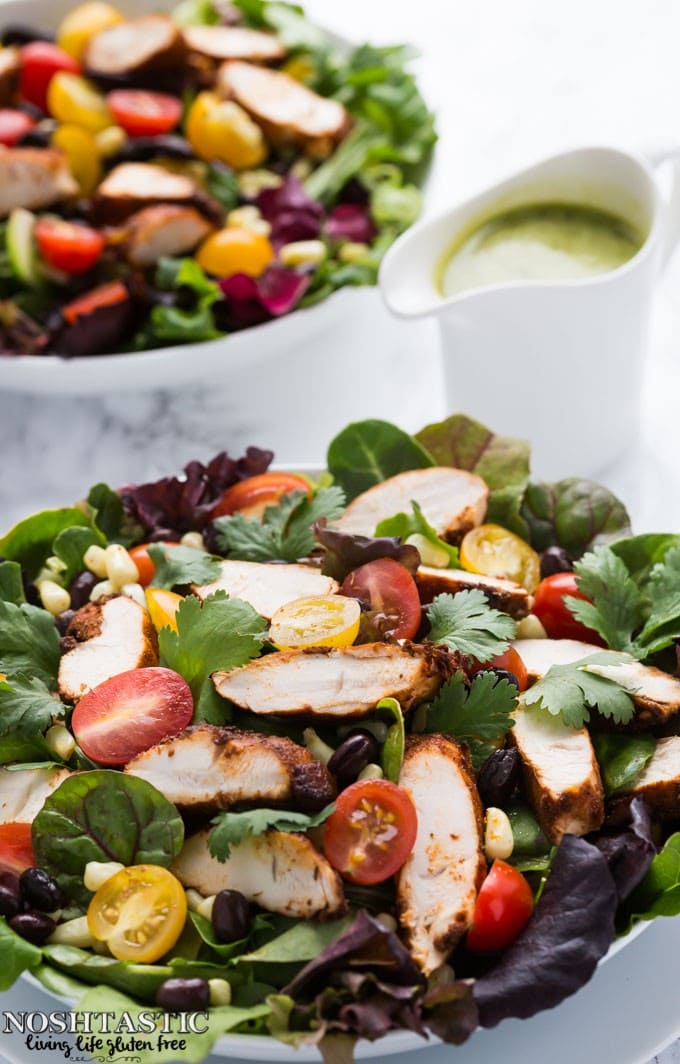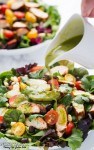 Southwest Chicken Salad
A very healthy, easy, Southwestern Chicken Salad recipe with Cilantro Lime Dressing, it's gluten free and low carb too!
Ingredients
1

lb

chicken breast tenders

skinless

2

tbsps

olive oil

2

tsp

paprika

optional

1

tsp

garlic powder

2

tsp

onion powder

2

tsp

cumin poder

1

tsp

dried oregano

1

tsp

salt

1/2

tsp

pepper

4

cups

Mixed salad leaves

1

cup

cherry tomatoes

halved

1/2

cup

corn

frozen

1/2

cup

black beans

(canned) rinsed and dried on paper towels

DRESSING:

1/4

cup

extra virgin olive oil

3

tbsp

apple cider vinegar

2

tsp

lime zest

grated

1

tbsp

lime juice

freshly squeezed

1/2

tsp

honey

1/2

cup

cilantro leaves

no stems

1

tsp

cumin powder

1

tsp

Dijon mustard

1/2

tsp

garlic powder

1/8

tsp

th cayenne pepper

1/2

tsp

salt

1/4

tsp

black pepper
Instructions
This recipe is not a precise one, if you want more beans, corn and chicken just add them in! You may need more dressing to compensate.

Marinade the chicken tenders in the olive oil, garlic, onion, cumin, oregano and salt, I find it easier to do it in a plastic baggie and then put it in the fridge. let marinade for 1 hr or up to overnight.

Make up your dressing in a blender, if you don't have a blender you can chop the cilantro leaves very finely instead.

Add the olive oil, cider vinegar, lime juice and zest, honey, cilantro leaves, cumin, Dijon mustard, garlic powder, cayenne pepper, salt, black pepper. Blend until the leaves are chopped up.

Cook your chicken tenders in either a non stick or cast iron skillet with a little more oil added to it

It will take between 6-10 minutes in a skillet (remember to turn it) depending on the thickness of your chicken.

Alternatively, you could also cook the chicken pieces on a sheet pan in a 375F oven for about 20 -25 minutes, watch they don't dry out.

In your serving bowl add in salad leaves, corn, beans, tomatoes and then top with the sliced cooked chicken, drizzle on your dressing and mix. How much dressing you add is really up to you and how much you think it needs.

Enjoy!