Southwest Chicken Salad, marinated in garlic, onion, cumin and oregano and served over a bed of Romaine and salad leaves with sweetcorn, black beans, red onion and avocado, and topped with a homemade Cilantro Lime Dressing.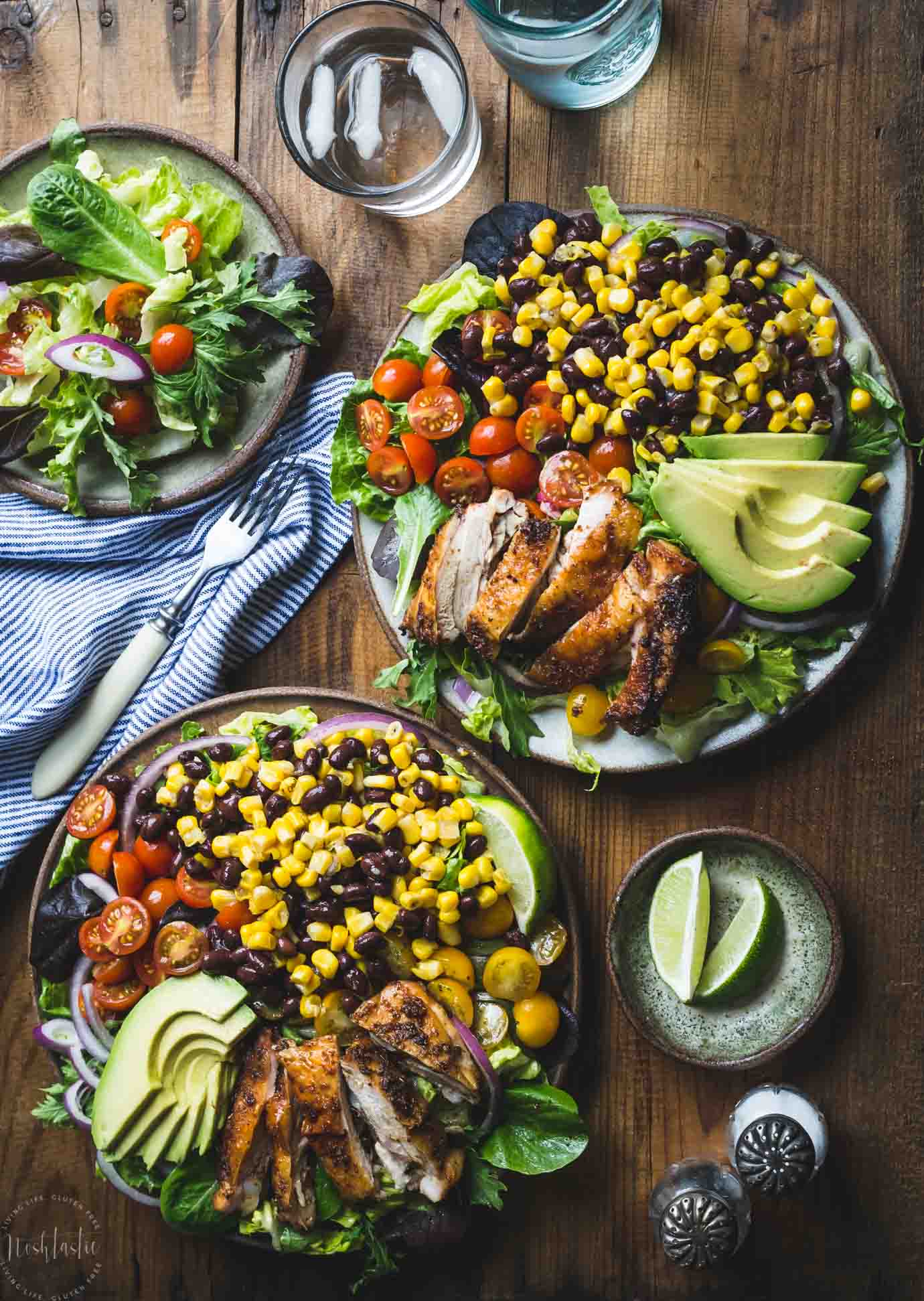 What ingredients do I need for Southwest Chicken Salad?
I like to use skin on, boneless chicken thighs for this salad as I think thigh meat has a little more taste and isn't so prone to drying out as chicken breast, plus I love the crispy skin if I cook it in the oven.
You can use ready cut chicken tenders, or chicken breast too if you prefer that, or are counting calories.
For the salad, I used corn and beans as they are pretty much classic ingredients in any Southwestern style salad and they add a little texture too.
I love red onions and avocado so you know I've added them to this salad! Green onions would work too though, so you can substitute with those.
Romaine lettuce makes a good base for any salad, but I think it's kind of boring on its own so I added in some mixed salad leaves to provide a little more interest.
The cilantro lime dressing is a simple one to make in a blender or food processor. In a pinch, you can finely chop the cilantro but that's a little bit of a chore to do by hand!
And lastly, no salad would be complete without tomatoes! I used two different kinds of cherry tomatoes as I think that they taste great and the size is perfect for this dish. If you have in season regular sized tomatoes then I would use them chopped up. I think that the out of season tomatoes in the grocery store don't always taste great so I usually skip them.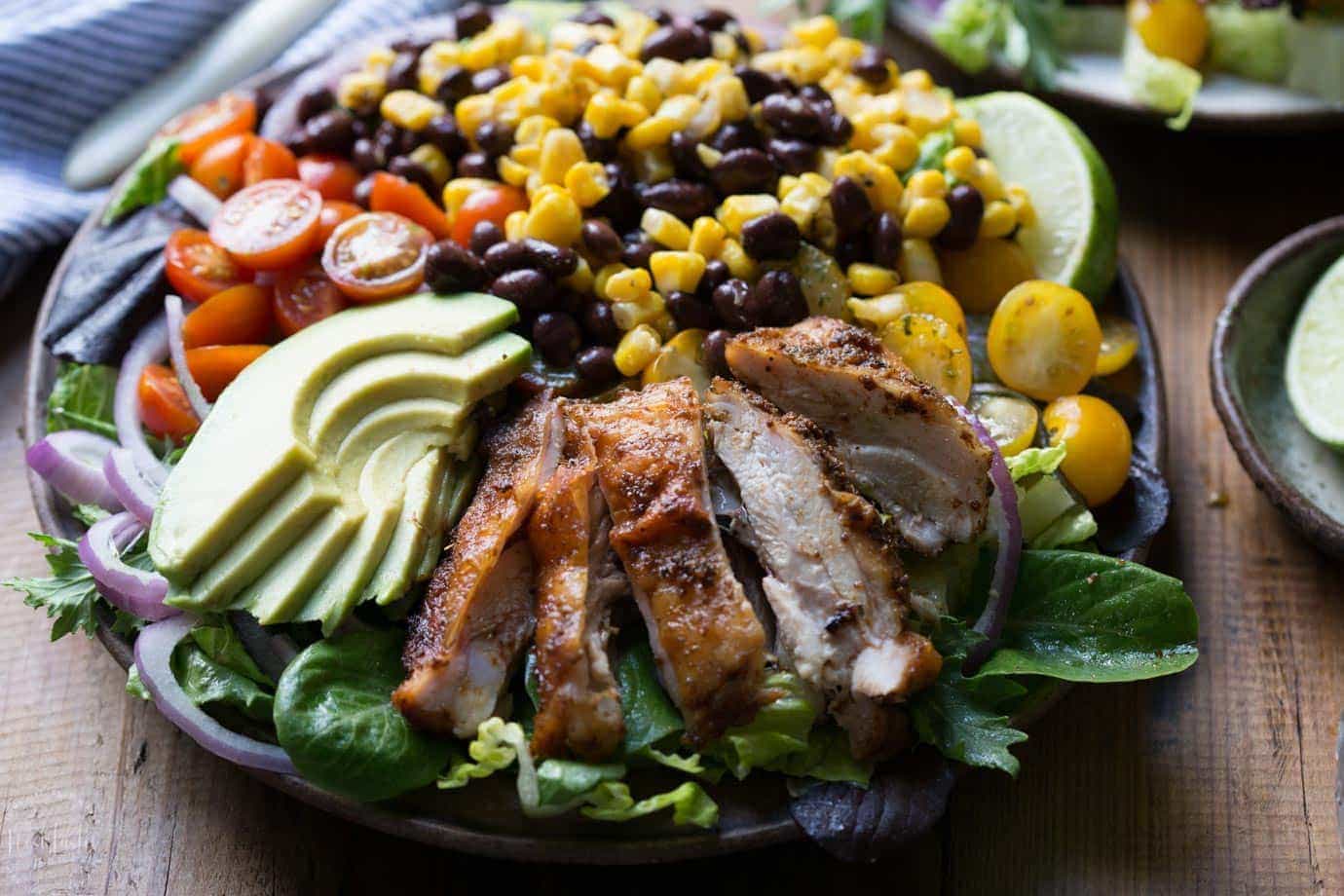 How to Make Southwest Chicken Salad
This is an easy salad to make, you need to marinade the chicken ahead of time but not for very long. I find that an hour or so is usually enough.
I have used chicken thighs, chicken tenders, and chicken breast to make this recipe on different occasions and they all work well. If you have bone in thighs then you can cook them in a hot oven for about 45 minutes or until they reach an internal temperature of 165° F or 75°C, but you will need to cut the bone out after they are cooked if you want to serve it sliced.
While the chicken is cooking you can prepare the onions, tomatoes, salad leaves and romaine, and avocado into the salad bowls you'll serve it in.
The Cilantro lime dressing came from a local Jackson Mississippi restaurant, a friend shared it with me. It's really tasty and almost creamy, but it's totally dairy free.
I used an indoor grill to cook the chicken but you could easily cook it in a non stick or a cast iron skillet, or outdoor grill.
This post may contain Amazon affiliate links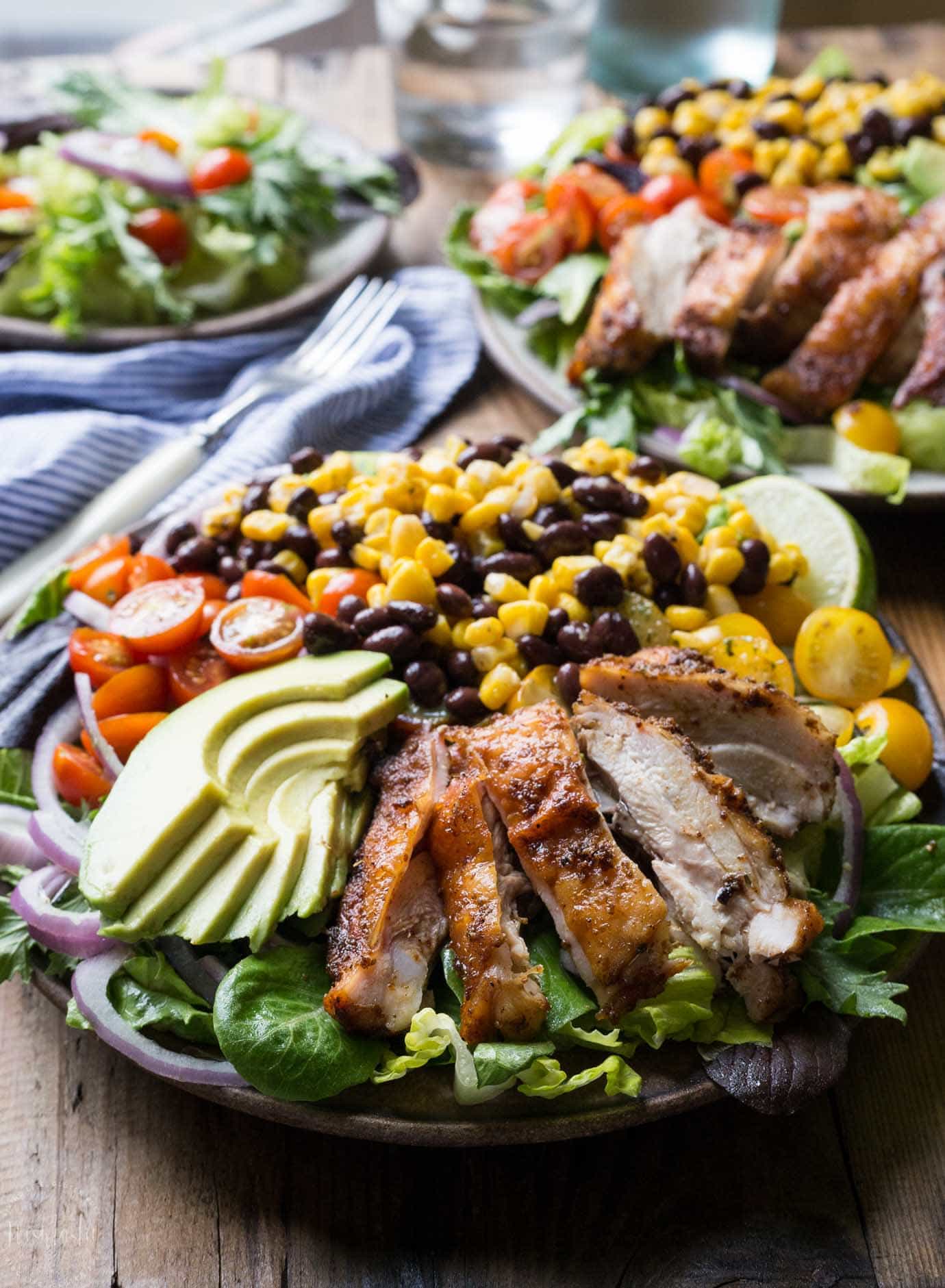 More Easy Recipes you'll enjoy!
We travelled to the Cayman Islands last summer and my boys enjoyed some fabulous authentic Jerk Chicken from a roadside stand, they loved it! Sadly it was not gluten free so I recreated my own version when I came home.
Have you ever tried Flat Iron steak? It's a really versatile piece of meat so if you've not tried it yet, or are looking for some ideas for marinades then my Grilled Flat Iron Steak recipe is one you won't want to miss! It's really simple to prepare and cook.
And lastly what about some Paleo Singapore Street Noodles? They are made with zucchini noodles, shrimp, chicken and tasty mild curry flavored sauce with added turmeric!
Southwest Chicken Salad
A very healthy, easy, Southwestern Chicken Salad recipe with Cilantro Lime Dressing, it's gluten free and low carb too!
Prep Time: 15 minutes
Cook Time: 10 minutes
Total Time: 25 minutes
Total Carbs: 22 g
Protein: 29 g
Servings: 4
Ingredients
1 lb chicken tenders, or boneless thighs
2 cups romaine lettuce
2 cups mixed salad leaves
1 cup cherry tomatoes , halved
1/2 cup sweetcorn
1/2 cup black beans , rinsed
1/2 small red onion , sliced
1 avocado , sliced
Grilled Southwest Chicken Marinade
Southwest Chicken Salad Dressing
Instructions
This recipe is not a precise one, if you want more beans, corn and chicken just add them in! You may need more dressing to compensate.

Rub the marinade onto chicken pieces and let it marinate for 1 hour.

Make the dressing by adding all the dressing ingredients listed into a blender and blend until smooth.

Heat a non stick, or Cast Iron Skillet over a medium high heat and add a little olive oil.

For Chicken tenders they will take about 3-5 minutes per side in a skillet, or until they reach an internal temperature of 165° F or 75°C

For boneless, skin on, chicken thighs, you can cook them in a skillet for about 5 minutes per side, or until they reach an internal temperature of 165° F or 75°C

For bone in, skin on chicken thighs you can cook them on a sheet pan in a 375F oven for about 40-45 minutes or until they reach an internal temperature of 165° F or 75°C

In your serving bowls add in salad leaves, corn, beans, tomatoes, red onion, sliced avocado, and then top with the sliced cooked chicken, drizzle on your dressing and mix well.
Nutrition Facts
Southwest Chicken Salad
Amount Per Serving
Calories 483 Calories from Fat 279
% Daily Value*
Fat 31g48%
Saturated Fat 4g25%
Cholesterol 72mg24%
Sodium 1040mg45%
Potassium 1059mg30%
Carbohydrates 22g7%
Fiber 7g29%
Sugar 4g4%
Protein 29g58%
Vitamin A 3350IU67%
Vitamin C 24.8mg30%
Calcium 60mg6%
Iron 3.3mg18%
* Percent Daily Values are based on a 2000 calorie diet.
Nutritional information on Noshtastic is provided as a courtesy and is approximate only. We cannot guarantee the accuracy of the nutritional information given for any recipe on this site.
Course: Salad
Cuisine: American